---
Q&A With Maureen Farinella, CEO of Mark-My-Time
The following is a paid advertorial.
Mark-My-Time LLC began with one fun yet educational item: a digital bookmark that helped kids keep track of their silent reading time. More than 1.5 million units later, they've branched out with several other items, including a Digital Metronome for music students and their new Digital Booklight, expected to be a best-seller. Below, Maureen tells TDmonthly how a careful balancing of priorities, as well as strong customer service, have helped her company thrive.

Q. When we spoke with you last October, you had sold 1.5 million units, were carried in more than 2,000 stores, and were distributed in four countries. How have those numbers changed since then?

A. We have increased the number of stores by initiating use of some rep firms in the toy and gift channels. We have also obviously increased the number of units we have sold.

Q. You started shipping the new Digital Booklight last September. What has been the response to this item compared to your other items?

A. The booklight has been an outstanding product for us and seems to cross over the age barrier allowing us to have a product that appeals to kids as well as college-aged and adult consumers.

Q. Does that mean you see the Booklight expanding beyond the juvenile market into other types of stores? What kind?

A. The Booklight is priced and designed to reach a broader range market especially in the gift channel. We are furthering that reach by developing an e-reader light this fall. It will be available in 4Q 2011.

Q. What would the price point be for the Mark-My-Time e-reader timer and light? Would you have any exclusive deals for the TDmonthly retailers?

A. The price will be below $20.00 and we certainly will be promoting on our TDmonthly pages!

Q. Which of your products do you anticipate will be your biggest holiday seller?

A. The Digital Booklight.

Q. What has been the biggest challenge you've faced so far when it comes to growing your business? How have you tried to/how did you overcome it?

A. Balance, balance, balance. Balancing inventory levels, advertising budgets, time and money. Large orders are exciting and you have to realize the monetary outlay far precedes the payment so it is critical to keep an eye on balance, especially in an economy that can see large retailers go bankrupt fairly quickly.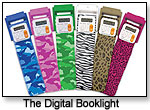 Q. Other than trial and error, do you have any suggestions as to how one could find that balance sooner rather than later?

A. Stay plugged in, with the internet, others in your industry and your own business. We set up alerts on the internet for key words in the industry so news stories come to us, read the bloggers, network join groups like ASTRA and connect. Eyes and Ears open all the time and do not be afraid to consult experts. CPA's, attorneys and Rep Groups are sometimes considered too expensive but in reality they can often be invaluable when it comes to a professional to lend advice. If you are really looking to grow business you must take calculated risks!

Q. What specific lessons can you share in regards to noncollectable account receivables?

A. When extending credit to customers it is important to always look at what you can absorb as a business and still maintain operations. Bad debt WILL occur so it is really about how your are equipped to handle Plan B. The surprising thing this year we learned is that a customer in bankruptcy could potentially and legally require you to return a payment received within a certain number of days of their bankruptcy filing.

Q. What career path did you originally envision for yourself? Did you ever anticipate working with children's products?

A. I always had a heart for teaching and really thought I would end up in education. The Mark-My-Time products are a great cross between education and retail which have been a part of my life since I was 16... My first job in high school was with a bookseller.

Q. What aspect of the toy industry most surprised you when you first started?

A. The sheer vastness of product choices and the love of children's book sections by most toy store owners.

Q. Are there one or two things that you think were really successful for retailers with a children's book section that you would recommend for other stores to implement?

A. Any type of community night in the book section is fabulous. Whether you can get an author to read and sign or just have a reading story time hour, something that brings families in to spend time together in the store has been a great success.

Q. How did you come up with the idea for your first product?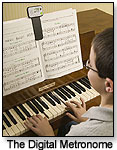 A. My own child who read voraciously was required to fill out a monthly reading log and I had to initial and fill out each day's box then total all the minutes for the entire week and then for the month. It was really difficult to keep track of her total time when she read so much over the course of the day and then to sit and total 30 little boxes of minutes and convert the minutes into hours….reading should be always a pleasure in order to create a lifelong love of reading…so I thought-there must be a better way!

Q. How long did it take to go from the original spark of an idea to actual production?

A. With MY husband?! We went from idea to the patent search in two weeks, filed the patent in two months and attended our first trade show with product in hand in 5 months!

Q. What one piece of advice would you offer to someone just starting out in the toy industry?

A. Customer service, customer service, customer service!

You can see more information on products from Mark-My-Time below.






Wholesale Price: (Log in to view)

MSRP: $14.95

Age Range: 5 and upSpecialty: Yes (as of 2010)SKU or Item #: 7000200Launch Date: September 2010Gender: Boys And Girls





Read anytime and anywhere with this cool new product from Mark-My-Time. It's a bookmark with page clip, countdown and cumulative timer and bright LED book light all in one. The makers of the Mark-My-Time digital bookmark and digital metronome have created the perfect gift item for your young readers. The Mark-My-Time digital booklight features a bright 3 LED light on an adjustable arm, a clip to attach the bookmark to the pages of your favorite book, and three cool camouflage prints in pink, blue and green; or, three animal prints in zebra, cheetah or pink leopard. All these features, plus the homework help timing functions: cumulative timer up to 100 hours, 60 second fluency timer, and countdown session timer that alarms when you are finished and even turns off the light. Take the work out of nightly reading homework logs.

ToyDirectory Product ID#: 30112

(added 8/19/2010)

.

AD
---
mark-my-time™ Digital Bookmark
by
MARK-MY-TIME LLC
Other products from MARK-MY-TIME LLC
TDmonthly rating:







This award-winning digital bookmark allows children to monitor and record their reading times. It features a countdown timer with an alarm, a cumulative timer for multi-session reading, a clock, a replaceable battery and a durable polyethylene body. It may also be used for music practice sessions, math fact practice, cooking and more. It comes in neon green, neon blue and neon purple.

— "The bookmark is compatible with small, paperback books, yet [the] screen is large enough to read clearly and [the] buttons are easy to operate," reported Teresa Wilson, a mother of four who reviewed this product for a

TDmonthly Roundtable

.

ToyDirectory Product ID#: 13994

(added 7/9/2007)

.

AD
---






Mark-My-Time™ Digital Bookmark Bulk Single Color Packs contain 20 digital bookmarks in single colors, your choice of: neon blue, purple, green or bright yellow, pink or red.

ToyDirectory Product ID#: 25932

(added 11/2/2009)

.

AD
---






This all-in-one bookmark can fit neatly into a child's stocking and includes a metronome, A440 tuner and practice timer. The metronome allows one to guide a music student with the countdown timer, setting it for 15, 20, 30 minutes or more with the touch of a button. When the practice session is over, an alarm will sound. The cumulative timer can be used to accumulate total practice time over multiple practice sessions. All of these features can be used simultaneously. This product has received awards from the National Association of Music Merchants, iParenting and Children's Technology Review.

ToyDirectory Product ID#: 13997

(added 7/9/2007)

.

AD
---







Mark-My-Time™ Digital Bookmark Classroom Packs contain 20 digital bookmarks in assorted colors, one limited edition black teachers' bookmark and one tote bag.

ToyDirectory Product ID#: 13996

(added 7/9/2007)

.

AD
---

Writer's Bio:
Justina Huddleston graduated Magna Cum Laude from Emerson College with a BA in Writing, Literature, and Publishing in 2009. After graduating she was the on-site director of the Boston Children's Museum gift store for a year, selling educational, developmental, and creative activity toys that tied in with the museum's exhibits. Justina also interned at children's book publisher Candlewick Press before moving from Boston to Los Angeles, where she is now Editorial Director of
TDmonthly Magazine
.
Read more articles by this author
THIS BANNER IS AN AD:
---
---