---
A Puzzling Business
R&A Media Switches From High-Tech to Low
"I had the checkerboard / cube puzzle on my Web site to showcase the company motto. Numerous requests started coming in for the puzzle instead of the software ..." —Andy Snowie, R&A Media Inc.
Since childhood, Andrew Snowie has been fascinated by construction and logic toys. From the inspiration of a cardboard checkerboard, he has pieced together a popular line of wooden puzzles. In this issue of
TD
monthly Magazine
, Snowie shares his story of how market testing and research are allowing R&A Media Inc. to "put together" a successful company.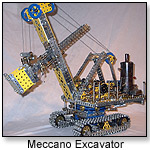 As a youngster, I was always tinkering with things like Meccano construction toys. An early challenge was solving a cardboard checkerboard puzzle sent to me from England when I was in high school — I think that one got me hooked on puzzles.

Unpuzzling a Puzzle
After playing with the Soma cube, I realized that the checkerboard puzzle should also make a 4 by 4 by 4 cube. Throughout the ensuing years, I constructed a cardboard cubic model of the original checkerboard puzzle, but I could never get those pieces to form a cube.

With an early Apple II computer, I designed a program … and finally solved the elusive cube. I started producing models as gifts for friends and relatives, but it was the Internet that really pushed me into the business.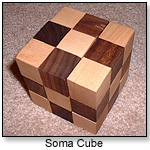 Switching Strategies Brought Success
R&A Media Inc. was incorporated in 1997 with the aim of putting small business software packages together into a single program — much like solving a puzzle. My slogan was, "We can put the pieces together!" I had the checkerboard/cube puzzle on my Web site to showcase the company motto. Numerous requests started coming in for the puzzle instead of the software, so in 1998 the CalmPlex Cube and Checkerboard puzzle went on sale online.

As sales increased, I started creating different shapes, but I wanted to stay away from the traditional burr-type puzzles, so I concentrated on geometric shapes to gain a unique market advantage.

My best-selling product to date is the checkerboard/cube puzzle (full-size and pocket versions). The CalmPlex was the first checkerboard/cube puzzle on the market. There are now many copycat-type puzzles, but none have the ability to make 54 different shapes.

As demand continued to increase, I could not keep up with my own production of the puzzles, and by 2003 I contracted a factory in Vietnam to do the manufacturing. My puzzles were presented at the Nuremberg and Frankfurt International Toy Fairs in February 2006 and the reviews were exceptional. In April of this year, the manufacturer opened a third factory, employing 150 woodworkers for exclusive production of the Philos line of puzzles.

Testing the Market
I would offer this key bit of advice for any new designer of puzzles: market test. For example, since the puzzle may be directed to children, I brought many samples to a kindergarten school puzzle party. Great success ... so much so that I could not get the puzzles back!

A later test involved a logic class at a local college and again, great success here since the CalmPlex puzzle really pushes logical thought to some extremes. This prompted a production run using plastic injection molding and a mall kiosk during the Christmas 1994 season. In one afternoon we sold over 200 units.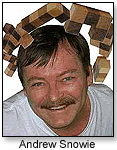 Getting into the U.S. market is a tough sell, with all the big-box stores, such as Toys R Us and Target and Wal-Mart, and there are not as many small specialty stores left as there are in the European Union. Philos GmbH & Co. KG in Germany is the E.U. distributor for my puzzles. With increased production from the new factory, I expect great sales to come from that region. The present puzzle packaging is printed in German, English and French. Spanish and Italian are being added for future production.

What follows is more information on my products: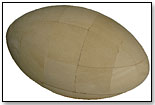 It will take young builders five to 25 minutes to fit the eight pieces together to form a football. The included stand can be used to aid in the assembly and to keep it from falling apart. It even looks nice on office desks of Monday morning quarterbacks.

ToyDirectory Product ID#: 8485

(added 7/5/2006)

.

AD
---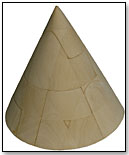 Players assemble the included 13 building pieces to form a cone. Although the topmost piece is easy to locate, sorting out which three cubic pieces form the interior and how to fit together the remaining nine pieces will take from 15 to 30 minutes.

ToyDirectory Product ID#: 8484

(added 7/5/2006)

.

AD
---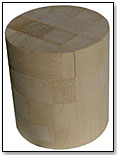 The object of this puzzle is to assemble 12 pieces into a cylinder shape. Few have done it in less than 10 minutes. Many others have danced around the solution.

ToyDirectory Product ID#: 8116

(added 6/1/2006)

.

AD
---






The CalmPlex puzzle is a wooden logic puzzle constructed of 2-cm (3/4") cubes, which makes a 6" by 6" 8 by 8 checkerboard and a 3" by 3" by 3" 4 by 4 by 4 cube. The puzzle also can make more than 50 other shapes.

ToyDirectory Product ID#: 8784

(added 7/28/2006)

.

AD
---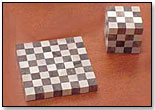 Like its "big brother," the Pocket CalmPlex puzzle is a wooden logic puzzle. It's constructed of 1cm (3/8") cubes, which can be manipulated to make a 3" by 3" 8 by 8 checkerboard, a 1.5" by 1.5" by 1.5" cube, and more than 50 other shapes. And it's portable.

ToyDirectory Product ID#: 8785

(added 7/28/2006)

.

AD
---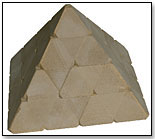 The object of this puzzle is to assemble the 13 wooden pieces into a 3" tall pyramid shape.

ToyDirectory Product ID#: 8786

(added 7/28/2006)

.

AD
---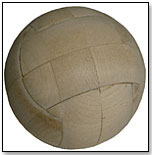 This 3" sphere puzzle, created from 12 wooden pieces, comes with its own custom display stand.

ToyDirectory Product ID#: 8787

(added 7/28/2006)

.

AD
---
THIS BANNER IS AN AD:
---
---