Dror Rom began designing his own puzzles long before he could afford to bring his ideas to fruition. He labored on them in his free time for 20 years while working as a statistical consultant. In 2004 he brought

Cmetrick

to the gaming and toy world through his company,

elogIQ

(ToyShow), based in Ambler, Pa.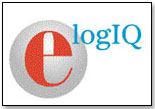 When the Rubik's Cube hit stores back in the early '80s, Rom became a fan. He wrote a solution book, "Rubik's Cube 1982," that sold 50,000 copies in his home country of Israel, where it was published and sold at bookstores. With the book's success, he knew that these sequential movement puzzles had a future that he wanted to be a part of. In 2004, he began his company, elogIQ, and his first mass-produced puzzle, Cmetrick, hit the market.

Rom describes, in his own words, the journey he's taken with elogIQ:

Making a Run at It

I'd been developing my puzzles for years and had decided about three years ago that I was going to make a run at it. Developing a company on your own is challenging and a financial burden. I finally could afford it, so after waiting 20 years, I did it.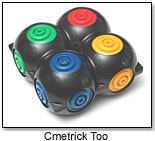 The major obstacles I faced were to make the mechanisms as flawless as possible and to patent the products in a way that will protect them in the best possible way. The product design went through several stages until it was satisfactory. My first puzzle was Cmetrick, which really seemed to take off. People really liked the challenge. We've also brought out related puzzles, and have others in the works. I've developed five more puzzles that work on different mechanisms than the Cmetrick line. One can never predict, unfortunately, what will take off. Sometimes, it takes patience.

Cmetrick, which we now call Cmetrick Classic, is a 3-by-3-inch square puzzle with nine spheres. Spinning rows and columns scramble the puzzle that then must be twisted and turned to bring it back to its color-matched spheres. Cmetrick Too, introduced at the end of 2004, is a 2-by-2-inch square puzzle with four spheres and color discs that can be passed between spheres. There is also a Cmetrick 2 Build that is a puzzle that must be built from the contents before it can be solved. A third version – Cmetrick Too-Hard – is in the works and expected to be ready for consumers by the end of the year. This version adds more colors to make the puzzle more difficult. At least one of the other puzzles being developed should be brought to market in the next year.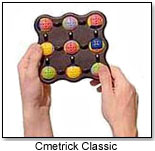 The First Year of Business

The first year of business was a whirlwind, but a worthwhile one. Our sales exceeded our expectations because so many different people enjoy the puzzles. They're popular with both kids and adults, although kids are drawn more to Cmetrick Too because it is easier to solve. In addition to just gamers, teachers are a market that we've reached out to. Math teachers can use the puzzle in their classrooms, along with lesson plans that have been developed with the help of other math teachers. The puzzles can be used in fractions, geometry and analytical thinking.

Working with math teachers, we were able to develop lesson plans that are being marketed to teachers now. I always knew you could use this to teach because it started as a result of pure math. I've spoken with teachers over the years about using this as a tool to make math more interesting. Cmetrick has also found favor with executive trainers because it can be used to help teach future managers how to think analytically.

Moving Forward

We hold four patents, two for each of our Cmetrick puzzles released in 2004, which opened the doors with distributors all over the United States and in Europe. In addition to our U.S. sales, our puzzles will soon be available in the United Kingdom, Germany and Holland since we just recently reached an agreement with a distributor who is getting worldwide rights.

In addition, the puzzles are sold on the elogIQ Web site and we opened a mall cart at the Willow Grove Shopping Mall in the Philadelphia area last year.


Writer's Bio:
Terri Hughes-Lazzell is a freelance journalist based in Ossian, Ind. After spending nearly a decade as a daily newspaper reporter, she has worked as a freelance journalist for more than ten years, writing about a variety of topics. Her work appears in newspapers, magazines and specialty publications nationwide.
Read more articles by this author