---
Convert More Sales During the Holidays With These 5 Tips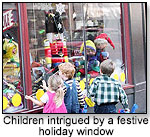 I was in Hudson, New York one evening when I spotted a new shop, C.M. Cherry. From the windows you could see this was a unique operation – it was primarily lit by candlelight. It made me curious as to what was inside.

That illustrates the first tip:

1. Display your store so well that your window draws us in.

The average customer only goes into three stores on an average shopping visit, and an intriguing window display can ensure that they will include yours as one of those three.

I was greeted as I entered the shop and encouraged to "explore our shop." This set the tone for my visit: graciousness, hospitality and a pride of ownership.

What made this store's product so very unusual is that they feature antique glass candlesticks lit with modern oil filled glass tapers. The effect is magical.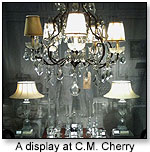 "Have you ever seen anything like this before?" Amanda, the saleswoman, asked. "No, I haven't," I replied. She went on to explain how the owner, Claude, who was also in the shop at 6pm on a Saturday night, had created a very special store, including glass candle holders from Baccarat to Tiffany's from various time periods and price points. "The glass tapers are included in the price of all of the candlesticks, or you can buy a set for $39 in five different sizes."

Second tip:

2. Always present information you think a customer would be curious about.

Amanda had pre-sold me, letting me know that I could also purchase the glass tapers separately as an add-on.

Claude came over and picked up the new glass ornaments he had commissioned for this holiday and showed my friend Karen. He concluded, "And we've pre-wrapped them, so you can take them home with you now." Karen purchased two, which shows the power of tip three:

3. Make impulse items look special.

While I considered a pair of glass candlesticks in the display unit and Amanda provided more detail, I noted the price tag. Which leads me to tip four:

4. Don't fold your tent.

When customers are shopping for more expensive items, clerks often say nothing to justify the price. Because of that, customers are allowed to believe the item may not be worth the price. They remain lookers instead of being converted to buyers. In this case, Amanda spent the time to explain the unique features and quality of the item, so there was no question as to its value.

That brings me to tip five: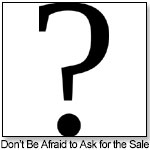 5. Simply ask for the sale.

No need to hem and haw or have an awkward pause. Simply ask something like, "May I put this on the counter while you continue to shop?" or "Would this be wrapped as a gift or for yourself?"

There are a hundred things you can say – so just say them. Remember: Those that don't ask don't get.

I chatted with Amanda for a while after the sale. She shared that she had learned retail sales at Marks and Spencer in London. She had a celebrated past working for the best of the best of English retailers, including opening a flagship store in Los Angeles several years ago.

She moved to upstate New York and found the area, and the people she got to work with, exceptional. It shows.

If you are ever in Hudson, New York check them out at 516 Warren Street. In the meantime, let me know which of these five tips you'll implement and how.

Writer's Bio:
Bob Phibbs is the Retail Doctor®, a best-selling author and speaker who has helped thousands of independent businesses compete. His new book, The Retail Doctor's Guide to Growing Your Business has received praise from both Inc. magazine and USA Today and can be found at your local bookstore or ordered at http://www.retaildoc.com/guide. He and his work have been featured in the New York Times, the Wall Street Journal and Entrepreneur magazine. Questions? Contact Bob at info@retaildoc.com.
This article was reprinted with permission of the author, Bob Phibbs, aka The Retail Doctor®.
Read more articles by this author
THIS BANNER IS AN AD:
---
---