---
Auditory Toys For Children With Sensory Processing Disorders
The fundamental senses of seeing, tasting, hearing, smelling and feeling encourage a child's curiosity and activate their young minds to discover the things around them. However, for many special needs children (particularly those diagnosed with autism), one or more of these senses may be absent or delayed.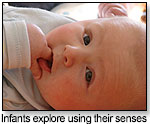 Sound can be considered a motivating force as an infant grows and begins to explore and establish a connection towards the people and places in their environment. For special needs children, especially those suffering from either mild or debilitating auditory sensory processing issues, the inability to understand and react to sound can play a dramatic role in their development.

The American Journal of Occupational Therapy published a study by researchers in 2004 that states at least 1 in 20 children are affected by sensory processing disorder (SPD). The Sensory Processing Disorder Work Group conducted research in 2009 which suggested that 1 in every 6 children experiences sensory symptoms that can be significant enough to affect aspects of everyday life. And, while many of us can honestly say that we experience occasional difficulties processing sensory information from time to time, for special needs children who are affected with SPD, these hardships are persistent, causing major obstacles in their daily life and routines.

The characteristics of SPD vary in each child. The Sensory Processing Disorder Foundation, based in Greenwood Village, Co., explains that one child diagnosed with SPD may, "over-respond to sensation and find clothing, physical contact, light, sound and other sensory input to be unbearable. Another child might under-respond and show little to no reaction to stimulation, even towards pain or extreme hot and cold temperatures…other children exhibit an appetite for sensation that is in perpetual overdrive." Regrettably, some children with SPD are misdiagnosed and medicated for conditions such as Attention Deficit Hyperactive Disorder (ADHD), which they do not have.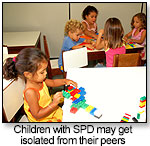 In my more than four years of experience as a teaching assistant to special needs children, I have found that sometimes, these children have a tendency to lack social skills because they are not always be included in groups with other children. This phenomenon is reflected in a 2009 study published by the Michigan Department of Human Services. Researchers found that children with auditory needs may "avoid others and may be distracted during activities. This may isolate them from other children unless you include them in group activities." However, given the opportunity to be a part of a group, the researchers explained that the children would be provided with a "good way to learn to use their bodies. Singing, listening to stories and sharing picture books can provide times for children to develop friendships and learn to imitate sounds."

When a child plays with the right auditory toy, it can help to provide them with the ability to integrate sounds, mimic rhythms, make word association and build their phonemic skills. I've discovered that there are certain toys that can assist children with SPD. It is important to seek out toys that stimulate their senses; for example, music, sounds and textures. However, it is equally important that they do not become overly stimulated. For this reason, auditory toys with on/off switches or removable elements are often ideal for children with SPD.

The auditory toys and interactive books below can be played with either alone or in a group (such as in a classroom). Not only do they provide lots of play value, but they also assist in establishing and reinforcing basic social communication skills in children with SPD.

The Mozart Magic Cube from Munchkin teaches children how to combine sounds together to create eight different classical Mozart masterpieces. This interactive 6 inch plastic cube features soft, rounded corners, making it safe for little hands to hold. It has five auditory cue buttons (harp, flute, French horn, piano and violin) which offer hours of open-ended pretend play opportunities. The lights on the cube flash along with the soothing melodies. A child can easily add or remove their instrument choices with the simple touch of a button.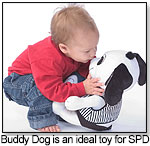 The Buddy Dog from PlayAbility Toys was originally destined to be a doll. Dr. Martin Fox, CEO of PlayAbility Toys, told TDmonthly that, "at first, it was going to be a doll, but then we decided, what better a companion for a child than a dog?" Designed from input from a clinic that, according to Dr. Fox, "provides care to children dealing with the effects of fetal alcohol syndrome as well as those diagnosed with autism," Buddy Dog is made from soft, tactilely stimulating fabrics, and is detailed with cotton and velour dots featured all over his body. His vest crinkles, and to prevent sensory overload with some children, the vest is removable and reversible. Buddy Dog chimes, squeaks, and rattles, and when his tail is pulled, it vibrates. This comforting four legged companion is, according to Dr. Fox, "a great therapy tool for parents, providing a child with a multi-sensory experience."

The Melissa and Doug Deluxe Wooden Emergency Vehicles Light and Sound Peg Puzzle provides a well-balanced mixture of visual and auditory experiences, while at the same time enhancing a child's oral skills. Featuring detailed, colorful illustrations of an ambulance, police car and fire truck, a child can learn to identify each piece and mimic the sounds that each vehicle makes. Lights and sirens will sound when a child places the vehicles in their correct place on the board.

The SENSEsational Alphabet is an interactive ABC picture book focusing on integrated sensory methods to learning. Inspired by her youngest son, April Rofe told TDmonthly that her goal was to, "create a single book that all families with young children, especially those families with special needs children like mine, can learn from together." This book assists in enabling all children, regardless of their strengths and weaknesses, to build a basis for communication skills development through learning the alphabet. The picture book manages to stimulate each of the five senses- every letter in the alphabet is represented by an interactive element. Authors Peggy R. Cox and Mary K. Dykes explained in their article, "Effective Classroom Adaptations for Students with Visual Impairments" published in July/August 2001 in the journal Teaching Exceptional Children, that students with visual impairments use "tactile and kinesthetic input to learn about their environments." Children with visual impairments enjoy toys and books, like this product, that are simple to operate, that produce familiar sounds, and have large, raised parts or other tactile textures and shapes to explore. With The SENSEational Alphabet book, children can learn about letters through touching (with Braille and tactile textures), hearing, and smelling (through scratch and sniff details).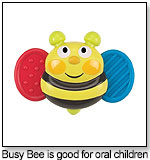 The Busy Bee Baby Buzzer by Small World Toys was designed by a physician to assist in developing a child's oral-motor alertness. According to a 2005 study published in the medical journal Speech Pathology Australia, oral-motor alertness assists in, "Creating accuracy, power and rate of articulator movements; enhances voluntary control of oral movements and heightens awareness of oral structures." The Busy Bee Baby Buzzer stimulates a child's auditory senses with blinking lights and music. The bee gently vibrates and plays soothing and calming classical tunes. The bee's soft ears are ideal for the orally-dependent child to chew and suck. The colored buttons let parent or child select what to hear.

Jungle Jam by Battat's B Toys is a bright, safari-themed toy instrument set that provides children with an amusing way to develop their music and motor skills. BPA, lead and phthalate-free, this set includes 10 instruments─2 giraffe maracas, antelope slide whistle, hornbill water whistle, 2 snake drumsticks, and more. The instruments neatly fit inside the leopard conga drum. Children can bang their fingers, palms, or fists, or they can use the lid as a tambourine to create their very own unique melodies. Winner of the Parents' Choice® Silver Honor Award.

You can learn more about these toys below.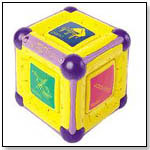 MSRP: $20.00

SKU or Item #: 7-35282-03101-4Launch Date: January 2000





With this award-winning product, children can add or subtract instruments with the touch of a button, and lights flash along with the music. With harp, flute, French horn, piano and violin instrument buttons, one orchestra button, and soft, rounded corners, it provides hours of interactive play. The product "gives children the opportunity to learn specific musical sounds of five different orchestral instruments and how they interact together to create a Mozart masterpiece. It inspires creativity by putting the child in the conductor's seat," Doug Gillespie, vice president of marketing at Munchkin told

TDmonthly

. Launch date: 2000.

— As of 8.30.10, this product had 4 out of 5 stars from 38 reviews on Target.com and was listed in the top 30 best-selling toys and games.

PROS:

Safe, durable, interactive and engaging.

— Kai Rady, owner of

Shenanigans Inc

in Charlottesville, Va., told

TDmonthly

in a 2012 survey about infant and toddler products that the Mozart Magic Cube was one of her top sellers.

— "This past December [2012] we sold several Mozart Magic Cubes from Munchkin. Even the price tag in the mid forty dollar range did not stop our customers," Joe Berardoni, owner of

Pun's Toys

in Bryn Mawr, Pa., told

TDmonthly

.

ToyDirectory Product ID#: 10548

(added 12/7/2006)

.

AD
---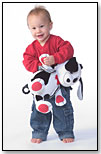 One of the first things children recognize is faces. Buddy's face, with his oversized eyes and friendly smile, will easily capture a child's attention. Buddy's high contrasting colors are extra appealing to young children and even children with low vision. Buddy's stimulating textures encourage tactile exploration — the cool cotton, soft velour, rubbery raised dots, fluffy tuft and secret patch of rough fabric on Buddy's back will appeal to all children, especially children will special needs. Buddy's reversible vest crinkles with a wonderful crackling sound, yet can be removed for children who are extra-sensitive. His gentle array of sounds will encourage curiosity and learning. When Buddy's tail is pulled, he vibrates with a soothing hummm that provides comfort for little ones eager to hug and hold.

ToyDirectory Product ID#: 8320

(added 6/20/2006)

.

AD
---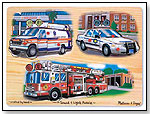 Place the last puzzle piece into the emergency vehicle to see the lights flash and hear the sirens. This 9-piece wooden peg puzzle features three 3-piece emergency vehicles, with a full-color, matching picture under each piece.

ToyDirectory Product ID#: 33051

(added 10/17/2011)

.

AD
---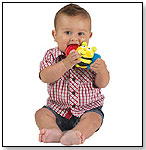 MSRP: $16.99

Age Range: 0 and upSpecialty: Yes (as of 2011)Gender: Boys And Girls





Designed by a physician to assist in developing a child's oral-motor alertness. The Busy Bee Baby Buzzer stimulates auditory senses with blinking lights and music. The bee gently vibrates and plays soothing and calming classical tunes. The bee's soft ears are ideal for the orally-dependent child. The color buttons let caregiver or child select what they'd like to hear.

ToyDirectory Product ID#: 33052

(added 10/17/2011)

.

AD
---
The SENSEsational Alphabet Book
by
SENSESATIONAL ALPHABET
Other products from SENSESATIONAL ALPHABET
TDmonthly rating:






Wholesale Price: (Log in to view)

MSRP: $29.95

Age Range: All AgesSKU or Item #: 0-9779189-1-2Launch Date: February 2007Gender: Boys And Girls





The SENSEsational Alphabet book is an interactive ABC book focused on integrating sensory methods to learning. It incorporates visual stimuli, movement, touch, smell, sound, Braille and sign language. This book is perfect for typical and Special Needs children alike who are learning the alphabet. "This book is four in one: sensory (touch, feel, scratch and smell); Braille; sign language; and audio. There are no other ABC books like this in the market. The book is perfect for all children," April Rofe of SENSEsational Alphabet told TDmonthly. Launch date: February 11, 2007.

ToyDirectory Product ID#: 11529

(added 2/20/2007)

.

AD
---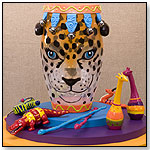 There's a conga in the Congo with these 10 wild instruments. Includes Leopard conga drum with 10-bell tambourine lid; Antelope slide whistle; Hornbill water whistle; 2 giraffe maracas; Croc cabasa & clacker; Twister hand drum and 2 snake drumsticks.

ToyDirectory Product ID#: 33053

(added 10/17/2011)

.

AD
---
Resources used for reference:

http://www.sensory-processing-disorder.com/

http://en.wikipedia.org/wiki/Sensory_processing_disorder

http://www.ncbi.nlm.nih.gov/pmc/articles/PMC2759332/

http://www.bostonherald.com/business/general/view.bg?articleid=1045826

http://www.fisher-price.com/us/special_needs/

http://ableplay.org/content/what-ableplay

http://www.special-needs-kids.co.uk/

http://www.nncc.org/Diversity/divers.disable.special.html

Writer's Bio:
With over a decade of experience as a freelance journalist/editor, Jennifer Lacey's work has been featured in numerous national and regional publications and websites. Inspired by her work as a teaching assistant, she hopes that her experiences with special needs children will help to enlighten
TDmonthly
readers.
Read more articles by this author
THIS BANNER IS AN AD:
---
---