---
Q & A With Jason Cohen, President of Smart Gear Toys
"The majority of people in this industry have a deep personal interest in this business and genuinely care about what they are doing." — Jason Cohen, president of Smart Gear LLC

What do you do if you can't find the perfect product for your child? When Jason Cohen, now president of Smart Gear LLC, was faced with such a predicament, he decided to just go ahead and create his own. Below, he tells TDmonthly how he learned to always strive for the best — but to keep in mind that the "rainy days" are inevitable, too.

Q. How did you come up with the idea for your first product?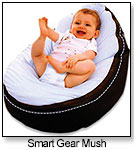 A. After having my first child and shopping the stores for various products for her, I realized how much of a void there was in the children's market particularly in the toy and furniture categories. Our first product was a soothing beanbag chair, Mush, designed to fit a child in their most comfortable position and help develop sensory awareness and provide deep relaxation with the use of integrated soothing vibrations.

Q. How long did it take to go from the original spark of an idea to actual production?

A. From concept to production, it took approximately 8 months.

Q. How much money did you need to create the first prototype and come up with a business plan?

A. We worked hand-in-hand with our factory on our design concept and business plan and were able to create the first prototype for approximately $2500. That's certainly out of the norm but by working closer with our factory they were more in tune with the potential of the product and were willing to take more risks on the project knowing that they would see a great deal of business if the product made a successful launch to market.

Q. What were the top two or three most significant obstacles you had to overcome to achieve success and how did you do it?

A. Coming from a completely different industry, I found the biggest obstacles were understanding the regulatory and compliance issues related to my product and for our factories. We did a lot of networking and schmoozing with other professionals in our industry to gain a better understanding from people who have already been through this and eventually hired an expert in that area to advise and guide us throughout the entire process from concept through production.

Q. How quickly did you spend your initial funds? Any regrets?

A. We started the business on a tight budget and we continue to run a very tight ship.

Q. What one unique quality makes your product better than your competition?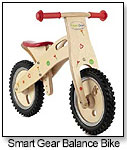 A. What sets us apart from the competition isn't just competitive prices and superior quality; it is the attention to detail that goes into every one of our product designs. Everything from how the product will not just entertain the child but also educate them using unique designs, fun shapes and colors to how the toy also affects the parent. For example, with our competitors balance bikes the parent will have a difficult time transporting it or carrying it around. If you had to lug your kids bike back from the park or the street you can surely relate to this. But with our Smart Balance Bikes they can easily, with one hand, carry one of our bikes using our unique carry handle incorporated in the bikes body. Sometimes it's the simple ideas that are most brilliant.

Q. What aspect of the toy industry most surprised you when you first started?

A. What surprised me most was the fact that the majority of people in this industry have a deep personal interest in this business and genuinely care about what they are doing. It isn't just a job. They actually enjoy what they're doing!

Q. What career path did you originally envision for yourself?

A. I was convinced that I was going to be a baseball player and play center field for the NY Yankees. Then reality hit and I dabbled in consumer electronics industry for about 10 years.

Q. Did you ever anticipate working with children's products?

A. No. Going through high school, college and then various jobs growing up I never imagined myself in the children's industry. I didn't have any connection to it.

Q. What hardships did you have to overcome during your formative years and how did they help you persevere as a business owner?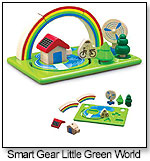 A. I had a previous business that, at the time, seemed bulletproof. Our business was growing at a tremendous rate for a number of years so we decided, in order to take our business to the next level, we needed to make significant investments into the companies infrastructure. That put some financial strain on us. Then we hit a few bumps in the road and at the same time the economy tanked. From there it was a downward spiral that we couldn't overcome. I lost my shirt on that one. The moral of the story is that no matter how bright the sun is shining, a rainy day is inevitable. You better be prepared for it.

Q. If you had to start over, what would you do differently?

A. I wouldn't do anything differently. We're still at the beginning stages of our business…the bumps in the road just make things more interesting. Good judgment comes from experience. Experience comes from bad judgment. Not sure who said that one but very true.

Q. What were the top two or three best pieces of advice you received and from who?

A. There are two rules for success: 1. Don't tell all you know. 2._______________.

I'm big on quotes. Here are a few that helped me out along the way:

"I don't know the key to success, but the key to failure is trying to please everybody." - Bill Cosby.

"Failure to prepare is preparing to fail." - John Wooden.

"People rarely succeed unless they have fun in what they are doing." – Dale Carnegie.

Q. How do you hope your product/s will affect children's lives?

A. The inspiration for me getting into this business was my daughter. I hope that our products can entertain, educate and inspire young minds while teaching our children that they can preserve and protect our planet by using more eco friendly products while not having to sacrifice anything to do so.

Q. What one piece of advice would you offer to someone just starting out in the toy industry?

A. The more you know, the more you'll grow!

Writer's Bio:
Justina Huddleston graduated Magna Cum Laude from Emerson College with a BA in Writing, Literature, and Publishing in 2009. After graduating she was the on-site director of the Boston Children's Museum gift store for a year, selling educational, developmental, and creative activity toys that tied in with the museum's exhibits. Justina also interned at children's book publisher Candlewick Press before moving from Boston to Los Angeles, where she is now Editorial Director of
TDmonthly Magazine
.
Read more articles by this author
THIS BANNER IS AN AD:
---
---