---
16 Tips to Reduce Theft in Your Store
Employees and Customers Pose Biggest Shoplifiting Threat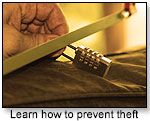 Theft is an unfortunate reality for all retailers, including those in the toy industry. Several retailers recently told TDmonthly that theft is a problem at their stores.

Shoplifting, combined with employee or supplier fraud, organized retail crime, and administrative errors cost the retail industry $41.7 billion in the United States in 2011, representing 1.6% of sales, according to the Global Retail Theft Barometer released on Oct. 18, 2011 by Checkpoint Systems. Of that total, $18.4 billion was attributed to employee theft, $14.9 billion to shoplifters, and $6.6 billion to internal error.

Here are some tips on how to minimize the problem.

1. Greet Customers. By making eye contact immediately, customers know you're watching them.

"Engaging every customer is important," said Dean Smith, co-owner of JaZams in Princeton, N.J. "We find that theft often occurs with customers who have not been greeted and asked if they need help…greeting folks and offering help greatly reduces theft in the store."

2. Watch for Odd Behavior. If something seems "off," it may be a red flag. Avoiding eye contact, browsing in hidden areas of the store, and chronic problem returns can be clues.

"Watch for big bags, strollers, and bags from other stores," said Elmer Carranza, assistant manager of Doodlehopper 4 Kids in Falls Church, Va., and "Always check non-visible parts of the store."

3. Use Cameras and Mirrors. Potential shoplifters may be deterred because they know they are being watched. At Larson's Toys and Gifts in Columbus, Ohio, owner Greg Larson reported that he uses video cameras. Although he doesn't monitor them all the time, he believes that they help reduce theft because his customers know they're there.

4. Use Strategic Checkout areas. If people know they have to walk past staff to enter and exit a store, they won't be so quick to try to take items with them. "Keep small items at the counter or a visible place at all times," suggested Carranza.

5. Use Checks and Balances. Employees should not be allowed to sell items to themselves, and refunds should be authorized only when the customer is present.

"We make sure employees have another employee ring up any sales and have checks and balances in procedures," said Larson.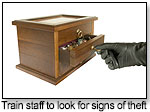 6. Train employees to look for signs of theft, such as open showcases, concealed merchandise, or empty packages on the floor. They should also know what instances they should report and how to respond to a shoplifting situation.

"Staff members are reluctant to believe that theft is a regular occurrence in retail stores," said Smith. "When you can show them that there is clearly a pattern of theft and make it concrete (showing torn-open packaging or missing inventory) they will start to be more aware of the problem and consciously engaged in preventing theft."

In addition, Carranza noted that he increases the number of staff on busier days, then has zones for them to work in. "Make sure employees do not get distracted and walk around their zone," he said.


Sources:

Check Point Systems. (Oct. 2011). Looking at the Big Picture to Reduce Shrink. Retrieved from http://globalretailtheftbarometer.com


Johnsen, Michael. (2011, Oct. 19). Retail crime cost U.S. retailers $41.7 billion in 2011. Retailing Today. Retrieved from http://www.retailingtoday.com

Writer's Bio:
Brenda Ruggiero is a freelance writer from western Maryland.
Read more articles by this author
THIS BANNER IS AN AD:
---
---