---
Q&A with Jane Walter, Founder of organicKidz
Jane Walter, founder of organicKidz, is a woman of action. When she first heard about the danger of BPA in baby bottles, she took it upon herself to design and manufacture a new line of safe, fun, stainless-steel bottles.

Later,when she came across a Tweet on Twitter saying that 10,000 kids in her city went to school hungry each day, she was inspired to start her own charitable organization.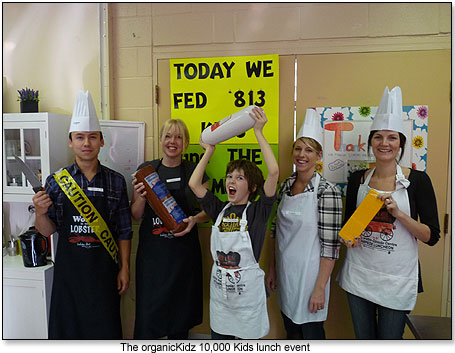 Below, read about Jane's journey, from the first spark of an idea for her product, to the first big event organized by her charity.

Q. What career path did you originally envision for yourself? Did you ever anticipate working with children's products?

A. I had a degree in Education and spent several years teaching elementary school. I loved working with children and it provided a great outlet for my creativity - there are so many exciting things you can do to make learning fun!

Q. How did you come up with the idea for your first product?

A. The idea for the first ever stainless steel baby bottles actually came about from raw anger. When the news about BPA (bisphenol A) came to light, I was horrified that the baby bottles I'd been using for my children were loaded with this toxic chemical. While it was too late for my children, I didn't want other babies to be exposed to this, so I decided to make the safest, greenest baby bottle possible. That meant using stainless steel, and organicKidz was born!

Q. What steps did you need to take to go from the original spark of an idea to actual production? How long did it take?

A. I had to come up with the design of the bottles in 3 sizes including the world's first thermal baby bottle, then the assortment, which included different flows of nipples and sippy spouts that made the bottles convertible to Sippy Cups. Next came the bottle patterns, the packaging - all that had to be done before we began manufacturing. It was crazy, I'm not sure I slept at all!

It was about a month and a half from coming up with the idea to launching it at the ABC Kids Expo. Actually, the timelines were so tight that our products were stuck in US Customs for the first 2.5 days of the ABC show! This isn't at all a typical timeline; we were very fortunate to find a great factory who saw the potential in organicKidz products and fast tracked our manufacturing!

Q. What charitable organizations has your company worked with in the past?

A. We donate bottles whenever possible; we've donated to a variety of causes and organizations. We actually started our own organization called '10 000 kids project' with a group of local entrepreneurs. Our mission is to help 10 000 kids in need. The proceeds from our event went towards buying lunches for school children who wouldn't otherwise have a lunch. We raised enough money to buy over 150 000 lunches! Next year, we're slated to work with a children's hospital to help 10 000 sick children in some way.

Q. Why did you choose this particular charity?

A. I started 10 000 kids project because of a tweet! A tweet came across my Twitter page saying that 10 000 kids in our city go to school hungry. That was horrifying to me and it reminded me of the children I used to teach in high-need schools. A few of them would come to school with their tummy rumbling and try to focus on learning. Who can do that? No child should go hungry, not when we live in a prosperous city and have people willing to help out.

Q. What was your experience like?

A. At 10 000 kids project we're a small team of volunteers, so we did everything from the ground up, including building our website, getting sponsors, donations, making lunches for hungry kids, running a huge charity event, etc.. The great part of being involved at every level is that you get to really see the difference a few people can make. You really get to help out - I can tell you that when you're making 800 sandwiches in just a few hours and know it might not be enough…that really hits home. It's humbling to say the least! My oldest son made lunches alongside of me. I wanted him to have that experience too - to know how important it is to give back and to realize how lucky he is.

Q. What do you consider to be your greatest accomplishment in the toy industry? Why?

A. We made baby bottles FUN for the first time! Before organicKidz, most baby bottles looked the same, made of clear glass or clear plastic. We have so many parents tell us how much their children love our products because they're so colorful and bright - the kids want to hold the bottles and play with them. They're virtually indestructible too! We've had parents run over our bottles by accident and they don't break.

Q. How do you hope your products affect children's lives?

A. When babies are born today, Healthy Child Healthy World tells us that 200 chemicals are coursing through their veins. We don't want to add to that! We use stainless steel because it's completely safe - it doesn't contain the chemicals that plastics can, and it won't shatter like glass. Stainless steel is recyclable and naturally bacteria resistant. There are no issues. Simply speaking, we want our children to grow up using products that are healthier for them and for our planet.
organicKidz 4 oz Narrow Necked Baby Bottles
by
ORGANICKIDZ
Other products from ORGANICKIDZ
Shop for It!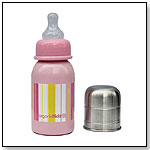 4oz Durable Single Hulled Stainless Steel Baby Bottle - Designed with a colored ring and stripe, this unique bottle design allows for easy heating and cooling of liquids. The lid is a 2oz, durable stainless steel design providing a built in measuring cup. BPA , PVC and Phthalate free. Compatible with most narrow necked nipples. Includes 1 Slow Flow organicKidz Nipple. Colors available include yellow, dark blue, green, light blue, pink stripes, and raspberry.
Awards: Disney iParenting Media; Mom's Best award.

ToyDirectory Product ID#: 33494

(added 1/20/2012)

.

AD
---
organicKidz Stainless Steel Baby Bottles
by
ORGANICKIDZ
Other products from ORGANICKIDZ
Shop for It!






organicKidz Stainless Steel Baby Bottles are a safe and practical alternative to plastic, aluminum and glass drinking containers.


ToyDirectory Product ID#: 24431

(added 7/3/2009)

.

AD
---

Writer's Bio:
Justina Huddleston graduated Magna Cum Laude from Emerson College with a BA in Writing, Literature, and Publishing in 2009. After graduating she was the on-site director of the Boston Children's Museum gift store for a year, selling educational, developmental, and creative activity toys that tied in with the museum's exhibits. Justina also interned at children's book publisher Candlewick Press before moving from Boston to Los Angeles, where she is now Editorial Director of
TDmonthly Magazine
.
Read more articles by this author
THIS BANNER IS AN AD:
---
---