---
Q&A With Tereson Dupuy, creator of FuzziBunz
When Tereson Dupuy's son was having difficulties using disposable diapers, she came up with a solution: an absorbent, reusable cloth diaper that didn't rely on powerful chemicals to keep babies dry. Below, read about how she brought her idea to the market, how she uses her company, FuzziBunz, to benefit a charity close to her heart, and how she hopes her product can affect children's lives.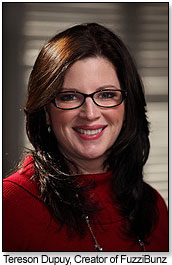 Q. What career path did you originally envision for yourself? Did you ever anticipate working with children's products?

A. I originally wanted to go into social work or counseling. I had worked for the Rape Crisis Center for a while but then quit to be a stay at home mom. I knew I wanted to do something child-related since I was a mother, and with the invention of FuzziBunz I got to do just that.

Q. How did you come up with the idea for your first product?

A. My second child Eden had severe diaper rash and I had to stop using disposable diapers because the chemicals irritated his skin. When I tried cloth diapers, I was so disappointed in my options. When I couldn't find the diaper I needed, I invented one! I was a determined mother indeed!

Q. What steps did you need to take to go from the original spark of an idea to actual production? How long did it take?

A. This happened very quickly. I started trying different materials that would keep my son's skin dry while using a cloth diaper, and as I succeeded in solving one issue, another would pop up that I would then solve as well.

In about 3 months I had a product suitable for sale and I began sewing and selling my invention on small cloth diaper community boards online. In 2 months time things got so out of hand that I had to hire sewers, and after only 6 months of selling the product I moved the business out of my house, hired employees and started a small-scale manufacturing facility.

The business doubled almost every 6 months and we grew fast in the first several years. I am still expanding manufacturing and developing product, so it is an ongoing process.

Q. What charitable organizations has your company worked with in the past?

A. One charity I'm most proud of is Autism Speaks. My son was diagnosed with Asperger's Syndrome, a form of autism, several years ago. I received so much support that I felt it was my turn to give back. That's when I created the Light It Up Blue FuzziBunz diaper.

$1 from every Light It Up Blue diaper sold goes straight to Autism Speaks and I'm proud to say we have raised thousands of dollars for the organization! Another project I am proud of is our donations to orphanages around the world. Many third-world countries do not have curbside trash pick up, and reusable diapers are the only option for them. I have been able to donate thousands of diapers to orphans in Haiti, Uganda and around the world - hopefully FuzziBunz brings some ray of hope to these children in need.

Q. Why did you choose to work with these particular charities?

A. As a company it is part of our social responsibility to not look the other direction when there is a need we can meet.

Q. What experience do you have working with charities on a personal level?

A. So much of my charity work is intertwined with FuzziBunz, evident between the personal tie between Autism Speaks and our fundraising efforts.

That said, personally, I have been involved in raising money for Hurricane Katrina victims and I also collected used diapers, blankets and other materials to help clean up the Gulf waters during the BP Oil Spill. These events were happening to the state I loved dearly, and I couldn't sit back and do nothing.

Q. What do you consider to be your greatest accomplishment in the children's products industry? Why?

A. The most wonderful thing is seeing moms and dads finding a hole in the industry and inventing products to solve their everyday problems. I invented FuzziBunz after I found a hole in the diapering industry. So many innovative moms and dads are doing that every day and it really warms my heart to see such creativity in children's products.

Q. How do you hope your products affect children's lives?

A. I hope that FuzziBunz creates a better world for our children, with less trash produced and a better outlook on reusing vs. disposing.

I also hope that FuzziBunz shows parents that they don't need powerfully absorbent super chemicals to keep their baby dry and leak free. Children don't need to be exposed to such health and environmental hazards, and I feel good knowing FuzziBunz is making a difference in their lives and the world at large.





Wholesale Price: (Log in to view)Minimum Order: (Log in to view)Minimum Reorder: (Log in to view)Ships From: (Log in to view)

MSRP: $19.95

Age Range: 0 to 4Target Age Range: 0 to 2Specialty: Yes (as of 2011)Made in: TurkeySKU or Item #: One SizeLaunch Date: January 2009Gender: Boys And Girls





This award-winning patented cloth pocket diaper is made with sturdy snap closures, which are made to last and require no maintenance. FuzziBunz diapers have no Velcro®, so they won't fray, collect lint or snag your baby's clothes. FuzziBunz come in a variety of sweet and fun colors and they fit snugly on your baby without the added bulk that comes with most one-size diapers. They offer "Lots of adjustability with 30+ adjustable buttons and snap settings to adjust waist, leg casings and rise. It is the most adjustable one-size diaper," Ashley Boudreaux, marketing director at FuzziBinz, told TDmonthly.
Awards: 2007 Iparenting Media; 2008 PTPA Media; 2009 Best of Business Awards; 2010 Stevie Awards: Best New Product of the Year; 2010 Stevie Awards: Most Innovative Company

ToyDirectory Product ID#: 32419

(added 5/27/2011)

.

AD
---

Writer's Bio:
Justina Huddleston graduated Magna Cum Laude from Emerson College with a BA in Writing, Literature, and Publishing in 2009. After graduating she was the on-site director of the Boston Children's Museum gift store for a year, selling educational, developmental, and creative activity toys that tied in with the museum's exhibits. Justina also interned at children's book publisher Candlewick Press before moving from Boston to Los Angeles, where she is now Editorial Director of
TDmonthly Magazine
.
Read more articles by this author
THIS BANNER IS AN AD:
---
---