---
Q&A w/ Neil Kay, Creator of Digi-Piggy®
The economy may be wallowing, but this Piggy is getting things done
Today's kids are digital natives growing up in a down economy. Cisco Sales Corp, creators of the Digi-Piggy®, recognized the unique need for a product that satisfied the modern child's digital aesthetics, while teaching them the increasingly important skill of saving money. Thus, the Digi-Piggy® was born.

The Digi-Piggy® is a Piggy Bank and digital coin counter in one. Its whimsical design is not only cute, coming in white and pink models, but also practical; an LCD display on the pig keeps track of just how much money kids are storing away for the future.


The Digi-Piggy® is even approved for use in schools by the California Department of Education, according to their Mathematics Content Standars for California Public Schools: Kindergarten Through Grade Twelve, adopted in 1997.

Below, Neil Kay from Cisco Sales Corp shared with TDmonthly Magazine how the The Digi-Piggy® has become such a successful toy and learning tool, why the product is so relevant to the kids of today, and what makes the product unique compared to its competitors.

Q. How did you come up with the idea for the Digi-Piggy® product?

A. The Digi-Piggy® is a product of our Times. Children need to save…So we decided to make a piggy bank with a clear lower body and a counting function so children can learn to save and see their money grow. My youngest son Ian, who is creative designer, came up with the name The Digi-Piggy®. I designed our innovative Award Winning Window Box design. My eldest son Jordan headed our Marketing and Sales.

Q. What steps did you need to take to go from the original spark of an idea to actual production? How long did it take?

A. It took 4 months to come up with the final design. Then, it took one month of mold making, and for the tooling of the digital coin counting Integrated Circuit.

Q. How much money did you need to create the first prototype and come up with a business plan?

A. About $6,000

Q. How did you raise it, and how long did it take to raise it?

A. Fortunately we had the capital to reinvest from the profits of our other products.

Q. Did you ever anticipate working with children's products?

A. As creative designers, we at Cisco specialize in the development of many consumer products. Cisco has developed many safe products for the Children's market. We have the proud distinction of never having a product recall in over 35 years.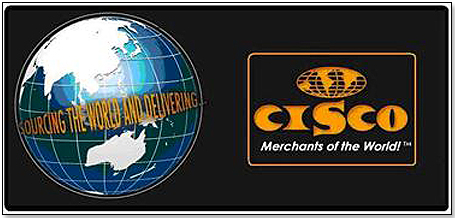 Q. What career path did you originally envision for yourself?

A. As a young boy and then a former athlete, I began to referee basketball. I wanted to become a NBA Referee…I did become a NBA Referee in the NBA in 1983, but when my son was born, I concentrated on Cisco. I found that my passion for being a father meant I could not deal with missing the quality time raising my son if I was on the road 4 months of the year.

Q. Where and what did you study?

A. I majored in Political Science, with a minor in Marketing, from the University of Southern California and California State University Northridge.

Q. What hardships did you have to overcome during your formative years and how did they help you persevere as a business owner?

A. Some hardships were a lack of a credit line, and trying to find reliable suppliers. However, this process worked to build long lasting business relationships.

Q. What do you think are the 3 most essential elements of a successful consumer goods company?

A. Innovation, Quality Control, and great Customer/Consumer Relations.

Q. What were the top two or three most significant obstacles you had to overcome to achieve success, and how did you do it?

A. Fear of failure, finding reliable suppliers, and introducing new products.

Q. What do you consider to be your greatest accomplishment in the toy industry? Why?

A. Digi-Piggy® has been awarded the 2011 Seal of Approval from The National Parenting Center. When we released Digi-Piggy at The International Toy Fair 2011, we were approached by a variety of prestigious licensing groups, including The National Parenting Center (TNPC). TNPC puts your product in front of thousands of parents to review the quality, functionality, name, look, safety, directions of use, etc. With that said they basically do a thorough analysis and the top item prospects are granted the (TNPC) "Seal of Approval". Cisco Sales Corp was granted the Seal of Approval post Toy Fair, which is a great marketing /sale boosting tool.

The website Mashable.com also listed Digi-Piggy® as one of the top 10 coolest new toys at International Toy Fair 2011, which is HUGE. Mashable is the top source for news in social and digital media, technology and web culture. With more than 40 million monthly page views, Mashable is the most prolific news site reporting breaking web news, providing analysis of trends, reviewing new Web sites and services, and offering social media resources and guides. This is HUGE! http://mashable.com/2011/02/14/toy-fair-pics/#10043360-LED-Helmet-Mobo

Q. What makes your product better than the competition?

A. Digi-Piggy® has a stylish yet lovable look, and has a coin counter and clear body so the child can see his or her money grow.

The Digi-Piggy® has won numerous awards and is selling worldwide with custom IC chips made for each country's coinage. We have the ability to change the tooling and counting mechanism, which will be set in production, to accommodate and suit each specific individual country's market /currency. The IC chip can be set to accommodate any country/ currency worldwide.

We currently market in the USA, Canada, Mexico, Brazil, United Kingdom, Australia, Japan, and Korea.

Q. How do you hope your product/s will affect children's lives?

A. We want children to learn the value of saving their money for the future.
Digi-Piggy
by
CISCO SALES CORP
Other products from CISCO SALES CORP
Shop for It!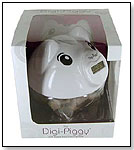 The Digi-Piggy® is a great way for children to learn the concept and benefits of saving their money. The best part of saving with the Digi-Piggy® is that the user can see the progress of their savings with every deposit made. The Digi-Piggy can be a fun and useful tool to encourage thrift and economic awareness for children of all ages.

ToyDirectory Product ID#: 31940

(added 3/16/2011)

.

AD
---
The preceding article was a paid advertorial

Writer's Bio:
Justina Huddleston graduated Magna Cum Laude from Emerson College with a BA in Writing, Literature, and Publishing in 2009. After graduating she was the on-site director of the Boston Children's Museum gift store for a year, selling educational, developmental, and creative activity toys that tied in with the museum's exhibits. Justina also interned at children's book publisher Candlewick Press before moving from Boston to Los Angeles, where she is now Editorial Director of
TDmonthly Magazine
.
Read more articles by this author
THIS BANNER IS AN AD:
---
---