Tools:








Watch Toy Videos of the Day (10/22/2012-10/26/2012)
We want you to see the toys we see, so you can determine if they're right for your store! Check this space every weekday to see brief video clips of new and specialty products.

In the spotlight today? Encourage your customers to start their holiday shopping with gifts like Starter Pack Dominos from HABA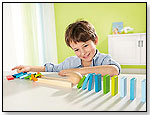 Contents: 61 colored domino blocks, 6 pieces of untreated wood, 1 ball, 1 building block clamp, 1 arched clamp with little bell. Endless building fun with abundant options for experimenting. Helps kids learn cause and effect.

ToyDirectory Product ID#: 34298

(added 5/23/2012)

.

AD
---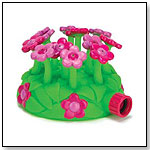 MSRP: $19.99

Age Range: 3 to 6Specialty: Yes (as of 2012)Gender: Boys And Girls





It's easy to keep cool with the Melissa and Doug Sunny Patch Blossom Bright Sprinkler. Simply attach to a garden hose and begin playing. The beautiful Blossom Bright flowers shoot steady streams of water for hours of water play. This durable water sprinkler makes a perfect spring or summer activity.

ToyDirectory Product ID#: 34318

(added 5/24/2012)

.

AD
---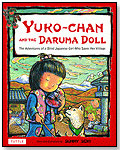 Yuko-chan and the Daruma Doll, a gorgeous book by author/illustrator Sunny Seki, takes readers on a journey into ancient Japan and the story behind the famous Daruma Doll. Yuko-chan, an adventurous blind orphan, is able to do amazing things. She confronts a temple burglar in the dead of night, and crosses treacherous mountain passes to deliver food to hungry people. During her travels, Yuko-chan trips and tumbles down a snowy cliff. She discovers a strange thing as she waits for help: her tea gourd, regardless of how she drops it, always lands right-side-up. The tea has frozen in the bottom of the gourd. Inspired by this, she creates the famous Daruma doll toy, which rights itself when tipped—a true symbol of resilience. Thanks to Yuko-chan's invention, the villagers are able to earn a living and feed themselves by selling the dolls. Yuko-chan never gave up, no matter the obstacles she faced, and the Daruma doll is a charming reminder of the power of perseverance.

ToyDirectory Product ID#: 35350

(added 10/23/2012)

.

AD
---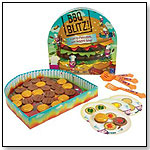 Grab your spatula and dig into this silly, burger-slidin' game. Race to fill your paper plates with burgers with each different topping or scoop up all the burgers with matching toppings—either way, the sliding burgers won't make it easy.

ToyDirectory Product ID#: 34351

(added 5/25/2012)

.

AD
---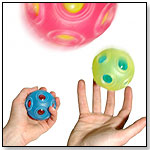 XaXa (pronounced "Ksa·Ksa") is designed to stimulate the senses. It's for playful, curious people, jugglers, dancers, performers – for kids of all ages. The adaptable balls invite kids to experiment and explore: Fill them with different objects to change their sound or weight and mix or match colors to get the look they like. The core of XaXa is made of shock-resistant, clear plastic that is protected by a super-elastic rubber skin. This soft skin makes the balls pleasant to touch and easy to catch. It is so stretchy and durable that the core can easily be popped out of one of the holes.

ToyDirectory Product ID#: 34256

(added 5/18/2012)

.

AD
---
Catalog Request Form

Writer's Bio:
Justina Huddleston graduated Magna Cum Laude from Emerson College with a BA in Writing, Literature, and Publishing in 2009. After graduating she was the on-site director of the Boston Children's Museum gift store for a year, selling educational, developmental, and creative activity toys that tied in with the museum's exhibits. Justina also interned at children's book publisher Candlewick Press before moving from Boston to Los Angeles, where she is now Editorial Director of
TDmonthly Magazine
.
Read more articles by this author
THIS BANNER IS AN AD:
---
---