---
DONATED EDUCATIONAL TOYS MAKING IMPACT ON COUNTRY
Ten Companies Will Reach Thousands of Kids
Part II of TDmonthly's "2012: A Year of Charity" is in full swing, raising spirits of educators across the nation. Early reports are that donations by Crossen Creations, FindIt Games, b. dazzle inc., PlayMais Canada Inc., Amazing Science!, Moving Picture Books, Education Outdoors, We R Fun Games,Uncle Skunkle and The Spelling Bee Game have caused principals to nearly jump with excitement, hug storekeepers and generally raise emotions to a high, productive pitch.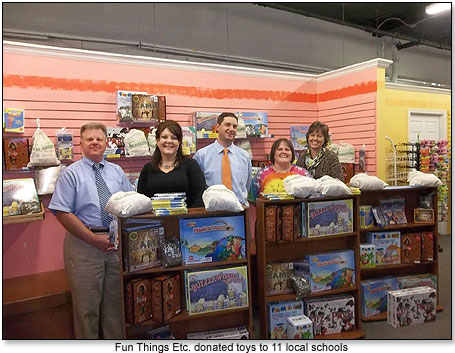 Spreading the Wealth

Tina Schwindt of Fairhaven Toy Garden in Bellingham, Wash., said, "This project has been a rewarding experience so far and is just getting into full-swing, as our schools don't start until after Labor Day."

Educators who have dropped by the store to pick up their generous donations include teachers of three classes of high-school-age developmentally disabled students, and a social worker with the school district who works with elementary students. Tina also donated toys to a building that houses low-income seniors and disabled people, and to a low-income daycare. Her strategy is to spread the wealth around to best benefit the community and better establish her store's importance.

"We hope to make enough relationships that we can continue working with some them beyond this project," said Tina. "Thank-you again for providing a jump start to a program that we intend to make our toy store known for both now and in future years." (Do YOU want to give away toys for the holidays? Click here)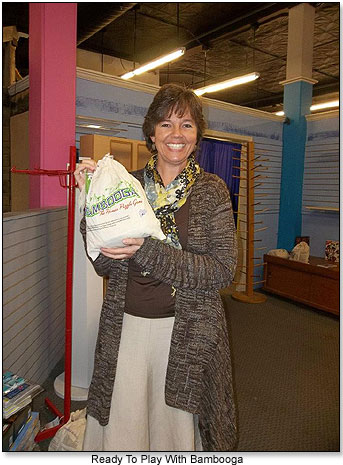 Making Principals Giddy

Denise Teague of Fun Things Etc. in Waynesville, NC, devoted the entire month of September to promoting the educational giveaway. She put samples of the donated toys in her store window and entered each customer who purchased a toy into a raffle to win one of the donated toys. Anyone who spent $10 or more received an extra raffle ticket.

She'd teamed up with the Mrs. Penny Woods, director of the Haywood County Schools Foundation, which raises funds for local schools, to have the maximum impact possible on her community. In total, nine elementary schools and two Christian Academies will receive donations.

TDmonthly spoke with Denise on the day that two of the 11 school principals came to pick up their caches:

''I received lots of hugs from the principals today,'' said Denise. ''It almost made me cry. They were very appreciative.''

Principal Heather Hollingsworth told Denise that she'll be able to give a toy to every classroom and, ''the kids will love it!''

Principal Tod Barbee noted that he and Mrs. Hollingsworth both work in Federally designated Title 1 schools, where a certain percentage of their students are below the poverty line, so the donations are not just welcomed, but much needed.

''We don't have the money to spend on these kinds of things,'' he noted. ''These will be great for our students.''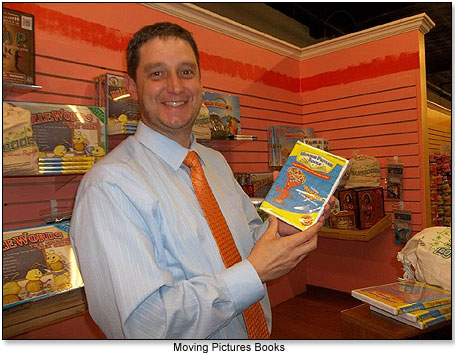 Passing Business to Other Businesses

Denise's customers loved the toys, too. The window display attracted so much attention that customers came in specifically requesting the donated games. Sadly, shortly after she won the TDmonthly contest, Denise decided to close her six-year-old store so that she could spend more time with her own children. Although she can't actually sell her customers the games they want, she gave each of them a list of the manufacturers with contact information so that they can purchase them directly. Nearby stores, including a bookstore and a hiking club, are taking over her lines, including some of the donated games, so they can carry them after she closes in mid-October.

Some lucky customers won't have to wait for their toys. Denise drew the winning ballots today: out of thousands of entries, there are 10 winners – one for each donating company.

Because her store has always been closely involved with the community and supporting education, Denise felt that the TDmonthly giveaway was a great way to go out with a big bang, supporting schools, specialty manufacturers and other local businesses by passing on news of these great educational toys.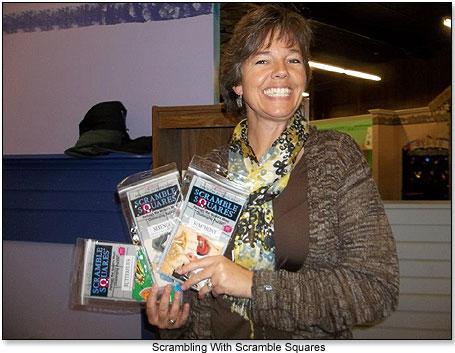 Preparing for Hoopla!

Phil Wrzesinski of Toy House & Baby Too, a Jackson, Michigan staple since 1949, is preparing for his big giveaways. He's already been posting teasers on Facebook, alerting his customers to what's coming up. Next week, he'll set up an in-store display showcasing the ten donating companies and will also alert his local schools about the giveaway day, which he's planning a big media blitz for.

On or about October 27, the school reps will come to the store to receive their highly educational and super fun booty, with flashbulbs popping and – Phil hopes – a significant local media presences.

''We're going to have our customers start signing up that week to the be the ones to present the remaining toys to their own favorite charities,'' Phil told TDmonthly.

He'll have a drawing on November 10 – Neighborhood Store Day – and announce the ten luck winners.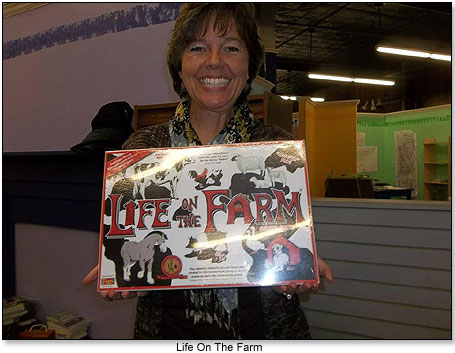 Help With A Big Move

Kate Tanner, longtime owner of Kidstop Toys in Scottsdale, Ariz., will be doing her educational giveaways after she moves her Baby Store in November. "Our PR firm is targeting our store moving sale" and will promote the giveaway, too. Stay tuned for more info…and photos!

More photos from the Fun Things Etc. giveaway: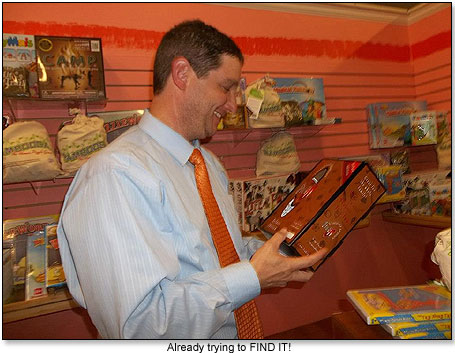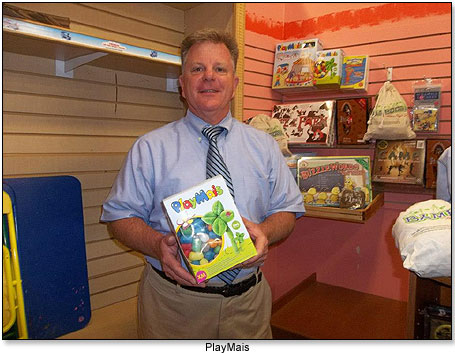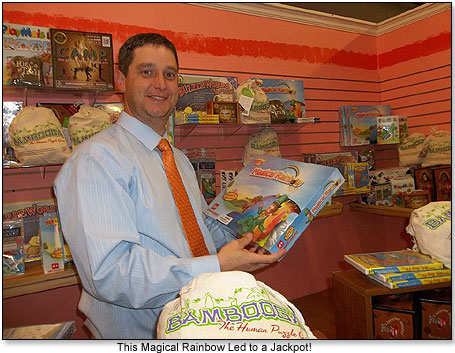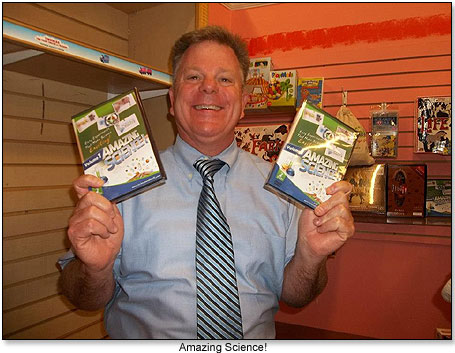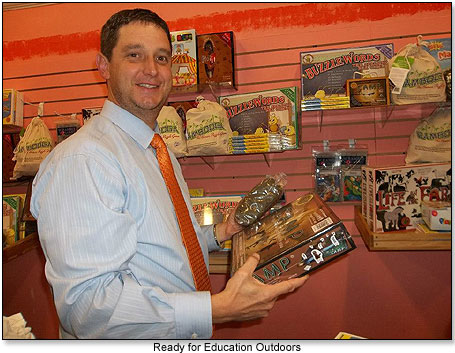 And here are the toys that kids will be benefiting from, thanks to the generous donors and the winning retailers' hard work:







Hilarious! Combines fast "moo"-ving action and authentic family-farm mishaps for "udder"-ly unpredictable fun! Teaches basic economics, yet is simple to understand and play. A REAL family game - designed so ages 8 to 108 can easily play together, comfortably! First to "Retire" wins! "Life on the Farm" has won a National Parenting Center "Seal of Approval 2012"; Best Family Fun Tillywig Toy Awards; National Teacher's Choice "For the Family" Award; "Outstanding Product"and "Hot Product" *iParenting Media Awards, among many others.

.

AD
---






.

AD
---






PlayMais is a biodegradable crafting material made from corn and colored with food coloring. It is manufactured in Germany, 100% safe, and biodegradable. PlayMais stimulates children's imagination and creativity, trains fine motor skills, and develops social group skills. PlayMais can be shaped, squeezed, cut and all it takes is a little bit water to create unlimited fun. Children can build in 2 or 3 dimensions, or wherever their imagination takes them.

.

AD
---






.

AD
---






Fishing Camp is a game where both children & adults can play & learn fun facts about Fishing. The game is designed to grow with the player, starting at level one questions, which are primarily identification of fish and fishing tackle. As the players increase in their knowledge about Fishing, they grow into the higher level questions. A fun & educational game where parents & children can play to see who catches the first fish and gets back to the docks. Game includes: 1 game board, 200 game cards(400 questions, and 100 fun facts), 1 decoder, 8 game characters, 1 die, 16 level cards, and 1 GPS card. Launch date: 2012.

.

AD
---






.

AD
---






By combining high quality animation, rich narration, sound effects and music, Moving Picture Books provide a fun and educational digital reading experience for children ages 0-7. There are 38 titles — both classic stories and new favorites — each available in English, Spanish and English Read-Along-Text versions. Our books can be purchased as digital downloads, or DVDs.

.

AD
---






Learn fundamental principles of science through Amazing Science Experiments. Viewers learn about electricity, magnetism, heat, temperature, pressure, surface tension, buoyancy, and much more. For every demonstration, a complete materials list is given, and each experiment features multiple camera views so kids can see exactly what happens. Most importantly, every concept is explained in a step-by-step fashion. Viewers not only be amazed - they'll understand the science behind every experiment.

.

AD
---






.

AD
---






.

AD
---
THIS BANNER IS AN AD:
---
---