---
ToysRUs – 2 Strategic Imperatives + 1 Major Potential Problem
A few weeks ago I said in this space that "ToysRUs has gained market share in the overall U.S. toy space – online and total retail - on a continuous basis since 2009," and, "ToysRUs profits because the company is pretty much insulated from the showroom effect in that more than half of its toys are either their own brands – FAO, Animal Alley, Dream Dazzlers etc – or are exclusives."

This prompted me to look more closely into the factors driving TRU's product strategy and I decided to go to Andy Gatto to get his insights. For many years Andy was Senior Vice President Strategic Sourcing at Toys R Us, then became CEO of Russ Berrie and now is a board-level consultant.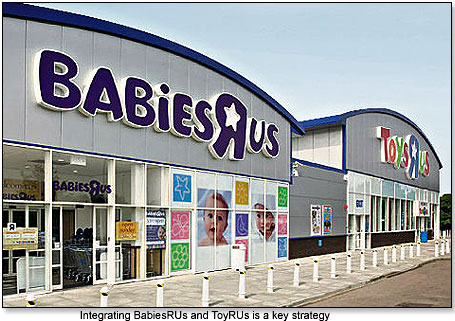 According to him, for the past few years ToysRUs has been pursuing two overarching objectives in their pursuit of the forthcoming IPO – flattening the seasonal curve and differentiating their product offering from their primary competitors.

As for the first objective, the need for this becomes clear once you contemplate the fact that more than half their toy sales take place in the three short months between November 1 and December 31. Nothing illustrates this better than their web traffic:




For nine months, their toy business is at best a break-even proposition – a case of feast or famine if there ever was one.

The company's management very rightly concluded that there was nothing in the toy space that could correct this imbalance – Valentine gifts, Easter toys, Summer playthings, video games etc. notwithstanding. The answer was to find products that steadily sold each day of the year. And they had the perfect answer – BabiesRUs.

The first BabiesRUs store was opened in 1996 in Westbury, NY, and more stores were added over the years until the chain became the most popular destination for young mothers. Most of these stores were placed next to a TRU store. Then, finally, the idea hit the decision makers – integrate BabiesRUs into the ToysRUs store itself. Beginning in 2006, the company began moving small Babies' sections into the main store. This proved successful and in 2007 the concept was expanded to all new locations.

The logic of this step becomes clear when you look at toy seasonality versus birth patterns in the U.S.: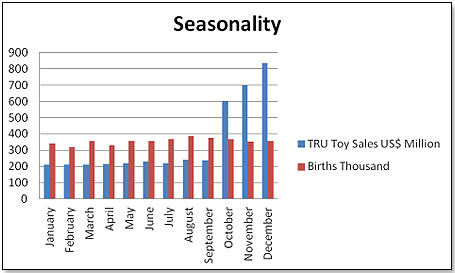 According to a 2010 USDA report, the average middle-income family will spend roughly $12,000 on child-related expenses in their baby's first year of life. By age two, parents are up to more than $12,500 per year. Parents can count on spending close to $50 per week ($2,448 per year) on diapers, formula and baby food alone. Toys will probably kick in with $35 per month [Source: First-Year Baby Costs Calculator by BabyCenter.com].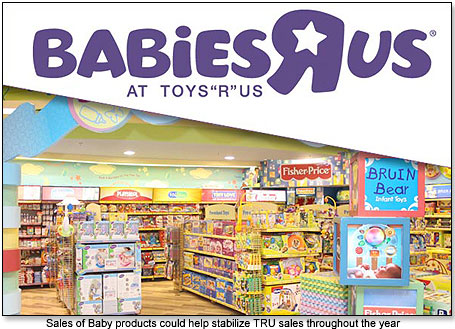 These numbers do not illuminate another major benefit – the mother who goes into the store to buy things for her baby will likely also shop for the toys her older children want.

Since 2006, about 190 stores were converted to the BRU-inclusive concept and this is expected to reach 204 by end of this year. Given the success of this strategy I anticipate that the pace of conversions will pick up considerably next year.

As for the second leg – product differentiation by using private labels and Exclusives – this was driven by four mandates, according to Andy Gatto who, after all, was instrumental in putting this policy into place:

· The product that is selected for private label application must be located in a weakly held category or fill a hole in the assortment for the category. For instance, the Construction category is extremely well covered by Lego and would thus not be a good prospect for a private label product but would be one for Exclusives.

· The product must represent superior value – not necessarily the lowest price but the best combination of quality and price compared to the branded product.

· The product must be a margin enhancer – TRU seeks to gain a margin improvement of 10% to 30% brought about by cutting out the middleman.

· Exclusives on the other hand are all positioned in major categories and must be major brands for which the manufacturer agrees to make a product that is slightly different from its next-of-kin sold everywhere. Good examples for this are Monster High Dolls Meowlody and Purrsephone, Lego's Technic Jet Plane and Lego's Friends Summer Riding Camp, MGA's Lalaloopsy Sisters, etc. While the production runs for these products are smaller than normal, the fact that all tooling has been amortized allows costs and prices to remain competitive.

In addition, there are what I call the "Semi-Exclusives". These are products that ToysRUs takes in but are sold anywhere except at Wal-Mart and Target, which effectively gives TRU a quasi-monopoly in mass retail.

It is estimated that the private label and Exclusives/Semi-Exclusives represent today approximately 45% to 50% of TRU's toy biz.
This policy has been very successful and is probably one of the major reasons for TRU's success in building market share in the toy space: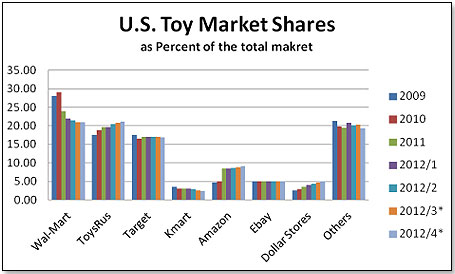 The importance of TRU's Private Label and Exclusives policy is best demonstrated in the company's Hot Toy List for 2012. Of these 50 toys, 35 or 70% are either private label or Exclusives/Semi-Exclusives.

The most recent example of a private label product is Tabeo, announced with great fanfare a few weeks ago and included in TRU's 15 Hottest Toys list. The product is expected to launch middle of October.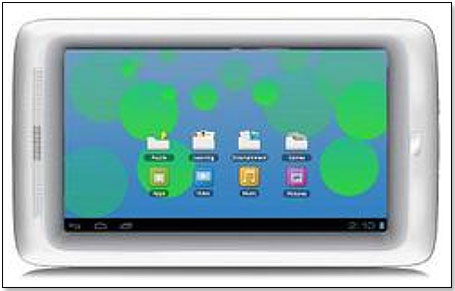 There are, however, some questions regarding the manner by which it became a TRU product in the first place. It appears that a product just like Tabeo has been available on ToysRUs' shelves since May. It is called the Arnova Child Pad Tablet and is produced by Archos UK. This is what it looks like: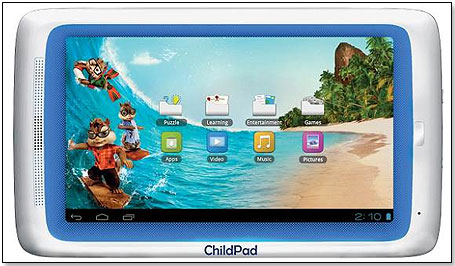 The similarities between the two products are striking:


| | | |
| --- | --- | --- |
| Description | Archos Arnova Child Pad Tablet | ToysRUs Tabeo |
| Release Date | 5/30/2012 | 10/16/2012 |
| Sold at | TRU, Amazon, EBay | TRU |
| Price | $139.99 | $149.99 |
| Size | 7" touch screen | Same as Arnova |
| WI-FI | Yes | Same as Arnova |
| System | 4.0 Android Ice Cream Sandwich | Same as Arnova |
| Size | 5.59 x 8.78 x 0.48 | Same as Arnova |
| Weight | 12 oz | 13.4 oz |
| Internal Storage | 4 GB > 32 GB | Same as Arnova |
| Processor | 1 GHz Cortex AB | Same as Arnova |
| Ram | 1 GB | Same as Arnova |
| Pixels | 800 x 480 | Same as Arnova |
| Flash Memory Expansion | 4 GB | Same as Arnova |
| Parental Controls | Yes | Same as Arnova |
| Camera – front | Yes | Same as Arnova |
| Camera back | No | Yes |
| Microphone | Yes | Same as Arnova |
| Playtime | 7 hours | Same as Arnova |
| Interfaces | Micro SD slot | Same as Arnova |
Incidentally, the Archos product was still available at TRU stores and online as of September 26, 2012. My contacts tell me that the sales of this product have been very modest – not only at TRU but also at Amazon.

In order to clarify this somewhat odd situation I sent the following email to the U.S. PR Agency for Archos – Max Borges Agency - on September 22:

Archos Arnova is now being sold by ToysRUs at $139.99. Tabeo by ToysRus is being released between 10/14 and 10/21 at a price of $150. The two systems are uncannily similar; in fact, they are identical. What would interest me is the relationship between Archos and ToysRUs in regard to Tabeo. Did TRU license the product from Archos or, if not, how did they obtain the rights of using a product that is identical but under their own trademark?

Since I did not get a reply, I followed up with a phone call on September 25. During this call I was told by the executive with whom I spoke that they were the PR Agency for Archos and that, yes, they did handle all Archos products but not the Child Pad. However, they would forward my email to Archos in the UK for reply. Archos UK then said that they "could not comment" but they did forward my email to TRU, Corporate Communications in the U.S.. There was no reply to me from TRU to this email nor to a follow-up from me shortly thereafter.

To further complicate the picture, Fuhu Inc. – makers of the Nabi tablet –filed on September 24 a law suit claiming that ToysRUs stole its product's trade secrets for the development of its forthcoming Tabeo tablet for children. Fuhu alleges that last year ToysRUs agreed to exclusively carry the Nabi tablet in order to gain access to confidential information before launching a tablet of its own. Fuhu is suing for an undisclosed sum and requesting that ToysRUs relinquish its stock of Tabeo tablets.

The question now arises whether Tabeo represents a fundamental change in TRU's private label policy. It does seem so but the next few months will undoubtedly clarify this further.

In summary, there is no question that TRU's execution of the two overarching company strategies has so far been pretty flawless. The pace is likely to accelerate next year unless Tabeo emerges as a real problem – if the case from Fuhu Inc goes against them or if there are other parties making similar claims. This could then well become a deterrent to companies contemplating a private label relationship with them.

Barring such a development, I do expect TRU to continue gaining market share in the brick-and-mortar toy space and to have a successful IPO in the near future.

Writer's Bio:
Lutz Muller is a Swiss who has lived on five continents. In the United States, he was the CEO for four manufacturing companies, including two in the toy industry. Since 2002, he has provided competitive intelligence on the toy and video game market to manufacturers and financial institutions coast-to-coast. He gets his information from his retailer panel, from big-box buyers and his many friends in the industry. If anything happens, he is usually the first to know. Read more on his website at www.klosterstrading.com.
Read more articles by this author
THIS BANNER IS AN AD:
---
---