---
Social Media Networks and Toys
How Social Media Engagement is Driving Market Share
Toy executives can be slotted into two groups – those who think that Social Media is a passing fad mainly indulged in by teenagers and of very little commercial value, and those who consider it an absolutely essential tool for building relationships with the total existing and prospective consumer universe.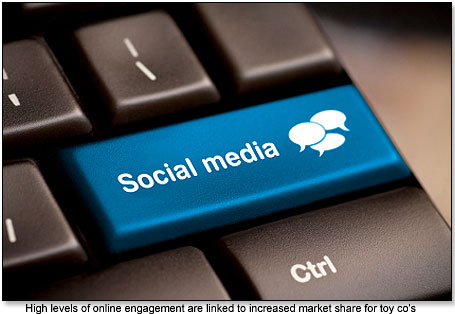 Both groups tend to have pages on Facebook, YouTube and Twitter, their own e-commerce sites, and online sales but the difference between the two in business results could not be starker.

What has really changed in the last few years is that the consumer is no longer a captive of brick-and-mortar stores. You used to go to a retailer and while you were there you were restricted to what the store had on its shelves. Now you can look at products and prices while having coffee at home. And, when you are in the store, you can compare their prices with what Amazon and other people are charging for the same gizmo – "showrooming" in effect.

Embracing Social Media means that you actively participate in a type of town meeting where all consumers get together and talk to each other. Basically, what it comes down to is engagement.

Engagement does not mean to simply have a store window, or a newspaper ad or a web page where you show products and let the consumer fend for himself.

Engagement in terms of Social Media means to interact and communicate with individual consumers in an array of ways, all designed to create an atmosphere where he or she connects with the company on an emotional level. When it then comes time to make a purchasing decision, it is likely to be in favor of the company that I, as the consumer, have come to know and feel good about. And, I am now likely to tell my Facebook friends about this – in marketing lingo, I am now engaged in brand advocacy.

The best example I can give is what happens when you consider your vote to elect a town official or a governor. The candidate who has engaged you, whom you have come to like, and with whom you feel comfortable, is more probable to get the nod than he or she who did not – and this fact is also very likely to be mentioned to other voters, your neighbors.

In fact, Nielsen says that 92% of consumers around the world trust word of mouth recommendations above all other forms of communication – advertising, direct mail, robocalls, etc.

According to Suzanne Little of Quirk South Africa, this is how the Social Media construct operates:



The end result is that the consumer who is engaged with the company on their Facebook, Twitter or YouTube page is likely to transition to their e-commerce site and make his or her purchases there, rather than going to the store, and will then tell his or her friends, who will then go through the same cycle.

This is borne out by what is happening in the real world. Online sales are doing much better than total market sales - Second quarter 2012 total online sales were $54.8 billion, up 3.3% over first quarter and 15.3% over second quarter 2011, whereas second Quarter 2012 total market sales were $1,076.9 million, down 0.4% compared to the first quarter and up 4.3% over second quarter 2011. Online sales were 1.6% of total market sales in 2003 and now in the second quarter of this year were 5.1%.

What does this have to do with toys? Simply - Toys and Hobbies are the second most-followed category on Facebook, Twitter and YouTube according to Campalyst, New York. Among the top 250 Internet retailers on Facebook, the most followed industries by average Facebook fan size are mass merchants (2.1 million), toys/hobbies (1.7 million), and apparel/accessories (1.5 million).

But not all retailers are equally effective in engaging the Facebook subscriber. This is what the picture looked like for mass retailers on Facebook (as of 9/10/2012):


| | | |
| --- | --- | --- |
| Retailer | Likes [Fans] | Talk About |
| Wal-Mart | 20,533,954 | 2,240,757 |
| Target | 19,544,969 | 999,328 |
| Amazon | 11,045,650 | 734,620 |
| Ebay | 3,705,733 | 103,267 |
| ToysRUs | 2,935,793 | 810,181 |
| Dollar General | 1,627,464 | 17,436 |
| Kmart | 1,066,704 | 11,085 |

Four companies stand out. Wal-Mart has been doing phenomenally well ever since they acquired Kosmix in April last year in order to breathe new life into their cyber effort. They also brought the two founding fathers of Kosmix - Anand Rajaram and Venky Harinaraya – on board, and the results of this are now pretty self-evident.

The second, Amazon, is unique in that it is a cyber-company only, without a brick-and-mortar presence, and who best personifies the Social Media ideal.

The third, ToysRUs, is notable in that they have an inordinate degree of active fan participation as shown by their "Talk About" number.

Lastly, Dollar General who, considering that they started their involvement with the cyber world in earnest only in September last year, are doing astoundingly well.

However, there are also the companies' own websites to consider as well:


| | | | |
| --- | --- | --- | --- |
| Company | Unique Visitors In July 2012 | +/- %June 2012 | +/- %July 2011 |
| Amazon | 94,949,740 | 3.75 | 18.27 |
| Ebay | 79,782,842 | 6.44 | 8.63 |
| Wal-Mart | 60,545,706 | 3.18 | 25.94 |
| Target | 37,851,877 | 7.44 | (3.81) |
| ToysRus | 7,962,377 | 11.60 | (6.60) |
| Kmart | 10,199,170 | 7.63 | (3.21) |
| Dollar General | 1,199,499 | 6.26 | 22.62 |

There is a degree of consistency between Facebook numbers and website performance. The top three in terms of online growth over last year are the same we had above – Wal-Mart, Amazon and Dollar General. ToysRUs had a few problems with their website but appear to have overcome them in July as evidenced by their monthly number.

How do sales and market share performance reflect this? Not so surprisingly, Amazon and Ebay dominate the online toy market with ToysRUs being the most successful brick-and-mortar retailer as this relates to online market share.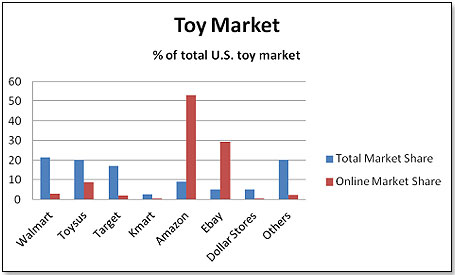 ToysRUs has gained market share in the overall U.S. toy space – online and total retail - on a continuous basis since 2009. The only other company that did the same is Amazon. The reason for this is in the "showroom effect" – consumers go into the store, check prices and compare these with online providers then and there, and then buy what is cheapest – the store or online.

Amazon benefits most from the showroom effect in that it is the website most consumers go to for that purpose. In fact, half of all Wal-Mart customers shopped on Amazon so far in 2012 versus only a quarter in 2007. On the other hand, ToysRUs profits because the company is pretty much insulated from the showroom effect in that more than half of its toys are either their own brands – FAO, Animal Alley, Dream Dazzlers, etc. – or are exclusives. In other words, you can try to look them up on the web but you will not find the same item there in places other than TRU's own website.

In summary, I predict that market shares in the toy industry will continue to be driven by retailers' effectiveness in the Social Media space and their ability to encourage the transition whereby a disengaged "Mrs. Public" becomes an interested consumer, an active customer, and then finally an advocate.

Writer's Bio:
Lutz Muller is a Swiss who has lived on five continents. In the United States, he was the CEO for four manufacturing companies, including two in the toy industry. Since 2002, he has provided competitive intelligence on the toy and video game market to manufacturers and financial institutions coast-to-coast. He gets his information from his retailer panel, from big-box buyers and his many friends in the industry. If anything happens, he is usually the first to know. Read more on his website at www.klosterstrading.com.
Read more articles by this author
THIS BANNER IS AN AD:
---
---