---
Q&A With CEO of Kent Displays/Improv Electronics
Dr. Albert Green, CEO of Kent Displays/Improv Electronics, spoke with TDmonthly Magazine about their product, the Boogie Board LCD eWriter. This year specialty retailers have named the Boogie Board a Top-10 Most-Wanted Tween Product, Top-10 Most-Wanted Novelty Toy, and a Top-10 Most-Wanted Travel Toy. Below, Dr. Green told TDmonthly how they conceived of the product, why it's been such a success, and how donated Boogie Board LCD eWriters are changing kids' lives for the better.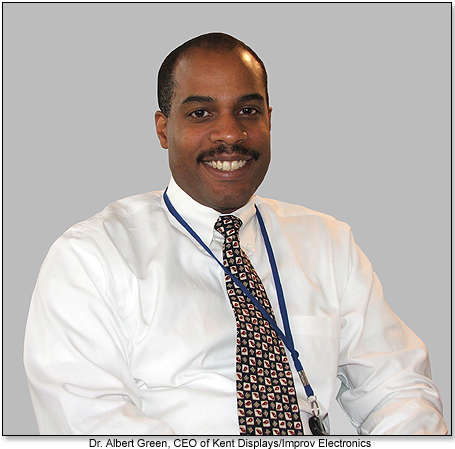 Q. What career path did you originally envision for yourself? Did you ever anticipate working with children's products?

A. I have always wanted to be a leader and an innovator, and being the CEO of Kent Displays/Improv Electronics allows me to do both. Boogie Board LCD eWriters are a truly innovative and unique product – there is no other similar writing tool on the market today.

I never anticipated working with children's products specifically, but I was certainly open to it! The Boogie Board LCD eWriter is a great product for consumers of all ages, and it was a very natural step for the original Boogie Board LCD eWriter to find a home in specialty toy stores.

Q. How did you come up with the idea for your first product?

A. Kent Displays was originally an OEM (original equipment manufacturer), meaning we manufactured LCDs for other companies to use in their products. The idea for the Boogie Board LCD eWriter, the first consumer product manufactured and sold by Kent Displays/Improv Electronics, was born from our commercialization activities centered around plastic LCDs.

Most LCDs are made out of glass and manufactured overseas, while we manufacture high quality LCDs out of flexible, durable plastic right here in Ohio. The reflective nature of the liquid crystals means they require no power to write and retain an image, and the plastic LCDs provide an excellent, easy-to-use (and fun) writing surface. Like I said previously, no other product like the Boogie Board LCD eWriter exists on the market – it is unique.

Q. What steps did you need to take to go from the original spark of an idea to actual production? How long did it take?

A. In 2006, a big toy company – a household name - reached out to us, interested in using our LCDs in one of their products. At that point, we were still an OEM only, and we were all extremely excited at the prospect of working with this well-known company. But we were never able to reach an agreement on some of the most important details, and the project did not move forward.

After approaching several other companies about OEM engagements, we decided to take matters into our own hands. On January 1, 2010, the original Boogie Board LCD eWriter launched to a tremendously positive response. In fact, we sold out almost immediately and our website crashed! Media around the world covered it. Ultimately, we took a chance and it has paid off exponentially.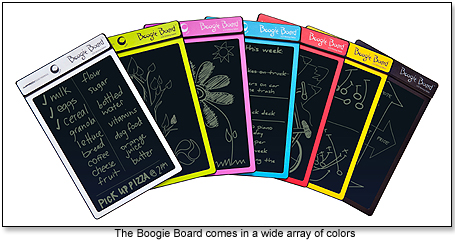 Q. What charitable organizations has your company worked with in the past?

A. We have worked with a number of charitable organizations and really try to give back to the community as often/much as possible. Many people have expressed their interest in using Boogie Board LCD eWriters as communication tools for those with intellectual and/or physical challenges. We recently donated Boogie Board LCD eWriters to the Les Turner Foundation for patients suffering from Lou Gehrig's disease, a terminal disease of the nerve cells. One of the side effects can be speech problems.

We donated Boogie Board LCD eWriters to the Autism Speaks organization as well, to be used as communication aides for nonverbal children with Autism, and to a school in Nepal and other remote villages.

We also donated Boogie Board LCD eWriters to a learning center in Albany, New York. Many of the adult students enrolled in their GED program use the Boogie Board LCD eWriters to practice math and have expressed that using a Boogie Board LCD eWriter keeps them engaged far better than paper and pen ever did. We have a school pilot program, through which teachers and educators can acquire a set of Boogie Board LCD eWriters for their classrooms at a deeply discounted price.

Q. Why did you choose to work with these particular charities?

A. We always believed in Boogie Board LCD eWriters, but we had no idea the varied uses the writing tool might have. Ingenious consumers all over the world have come up with some incredible ways to use Boogie Board LCD eWriters. The consumer population is the reason for our success worldwide, and we want to give back to those that have given us so much.

Q. What experience do you have working with charities on a personal level?

A. I mentor at-risk kids and young adults. I try to provide them with a role model and use my personal experience to encourage them to work hard in everything they do.

Q. What do you consider to be your greatest accomplishment in the toy industry? Why?

A. The Boogie Board LCD eWriters' popularity in specialty/educational toy markets is our greatest accomplishment. Boogie Board LCD eWriters were named Toy of the Year and Best Science/Whiz Kid Toy, and the company was named Vendor of the Year by Learning Express in 2012. Boogie Board LCD eWriters were also listed in TDmonthly's Top-10 Most-Wanted Tween Products, Top-10 Most-Wanted Novelty Toys, and Top-10 Most-Wanted Travel Toys, lists based on retailer votes.

We are still relatively new to the specialty toy market, so experiencing such a tremendously positive reaction from the Learning Express, TDmonthly and ASTRA community was thrilling. It's especially gratifying to see Boogie Board LCD eWriters become successful in such well-respected stores that focus only on high-end educational toys that really benefit their young customers.

Q. How do you hope your products affect children's' lives?

A. I hope that Boogie Board LCD eWriters continue to provide children with a creative outlet and a truly fun and engaging way to learn while reducing paper consumption. Each Boogie Board LCD eWriter is, quite literally, a blank slate. I hope kids unleash their imaginations and fill that blank slate with tons of ideas, beautiful drawings, and creative stories.

Who knows? Maybe the next great innovative electronic product will be designed on a Boogie Board LCD eWriter someday.
Boogie Board 8.5 LCD Writing Tablet
by
IMPROV ELECTRONICS
Other products from IMPROV ELECTRONICS
Shop for It!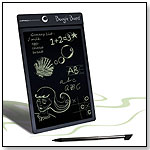 The original Boogie Board LCD eWriter that started a revolution. Ultra light (4oz.) and thin (1/8"). One just isn't enough. Get one for on the go, in the office and multiple places around the house. Almost anywhere you'd keep memo pads, sticky notes or scrap paper.

— Erika Evers, owner of

Dancing Bear Toys

in Hendersonville, N.C., told

TDmonthly

in an April 2012 survey that their best selling travel toy is the Boogie Board. They sell 6-7 each month.

— Chris Lowe, owner of

Beanhead Toys

in Sandy Springs, Ga., told

TDmonthly

in a late Summer 2012 survey that they sell 15 of this item each month, making it a bestselling novelty item.

— Greg Larson, owner of Larson's Toys and Games in Columbus, Ohio, told

TDmonthly

in a March 2013 survey that they sell 18 Boogie Boards each month, and up to 48 a month during 4th quarter.

Where to buy:NORTH WEST

ToyDirectory Product ID#: 34059

(added 4/6/2012)

.

AD
---

Writer's Bio:
Justina Huddleston graduated Magna Cum Laude from Emerson College with a BA in Writing, Literature, and Publishing in 2009. After graduating she was the on-site director of the Boston Children's Museum gift store for a year, selling educational, developmental, and creative activity toys that tied in with the museum's exhibits. Justina also interned at children's book publisher Candlewick Press before moving from Boston to Los Angeles, where she is now Editorial Director of
TDmonthly Magazine
.
Read more articles by this author
THIS BANNER IS AN AD:
---
---