---
5 Tips to Make Your Store a Holiday Success
These 5 holiday sales tips will help boost your business this holiday season
For most retailers, the 4th quarter and holiday season are when the real money is made. With that in mind, TDmonthly Magazine asked specialty retailers, "What are your top tips for boosting sales and ensuring success during the holiday season?" See their advice below, and best of luck during the busy season!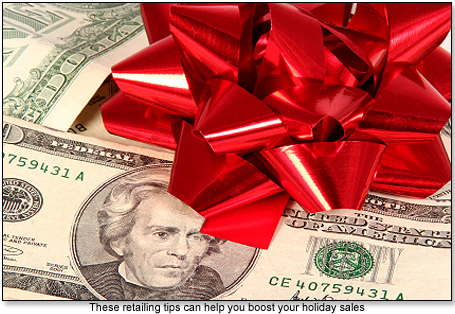 Get Staff and Inventory in Order

During the holidays, "the most important things are having a knowledgeable and friendly staff, plus bountiful inventory. If your store looks full and people get great service, sales will soar during the holidays!" Dean Smith, owner of JaZams in Princeton, N.J., told TDmonthly.

"Make sure you have the right amount of staff. Having too many people working is as bad as too little!" warned William Meredith, owner of Learning Express in Cary, N.C..

Make Visiting Your Store an Event

"I hold a raffle in November. Last year it was for a fully furnished dollhouse from Playmobil. The number of chances each person got to win depended on how much the customer spent," explained Joe Berardoni Sr., owner of Pun's Toys in Bryn Mawr, Pa.

"We do a book drive for homeless children. We are doing weekly fine art classes and knitting classes for children. And, we are having etiquette classes in December for the holidays," Diana Nelson, owner of Kazoo Toys in Denver, Colo., told TDmonthly.

John Taylor, owner of O.P. Taylor's in Brevard, N.C., told TDmonthly that turning a trip to his store into more than just an exchange of goods is "the only thing that separates us from the big boxes."

Some of their fun events have included a LEGO giveaway where kids received LEGO packs, and the best builds they made that day were featured in the store window for the whole town to see. Another creative idea included hiring two local middle-schoolers to play jazz outside of the shop.

Make a Scene

Have amazing display windows. "If I can grab their attention I can get them in the door," Catherine Higgins from Stone Soup in Bar Harbor, Maine, told TDmonthly.

Mary Porter Green, owner of Curiosity Zone in Ashburn, Va., agreed that "Eye-catching displays" along with "excellent customer service, well-priced and unique product offering," help bring in big sales during the holidays.

Get the Word Out

"We send a catalog to our customers with a coupon, and we have out a number of new things for customers to demo while in the store," Kim Emigh, VP of E-commerce at Growing Tree Toys in State College, Pa., told TDmonthly.

"I send out a coupon with Val-Pak each holiday season for 20% off any item. We constantly see a big return of those," Joe from Pun's Toys said.

Look for advertising that "costs you nothing but brings you a lot of people," suggested Patti Tepper-Rasmussen, owner of Learning Tree Toys, Games & Books, Inc. in Oklahoma City, Okla.. For example, a local TV Station had a deal where they asked their viewers to "Like" Learning Tree Toys, Games & Books on Facebook for a chance to win a $100 gift card. They also send emails twice a month to promote new items, and are active on Facebook.

Just Listen and Learn

"Know your customers. Communicate with them and listen to them," advised Mary Sisson, owner of Kazoodles in Vancouver, Wash..

And finally:

"Be honest, and keep prices low. Also: Know your competitors," said Gregory Faith, owner of Hobby Town USA in Nashua, N.H..

Writer's Bio:
Justina Huddleston graduated Magna Cum Laude from Emerson College with a BA in Writing, Literature, and Publishing in 2009. After graduating she was the on-site director of the Boston Children's Museum gift store for a year, selling educational, developmental, and creative activity toys that tied in with the museum's exhibits. Justina also interned at children's book publisher Candlewick Press before moving from Boston to Los Angeles, where she is now Editorial Director of
TDmonthly Magazine
.
Read more articles by this author
THIS BANNER IS AN AD:
---
---