---
Charity Is "Instrumental" to Schoenhut Piano Company
President Explains Why Her Pianos Are Not Just Toys
Renee Trinca, President of Schoenhut Piano Company and her husband Len, CEO of Schoenhut, have signed on for a third TDmonthly Charity promotion – the second in 2012. What makes the program so appealing to the Trincas is that it is in perfect alignment with their company's mission and their personal goal to bring the joy of making music to as many people as possible. In her own words, Renee shares her passion for Schoenhut's finely crafted instruments:

Our introduction to Schoenhut® toy pianos in 1996 was a case of love at first sight. Since beginning operation of the company at that time, the thrill of designing, manufacturing, and marketing these intriguing instruments has not wavered.

Classic Design, Always Evolving
Along with many of the original designs that Albert Schoenhut, founder of the company, created in 1872, additional styles and colors are offered each year. Unusual in the manufacture of new products in the toy industry, all prototypes are designed and hand-built by my husband, Len Trinca.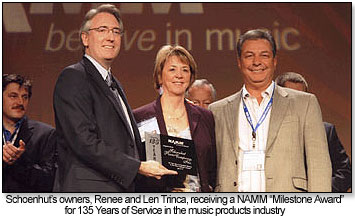 A First Step Toward Musicianship
A top priority is providing avenues that encourage children to enjoy music. The Gallery of Stars at TOYPIANO.COM shows a representation of budding musicians. It makes our day to hear stories of how a Schoenhut toy piano was "instrumental" in leading someone to a career in music. Toy pianos are appropriate for people of all ages, whether as learning tools or for just plain fun. [Editor's note: The pianos come with color-coded song books and color-coded keyboard overlays to make learning to play visual and easy.]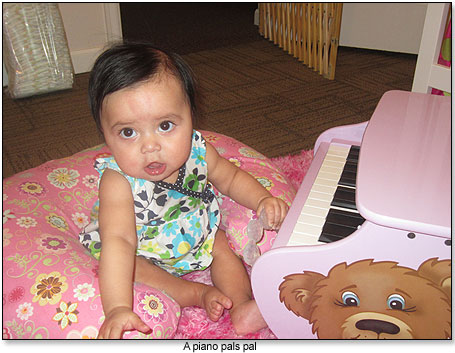 Concert-Quality Instruments
Although Albert designed musical instruments with children in mind, we are delighted that many professional musicians regard Schoenhut toy pianos as serious concert instruments. John Cage was pivotal in piquing interest by composing "Suite for Toy Piano" in 1948. This skyrocketing trend gives a new perspective about Schoenhut, attesting to the exceptional quality of the company's products. A number of musicians who have dedicated their careers to toy pianos (composing, teaching, and performing) are featured on the Schoenhut Artist Roster.

Community of Music Lovers
Owning the company has served as an introduction to a population we would not ordinarily have encountered... people whose lives have been positively affected as a result of playing an instrument. It is also a pleasure to meet toy piano fans at trade shows, concerts, media events, and during tours of the Schoenhut factory.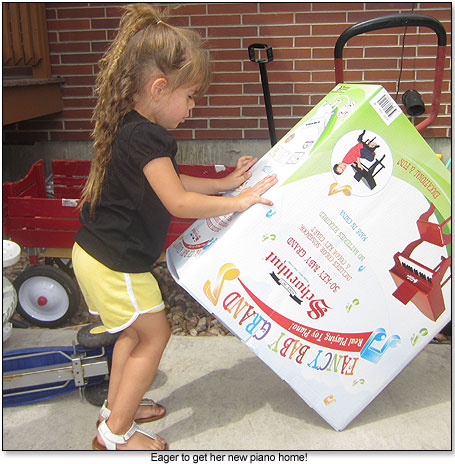 Music For Everyone —
As business owners, we are committed to giving back to the community that supports us. Through contributions to selected organizations each year, Schoenhut gives the gift of music to children in need who might not otherwise have a musical instrument. One such example is the company's donation of 100 toy pianos for TDmonthly's Charitable Kid contest in 2010 as well as the 200 instruments we are giving away as part of TDmonthly's "2012: A Year of Charity" promotion.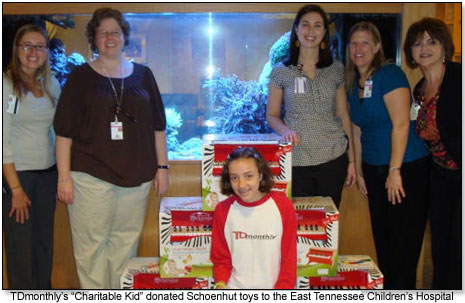 Yearly donations are given to The Toy Bank sponsored by Toy Industry Foundation (TIF) and Summer Gift Drive by Gifts in Kind. We also support TIF's Do Good Stuff-a-Thon. Locally, here in St. Augustine, Schoenhut musical instruments are donated to churches and schools, with special emphasis on bringing happiness to impoverished and special needs children.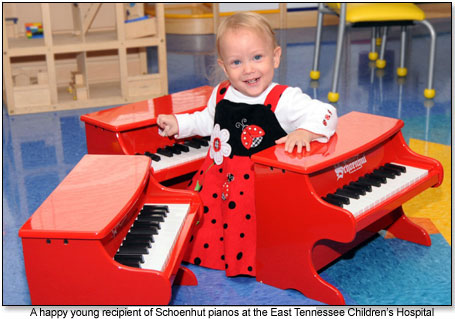 Musical Heirlooms
We are proud of our reputation for musical instruments of superior quality at affordable prices, all having passed stringent tests for safety, along with a promise of 100% customer satisfaction. Schoenhut vintage models are in use today, after being passed down from generation to generation. A Schoenhut toy piano is truly a gift that lasts a lifetime (and more!).

Here are examples of some of Schoenhut's classic and new musical offerings:







.

AD
---






These 49-key stringed pianos feature perfect pitch with true piano sound (without the use of electronics). The keys are the same dimensions as those on a full-sized piano, the keyboard half the width. Baby Grands are available in White, Black, Red; Upright in Black, White. Includes cushioned bench.

.

AD
---






Little rock star swill take center stage playing Schoenhut's "next generation" guitar. Schoenhut's innovative design incorporating a molded composite body with dual curves greatly enhances sound and durability. The birch soundboard which offers excellent tone and resonance, hardwood neck (for rigidity), and molded composite fretboard ensure proper height and spacing of the frets. Six steel strings permit a wide range of rich sounds. Available in several vibrant designs. Includes: Pick and Extra String.

.

AD
---






.

AD
---






.

AD
---






.

AD
---






.

AD
---






.

AD
---






Kids can play simple tunes on this durable, wooden instrument by just covering different holes to play various notes. It's an excellent instrument to add to a child's band. Launch date: October 2008.

.

AD
---






At 27 inches high, this wooden, lightweight instrument is designed with curved sides with a spacious box, along with a range of 15 notes (from C to C), permitting a wide variety of music in melodic tones. Fully tunable by using the wrench to adjust zither pins.

.

AD
---






The perfect instrument for a JUNIOR ROCK STAR. Delivers great sound and incorporates many of the same features as a full-sized professional drum set. Built to last, constructed of high-quality hardwood shells and sturdy chrome-plated steel hardware. 8" Mounted Tom Drum & 10" Mounted Snare Drum, tunable w/ precision, adjustable, double-braced mounting arm 16" Bass Drum, tunable w/ two stabilizers for adjustable angle 10" Crash/Ride Cymbal, tunable, adjustable, Bass Drum Pedal, adjustable spring action Assembly required. Includes: Easy set-up instructions w/ illustrations, adjustable padded foam seat, tuning key, drum sticks.

.

AD
---






.

AD
---






.

AD
---
THIS BANNER IS AN AD:
---
---