Archived Reviews
Send us your toys ... and you may be eligible to win a TDmonthly Magazine Top Toy Award!

Well-reviewed toys and products recommended by specialty retailers are more likely to be nominated for a TDmonthly Award and appear in our annual Specialty Toys Report. For submission information, please see the bottom of the page.


---
Search Toy Review:
Recent Reviews: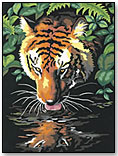 Name: PaintWorks Tiger Reflection
Company: DIMENSIONS/PERLER
Age: 3 and up
Price: $19.99
Category: Arts & Crafts



What Is It?


A step-by-step systematic approach to painting, the set includes eight different vials of paint, a brush and a guide with tips and directions. The booklet includes instructions on how to mix paints to obtain different shades.



What We Thought


The intermediate-level Tiger Reflection design is delicate and takes some patience and diligence to complete. But once finished it is a piece worth framing! The intricate details would probably be more suitable for teens to adult or young kids with adult supervision.



Why They'll Want It


Even artistically challenged people can create beautiful works of art with this well-designed kit. The instructions are simple and everything you need is there. You simply have to learn to stay in the lines.


– TDmonthly Review Team, 10/25/05




Learn more about PaintWorks Tiger Reflection
---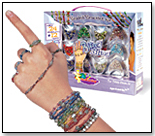 Name: Beaded Bracelet Kit - Bling Bling
Company: FASHION ANGELS
Age: 8 and up
Price: $19.95
Category: Arts & Crafts



What Is It?


Beaded Bracelet Kit – Bling Bling is a complete beading kit that includes 12 mini cases of metal and glass beads and a spool of elastic thread. The kit makes 24 bracelets plus 12 rings. It includes instructions and tips in English, Spanish and French.



What We Thought


The beads are packed in 12 individual packages according to color, which makes color coordinating easy. But be careful when you open them – they are easy to spill. The packages are resealable so you can save the beads for another day. The high quality beads and attractive packaging make this a great buy.



Why They'll Want It


Girls love to express their creativity and make individualized bracelets. The variety of beads allows plenty of design combinations. This is the perfect kit to bring out at a bead party!


– TDmonthly Review Team, 10/25/05




Learn more about Beaded Bracelet Kit - Bling Bling
---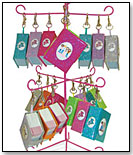 Name: Fashion Angels Super Mini Day Book
Company: FASHION ANGELS
Age: 3 and up
Price: $7.99
Category: Arts & Crafts



What Is It?


A teeny-tiny diary that hooks to a girl's purse with a ribboned clasp, the mini date book snaps shut with a strap and sparkles with an undercoating of glitter. Inside is a whole school year and summer-vacation's worth of pages so that tween girls can keep track of their busy schedules. The front cover is decorated with the four Fashion Angels characters. The books come in a variety of colors, including orange, lime, fuschia, turquoise, lavender or silver.



What We Thought


These little books are eyecatching and will look pretty hanging from a little scribner's backpack or belt loop. The pages are miniscule, so the writer will have to be concise in her expression, but it's a great way for little girls to show each other just how much they have to do each week! Each page is illustrated with a cute character from the Bead Shop. Every month has a summary page with entry lines so tiny that girls will have to tax their best "I can writer smaller than you" skills.



Why They'll Want It


It's small, bright, pretty and unique! So what's not to want? Tween girls will like the intro page, where they can write down all their pertinent information, including their height and their best friends' names. Because the book is so tiny, they'll probably feel free to write a few secrets in their most minuscule hand, without the fear that little brother will discover anything scandalous (unless he has a magnifying glass). The back of the book has a section for names and addresses – perfect for little tweenies who don't yet have their own private cell phones.


-- Alison Marek, 10/24/05





Learn more about Fashion Angels Super Mini Day Book
---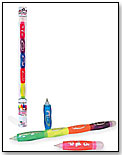 Name: Fashion Angels Super Stackable Gel Pens
Company: FASHION ANGELS
Age: 3 and up
Price: $4.99
Category: Arts & Crafts



What Is It?


This set of 6 stackable gel pens comes in a tube. Each fine-pointed pen is only about 2" long. The fluorescent colors include lime, lemon, tangerine, blueberry, grape and strawberry.



What We Thought


This is a unique, space-saving way to keep track of pens. The pens write smoothly and the colors are luscious. Writing with the entire stack in hand is a bit ungainly, but the pens easily snap apart for easy sketching.



Why They'll Want It


What tween girl wants to write a letter in boring navy blue or black ink? They'll love the bright colors, the smooth sensation of writing and drawing with the fine-tipped gel pen, and the hip, chunky design of the pens. The Super Stackable Gel Pens are a colorful addition to any girl's desk and a sure way to make her notes and diary entries even more memorable.


-- Alison Marek, 10/24/05




---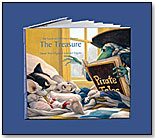 Name: Rip Squeak and His Friends Discover the Treasure
Company: RIP SQUEAK INC.
Age: All Ages
Price: $16.95
Category: Books



What Is It?


Rip Squeak the mouse and his sister Jesse have just made friends with Abby – a kitten who luckily doesn't eat mice – and Euripedes the frog, whom they consider to be a fine actor. One day, Euripides finds a treasure map hidden inside a book of pirate stories. The four friends decide to dress as pirates and find the treasure. In the course of this 32-page hardcover book written by Susan Yost-Filgate and lavishly illustrated by Leonard Filage, the little gang befriends a number of other animals -- all of whom have a different conception of what a treasure is.



What We Thought


The warm and lovely paintings in the book make Rip and his friends nearly walk off the page. Big-eared and bright-eyed, the little mouse brother and sister are perfect surrogate selves for small children who like to be adventurous, but still want to stay safe, and surrounded by friends and family. Parents will have a great opportunity to create real and funny characters as they enact the hammy frog Euripides, the cautious kitty Abby, ebullient little Rip and sentimental Jesse, along with their new friends.



Why They'll Want It


Kids will probably wish that Rip Squeak were real, so they could cuddle up with him in bed as Mom and Dad read about his adventures. The paintings are fully of lovely details to keep kids engaged and bring them into Rip's make-believe world. Children will appreciate how well the friends get along, and that the treasure they find is something that can send the gang onto new adventures. They'll especially appreciate the moral of the story, which is that the best treasure of all is wonderful friends.


-- Alison Marek, 10/24/05





Learn more about Rip Squeak and His Friends Discover the Treasure
---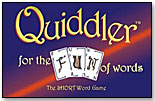 Name: Quiddler
Company: SET ENTERPRISES INC.
Age: All Ages
Price: $12.00
Category: General Games



What Is It?


A fast word game played with cards, Quiddler is designed for 1 to 8 players. Each game consists of 8 hands. The first hand is played with 3 cards, and a card is added during each hand until the players begin the final hand with 10 cards each. The object of the game is to combine an entire hand into words of two or more letters, drawing and discarding on each turn. The first player to have an entire hand of words goes out.  Bonus points  are given for the longest words and the most words made by players in each round. The average play time ranges between 20 and 40 minutes



What We Thought


Even small words count, so the youngest players can win by deftly combining their cards. The game moves quickly in the early hands, then requires a bit more concentration as the number of cards increases. Quiddler combines a bit of Scrabble, a bit of rummy and a lot of fun.



Why They'll Want It


Kids will want this game because it's a fun way to compete against their friends to find out who can compose the cleverest words most quickly. They can challenge words and look up meanings, adding to their vocabulary, without having to invest in a long-playing word board game.  Quiddler is a deck of 181 cards, so it's transportable enough for long trips or boring visits to relative's houses, or just a fun way to liven up a slumber party without toting around a heavy game.


-- Alison Marek, 10/24/05




Learn more about Quiddler
---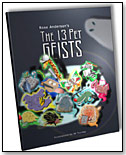 Name: The 13 Pet Geists
Company: ROSEKNOWS INC.
Age: 4-12
Price: $15.99
Category: Books



What Is It?


It's a book about ghosts (well, actually, Geists, which are animal ghosts that live on the Geist Reserve, their enchanted afterlife home). This is the companion piece to Geist Junior, and has … count 'em, 13 Geists in it, each with a little rhyming story written by Rose Anderson. There's Sami the Geist crocodile, Twinga the Geist giraffe, a cat, a lion, all the way to a zebra. With very slick illustrations by Jean-Baptiste Tournay that almost jump out of the page.



What We Thought


Have to say, we didn't know the book was a companion to anything when we got it, so my 6 year old and I simply took it at face value (but now that we know there's a game, we're gonna try that, too). First, to quote my kid: "The pictures are cool!" It's very "rendered" looking, with a touch of later Berkeley Breathed, mixed with some basically good solid illustration for the Geists. We laughed at lines such as, "Fingers like Popo's would be pretty neat. If yours were that long, they'd go down to your feet" for Popo, the Geist bat, and one from Kiboko the Geist Hippo (who's a singer, though not a very good one), "She sings every night and still waits for the cheers, While the Pet Geists all run as they cover their ears."



Why They'll Want It


This is just a great book with great pictures and fun stories/rhymes. Ghost animals could be really scary, but Anderson plays these for laughs and fun, and gets a lot of both. My son and I are looking forward to trying the game. If it's half as good as the book, it's a winner.


--TDmonthly Staff, 10/18/05

---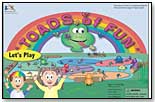 Name: Toads Of Fun
Company: DAD'S INK LTD.
Age: 4-8
Price: $14.95
Category: General Games



What Is It?


It's a board game with a toady theme. You get a toad of a different color, and when your turn comes around, you spin not one, but two spinners (one's numbers, the other's colors). You then find a lily pad that matches the spun color, and a number on the lily pad. So far, so toady. If there are flies where you land, catch them and put them on your home "log." First one to fill their log with six flies, wins. But … there are some catches. You can get dumped into the pond. The dreaded bumblebee or another toad can send you back to your log, and if this happens, your flies go back to the lily pads, and you have to start over.



What We Thought


Well, it was pretty easy to grasp the game, when the family sat down to play (with a 6 and an 8 year old). We spun, we caught flies, we got dumped in the pond, we lost our flies, someone won. We played another game, and had some more toady fun. It was a pleasant game that occasionally got bloodthirsty when one of the boys knocked the other's toad about. We got into a discussion about the differences between toads and frogs, amphibians and reptiles, and one of the boys (the older) wanted to play the game with real toads. A good time was had by all, and it was voted as a keeper.



Why They'll Want It


It's a deceptively fun game, and one of the few games that can truly span the 4 to 8 year old gap. Normally what's good for a 4 year old is too young for the 8 year old, or what's fine for the 8 year old is too tough for the 4 year old. Toads of Fun was great for everyone. Its very simplicity makes it addictive. It's all about the spinners, and the tides of the play can change at any moment, so there's nothing predictable about it. Good for the whole family.


--TDmonthly Staff, 10/18/05




Learn more about Toads Of Fun
---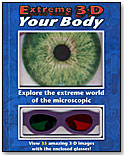 Name: Extreme 3-D Scary Bugs!
Company: SILVER DOLPHIN BOOKS
Age: 8-12
Price: $19.95
Category: Books



What Is It?


This is a cool book on the world of the ultra-tiny, full of electron microscope pictures of bees and ants and bugs of all sorts. They look monstrous at these magnifications and are very cool. But the real bonus is the pair of 3-D glasses that come with the book which add to these pictures, dare we say it, a whole extra dimension! Written by Shar Levine and Elaine Humphre, and illustrated (what illustrations there are) by Leslie Johnson.



What We Thought


My six-year-old can't put it down, and neither can his two friends. They're playing tug-of-war with the 3-D glasses as I write. The coolest picture for these guys was the millipede – it looked like the scariest dragon ever to romp through mythology, but it's real! We all talked about the bugs, then went outside to find a few live ones. The kids took the glasses… you can never be 3-D enough.



Why They'll Want It


What can we say? It's gross, fun, has 3-D glasses, and it's educational. What's not to like about it? Losing the glasses could put a crimp in the book in the future, but there must be ways to get an extra pair or two. Two 3-D thumbs up.


--TDmonthly Staff, 10/18/05




Learn more about Extreme 3-D Scary Bugs!
---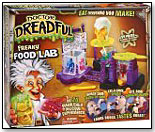 Name: Dr. Dreadful Freaky Food Lab
Company: FUNRISE INC.
Age: 5 and up
Price: $24.95
Category: Kits



What Is It?


The Dr. Dreadful Food Lab is an interactive activity thingie that is part food, part monster, all gross. The set comes with "Lab Links" that can be used to build your own laboratory environment (they kinda hook together like a playset), an injector station, a skull bowl, beakers, molds for making gruesome gooey creatures and more. It's got food packets and collectible experiment cards that include give step-by-step instructions on how to make food that looks gross but tastes great! Makes slime and edible monsters and bubbling brains and everything a kid (and dad) could want.



What We Thought


First off, this thing rocks! From a kid standpoint, from a parent standpoint — it rocks hard. My six-year-old and I opened the thing up and it was full of weird and wonderful items, like the skull bowl and the monster molds. First thing we did was build our "laboratory"! My son did most of the work while I deciphered the instructions. Then, we looked through the experiment cards and picked our first mad scientist experiment: bubbling brains! We measured (and that was great — my son got into that) and stirred and: "It's a alive!!!" The brains bubbled over the skull bowl and we slurped our fill (sickly sweet, but much better than real brains). We spent the rest of the day measuring, stirring, filling monster molds, and eating the monsters. It was pretty disgusting, and we both brushed our teeth well after it was all over. And it was great.



Why They'll Want It


It's got monsters and experiments, and kids who can read (it was a little too advanced for my six-year-old), can spend hours safely creating all sorts of gross things (which later show up at dinner). There's also extra Food Lab Booster packs, as well as a whole Demented Drink Lab that goes along with this. It's totally fun and ghastly. What more can you ask for?


--TDmonthly Staff, 10/18/05




Learn more about Dr. Dreadful Freaky Food Lab
---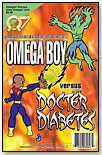 Name: Omega Boy Vs. Dr. Diabetes
Company: OMEGA7 INC.
Age: 8 and up
Price: $5.00
Category: Books



What Is It?


Created by the two young sons of respected comic book author and publisher Alonzo Washington, Omega Boy is a superhero who helps educate kids about diabetes. "Omega Boy Vs. Dr. Diabetes" is the first in the series. These comic books are short, but would be very useful in helping a young person to understand the disease. The goal is admirable, as the letter of support signed by President Bush at the end of issue No. 2 would attest.



What We Thought


The first comic in the Omega Boy series is not only educational but has funky graphics and an action-filled plot as well. The background designs in each of the panels are a trip, and lines such as, "Diabetes is not contagious, but my fist is," from Omega Boy keep the dialog clever despite the informative overtone.



Why They'll Want It


For coming from a small, independent publisher, the second title in this series, "Enter the Blaze!" comic has already managed to line up ads from Hershey's, General Mills, Wendy's and Osco Drug, to name just a few. In the reprinted copy of a letter from George W. Bush, the young author, Kamaal Washington, is encouraged to "study hard, make the right choices, and help others in need." If any comic can inspire young kids to reach out to their surrounding communities and help make a difference, this just might be it.


-- Vanessa VanderZanden, 9/26/05




Learn more about Omega Boy Vs. Dr. Diabetes
---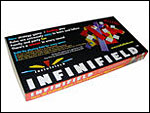 Name: Infinifield
Company: INFINIFIELD INC.
Age: 8 and up
Price: $29.99
Category: General Games



What Is It?


Infinifield is an abstract strategy game for 2 to 4 players, ages 8 to adult. Players use their creativity and imagination to build a two- or three-dimensional board from 24 blocks for every round. Then they use logic and strategy skills to chase and eliminate opponents´ pawns in a fast-paced game. Infinifield was invented and produced by an 8-year-old boy (now 10) and his father as a homeschooling project. It won a Parents´ Choice 2005 Silver Honor Award.



What We Thought


The best part of the game is selecting how to set up the playing field so that the largest quantity of blocks touch one another. This allows for multiple moves between players and produces a more challenging game. Also, the further away from one another on the board players set up their pieces, the more moves a round will tend to have. One necessary aspect of the game, to keep players from coming to a standstill, is that one board piece is taken away after each move.



Why They'll Want It


The game challenges players to think several moves ahead, improving their tactical reasoning abilities and strategic thought. The lightweight plastic board blocks are easy for little hands to lift and smooth enough that they won't cause injury. They can withstand spills, and if thrown, won't be very harmful.


-- Vanessa VanderZanden, 9/26/05




Learn more about Infinifield
---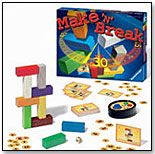 Name: Make 'N' Break
Company: RAVENSBURGER
Age: 8 and up
Price: $29.99
Category: General Games



What Is It?


Players get 10 wooden building blocks, a timer ticking per the number rolled and a card showing players what to build in that time. When the time is up, players total the points on their completed building cards and collect tokens. After four rounds, the one with the most points is the winning builder. The game comes with an expert version as well.



What We Thought


For such a simple concept, this game is surprisingly addictive! Players try to make as many matches to the formations they see on the cards they draw before the timer ticks down, so while players try to beat one another, they wind up racing themselves to become more adept at placing blocks in the right order. Though it may seem easy, many formations are quite complicated to complete by the time the clock winds down.



Why They'll Want It


This intense game can be played by kids of any skill level. The "pass" feature means that no one can whine "but I get stuck with all the trickiest cards!" and get away with it. The game is quick, mentally-stimulating, and in an age of video game overkill, is more hands-on fun than clicking a computer mouse at a screen during Tetris.


-- Vanessa VanderZanden, 9/26/05




Learn more about Make 'N' Break
---
Name: The Amazing Live Sea-Monkeys Ocean Zoo
Company: EDUCATIONAL INSIGHTS INC.
Age: 6 and up
Price: $7.95
Category: Science & Nature



What Is It?


It's the only classic toy that gives you or your family instant pets. This is "The tank that started it all!" That's right, the oldie but goodie that all the parents out there either had or wanted when they were kids. It comes with everything you need to bring to life these fascinating aquatic pets, including the always hip classic vented tank with magnifying portals and a molded seascape base.



What We Thought


I was very excited when I brought this toy home. Who doesn't want to watch life spawn out of thin air, or purified water as it is in this particular case. I got my tank all set up and anxiously awaited for the first 24 hours to come to pass, so that I could finally play Dr. Frankenstein and create life as it were. After I stirred in the powder, I stared eagerly into the tank, through the magnifying portals to see the first signs of life. I am a little disappointed that I didn't see some sign of initial life spark into existence and I am still uncertain as to whether it was the sea-monkeys I was looking at, or some powder that had not completely dissolved. But it was clear to me the next morning, that in fact I was now a successful new owner of about a dozen tiny little creatures swimming around in an almost surreal jittery fashion. Little did I know how much joy these tiny little sea-farers would bring to me as I watched them develop into adulthood in the days that followed!



Why They'll Want It


 Let's face it. This is fun for all ages. They make a great first step for parents trying to teach their children responsibility, before taking on a more labor intensive pet (you only have to feed them about once a week!) They make an excellent office or cubicle mate as they take up next to no room, and can be left on the weekends with no worries. Best of all, they can't help but bring a smile to your face and the faces of your co-workers as they suddenly find increasingly inventive reasons to come over to your desk. Bottom line … what's not to like!?!


-- Shane Raniere, 9/26/2005




Learn more about The Amazing Live Sea-Monkeys Ocean Zoo
---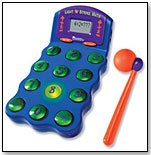 Name: Light 'N' Strike Math
Company: LEARNING RESOURCES INC.
Age: 6-11
Price: $29.95
Category: Educational



What is it?




Light 'N' Strike Math

is like an amusement park calculator: large and brightly colored with a soft mallet for striking big lit-up buttons in "Whack-a-Mole" style. Each button lights up with the correct answers for basic multiplication, addition, subtraction and division problems.  Kids have to hit the button before the light goes out—a lot more fun than memorizing times tables.  (AA batteries not included.)



What we thought


Remember flash cards?  Light 'N' Strike Math takes that concept it into the 21st century by upping the action and interactivity—two features kids today are reared on.  It's simple and fun; players wouldn't be able to keep from learning math even if they tried.



Why they'll want it


This is an out-of-the-box learning toy that requires no instruction or down time, only a familiarity with basic arithmetic.  It's a great toy for reinforcing math skills through friendly competition between students or siblings.  Besides, what kid wouldn't want to whack something with a mallet?


-- TDmonthly Staff, 9/26/2005



Learn more about Light 'N' Strike Math
---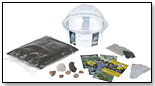 Name: Sensory Dome
Company: DUNECRAFT INC.
Age: 3 and up
Price: $24.99
Category: Science & Nature



What is it?




Sensory Dome

is a complete terrarium kit containing soil, decorative gravel, "Contemplation Stones," decal photos of different ecosystems and seed packets for Aloe, Pink Polka Dot plant, herb mixture, Eucalyptus and Cabbage Palm. Each plant has a different texture or odor, with kids encouraged to go "hands on" in learning about the natural world.



What we thought


The Sensory Dome's simplicity is its strength: no moving parts or batteries required.  This would be a great kit for the classroom, or for a child who's not quite ready to take care of a pet.  Nurturing a living thing, even if it doesn't have fur, teaches kids responsibility and that all of us have an effect—hopefully positive—on the world around us.



Why they'll want it


Many parents will be happy to give their kids a learning toy that doesn't involve pixels or digital sound effects, but that comes to life through actual oxygen and sunlight.  The Sensory Dome's low maintenance—the plants require watering only once every four months if the top is kept on—ensures that even when kids' attention wanders, life will go on.


-- TDmonthly Staff, 9/26/2005



Learn more about Sensory Dome
---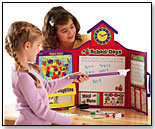 Name: Pretend & Play School Set
Company: LEARNING RESOURCES INC.
Age: 4 and up
Price: $29.99
Category: Pretend Play



What is it?


The Pretend & Play School Set consists of a tri-fold, travel-ready case which folds out into the shape of an old-fashioned red schoolhouse.  The set includes a dry-erase chalkboard and markers, maps of the United States and the world (including a weather map) calendar, clock with moveable hands for learning to tell time, crayons, "Hall Pass," report cards, award certificates and even a brass school bell!



What we thought


The School Set creates a subtly empowered ownership of learning—a child can carry it with her just like a book bag—and the set includes everything but the classroom hamster.  



Why they'll want it


For 4-5 year olds who long to tag along with their older siblings to school, this toy is the next best thing.  Everything needed for a parent to help a child learn his/her ABC's, days of the week and other kindergarten essentials is here in one easily transported and durable package, ready to be brought along on family trips or to the doctor's waiting room.


-- TDmonthly Staff, 9/26/2005



Learn more about Pretend & Play School Set
---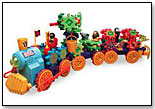 Name: Safari Express Motorized Train Building Set
Company: LEARNING RESOURCES INC.
Age: 4 and up
Price: $39.95
Category: Construction



What is it?


The Safari Express Motorized Train Building Set is a construction toy that moves under its own power (AA batteries not included), featuring a working head light on the locomotive and "Chugga, Chugga" sound effects. The set comprises 127 pieces, including interlocking gears, four jungle animal figures, two kid figures, stickers and four flags for customizing your own Safari train.



What we thought


This set fills a niche not usually served by construction toys—the kindergarten through first-grade crowd. Its rounded gears and bright colors will make it irresistible to kids reaching the age of fantasy play, while the color-coded instructions won't interfere with kids' natural inclination to go hands-on right out of the box.



Why they'll want it


The Safari Express set is compatible with all of Learning Resources Gears! Gears! Gears! sets, making it a value-added toy for both parents and kids. The bright colors and whimsical shapes will appeal to both boys and girls, and the carrying case means the set's pieces are more likely to stay in the box and out of the vacuum cleaner.


-- TDmonthly Staff, 9/26/2005
---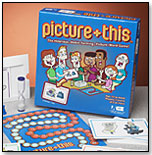 Name: Picture + This
Company: ACT GAMES
Age: 12 and up
Price: $29.95
Category: General Games



What Is It?


Two teams (or two players) compete in this challenging game to get to the end of the board first by solving picture clues. Players take turns guessing a place, cliché, person or entertainment-related concept (such as a movie title or lead character) based on the combination of cartoon images depicted on the game cards. For each clue that the card holder has to give to stuck teams, the guessing team gets docked an additional point when they guess the right answer, with a maximum of five points per answer.



What We Thought


This entertaining game is most fun when played "party-style," with every woman shouting out answers for herself and a new card reader on each turn. Players quickly begin to understand that, strategically, it's sometimes better to work out the clues in one's head rather than blurting out guesses haphazardly. This is a fun, fast-paced game that evokes plenty of laughs.



Why They'll Want It


The cartoons on each game card are easy to see, though the answers can be a trick to solve. The game has cards that range in difficulty, and because they're dual-sided, the stack should last a number of plays before bonus card packs are required. It exercises not oft used brain muscles that are fun to stretch.


-- Vanessa VanderZanden, 9/26/05




Learn more about Picture + This
---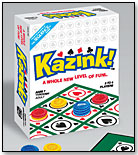 Name: Kazink!
Company: JAX LTD INC.
Age: 7 and up
Price: $18.95
Category: General Games



What Is It?


Players are each dealt three cards. When it is a player's turn, he/she discards his/her card, placing his/her poker chip on a corresponding game board square. When all of the squares of one suit are covered, that player can choose to crown his/her chip or can place the crown on someone else's chip. Players win by completing two rows (three chips in a row) of triple-stacked chips of in their poker chip color.



What We Thought


This game of strategy and skill requires a calculating mind, yet can still be fun for all ages. The game has enough chips for two or three players (or teams of players) to enjoy anywhere from a 20-minute to an hour-long match. Competition grows more intense as more chips stack up on the board and players are left with fewer board options. In addition, the inclusion of three special types of cards — crown cards, wild cards and double-up cards — keep the game play interesting.



Why They'll Want It


It doesn't take long to get down to game play after reading the instructions, yet it does take multiple rounds to understand the finer strategic nuances. In other words, this game can be enjoyed by family members for years to come. Conveniently, the board folds up into a manageable size, just at little bit smaller than 8" x 11", so it's no problem to pack for weekends away or to store at home.


                                                -- Vanessa VanderZanden, 9/26/05




Learn more about Kazink!
---
Name: Take & Make Pizza Food Fun
Company: MANHATTAN TOY
Age: 3 and up
Price: $20.00
Category: Educational



What Is It?


A cloth pizza box, decorated in the authentic pizzeria colors of red, white and green is secured by Velcro fasteners. Pull them open, lift the top of the see-through box and - Presto! - baby´s first pizza. But it´s not just any pizza, it´s four slices of brightly colored triangles with "crust" made of clingy fabric that´s just perfect for sticking to the cotton and Velcro "sauces" that kids can rearrange at will. Topping it all off are a variety of toppings that are numbered so kids can learn to count while learning to order the perfect pie. Inside the box there´s also a grill with a glossy card printed with flames that can be slid back and forth to turn the grill "on" or "off."



What We Thought


The box and the slices are well-proportioned for little hands. The clear plastic window in the top of the box is not only authentic, but also gets kids hungering for what´s inside. But to get inside, they´ll have to pull the flaps and then lift the top, which means they´ll develop some dexterity while satisfying their curiosity. The toy encourages creativity, too, since kids can mix and match sauces and toppings to create a mouthwatering treat for Mom or Rocking Horse.



Why They´ll Want It


Kids will feel grown up making, baking and delivering their very own pizzas. They can serve the slices plain, with sauce alone, toppings alone, or all three combined deliciously together. Kids will feel smarter, too, when they start recognizing the numbers that go along with the toppings. They´ll undoubtedly find ingenious ways of combining all the elements in this toy to make a pizza slice unlike any other. Pizzerias of the world, take note: Your competition is in training.


-- Alison Marek 8/30/05





Learn more about Take & Make Pizza Food Fun
---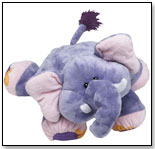 Name: Crème Puff Elephant
Company: FIRST & MAIN INC.
Age: All Ages
Price: $9.00
Category: Plush



What Is It?


A floppy, fluffy elephant made of purple plush, this cuddly toy would stand almost 15" tall - if he could stand. But he´s more of a lying-down, rolling around the Savannah type of elephant -- just the right kind of puffy toy to use as a pillow. He has black embroidered eyes, small white tusks, and a long crooked trunk. His ears are lined with pastel pink and are just as floppy as the rest of him. He has orange, pink and purple feet that are filled with pellets for weight, as is his tummy. His tail is tipped with purple fake fur. He´s made of nontoxic and nonallergenic materials.



What We Thought


Crème Puff lives up to his name, because he´s an airy, fluffy confection of a toy. Soft and silky to touch, he has plenty of squeezable, cuddly parts. His cute, chubby cheeks and innocent expression will endear him to young and old alike. He and the other animals in the First & Main line bring the zoo to the cradle so that kids become as familiar with elephants and giraffes as they are with cats and dogs.



Why They´ll Want It


What kid doesn´t want an elephant? And this one requires a lot less upkeep than the real thing. He´s a good baby substitute for kids who don´t like dolls but still feel like nurturing. And since he´s a tiny tyke of pachyderm, he´ll be perfect company for babies who like to hang out with their own. He´s practically feather-light, so even the smallest tot can tote him around without effort. Parents will like him because he doesn´t make a peep and will probably keep the baby quiet, too.


-- Alison Marek, 8/30/05





Learn more about Crème Puff Elephant
---
Name: Power Brain XP
Company: YOMEGA
Age: 8-12
Price: $12.95
Category: Yo-Yos



What Is It?


Designed for beginner yo-yo enthusiasts, the Power Brain XP features a" Smart Switch" auto-return clutch that allows the user to switch between manual and automatic returns. Beginners can easily get a sense of the rhythm while they´re learning to handle the yo-yo. As their skills increase, they can switch to a manual return mode for longer spin times and more challenging tricks. It comes in blue, orange or neon green. The back of the yo-yo has a transparent window so the user can view the Smart Switch mechanism.



What We Thought


Even the clumsiest of yo-yoers can achieve graceful yo-action releasing this mechanized marvel of yo-yo ingenuity. Springing back in a buoyant bounce when it reaches the end of its tether, the Power Brain XP reassures novice yo-yoers that mastering the elusive string and semi-orb is within reach. In no time at all, beginners will be walking the dog and taking it around the world. Once confident in their skills, intermediate yo-ers can switch the Power Brain XP gears and embark on the path to flat-out, no holds barred, all expenses paid, collect $200 as you pass GO, hardcore, old school yo-yoing.



Why They´ll Want It


It´s yo-yoing with training wheels. Even big kids will get a kick out of being able to yo with ease from the first snap of the wrist and release of the Power Brain XP. Sized just right to fit in the palm of a big kid´s hand, the Power Brain XP is designed for kids to grow into. Improving on a childhood staple, the Yomega Power Brain XP could quite possibly be the yo-yo of the future and is, in fact, the yo-yo of now.


-- Vanessa VanderZanden, 8/30/05




Learn more about Power Brain XP
---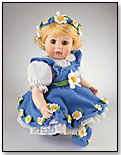 Name: Babies-a-Bloom "Daisy"
Company: MARIE OSMOND DOLLS
Age: 3 and up
Price: $89.95
Category: Dolls



What is it?


This Retailer Exclusive doll is sculpted by Ping Lau and comes with a numbered Certificate of Authenticity. Made of a super-soft "Cuddle Me" vinyl that gives flexibility to her fingers and limbs, her pale ivory "skin" has a porcelain look but silky feel. Her palms, cheeks, knees and toes are tinged with blushes of pink. She's 20" tall and is weighted to feel like a real baby. She has a soft stuffed cloth body and even her vinyl arms and legs are stuffed to make them feel more realistic. Her neck can turn and tilt, giving her a wide range of expressions. Her short blond wig is stitched to her head and is wreathed in a fleece headband decorated with cheerful fleece daises. Her radiant blue eyes are fringed with "real" upper lashes. She's dressed in a white cotton blouse and pinafore edged with lace, a soft blue fleece apron splashed with fleece daisies, with matching booties and bloomers, and white socks. She has a special pocket in her chest for an included mechanism that sets her "heart" a-beating when a little girl holds her close. Her belly button is a real button, trimmed with a felt flower.



What We Thought


This beautifully made doll has the shape and feel of a real baby. An incredible amount of attention has been given to details that will warm the heart of any doll lover, from the dimples in Daisy's elbows, to the soft painted highlights in her lips. Her matching outfit is cheerful, cuddly and fun for girls, while still being elaborate enough to satisfy a demanding collector. Even her little socks are knitted with a cable stitch.



Why They'll Want It


Daisy's big blue eyes, soft skin and daisy-splashed fleece outfit will attract attention from little girls or collectors looking to adopt their next baby. She'll make a little girl feel like a real mommy, toting her around and showing off her super smooth skin and her lovely detailing. Little girls will especially appreciate how soft and squeezable she is and how she'll fit into their arms almost as if she were their own baby sister. Kids will also like the fact that her head can tilt, so they can really "talk" to her. Collectors will appreciate the fine workmanship as well as the lifelike size and weight of this special baby. Grandparents, in particular, will want to give Daisy as a keepsake for their special little girls, to hand down the tradition of nurturing play to the next generation.


– Alison Marek, 8/29/05





Learn more about Babies-a-Bloom "Daisy"
---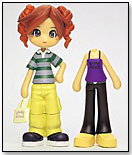 Name: Pinky Street
Company: VANCE PROJECT
Age: All Ages
Price: $9.99
Category: Dolls



What is it?


A Pinky Street doll is a fashionably dressed young anime/manga figurine that comes with an extra outfit. But she doesn't just change her clothes: she changes body parts as well. Her legs, skirt, hair, head and trunk all pop off and are interchangeable not only with her extra outfit, but with other Pinky Street dolls and their outfits as well. Girls can be especially creative once they have an assortment of Pinkies by swapping hairstyles, heads and fashions. They're only about 4" tall, so they're pocket-sized and completely transportable. Designed by modeler Yuki Kanaya (Baby Sue), the theme for the figurines is "the girl next door." Each doll comes with accessories, such as a necktie for a school uniform or radio. Some have buttons that kids can wear, too.



What We Thought


These dolls are cute and childlike, with sullen or pensive expressions; one little girl has fangs. Since Pinky Street dolls are based on kids, they're a nice alternative to fashion dolls that require girls to imagine themselves as already grown. Not only does changing the costumes change the fashion look of the doll, but the mood as well. Hand and feet positions vary, too, so a Pinky Street can be demure in one outfit, but forthright in another. The interchangeable hair is an added bonus and dramatically alters the doll's looks.



Why They'll Want It


Pinky Street dolls are cute, fun, and encourage creativity. Everyone from little girls to grown men have been collecting these figurines in comic and manga shops. Little girls will like them because they're sweet without being cloying. They're girls with a grown-up attitude (but not bodies), and the fashions are adorable. Changing the clothes and hairstyles is fun and just encourages collecting, because the more dolls someone has, the more possibilities for new styles there are. Moms will like them because they're a great alternative to those other fashion dolls that encourage little girls to imagine themselves as scantily clad teenagers. Pinky Street dolls dress like kids – albeit fashionably dressed, Tokyo-style-influenced kids. 


 – Alison Marek, 8/29/05



Learn more about Pinky Street
---
Name: You Build It Voice Changer
Company: CHRONICLE BOOKS FOR CHILDREN
Age: 8 and up
Price: $15.95
Category: Electronics



What Is It?


Build a real voice changer! That's right, a few wires, a resistor, capacitor and transistor, a circuit board, a couple of red plastic doohickeys that make up the case, some speakers, and voila: a voice changer that would do James Bond Jr. proud. You got your squeaky, helium-kinda voice, robotic voice, scary voice and booming, echo voice. Along the way, a fun (it's got the SmartLab dog in it) illustrated book/manual talks about sound, sound waves, and all sorts of other things scientific-sorta things. It's very cool looking in the box.



What We Thought


First, find an 8-year-old. That done (I used a nephew and his friend), we began to build it. I read the instructions, and the kids built. After a few false starts (no one really listens to the instructions until things go wrong, do they), we got the whole thing together. Unfortunately, batteries not included (or in this case, one 9-volt battery). We hunted around the house and came up with… a dead battery. We hit the store and came back with a live one. The rest is silly-voice history. It's pretty loud, and definitely changes the voice, if in a kind of computer-y way: it sounds digitized (which, come to think of it, it is). The kids fought over it (should have gotten two), and eventually we taped them doing some silly stuff, and we got a kick out of playing their voices back to them. A good time was had by all.



Why They'll Want It


It's ingenious: scientific, but cool. Electronics kits are always fascinating, but the SmartLab line comes up with particularly intriguing stuff – and fun. Not only did we all get an education in the physics of sound and the electronics of sound manipulation, both analogue and digital, we had a blast. Perfect for the budding scientist or voice-over artist.


-- TDmonthly Staff, 8/29/05



Learn more about You Build It Voice Changer
---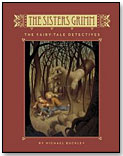 Name: The Sisters Grimm
Company: ABRAMS BOOKS
Age: 8-12
Price: $14.95
Category: Books



What Is It?


Sabrina and Daphne Griimm, two orphans, are dropped off at their grandmother's house 18 months after the disappearance and suspected murder of their parents. Street smart Sabrina isn't buying sweet old Relda Grimm's story that she and her sister come from a long line of fairy tale detectives; that Ferryport Landing — their new home — is the enchanted settlement of Everafters (old fairy tale heroes and villains); or that Relda Grimm is anything more than a senile old bat who has mistaken her and her sister for blood relations. Yet, before she has a chance to escape with Daphne, the two find themselves caught in the center of a supernatural mystery.



What We Thought


At times funny, harrowing and touching, this adventurous tale takes readers on a surreal romp through magic forests and pristine balls. As witnessed through the disbelieving eyes of Sabrina and Daphne, all the mad ins and outs of Ferryport Landing spring to life in this easy to read, 304-page book. Rather than sugarcoat events, the story explores issues of death and abandonment between walloping readers with an amusedly mocking Mirror ("as in mirror, mirror, on the wall") and hoards of stinky, blood-thirsty giants.



Why They'll Want It


Prince Charming as a corrupt mayor, the Big Bad Wolf as a tormented, modern-day werewolf, Jack the beanstalk climber as an egomaniacal ne'er-do-well — what's not to love? Author Michael Buckley reinvents favorite fairy tale characters with wit and compassion, creating a unique world that readers will be eager to revisit in his second book, "The Unusual Suspects." The two young heroines are intelligent, bold and human — solid role models for both boys and girls of all ages.


-- Vanessa VanderZanden, 8/29/05




Learn more about The Sisters Grimm
---
Name: Dinosaurs
Company: KANE/MILLER BOOK PUBLISHERS
Age: All Ages
Price: $11.95
Category: Books



What Is It?


It's a book about dinosaurs… with a hole in it. That's right, a hole. A hole to put a face in (either a kid's or an adult's). Inside there are dinosaurs who (in one easy to read—except the names—line) tell what they like to eat. From the fern-loving Diplodocus to the dino-loving T-Rex, each page gives the name and eating habits of another animal. The hole? That's right where the dinosaur's face is, so you look pretty silly and have a lot of fun.



What We Thought


Sometimes dinosaurs frighten the very smallest children, so having their faces look out from the book, or better yet, having an adult's is very un-frightening. With my nephew, it worked like a charm. I read the line, did the sound effects of eating, and even ran after him as if I were a Tyrannosaurus. He laughed so hard he got the hiccups. Then he tried it for the rest of the day, running after his older sister, his mom and his dad. Granted, he and I are both hams, so we took to it like a Plesiosaurus to water (one dino that isn't in the book). Still, it's a hoot, and lots of fun. My only comment: I'm a dinosaur fan, so I knew the pronunciation of all the names, but a handy-dandy phonetic guide might be a good addition, though it's a minor point.



Why They'll Want It


Hey, it's dinosaurs—which are timeless (or at least 65 million years old—the end of the Cretaceous era). Also, it's got a hole in the book, a novelty right there. It's fun to play with, and a unique way of demystifying a potentially frightening subject. All in all: two thumbs up.


-- TDmonthly Staff, 8/19/05




Learn more about Dinosaurs
---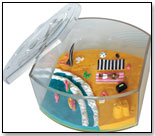 Name: Sea Monkeys Mini World Hang 10
Company: EDUCATIONAL INSIGHTS INC.
Age: 6 and up
Price: $19.95
Category: Science & Nature



What Is It?


Like the beach? Like Sea Monkeys? This has both. First, there's a small beach-scape monkey-arium that has a plastic beach scene complete with hoops and beach towels and surf's up for the Sea Monkeys to swim in. It comes with water conditioner, Sea Monkey instant eggs and a packet of food. It has a small spoon for stirring and measuring the food. It has instructions. Follow the instructions, and it has… drum roll please: Sea Monkeys!



What We Thought


So, we conditioned the water, waited 24 hours, put in the instant eggs, and voila… really, teeny-tiny Sea Monkeys. Cool. Granted, quite a few other people couldn't see them (that's how small they were)—but they were there. A few days later (no feeding yet)—they were small but quite visible, zooming around on their backs. Each day, they got bigger. Each day, there seemed a few less, but their growth made up for that. At the five day mark, the first feeding. Bigger and bigger they got until they became crowd pleasers. Everyone always stops by for a look. So far so good. Unfortunately, the instructions don't say what to do about evaporating water, so at the two week mark I'm hoping it won't be a problem. Should I add more? Without conditioner? How much more? I don't want to lose these babies, as they are great fun swimming around in a playful way.



Why They'll Want It


They're cool, and they're alive, and they're called Sea Monkeys. Granted, the first few days the kids might be a little impatient, but once they grow big enough to be cute, they're easy to grow attached to. Can't wait to see how big they get (I'm told about one inch, but I want to see—maybe I'll have the world's record). They are interesting, cool to watch, and fun to talk about. Recommended with pleasure.


--TDmonthly Staff, 8/26/05




Learn more about Sea Monkeys Mini World Hang 10
---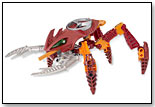 Name: Bionicle (Visorak Vhotarak)
Company: LEGO
Age: 7 and up
Price: $8.99
Category: Action Figures



What Is It?


This is the latest and the greatest in the Bionicle mythology: Visorak Vhotarak (say that fast three times), VV for short. The story: Web Of Shadows (year 2005): Hordes of these spider like creatures appeared in Metru Nui following the great quake. They quickly took over the Coliseum and spread out through the metru, weaving their webs and capturing Rahi. All Visorak have the ability to create and climb webs as well as a default paralysis power in their spinners.



What We Thought


First, you have to build the thing, and that can be pretty complicated (48 pieces in total). With the help of a savvy 12 year old, I managed to put it together (not without a little frustration and one piece hiding under a chair). VV folds and bends and shoots a spinning disk into the air. It has great mandibles. The legs articulate, and it looks very cool.



Why They'll Want It


First off: you gotta collect them all. The fans will get it for that reason. For playing fun: it's part spider, part mechanical, part weird. It eats miniature plastic army men as well as other toys. Get it playing with other Bionicles, and a whole legendary world comes into play. It's very fun and imaginative.


--TDmonthly Staff, 8/26/05




Learn more about Bionicle (Visorak Vhotarak)
---
Viewing products
811—840
out of
1007
products.
<<Prev
1
2
3
4
5
6
7
8
9
10
11
12
13
14
15
16
17
18
19
20
21
22
23
24
25
26
27
28
29
30
31
32
33
34
Next >>
Search Toy Review:
Toys can be submitted without a fee to be considered for editorial review. However, manufacturers who wish to guarantee that their toys will be evaluated in the Review section should send payment of $150 per toy* along with the toy itself to:

Product Review Dept.
ToyDirectory.com, Inc.
12340 Santa Monica Blvd. Suite 226.
Los Angeles, CA 90025

Many of the toys considered for review are donated to children's services organizations, such as Children's Hospital Los Angeles. Also, to recover the cost of reviewing, starting August/2012 we may occasionally resell products that are sent to us.
* Please make checks payable to ToyDirectory.com, Inc. Payment does not guarantee a positive review. Advertising with ToyDirectory and TDmonthly Magazine does not guarantee a positive review. Quality, play value and educational value are considered when reviewing toys and games.