Archived Reviews
Send us your toys ... and you may be eligible to win a TDmonthly Magazine Top Toy Award!

Well-reviewed toys and products recommended by specialty retailers are more likely to be nominated for a TDmonthly Award and appear in our annual Specialty Toys Report. For submission information, please see the bottom of the page.


---
Search Toy Review:
Recent Reviews: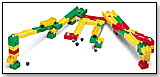 Name: Block-N-Roll
Company: TAURUS TOY
Age: 6 and up
Price: $19.95
Category: Construction



What is It?
60 pieces of Block-N-Roll—part Lego by TAURUS TOY (ToyDirectory) (the pieces fit with Duplo brand blocks), all marble maze construction—are not enough. My colorful route, consisting of turns, ramps and crossovers, had hardly begun to take over my desk when I considered ordering add-on pieces. Sigh.




What We Thought
Already the winner of many awards—Family Fun Magazine´s "Toy of the Year" Finalist 2000, one of Dr. Toy´s best 100 for 2000 and voted the Best of Construction Blocks by Great American Toy Test—who could say no to Block-N-Roll?




Why They'll Want It
Future architecture majors of America, or any kid from first grade and up, will enjoy sliding pieces together, building tunnels and ramps and drops for marbles to slide and smash into each other.




--Kris Dukes



Learn more about Block-N-Roll
---

Name: Putter & Driver Sets
Company: FRANKLIN SPORTS INC.
Age: 6 and up
Price: $19.99
Category: Sporting Goods & Accessories



What is It?
Franklin's Putter Set and Driver Set both include a kid-sized club with a contoured grip to teach proper hand position, as well as a small plastic putting green or driving tee and lightweight plastic golf balls. (They won't break windows.) Both sets feature interactive technology (batteries included) that allows for simulated audience cheering sounds when kids putt or swing.




What We Thought
These simple toy golf sets let kids emulate Dad's sport of choice without the green fees. The audience applause and calls of "Nice putt!" and "You're the Man!" are a must for today's kids, who are weaned on video and interactive toys.




Who Would Like It
Any kid whose dad or mom is a golfer.




--Tim Connolly
---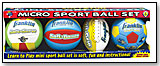 Name: Soft & Fun 4 Ball Micro Set
Company: FRANKLIN SPORTS INC.
Age: All Ages
Price: $19.95
Category: Sporting Goods & Accessories



These "Soft & Fun" replicas of your favorite sport balls are a must-have addition to any toy box. The easy-grip texture material that covers the balls is a wonderful addition to the ball market.

The boxed set comes complete with practice techniques for the aspiring young athlete as well as diagrams and measurements to create the full-sized fields of play for volleyball, basketball, football and soccer.

For outdoor fun the Franklin Learn to Play Mini Sports Ball Set is a great starter set. Appealing to kids of all sizes, even adults may find a fun use for the balls in the office or at home.




--Andrew Windchanz
---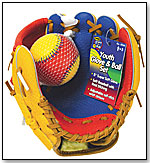 Name: Youth Glove & Ball Set
Company: FRANKLIN SPORTS INC.
Age: 3 and up
Price: $9.99
Category: Sporting Goods & Accessories



The Glove and Ball Set from Franklin Sports is great fun for the would-be baseball star of tomorrow.

The leather-like rubber glove is supple and moveable for even small hands and does not require hours of work to make it useable. The ball features an easy grip texture that aids the small hands in catching and throwing.

For less then $10.00, the price is right, considering this age group grows at an amazing rate. Parents will find this set to be both affordable and fun to have around. Learning to play catch has just gotten a whole lot easier.




--Andrew Windchanz
---

Name: Twilight Zone Invader Life-Size Figure
Company: SIDESHOW COLLECTIBLES
Age: 14 and up
Price: $40.00
Category: Collectibles



The packaging alone makes this collectible figure from TV's golden age worth buying. Adorned with wonderful black and white still-shots from "The Invaders" episode of The Twilight Zone, as well as a full treatment of the episode and brief history of the series, this is a collectible no die-hard sci-fi fan could resist pulling out the Visa for.

Accessories include the electric prod the little robot uses to attack Agnes Moorehead's character and a radar antenna for his head. The Invader figure was sculpted by Mat Falls.




--Tim Connolly
---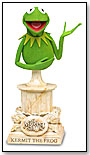 Name: Kermit the Frog Collectible Polystone Bust
Company: SIDESHOW COLLECTIBLES
Age: 14 and up
Price: $50.00
Category: Collectibles



Cast in heavyweight polystone, the Kermit the Frog Bust is hand painted and sits on a Roman style pedestal inscribed with The Muppet Show logo and the character´s name.




On the underside of the pedestal, the sculptor´s name (Ben Hawker) and signature are inscribed to ensure authenticity. Other characters in Series I include: Dr. Bunsen Honeydew, his perpetually freaked-out lab assistant Beaker and Rowlf the Dog.




--Tim Connolly
---

Name: Robert Davi "Sanchez" and Timothy Dalton "James Bond" 12-inch figures from Licen
Company: SIDESHOW COLLECTIBLES
Age: 14 and up
Price: $40.00
Category: Collectibles



I never saw License to Kill, but can honestly say that any action figure ("Sanchez") that has a diamond necklace-wearing iguana for an accessory is cool by me.

Sanchez's other accessories include a machete and Uzi (with extra clip), and a display stand bearing the movie logo and character name. With 20 points of articulation, these figures can be posed as well as left in the box as a collectible. Sanchez is a limited edition figure with roughly 5,000 to be produced.

The often overlooked Timothy Dalton James Bond character gets some respect with a 12-inch figure outfitted in Bond's signature black tuxedo. Fully articulated and bearing a remarkable likeness to the actor, Bond's accessories include a Walther PPK pistol, display base and Q´s camera gun and case, all in a collector's display box with original movie poster art. The figure is a limited edition at roughly 15,000 figures.




--Tim Connolly
---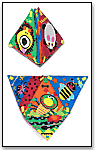 Name: Pyramid Zoo
Company: MANHATTAN TOY
Age: 1-3
Price: $12.95
Category: Infant & Toddler



What is It?
Pyramid Zoo is a soft cloth pyramid-shaped toy that teaches toddlers the names of animals through pictures and words. Each side of the pyramid folds out to reveal more animals with the name of each.




What We Thought
This is a simple and friendly toy whose unfolding sides and colorful pictures will engage any curious toddler… or even a 30-something toy reviewer deep in an after-lunch food coma.




Who Would Like It?
Toddlers.




--Tim Connolly
---

Name: Lots of Bugs
Company: MANHATTAN TOY
Age: 1-3
Price: $11.95
Category: Infant & Toddler



What is It?
Lots of Bugs is a unique cloth and plush item that acts as a picture book and toy combined. The bug's body unfolds to reveal four different pictures and captions, such as "A funny Bug" or "A Fuzzy Bug" (with plush body for kids to feel).




What We Thought
This toy brings parents and toddlers together while teaching simple reading and shape and size recognition.




Who Would Like It?
Any toddler or preschooler.




--Tim Connolly
---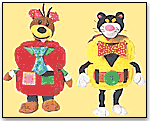 Name: Mix & Matchimals
Company: MANHATTAN TOY
Age: 1-3
Price: $14.95
Category: Infant & Toddler



What is It?
Mix & Matchimals are a unique plush toy that combines two animals in one cube-shaped body. The body has pockets on all sides that hold both animals' limbs and heads. Kids can have fun mixing and matching the parts to create their own unique animal.




What We Thought
This fuzzy toy will engage a toddler's innate curiosity as he/she turns an inanimate cube into a friendly animal.




Who Would Like It?
Toddlers.




--Tim Connolly
---

Name: Ross Powers and Jonny Moseley Signature Huck Dolls
Company: ORIGINAL HUCK DOLL NSM
Age: 4 and up
Price: $12.98
Category: Action Figures



Huck Dolls (ToyShow) were originally designed "for the purpose of visualizing aerial maneuvers," says Jay Peters, the dolls' inventor and co-founder of NSM Resources Corp. Peters used his degree in product design to create the doll to share with other local skiers at Lake Tahoe, but soon found the public was willing to pay for a doll of their own.

Though collectors will no doubt prize these 5-inch figures, this reviewer committed the unpardonable sin of actually removing the Ross Powers Doll from his packaging. Though the doll is not as limber as I would have thought, given that the figures are meant to be emulate real-life boarders, it still makes cool dashboard or computer decoration.

Other figures include Shane McConkey, Tara Dakides, JP Walker, Mike Michelchuck, Jamie Burge, CR Johnson, male and female surfer figures, and a skateboarder and wakeboarder.




--Andrew Windchanz
---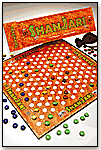 Name: ShanJari
Company: FUNADDICTS
Age: 5-Adult
Price: $24.95
Category: General Games



What is It?
ShanJari is an African word meaning "line." It's also the name of FUNaddicts strategy game that stretches the Tic-Tac-Toe concept into four-or five-in-a-row sequences requiring players to think critically about their next move. The game comes with 1 game board, 60 game pieces with bag, 2 sequence markers, 2 sequence cards and rule sheet.




What We Thought
The multi-player format makes ShanJari a great family game. With different levels, the game can become increasingly difficult as players learn to maneuver their pieces around the board to outwit their opponents.




Why They'll Want It
World cultures are a hot topic these days and this game is a breath of fresh air from a far-away continent.




--Nancy Tan



Learn more about ShanJari
---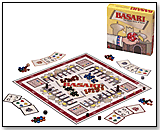 Name: Basari
Company: OUT OF THE BOX PUBLISHING
Age: 10 and up
Price: $19.99
Category: General Games



What is It?
The bustling bazaar is reimagined as a board game in Out of the Box's Basari. As players haggle and barter with one another to earn gemstones, they accumulate points. After three rounds, the player with the most points gains victory.




What We Thought
Basari will turn your youngster into a seasoned wheeler-and-dealer faster than you can say, "Sold!" The game requires shrewd strategy skills and, most of all, a quick wit to weigh the best deal. Aimed at 3-4 players, the game is best played with a full cast so every player has ample opportunity to negotiate with a wide range of offers.




Why They'll Want It
Constant banter and negotiating makes sure every player is in on the fun. And, at only 30 to 45 minutes, Basari is a game you won't have to wait hours to finish.




--Jeremy Loudenback
---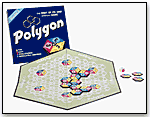 Name: Polygon
Company: JAX LTD INC.
Age: 7 and up
Price: $15.99
Category: General Games



What is It?
Polygon by Jax Ltd., Inc (ToyDirectory) is a strategy board game that requires players to create scoring number combinations through laying down numbered tiles. The game comes with a play board, 49 polygon tiles, die, game instructions and score sheets.




What We Thought
This is a complicated game that expands players' ability to think ahead and critically look at the board for optimal moves. It is also a fun activity for families to play together.




Why They'll Want It
Polygon offers mathematically inclined players a chance to outwit their opponents.




--Nancy Tan



Learn more about Polygon
---

Name: Infinity Feng Shui Fortune Telling Game
Company: EMPRESS3 PUBLISHING
Age: 8 and up
Price: $29.99
Category: General Games



What is It?
Infinity Feng Shui Fortune Telling Game by Empress3 Publishing (ToyDirectory) deals with the ancient Chinese study of the relationships between humanity and the earth´s environment. In this kit, players learn to sharpen their intuition and psychic ability to predict the answers to questions and wishes. It also gives them a chance to explore spirituality and maximize their life force (called "chi"). The game comes with a gameboard, five dice, a compass and instructional cards.




What We Thought
This game simplifies the practice of Feng Shui as a fun game that is sure to amaze partygoers with its accuracy. People of all ages can appreciate the Feng Shui philosophy and learn from its long tradition.




Why They'll Want It
Interest in Feng Shui continues to grow in North America. This game offers laypeople a fun way to learn more about this rich Chinese tradition.




--Nancy Tan



Learn more about Infinity Feng Shui Fortune Telling Game
---

Name: Monty Python and the Holy Grail 12-inch Figures
Company: SIDESHOW COLLECTIBLES
Age: 14 and up
Price: $28.99
Category: Collectibles

All five figures from the film, King Arthur and Sirs Lancelot, Bedevere, Gallahad and Robin come with sword and shield, unique armor and clothing and a tiny "parchment" book showing a still-shot of the character from the movie with a brief passage, such as "Sir Robin, the not quite so brave as Sir Lancelot."

Picking up on the humor of the original movie, it's easy to get the joke with box-copy like this: "Made from lesser quality materials, this edition was slapped together for that bandwagon-jumping late-comer collector."

If that's the case, the first set of Python figures are sure to be lingering in the airtight vaults of happy collectors.
---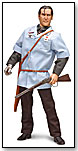 Name: Army of Darkness's Mart Ash 12-inch Figure
Company: SIDESHOW COLLECTIBLES
Age: 14 and up
Price: $40.00
Category: Collectibles

With package copy recalling the cult-movie favorite Army of Darkness and a display-ready box, the S-Mart Ash is another worthy addition to Sideshow's line of collectible figures.

Coming with a Winchester rifle and—best of all—a pocket protector complete with pen and S-Mart logo, the figure wears a name tag reading: "Hello, my name is Ash. Housewares." It's that attention to detail that has won Sideshow its own army of devoted collectors.
---

Name: Series 1 Action Figures
Company: DUSTY TRAIL TOYS
Age: 5 and up
Price: $9.99
Category: Collectibles

Dusty Trails' Series 1 Action Figures are a welcome addition to the 6-inch figure category. Each figure is detailed right down his bootlaces and comes with a display base unique to each character. All the characters are original; no licensed movie icons here—unless you count the SWAT Pointman, which, though not licensed from the movie released in August, will surely benefit from the serendipitous timing.

Other figures in the series: The Captain (a 17th century pirate), Schwartz (a WWII German machine-gunner), Spider (a thug blasting twin pistols as he hits the floor), The Outlaw (an old west gunslinger), and Corporal Smith (a WWII Airborne Pathfinder).

The SWAT figure was the most coveted collectible to reach our offices in some time. He comes, not just in full body armor with tear gas canisters and a leg-strapped 9mm Beretta, but also posed kicking in an apartment door (#13) with flying wood splinters.

The figures are packaged in a sturdy blister pack with accessories prominently displayed. I took the Schwartz figure out of his packaging (so you won't have to) to test the articulation. His arms and wrists move and, with a little finessing, the big MG 42 machine gun fits snugly in his grasp, as do the "potato masher" grenades in his belt.
---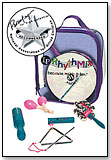 Name: 6 piece Rhythm Kit
Company: LATIN PERCUSSION
Age: 2 and up
Price: $39.99
Category: Musical Toys

This kit by LP RhythMix comes with a handled drum, two pink "chick-itas" (maracas), two drumsticks, a tone block, triangle and "jingle stix," all in a re-usable clear vinyl backpack. The kit's colors—pink, turquoise and purple—cause this reviewer to assume the Rhythm Kit was intended for girls, but I'm probably showing my age here.

The Kit is now distributed with red, yellow and blue instruments and includes a "Rhythmic Activity Booklet" which explains in-depth the benefits of music to a child's learning capabilities. Also provided is a thorough list of rhythm exercises for a parent and child to enjoy together.

Learn more about 6 piece Rhythm Kit
---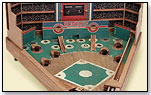 Name: Old Century Baseball
Company: FRONT PORCH CLASSICS
Age: 6 and up
Price: $129.95
Category: Wooden Toys

Front Porch Classics' (ToyDirectory, ToyShow) Old Century Baseball game is a stunning vision of craftsmanship and low-tech fun. Created as a testament to baseball stadiums of yesteryear, the 27" x 27" pinball game lets players flip a wooden bat-paddle and strike a metal ball into holes marked "single," "double," "triple," home run" and "out."

OC Baseball's superior construction and attention to detail -- players can keep score with a real wooden scoreboard –- create a whimsical masterpiece that is sure to keep kids and parents delighted long after those battery-operated toys have run out of juice.

The exquisite all-wooden construction is an absorbing magnet, and it's no surprise that the game topped Family Fun Magazine's list of best toys of 2002. Retailers that display this game should bet on a constant stream of interested onlookers.

Learn more about Old Century Baseball
---

Name: Loc Blocs
Company: GUIDECRAFT INC.
Age: 3 and up
Price: $29.95
Category: Wooden Toys

Designed by educator Eileen Glick, these large-sized unfinished Rubberwood (a replenishable hardwood from Asia) blocks will surely be a hit with preschoolers.

The 32-piece set fits togethher with ease while offering plenty of construction possibilities for both boys and girls. These simple blocks even managed to put a smile on my face. On a Monday. At 4pm. Not an easy task.
---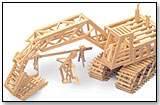 Name: Matchitecture
Company: BOJEUX INC.
Age: 10 and up
Price: $7.50
Category: Wooden Toys

Matchitecture by Jouets BJ Toys (ToyDirectory, ToyShow) comes with 500 wooden match sticks (minus the head), a "Microbeam Cutter" for cutting the sticks to size, and wood glue and tweezers for handling the construction.

Also included are detailed instructions for building the construction excavator on the box cover. This kit would be great for a Tween with patience (if there is such a thing) who's still too young to get into shop class.

Learn more about Matchitecture
---

Name: Kapla Blocks – 40 piece set
Company: KAPLA USA
Age: 3-Adult
Price: $29.95
Category: Wooden Toys

A deceptively plain block set, Kapla blocks are made of identical finished pine pieces small enough to be grasped by the preschool crowd, available in two-color sets or as plain wood. Each kit includes a sturdy picture book with sample constructions of buildings, animals and abstract designs.

Because there are no pre-made connectors to attach the blocks, a child's imagination is given free reign to create anything – from organic shapes, to cars, houses, family pets or whatever else he or she can dream up.

With no pre-written narratives, licensed characters or "interactive" technology to be followed, a kid can simply open the box and start creating, with no right or wrong outcome. A word of advice: Kapla blocks are too light to stand well on carpet, wood or linoleum would be best. Also available are also larger sets of 200 or 1,000 blocks.

Learn more about Kapla Blocks – 40 piece set
---

Name: Splash Tangle
Company: WHAM-O
Age: 5 and up
Price: $12.99
Category: Water Activities

Splash Tangle, another superb opportunity for wild, wet summer fun from Wham-O, is a fun variation of the game Twister. Players stretch out across a mat to cover colored shapes before water comes squirting out. An inflatable dice is rolled to indicate each player's positioning.

With a few kids playing at the same time, the mat quickly becomes a tangle of limbs and a bucketful of fun. Since each shape sprays water, players can increase water pressure by covering some shapes to force more water out of the open shapes, giving other players a good dousing.

This is a great anti-slip product for parties or other occasions when you need to get the kids out of the house and amused for hours.
---

Name: Original Slip'N Slide Splash Dunk
Company: WHAM-O
Age: 5-12
Price: $19.99
Category: Water Activities

The creative minds at Wham-O have their fingers on the pulse of summer fun. No list of summer toys is complete without the Slip'N Slide. Now, Wham-O introduces a new addition to the Slip 'N Slide roster, the Splash Dunk.

The 18-foot-long (under 110 lbs) Slip 'N Slide Splash Dunk offers kids the same thrills and spills as the original model that we all remember, but with a couple of new features. While sliding down the runway, kids can now dunk a ball through an arched hoop just before reaching a splash zone.

With longer days and freedom from school, the Splash Dunk will be a perennial addition to summer fun.
---

Name: Baskin-Robbins Ice Cream Maker
Company: WHAM-O
Age: 5 and up
Price: $21.95
Category: General Toys

When the weather gets hot and sticky, there are few better pleasures than enjoying an ice cream cone. With Wham-O's Baskin-Robbins Ice Cream Maker, kids anywhere can serve up a frosty treat using only a few basic household items.

This set includes the Ice Cream Maker, an ice cream scoop, two ice cream mixes, a package of mix-in treats, four cups and sprinkles. Kids can create ice cream in about 10 minutes, adding half-and-half, ice and salt to the supplied contents.

Best of all, the Ice Cream Maker is a snap for younger kids. The directions are easy to understand, and without any small or sharp pieces, parents need only provide minor assembly for the set.
---

Name: Golf Smarts Pyramid
Company: USE YOUR HEAD UNLIMITED INC.
Age: 9 and up
Price: $14.99
Category: Novelties

Like the package says, Golf Smarts Pyramid is harder than it looks. The object is to stack the different-colored balls into a pyramid without two of the same colors touching.

However, the balls are attached in pairs, making success almost as challenging as a hole-in-one. Golf Smarts Pyramid would make a great goof-off game for the desk of your favorite sports and puzzle enthusiast.

Similar pyramid games are available for soccer, baseball, football and basketball.

Learn more about Golf Smarts Pyramid
---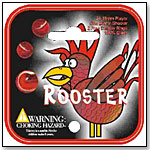 Name: Rooster Marbles
Company: FABRICAS SELECTAS USA (FS-USA)
Age: 5 and up
Price: $3.00
Category: Novelties

Feeling the smooth texture of the colorfully swirled glass between your thumbs, one remembers the forgotten joys of marbles. Both enjoyable to look at and as timeless game pieces, marbles have had amazing staying power in this day of high-tech toys.

Mega Marbles' (ToyDirectory) new Rooster pack contains 24 player marbles, one larger shooter marble and 2 display rings to show-off the glass treasures. With seven colorful new marble designs for 2003, Mega now has over 60 different styles with individual head cards for its marble collection.

Mega Marbles will make a wonderful addition to any retail counter. Easy to tote and easy to afford, the glass marbles are seductive: Once you pick them up, you may not be able to put them down.
---

Name: Polarity
Company: MINDWALK INC.
Age: 7 and up
Price: $14.95
Category: Novelties

Mindwalk (ToyDirectory) has taken the universal fascination with magnets and turned it into a lively desktop game that's both fun and educational.

In Polarity each L-shaped piece has a positive and negatively charged end, as well another L-shaped crook in the center with the same properties. The challenge lies in feeling, or guessing, where to place your piece without the polarity causing the whole structure to collapse.
This is a great game for a kid's toy-box or for killing time in a cubicle when the boss isn't around.

Learn more about Polarity
---

Name: Mr. T in Your Pocket, Cajun in Your Pocket
Company: EMANATION INC.
Age: 5 and up
Price: $10.00
Category: Novelties

Have you ever wondered what Mr. T's real name is? This, and other T-rivia are compiled on the packaging for Emanation, Inc.'s (ToyDirectory, ToyShow) Mr. T in Your Pocket, a one-of-a-kind item using Mr. T's real voice. This pocket gadget (with a ring for your car-keys) recites famous phrases like, "I pity the Fool," and "Don't Gimme No Back-Talk Sucka!"


Since it comes with three batteries and cut-away packaging, collectors and eBay addicts won't even need to unwrap this toy to enjoy it. All the better, since Mr. T will probably be worth considerably more than its $10.00 retail price in years to come.

Substitute the voice of a Creole gent and you've got Cajun in Your Pocket. Fans of Cajun music and culture will recognize phrases like, "We gon' pass a good time, yeah, chere!" and, "I love you like a pig loves corn!" The packaging has similarly interesting trivia about Cajuns, French Canadians who migrated to Louisiana in 1755.

By the way, Mr. T's real name is Lawrence Tureaud.

Learn more about Mr. T in Your Pocket, Cajun in Your Pocket
---
Viewing products
961—990
out of
1007
products.
<<Prev
1
2
3
4
5
6
7
8
9
10
11
12
13
14
15
16
17
18
19
20
21
22
23
24
25
26
27
28
29
30
31
32
33
34
Next >>
Search Toy Review:
Toys can be submitted without a fee to be considered for editorial review. However, manufacturers who wish to guarantee that their toys will be evaluated in the Review section should send payment of $150 per toy* along with the toy itself to:

Product Review Dept.
ToyDirectory.com, Inc.
12340 Santa Monica Blvd. Suite 226.
Los Angeles, CA 90025

Many of the toys considered for review are donated to children's services organizations, such as Children's Hospital Los Angeles. Also, to recover the cost of reviewing, starting August/2012 we may occasionally resell products that are sent to us.
* Please make checks payable to ToyDirectory.com, Inc. Payment does not guarantee a positive review. Advertising with ToyDirectory and TDmonthly Magazine does not guarantee a positive review. Quality, play value and educational value are considered when reviewing toys and games.