Archived Reviews
Send us your toys ... and you may be eligible to win a TDmonthly Magazine Top Toy Award!

Well-reviewed toys and products recommended by specialty retailers are more likely to be nominated for a TDmonthly Award and appear in our annual Specialty Toys Report. For submission information, please see the bottom of the page.


---
Search Toy Review:
Recent Reviews: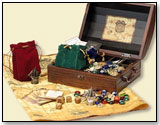 Name: Dread Pirate
Company: FRONT PORCH CLASSICS
Age: 8 and up
Price: $99.95
Category: General Games



In Dread Pirate, Front Porch Classics' newest release for the 2003 Holiday season, players move cast-metal playing pieces, roll knuckle bones (dice), vie for doubloons and jewels and move around on an aged map as they savor the pirate's life.

After opening up a wooden chest and unfurling a detailed treasure map, players are launched into the wonderfully imaginative world of marauding outlaws and hidden booty.

Dread Pirate comes housed in an authentic wooden treasure chest, and with its characteristic dedication to pre-electronic gaming experience, Front Porch leaves no stone uncovered in creating an authentic and wondrous playing experience for younger players as well as their parents.



Learn more about Dread Pirate
---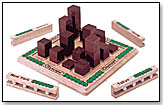 Name: Cityscape
Company: OUT OF THE BOX PUBLISHING
Age: 8 and up
Price: $29.99
Category: General Games

Four players match wits as they build their dream-city skyline. Each player tries to create their vision in the 16-block city area by trying to determine how many buildings are visible from a certain vantage point and how to make landmarks like the tallest building and multiple buildings of the same height.

Cityscape is a game that represents the best in multi-player competition. This is truly a game for players 8 and up because it challenges the mind of young and old. There is no wonder this game is raking in the accolades across the industry.

This wooden game with fantastic European craftsmanship will be played often and is handsome enough to stay out on display even when not in use. Retailers will find Citscape easy to move out the door anytime of year, especially the during the holiday season.
---

Name: Fire & Ice
Company: OUT OF THE BOX PUBLISHING
Age: 8 and up
Price: $29.99
Category: General Games

Controlling one island will win you a battle, but in Fire & Ice, players must control the board to win the war. Two players are forced to use 3-D reasoning in a 2-D world by positioning their pins in certain patterns to control as many islands as possible. The catch is that every move you make creates a new move for the competition.

This game is addictive from the very start. It is as if Tic-Tac-Toe went 3-D. The logic is like chess but the execution is in a world of its own. This is a must have game for any age! Fire & Ice is never tiresome, and the game is mathematically proven to have a winner every game.

Once you play this game you're hooked. Retailers should make this game available as a sample to play on the sales floor. There are those that will be addicted to playing it and will give the game as a gift if only to have more competition while traveling to see friends and family.
---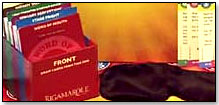 Name: Rigamarole
Company: RIGAMAROLE
Age: 16 and up
Price: $29.95
Category: General Games

Fans of Cranium, prick up your ears: Rigamarole (ToyDirectory) is the latest board game aimed at the bulging party-game demographic. Players circle round the board tackling categories that demand a multitude of different skills.

Cards in five categories—Word of Mouth, Stage Fright, Sensory Perception, Uncommon Knowledge and the final challenge, Hidden Talents—test players with challenges like creating a 60-second story without using the letter E or guessing fictional characters like Rapunzel and Holden Caulfield. Word games, Charades, clever challenges and more await the daring.

At the end of the game, the first player or team to garner enough points may take a stab at the Hidden Talents category to seal the victory and claim bragging rights.

Clearly aimed at an older audience, Rigamarole is likely to delight those bored with the simple scope of Cranium. Rigamarole is a challenge no self-respecting party game aficionado should pass up.

Learn more about Rigamarole
---

Name: Hit the Deck
Company: FUNDEX GAMES
Age: 6 and up
Price: $3.99
Category: General Games

Hit the Deck is a fun and challenging card game for the whole family. By discarding matching colored or numbered cards, players compete to be the first player with no cards in their hand. But be careful, things turn exciting when word cards like "hit the deck" show up and the last player to slap the discard pile has to draw four additional cards.

A fast-paced variation on the time-tested classic Uno, this card game is great with 4-6 players who love a challenge. Be sure to take off any jewelry you may have on your hands because this game can get fast and aggressive. Hit the Deck is a great addition to the family game night.

Hit the Deck's low price point is appealing to the budget conscious and the game itself is fun for all members of the family. This game can be a great "hand-sell" item as an add-on purchase.

Learn more about Hit the Deck
---

Name: Time Control
Company: THOMPSON INDUSTRIES
Age: 14 and up
Price: $24.95
Category: General Games

The world will end in five minutes. A top scientist must gather his agents and send them back into the past in order to destroy his enemies and save the future. Is this a new summer Hollywood blockbuster? A state-of-the-art video game, perhaps? Thompson Industries' (ToyDirectory) intensive new board game Time Control is for fans of time travel and serious gaming.

Using individual boards that depict various time periods—Today, Yesteryear and Distant Past—each player moves to attack his or her opponents on the various planes using time-traveling agents such as Scientists and Brawlers.

Once a player has developed three or more "problems" in a particular time-period, due either to attacks on the agents or simple acts of "fate," he or she has lost the ability to control time there. The last player to remain with at least one agent intact is the winner, and can claim to have saved the future.

Learn more about Time Control
---

Name: Gobblet
Company: BLUE ORANGE GAMES
Age: 7 and up
Price: $29.95
Category: General Games

Gobblet, the first offering from Blue Orange, presents a new wrinkle on the age-old classic tic-tac-toe. This deceptively complex board game pits two players against each other as they vie to line up four pieces in a row.

As the players take turns placing birch pieces of varying sizes on the board, tic-toe-toe takes a left turn: Smaller pieces may be gobbled up by larger pieces. The rules of the game are easy enough to be understood by kids ages 7 and up, but once the game is afoot, Gobblet yields enough complexity to keep parents interested and challenged.

Gobblet comes housed in an attractive wooden box, a welcome relief from the garish plastic construction that dooms many a board game to garage sale status after only a few plays. Gobblet has earned more then 10 prestigious awards, including the Dr.Toy Best new Game award.

Learn more about Gobblet
---

Name: Phase 10
Company: FUNDEX GAMES
Age: 8 and up
Price: $3.99
Category: General Games

Phase-10 by Fundex Games (ToyDirectory) is a fun-filled card game of strategy. Following a simple set of rules players race against each other to compile one of 10 "phases" (combination of cards such as 7 cards of the same color) before the others and thus move to the next round. The first player to complete all the phases wins the game.

Not since Uno has there been such a great family game. Whether playing a fast game with 2 players or a longer and livelier round with 6 players, this is a card game that everyone will love. Finally, a card game that doesn't get old.

As consumers move to the lower price-point impulse buys, retailers would do well to stock this great title for family fun. Coming in under $5.00, moms, dads, teens and grads will find this card game hard to resist.

Learn more about Phase 10
---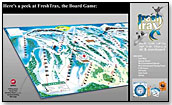 Name: Fresh Trax
Company: ORIGINAL HUCK DOLL NSM
Age: 8 and up
Price: $20.00
Category: General Games

Players race each other across Fresh Trax's 3-D board game by moving their skier or snowboarder figurine through a series of ski lifts and downhill trails. Using the special die, "Trail Cards" and "Lift Cards," the game can get unpredictable as the players try to cross the finish without someone stealing their "Fresh Trax" card.

For snowboarders and skiers, young and old, this new board game from Huck Doll (ToyDirectory) is the way to get that fresh powder rush anytime of the year. The game is true to the sport, using phrases such as "Sick board slide" and "Gaper day" normally known only to only die-hard snowboarders and skiers.

Fresh Trax is a little piece of winter fun any day of the year.
---

Name: Snatch
Company: SPIN MASTER TOYS
Age: 8 and up
Price: $15.00
Category: General Games

Addiction, fits of screaming and outbursts of frustration—Snatch has all the hallmarks of a great word game. Spinmaster's sleek production of this new game has devotees of classics like Scrabble and Boggle in a word, er, world of fun.

Players place an assortment of letter tiles face down on a table and take turns flipping them over. As soon as a player can make a word from the exposed letters in the middle, he snatches the tiles and assembles a word.

The real mayhem ensues when other players wrest control by blurting out new words using the original word plus additional letters. For example, "urn" can quickly morph into "runt" with a fortuitous "t." Points are scored as the game progresses: 1 point for a 2 to 3 letter word and an additional point for every extra letter.
---
Name: Circa Games to Go
Company: FRONT PORCH CLASSICS
Age: 8 and up
Price: $9.95
Category: General Games

Front Porch Classics have summer gaming needs covered with their Circa Games to Go: Poker, Chess, Checkers and Backgammon. Each game comes in a sturdy tin travel box, with a rulebook, dice, game board and playing pieces or deck of cards for poker.

The pieces are plain and sturdy, and the game boards (measuring only about 6"x 6") have a comfortably worn look, imbuing them with the feeling of a family game that's stood the test of time—just what the company's products are intended to be.

These travel-sized classic games would be ideal for backpacking, road trips, or just toting down to the local coffee house to while away an afternoon in caffeinated—and air-conditioned—summer bliss.
---

Name: Watercolor Painting Step by Step and Oil Painting Step by Step, 64 pp.
Company: WALTER FOSTER PUBLISHING INC.
Age: 12 and up
Price: $8.95
Category: Arts & Crafts

Prospective Picassos and might-be Monets, take note: weighty examinations of color theory and costly instruction are no longer required to start painting. Fledgling artists can get a grasp on learning the basics of painting with two volumes of Walter Foster's Artist's Library Series.

In both Watercolor Painting Step by Step and Oil Painting Step by Step, painting novices absorb the creative and technical practices that will allow them to start putting colorful ideas unto paper.

In each volume, a handful of veteran painters guide the initiate through the different processes of painting from choosing the right brush to layering colors to create darker tones. The easy-to-understand books are well suited for creatively inclined older children as well as adults.
---

Name: Colored Pencil Kit
Company: WALTER FOSTER PUBLISHING INC.
Age: 10 and up
Price: $14.95
Category: Arts & Crafts

The Walter Foster's Colored Pencil Set includes a full set of professional tools— eight drawing pencils, white drawing paper, colored drawing paper, kneaded eraser, pencil extender, sandpaper block, sharpener, triangle and blending stump—and an easy-to-understand booklet outlining how to use the set with several different projects.

For youngsters bored with the limitations of crayons and glue sticks, the Colored Pencil Set would make the perfect one-stop gift.
---

Name: Painting Landscapes in Watercolor and Painting Landscapes in Oil, 32pp.
Company: WALTER FOSTER PUBLISHING INC.
Age: 12 and up
Price: $7.95
Category: Arts & Crafts

Walter Foster brings a fine addition to its popular line of art instruction books. In Painting Landscapes in Watercolor and Painting Landscapes in Oil, a bevy of distinguished artists ably guide the reader through the basics of working with oils and watercolors in a variety of settings.

The acclaimed artists dispense personal tips and step-by-step lessons so a novice can easily grasp the fundamentals of painting. Each painter presents a different landscape—ranging from a bustling city scene to the sublime blue sheen of an ocean.

The Painting Landscapes volumes make a great gift for beginners, and their colorful artwork and simple language will make these books a mainstay on the shelves of art teachers.
---

Name: How to Draw Disney/Pixar's Finding Nemo, 35 pp.
Company: WALTER FOSTER PUBLISHING INC.
Age: 8 and up
Price: $4.95
Category: Arts & Crafts

The latest in Walter Foster Publications' How to Draw series of Disney titles, Finding Nemo is much more than the coloring books you and I remember. Not only are there glossy animation stills from the movie, they're also accompanied by step-by-step instructions showing would-be animators how to draw the characters themselves, rather than just color inside the lines.

The book begins with a recap of the Nemo story, followed by a suggested materials list (felt tip markers, colored pencils, acrylic paint and brush).

The Disney artists themselves load the book with surprisingly detailed "how-to" drawing notes, written in a way kids can easily understand without condescending to their abilities.
---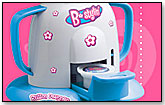 Name: B*Stylin' Button Designer
Company: BANDAI AMERICA INC.
Age: 5 and up
Price: $19.99
Category: Arts & Crafts

B*Stylin' Button Designer marks Bandai's hugely successful entry into the activity market, and it's easy to understand why the product has gained the favor of a plethora of style-savvy Tweens.

The unit includes 20 button components, a circle template, 10 snap-in clip backs, 10 magnet backs as well as a sheet of button graphics and assorted decorative stickers. All that's needed to create buttons and magnets is choosing an appropriate design (included in the kit), cutting it out and pressing it with the Button Designer. From there on out, it's up to you to decorate, customize, personalize and stylize your world with dozens of inventive designs.
---

Name: Mega Gator
Company: MEGATECH INTL. INC.
Age: 8 and up
Price: $149.99
Category: Remote Controlled

In keeping with the trend of moving RC toys from the hobby market into the straight-out-of-the-box toy category, Megatech's Mega Gator is an inexpensive, easy-to-operate RC fan boat capable of traveling at 10 mph on water or 20 mph on ice.

The Mega Gator moves like a real Everglades-style fan boat, skimming across the water and making hairpin turns. With its simple forward/left/right 2-channel control device, even this unskilled RC captain was able to steer the boat without causing damage. The sturdy Nylanine™ (i.e., tough plastic) construction gives added insurance that this boat will survive an encounter with a rock or submerged log.

With no assembly required, all that's needed for operation is to install six AA batteries in the remote transmitter then charge the boat's battery for 4-6 hours (a long charge-up period considering that the run time is only 12 minutes). Though recommended for ages 8 and up, the speed and power of the boat's dual fans would make it a good idea to have adult supervision for those under 12.


---
Viewing products
991—1007
out of
1007
products.
<<Prev
1
2
3
4
5
6
7
8
9
10
11
12
13
14
15
16
17
18
19
20
21
22
23
24
25
26
27
28
29
30
31
32
33
34
Next >>
Search Toy Review:
Toys can be submitted without a fee to be considered for editorial review. However, manufacturers who wish to guarantee that their toys will be evaluated in the Review section should send payment of $150 per toy* along with the toy itself to:

Product Review Dept.
ToyDirectory.com, Inc.
12340 Santa Monica Blvd. Suite 226.
Los Angeles, CA 90025

Many of the toys considered for review are donated to children's services organizations, such as Children's Hospital Los Angeles. Also, to recover the cost of reviewing, starting August/2012 we may occasionally resell products that are sent to us.
* Please make checks payable to ToyDirectory.com, Inc. Payment does not guarantee a positive review. Advertising with ToyDirectory and TDmonthly Magazine does not guarantee a positive review. Quality, play value and educational value are considered when reviewing toys and games.