Archived Reviews
Send us your toys ... and you may be eligible to win a TDmonthly Magazine Top Toy Award!

Well-reviewed toys and products recommended by specialty retailers are more likely to be nominated for a TDmonthly Award and appear in our annual Specialty Toys Report. For submission information, please see the bottom of the page.


---
Search Toy Review:
Recent Reviews: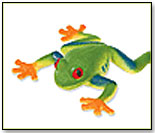 Name: Rep Pals (Red-Eyed Tree Frog)
Company: DARMOS TOYS
Age: 5 and up
Price: $4.95
Category: Novelties



What Is It?


This is a cool, squishy, squashy, vibrantly colored replication of a Red-Eyed Tree Frog.  It feels clammy, it looks clammy, and it's altogether gross… which is the whole point.  It's a fairly accurate reproduction (except that it's an order of magnitude larger than a real Red-Eyed Tree Frog), and would look quite comfortable out in the wilderness… except for the fact that it doesn't move unless you move it.



What We Thought


This thing is gross in a fun way, and when thrown against the wall gives a resounding "splat".  From an educational standpoint, me and my son sat down, discussed frogs in general, what kind of frog this was in particular (the Red-Eyed Tree Frog, or Agalychnis callidryas), and then… "splat"!  We threw it against the wall.  It's fun to play "frog catch", "frog ball" and "frog daredevil" with it.  Froggy don't mind.  All in all, a very fun fake frog.  And did I mention educational?



Why They'll Want It


For the grossness factor.  For the "splat" factor.  And for the "scare mom" factor.  This is great for the kid who doesn't live near a pond, is too young for a pet of their own, or simply wants to play "frog ball" and a living frog just won't do.  It also doubles as a great "Show & Tell" project for school.  But of course, after the science demonstration… "splat"!


                        -- TDmonthly Staff, 8/2605




Learn more about Rep Pals (Red-Eyed Tree Frog)
---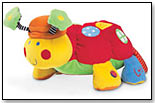 Name: Lotty Ladybird Activity Toy
Company: MAMAS & PAPAS LTD.
Age: All Ages
Price: $19.95
Category: Infant & Toddler



What is it?


This cheerful toy is a brightly patterned plush ladybug with lots to stimulate babies' senses. Her flower antennas make a crinkle noise when crunched in the hands. Her pillowy body is crunchy, too. Two legs squeak, two crunch, and two rattle. One of her rattle legs even plays a synth version of  "You Are My Sunshine" when pressed. Tots can examine their own smiles in the kid-safe mirror that's sewn into the ladybird's tummy. She has a red body, yellow face, orange hat, and multicolored patterned legs. She's 7"H x 10" W x 10" deep.



What We Thought


Her blue smile and rosy red cheeks are friendly and endearing. The embroidery on her face and the stitching on her appliqués are close and tight, as is the stitching on all the seams. Even her body is sectioned to give a variety in color, texture and sound. This is a toy that can be cuddled and played with.   



Why They'll Want It


 Babies will love squeezing this ladybird and hearing all the different sounds she can make. She has plenty to grab and pull and crunch without the worry of anything coming off. The bright colors will appeal to tots and parents alike. Babies will love being able to look at their own adorable faces in this cute bug's tummy. Full of music, noise and cuddling, this is a perfect toy to make a baby smile.


-- Alison Marek, 8/19/2005




Learn more about Lotty Ladybird Activity Toy
---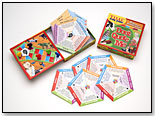 Name: Don't Quote Me - TIME For Kids Edition
Company: WIGGLES 3D
Age: 10 and up
Price: $6.95
Category: General Games



What Is It




This travel trivia game challenges kids to identify books, films, people, places, and things using quotes and multiple choice clues. Broken down into five different kinds of questions per trivia card, this educational game touches on history, geography, and the arts. Players win by moving their magnetized peg around the small board first.





What We Thought




The questions allow players of varying skill levels to compete. The compact travel board with a magnetic lid keeps the game pieces together and the bright colors used to highlight the game board and trivia cards offer a pleasing design. It may require booster sets of trivia cards down the road.





Why They'll Want It




It keeps kids informed, entertained, and most of all, occupied during long trips. Kids will enjoy guessing the answers to the questions and parents will have fun aiding in their child's learning. At the low price of $6.95, the easy to pack game is also quite affordable.



Wiggles 3D Inc.´s ToyDirectory Listing


-- Vanessa VanderZanden, 8/19/05




Learn more about Don't Quote Me - TIME For Kids Edition
---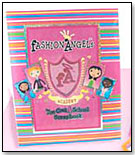 Name: Fashion Angels Too Cool 4 School Scrapbook
Company: FASHION ANGELS
Age: 8 and up
Price: $20.00
Category: Arts & Crafts



What Is It?




A glossy cardboard scrapbook decorated with the Fashion Angels girls comes with everything a little girl needs to begin her scrapbooking career. Pockets in the front let her store photos that she can later cut up to make trading cards, or add to other scrapbooking pages while keeping track of the year's events. Protected by plastic snap pockets are trading card forms in different colors and forms; kids can insert their best friends' pictures, fold the card, glue it, then fill out the form that keeps track of the girl's name and important "stats," such as grade, favorite colors and favorite bands. Funny bright stickers are included, so that the photos can be decorated with mustaches, silly hats, flowers, labels and more. There are four report card and autograph pages so girls can keep track of their social progress through four years of school and fun. It comes with a pen and a glue stick. There are also our protective sleeves where they can store their trading cards permanently.





What We Thought




This is a great way for kids to start documenting the important moments in their lives. They'll have fun making trading cards of their friends and gathering autographs at the end of the school year. There's plenty of space in the scrapbook to add extra pages, too, so kids can continue to be creative after they've made their cards and filled out their first year's school report. The trading card frames are nicely varied, so you can really pick the right one for each friend. The cards fold over easily so that it doesn't take much dexterity to make a really super-looking card. The stickers peel off easily and have a lot of variety. There are even word balloon stickers, so kids can make their friends say funny things.





Why They'll Want It


Scrapbooking is all the rage. This set will appeal to little girls because it's filled with fun activities that are easy to do. The instructions are clear and inspiring. The stickers are silly, colorful and have girl-important labels such as "Big Crush," "Drama Queen" and "Whatever." If one girl gets this, her friends will want one, too, so they can make cards of each other, trade them, and compare their notes and decorations. Girls and their friends will feel like little stars once they've become a hot trading card! It'll also be fun for them to fill out their year's report card, since it asks them to think about what their biggest accomplishment was and what they need to work on for the next year. The best thing is, this is a craft activity that they can do all by themselves, without supervision, making it a real Girl Power item.

The Bead Shop´s ToyDirectory Listing


-- Alison Marek, 8/19/05





Learn more about Fashion Angels Too Cool 4 School Scrapbook
---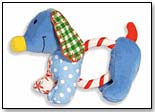 Name: Harold Hound Teether Rattle
Company: MAMAS & PAPAS LTD.
Age: All Ages
Price: $17.99
Category: Infant & Toddler



What Is It?


A white plastic O-ring teether, decorated in orange stripes, forms the middle portion of a friendly looking hound dog made of motley plush. His long gingham blanket-stitched ears crunch when they're crinkled and his head rattles when it's shaken. He has blue hind legs, an orange tail, a blue smiling face and a big yellow nose. The fabric is polyester and the crunching in his ears is from the cellophane lining inside.



What We Thought


This is a rattle that kids will want to keep around past infancy. Harold has a sweet and goofy face that will endear both parents and kids. Made of brightly colored solid and patterned fabrics, Harold is a patchwork of lovability.



Why They'll Want It


Babies will like to gnaw on Harold's bright yellow nipple-like nose, and gum the plastic teether. There's a lot to grab and bite on this little toy. The crunchy ears will help infants develop motor skills and have the same kind of textural, aesthetic appeal that bubble wrap has for adults. The toy is well made and, though it's a perfectly utilitarian teether and rattler, definitely has a longer life than most infant toys: Kids will be playing with this toy well into their 2s and 3s or even beyond.


-- Alison Marek, 8/19/05




Learn more about Harold Hound Teether Rattle
---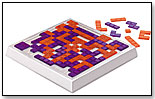 Name: Travel Blokus
Company: EDUCATIONAL INSIGHTS INC.
Age: 5 and up
Price: $19.95
Category: General Games



What Is It?
A travel version of Blokus -- winner of Dr. Toy's Best Children's Vacation Products 2003 -- the game is simple to play. Each player takes turns placing variously shaped pieces on the board, touching corners with at least one other piece of their own color. The goal is to cover as much of the board as possible, at the same time minimizing the area of a player´s remaining pieces. The player with the smaller area when no more moves are possible wins. Although four players can compete against each other with the full-sized game, the travel version is designed for two players.

What We Thought
It look literally 30 seconds to learn the rules of the game. It didn´t seem like a challenging game at first glance: After all, what is so difficult about putting shapes on a board? But as you play, you realize there are certain strategies to choosing and placing the pieces to block your opponent from putting down their pieces, or expanding your options to place your next piece. Each game took less than 10 minutes which is perfect for on-the-go. If needed, you can even save your board while jumping out for a quick fast-food break! The box is ingeniously designed in such way that you can pack up within a minute and get back on the road.

Why They'll Want It
Travel Blockus is a game for all ages. Children and adults can develop different levels of playing strategy depending on their spatial planning capabilities. The best part is that the rules are simple! Players don´t have to read 15 pages of instructions to set up the game. The game is short and is perfect for quick breaks while traveling.


Educational Insight´s ToyDirectory Listing

-- Raywon Wang, 8/16/05



Learn more about Travel Blokus
---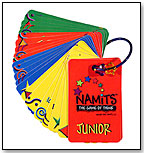 Name: NAMiTS Junior
Company: NAMiTS LLC.
Age: 3-8
Price: $9.95
Category: General Games



What Is It?
There are four different color-coded kinds of cards that ask children to name items that share a common feature, such as all things with buttons or things that are shaped like a circle. Other times this open-ended game has kids make up stories or share their knowledge of a specific topic. There are no winners or losers.

What We Thought
This simple game is a fun conversation-starter and creates talkative children, aiding in building their vocabulary. Most adults will find this rudimentary game enjoyable only in the company of young kids as a way to bring them out of their shells. By far the biggest crowd-pleaser for any family is bound to be the "Clap out the names of different … Stores, Opposites, Insects, Meals" card. It's a truly ingenious feat trying to guess what others are clapping. It would have been nice to have a few more abstract cards, like this one, thrown into the game. Also, it would be nice to see versions of NAMiTS in foreign languages, which would be useful for players of all ages.

Why They'll Want It
This deck of brightly colored cards will occupy young minds on long road trips. The compact playing cards are looped on a plastic ring, guaranteeing that they won't spill all over the car. The product encourages a creative mind and advances English skills. Players can make up their own rules if they decide to turn the game into a competition.

-- Vanessa VanderZanden, 8/16/05



Learn more about NAMiTS Junior
---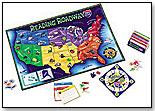 Name: Reading Roadway USA
Company: LEARNING RESOURCES INC.
Age: 8 and up
Price: $19.95
Category: General Games



What Is It?
Using over 100 trivia questions relating to different geographical regions across the continental United States, this unique board game builds reading comprehension skills while educating kids about U.S. history and culture. The board game depicts a map of the United States with six differently colored regions that players move across using different colored plastic cars. Each of two to four players compete to answer reading comprehension questions, gaining game pieces shaped either like a mug, pennant, T-shirt, cap, or bumper sticker. The player that wins four game pieces and manages to make it back to his or her home region first, wins.

What We Thought
Used as an educational tool in schools or tutoring groups, this game will both entertain and captivate young minds. However, when used for family play, parents may need to act as readers rather than players due to the nature of the questions. Although the rules state that readers can join in on guessing answers to questions, the game is fairer when readers refrain from doing so. Also, because there are only two or three question cards per state, bonus packs may be required after a few rounds of play.

Why They'll Want It
The game gets shaken up when players spin a tornado, which can allow them to take game pieces from winning players, leveling the field of play. The bright game board and game pieces are visually exciting and the icons on the game board are cleverly designed. Kids don't have to wait until it's their turn to shout out answers, keeping them enthralled throughout the game.

-- Vanessa VanderZanden, 8/16/05



Learn more about Reading Roadway USA
---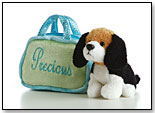 Name: Mini Fancy Pal
Company: AURORA WORLD INC.
Age: 3 and up
Price: $4.99
Category: Plush



What Is It?




This adorable little puppy won't have to go into the cargo hold on a plane because he comes in his own blue plush zippered and lined suitcase marked "Precious." Open the suitcase and that's just what you'll find: a precious little plush Beagle pup in black, tan and white. He looks up with soulful black button eyes, his head cocked hopefully, as if waiting for a delicious doggy treat. His tail's cut short and his ear's are cut long, but kids won't have to worry where this little dog's gone because his carry case comes with a hook that can attach to a belt loop or a purse. The suitcase also has two handles.





What We Thought




It's very hard to actually put the puppy in his case. Not because he's too big or the case is too small, but only because you don't really want him to go "bye-bye." The purse is a pretty, sparkly blue plush trimmed with silvered blue cording for kids who are still into Bling Bling. And for the more sentimental, the puppy is as precious as a nonliving thing can be -- down to his shiny plastic nose and pensive expression. Also, the suitcase is washable. This isn't the manufacturer's claim; it's the reviewer's experience. A nice plum juice stain washed right out with soap and water.





Why They'll Want It


It's cute, it's transportable, and it's collectible. Since bags with bags are popular with Big Sis, Little Sis will like to add this suitcase/puppy combo to her own backpack, purse or book bag. Just small enough to sneak into school, the Mini Fancy Pals could become a girl's best friend. The little suitcase is lined and sturdy, so when the pup's out to play, his carrier can be used as a change purse or a jewelry carrier.

Aurora´s ToyDirectory Listing


-- Alison Marek, 8/9/05





Learn more about Mini Fancy Pal
---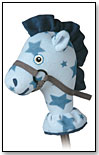 Name: Yesteryears Star Horse
Company: MARY MEYER CORP.
Age: All Ages
Price: $15.00
Category: Pretend Play



What is it?




A stick horse with a retro design, he's 33 inches long and made with a plastic riding stick fitted with a blue plush head. His eyes are embroidered, his face emblazoned with blue stars. He wears a bridle with a carrying loop so kids can teach him to "whoa!"  His mane is made of dark blue plush. His nostrils and mouth are black appliqués.





What We Thought




He's a perfect classic gift for a grandparent who wants to be sure the next generation knows something about the Pony Express. Kids have the freedom to interact however they want with this little steed, traveling across the continents or all the way to Mars. Little kids might be surprised to learn that horses were yesterday's cars. Slightly bigger kids will probably just grab their cowboy or cowgirl hat and ride away.






Why They'll Want It




 Parents and grandparents will want this because it hearkens back to the days when kids were allowed to use their own imaginations when they played, rather than have the storyline spelled out for them in a video. Kids will love the soft colors and the plush, squishy head. And they'll have their first taste of independence as they go galloping off into the future on this old-fashioned stick horse.




-- Alison Marek, 8/9/05





Learn more about Yesteryears Star Horse
---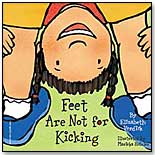 Name: Feet Are Not for Kicking
Company: FREE SPIRIT PUBLISHING
Age: 2-5
Price: $7.95
Category: Books



What is it?




A 6" x 6" glossy board book by Elizabeth Verdick and illustrated by Marieka Heinlen, "Feet Are Not for Kicking" is all about toes and where they "goes" – or shouldn't. The bright, cheery illustrations show kids doing fun things with their feet, such as standing, walking, running and climbing. But the "kicker" is that – though they may kick balls – people are not for kicking.





What We Thought




All the characters in this book look very happy, including the cat… except when someone kicks them! Kids will like reading about other kids and learning what they can and cannot do in a gentle, amusing way. They'll love exploring their own precious feet while Mom or Dad reads to them. The book is sturdy and the glossy finish means that even if a Tippy Cup ends up tipping after all, the story can be wiped clean and kept fresh.






Why They'll Want It


Kids will respond to the cheery illustrations and the simple story. They'll like thinking about what feet can do and will probably want to talk to Mom and Dad about the things they have or have not kicked. This is a great way for parents to teach a little lesson in a very painless way. Kids will be able to turn the pages themselves, too, which will make them feel more a part of the story.

Free Spirit Publishing´s ToyDirectory Listing


-- Alison Marek, 8/9/05





Learn more about Feet Are Not for Kicking
---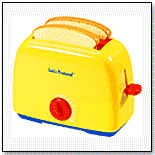 Name: Let's Pretend Toaster
Company: EDUCATIONAL INSIGHTS INC.
Age: 3 and up
Price: $12.99
Category: Infant & Toddler



What is it?




This little toaster is about 5" high and has a weighted base. It comes with two pieces of play bread that can be placed the toaster. Kids just push down the lever at the side and the bread drops down, ready for toasting. A dialed timer allows up to seven different settings for the perfect piece of toast. A mechanical toy that requires no batteries, the timer is sufficiently noisy for the most demanding of tot chefs. The toaster is bright yellow with red, blue and white details.





What We Thought




The bread is removable, which means that little kids can serve their dolls or teddies a good nourishing breakfast every morning. The molded air holes on the bread and its brown crust makes it more realistic looking, though it's still small enough for small hands. The colors are appealing and the mechanisms are easy to work. This toaster's a great way to keep kids occupied while Mom or Dad makes breakfast on Sunday morning.





Why They'll Want It


Two pieces of removable bread means that this bright yellow play kitchen tool is really three toys in one. Kids'll have fun "toasting" the bread for their toys, or serving up a special snack for Mom or Dad. It's a great size for them, too. They'll feel even bigger, knowing that their kitchen toys are well proportioned for their growing hands.

Educational Insight´s ToyDirectory Listing


-- Alison Marek 8/9/05





Learn more about Let's Pretend Toaster
---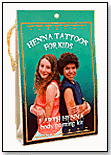 Name: Henna Tattoos for Kids
Company: LAKAYE STUDIO
Age: 9 and up
Price: $15.00
Category: Arts & Crafts



What is it?




This kit lets kids mix their own squeeze bottle of natural henna and practice the art of "mehndi" (the Indian word for henna body painting). It comes with a henna solution and a henna powder that have to be mixed in a special included plastic cone, massaged, then funneled into the squeeze bottle, which is fitted with an applicator top. Kids who want to trace out elaborate designs can do so using a page of reusable stencils that are applied to the skin with the aid of eucalyptus oil, which is also included.






What We Thought




The instructions, though long, were easy to follow. Impatient kids might have trouble with the "wait 2 hours" after the henna solution and paste have been mixed together. Once ready, the formula squeezed easily through the applicator tip. It was easy and fun to draw freehand, especially since we knew that nothing would be permanent! It might be difficult to keep the paste on the hands or other much-used body parts for the entire 4 to 6 hours that the manufacturer recommends, but it adhered well to legs and ankles. The images were clear and lasted more than a week.





Why They'll Want It


Even our boss wanted a tattoo. That says it all. But, in case it doesn't, here's the rest: the tattoos are easy and fun to apply. This would be a great activity for a slumber party. Girls will enjoy tattooing each other into their latest "secret society." Boys will like it, too, because who wouldn't be cooler with a new "tattoo?" The included stencils have images of a dragon, lizard and scorpion, as well as the gentler butterfly, sun and heart, among others.

Lakaye Studio´s ToyDirectory Listing


-- Alison Marek, 8/9/05




Learn more about Henna Tattoos for Kids
---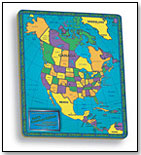 Name: The Continent Puzzles: North American Edition
Company: A BROADER VIEW
Age: 7 and up
Price: $9.95
Category: Puzzles & Skill



What Is It?


This 12.25" by 15" map of North America uses different colors to depict all U.S. states and their capitals, all Canadian provinces and their capitals, and most countries of Central America and their capitals. The thin cardboard map includes over 25 pieces and makes a solid educational tool for anyone who wants to learn their geography for the first time or just brush up on lessons they learned years ago.



What We Thought


This puzzle map stands out because most geography puzzle maps only include the states and capitals of the United States. As globalization increasingly brings world events closer to Americans' doorsteps, it's encouraging to see a product that offers children — and adults — the opportunity to learn about foreign lands in a fun and challenging way. However, this reviewer would have liked to have seen a single puzzle piece for a single state or country, rather than, in some cases, multiple states or countries on one puzzle piece. Also, eight countries in Central America were not included on the map, which is a little concerning if this product is to be used as an educational tool. However, it is understandable that the puzzle is only so big and that puzzle pieces need to be of a certain size due to small part choking rules. Also, the back of the puzzle does make note of the missing countries, left out due to their small size.



Why They'll Want It


The pieces easily fit into the proper place on the board, and the colorful pieces excite imagination while kids learn their geography. It is a useful, fun and reasonably-priced product that will help kids better understand the world around them. Also, it makes learning the capitals of the United States easier come quiz time.

A Broader View´s ToyDirectory Listing


-- Vanessa VanderZanden, 7/29/05





Learn more about The Continent Puzzles: North American Edition
---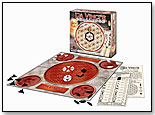 Name: DaVinci's Challenge
Company: BRIARPATCH INC.
Age: 8 and up
Price: $24.99
Category: General Games



What Is It


This ancient game challenges either two players or two teams to create and see patterns in the pieces they place on the giant symbol in the center of the game board. One side has black wooden pieces and one side has white — both must try to form one of nine patterns when it is their turn to play, or they can try to block the other team from forming a pattern. The game become more complex as more pieces appear on the board, as multiple patterns can be made with one move. If a team does not note that they have made a pattern on their move, the other team is under no obligation to point out the symbol for them.



What We Thought


Like chess, this game requires a good deal of concentration. Moves become a strategic operation, and the atmosphere can become quite intense. It forces players to be on guard, as they try to protect their patterns while attempting to squelch the patterns of the other team. It's fun, it's thought-provoking and it's relatively easy to play. The only drawback is that only two people can play, or two teams, which makes it difficult for odd numbers of players to enjoy the activity. While it has a sufficient number of double-sided score pads, players will need to make copies when they get near the end of the stack.



Why They'll Want It


The back story of the game is quite interesting. The main symbol, called the Flower of Life, the Language of Silence and the Language of Light, has shown up everywhere from Ephesis, Turkey in the first century to Nikko, Japan in the 14th century on building walls and in artistic pieces. Leonardo DaVinci studied the symbol extensively, and with Dan Brown's "The DaVinci Code" being one of the most read books in recent memory, this game will no doubt receive a lot of attention.

Briarpatch´s ToyDirectory Listing


-- Vanessa VanderZanden, 7/29/05





Learn more about DaVinci's Challenge
---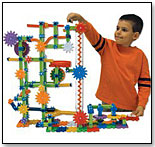 Name: Marble Mania Extreme
Company: THE LEARNING JOURNEY INTERNATIONAL
Age: 5 and up
Price: $49.95
Category: Construction



What Is It?


Marble Mania Extreme is a 325-piece marble run and gears construction set with a motorized gear that will mechanically return the marbles to the top of the run. It contains mills, various channels — such as pendulum, drop, release, funnel and straight — and all kinds of connectors, gears, and base pieces that allow numerous marble-run designs. The set's instructions are in Spanish and English.



What We Thought


In addition to the educational benefits listed on the box such as "introduces concepts of basic mechanics," "stimulates tactile skills," and "develops problem solving skills," one major benefit not listed is "builds patience and diligence." The 30 different types of pieces require a lot of time to sort out. It also takes a lot of concentration to go through the manual to make sure the motor and gears fits and works correctly. A 5-year-old would definitely need adult supervision to build a working model.



Why They'll Want It


The harder the effort, the sweeter the fruit of achievement. Once the child sees the magnificent gears churn and the marbles flying through the marble run that they helped mom or dad build, they won't be able to take their eyes off it.

The Learning Journey´s ToyDirectory Listing


– TDmonthly Review Team, 7/29/05




Learn more about Marble Mania Extreme
---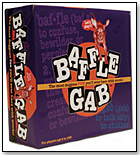 Name: Baffle Gab
Company: DISCOVERY BAY GAMES
Age: 8-Adult
Price: $29.95
Category: General Games



What Is It?


This word game can be enjoyed by the whole family. Five word cards drawn from a pile that includes nouns, verbs and adjectives are placed face up on the table for all to see. The sandtimer is turned over in the center of the table, allowing any number of players one minute to form a story that includes as many words as possible from the five on the table. Bonus points are given to players who are able to put all five words in one sentence, and all words in a sentence that is not completed by the time the sand runs out from the timer will not be counted.



What We Thought


The game leads to silly stories and bizarre sentences that can often be best described as abstract poetry. While it encourages young minds to experiment with vocabulary they may not be entirely comfortable with, adults will put five words in one sentence in a minute with little challenge. Still, older players can make up their own rules, using more than the suggested five words, to make a more competitive game. No matter what the age, it's still no easy feat to string together a number of unrelated words into one coherent statement, and the resulting tales are laugh-inducing.



Why They'll Want It


The game allows kids to be creative while learning new vocabulary. It asks them to structure complex sentences quickly, and it provides an opportunity for parents to share in the learning process while having fun. Best of all, the game's theme character is a dog named Gabby, which gives the game heart.


-- Vanessa VanderZanden, 7/28/05




Learn more about Baffle Gab
---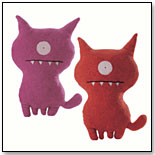 Name: Uglydog
Company: PRETTY UGLY LLC
Age: All Ages
Price: $24.00
Category: Plush



What Is It?


Developed by artists David Horvath and Sun Min-Kim, this irresistible 12" to 14" tall hot pink plush creature looks like a Cyclops caught in a nuclear meltdown. The "dog" has four feet and a tail, all in a row, which look more like the outline of a clenched foot than individual appendages. Made of a soft fabric akin to the inside of a fleece sweatshirt, the doll is easy to squeeze and hard to put down. Uglydoll describes the character as "the ultimate pet" because "what he really likes to do is stand on his tail and live out his big dream … to be just like you!!!"



What We Thought


Eccentric and ugly, as the name implies, this ridiculous little dog makes a fine companion. Uglydoll knows how to craft unusual plush figures that speak to a girl's inner freak. Who wouldn't love a deformed, fuzzy hot pink stuffed dog? For the girl who has everything, from stuffed wombat to millipede, this plush "man's best friend" will complete her stuffed animal collection. That is, until she sees one of Uglydoll's other bizarre designer plush creations …



Why They'll Want It


Uglydoll knows how to market their designer toys, that's for sure. One look at the list of celebrities who claim an infatuation for the peculiar plush line will have any kid — age irrelevant — asking for one from their local toy retailer. The list includes Paris Hilton, "American Idol" finalist Constantine Maroulis and Robin Williams, to name a few. The dolls are even sold at hip spots like Barney's New York and the Museum of Contemporary Art in Los Angeles, so that even if little ones don't know what they are yet, their chi-chi aunts and uncles will no doubt introduce them to the dolls before long. And once one kid on the playground has one, well, say no more.


                            -- Vanessa VanderZanden, 7/27/05




Learn more about Uglydog
---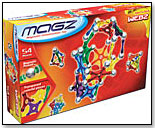 Name: Webz 54
Company: PROGRESSIVE TRADING
Age: All Ages
Price: $25.00
Category: Construction



What is it?


Webz consists of transparent colored stars, bars and square plates with magnetized ends that attach to silver-toned magnetic connecting balls. Builders can create spheres or towers. The pieces are small, ranging from approximately ½ inch for the balls and 2 inches for the largest plate. Colors are candy bright and the textures of the pieces vary from smooth to brushed. The Webz sets are also compatible with Magz and Skrooz.



What We Thought


The finished constructions are really pretty. The difference in texture between the pieces makes it appealing. It would definitely take a little time to make some of the creations on the box. The pieces will easily get lost, and the balls will probably roll under the furniture or get stuck underneath the sofa cushions. But it's easy to make even a simple construction. Even if the kid (or reviewer) has no particular shape in mind, the finished construction is pleasant to look at owing to the contrast in textures, shapes and colors.



Why They'll Want It


Well, everyone else has it, so… Anyone who's into construction toys will want this, especially if they already have Magz. Kids will enjoy the physical sensation of the magnets attracting and repelling each other, as they have for generations. But now they can build really colorful, cool-looking creations, too. They'll probably leave them assembled when not playing with them, because the magnetic attraction is strong enough so that the pieces can be moved without the whole thing collapsing. Definitely more fun than blocks. Tiny kids might be intimated by all the various pieces and frustrated by not being able to make all the connections they might like to make, owing to magnetic repulsion, but bigger kids will have fun challenging their own building skills. Adults will probably grab these, too.

Progressive Trading´s ToyDirectory Listing


-- Alison Marek, 7/26/05




Learn more about Webz 54
---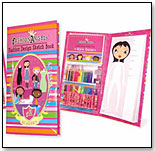 Name: Fashion Angels Fashion Design Sketch Book
Company: FASHION ANGELS
Age: All Ages
Price: $14.00
Category: Arts & Crafts



What is it?


The Fashion Angels Fashion Design Sketch Book is a portfolio that closes with a snap and is filled with a "croqui" sketch pad, tiny colored pencils and eraser, an assortment of small colored markers, and a Style Guide designed by "the pros." The sketch pad comes with a preprinted design of a Fashion Angel's body outline and full-color cartoon face. Kids can then use the markers to clothe the sketch. There's a column on the right side for kids to add the date, title of the designer, their name, which character they're deisgning for, which fabrics should be used, specs and notes. The Style Guide flip book gives them ideas for sleeve and neckline styles, various skirt shapes, and other style pointers they can use to make their creations.



What We Thought


The Style Guide acquaints kids with some basic fashion terminology and gives them ideas of shapes to try out on the doll sketches. The markers are so small that it would take quite a bit of time to color in the outfits with them, but they're good for outlining. The pencils are good for filling in color and the markers draw right over them for detailing. The little eraser was hard to remove from its tiny pocket. If there was a sharpener included, it had already fallen out. Keeping track of the tiny pieces might be the biggest problem with this cute set.



Why They'll Want It


This would be a fun activity to do alone or with friends or Mom. The sketches are easily removed from the pad so several people can draw at once. There's a pocket for storing finished sketches, too. Girls will like learning fashion terms while using their imaginations to put together outfits of their own design. Fashion-conscious tweens will love the fashion/accessories aspect, but younger girls will like it, too, since it's a step up from the average coloring book.

The Bead Shop´s ToyDirectory Listing


-- Alison Marek, 7/26/05




Learn more about Fashion Angels Fashion Design Sketch Book
---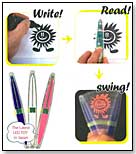 Name: LighTalk
Company: Compact Impact.com, LLC.
Age: All Ages
Price: $39.99
Category: Electronics



What is it?


Lightalk is a handheld scanner that transforms drawings or words into pictures that can be seen in the air. The 8-1/2" toy has a scanning area of 4" x 7". A press of a button allows the user to scan an image made with a black marker that's at least .2" thick. After the image has been saved, the user flicks the switch again and waves the Lightalk back and forth extremely rapidly; a series of orange LED lights magically recreates the image, thanks to the persistence of vision. It can also be programmed to store up to 4 images at a time. The scanner comes in blue, white or pink and includes a matching cord so kids can carry it around their necks to scan at a moment's notice.



What We Thought


Once our fumbling tester mastered the timing of the little switch and the scanning/saving button, the toy did just what the manufacturer said it would, though the image was a bit more pixilated than the illustration on the package led us to be believe. Simpler images worked best. Swinging in a darkened room was better than a light room, though the most important thing was to choose a nondistracting background.



Why They'll Want It


Kids can waves secrets at each other in the backseat of the car for hours on end. They'll have fun guessing what the drawing or message is. It's a great bit of high tech for a relatively low price. Two AAA batteries are included, as is a page of instructions, so kids can get started scanning right away. It's a cool gift to give, too, for birthdays or holidays.


-- Alison Marek, 7/20/05





Learn more about LighTalk
---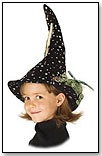 Name: Little Daydreamers Wizard With Dragon Hat
Company: ELOPE INC.
Age: 3 and up
Price: $19.99
Category: Pretend Play



What is it?


A stuffed green dragon with shiny wings, pointy teeth and fire-red nostrils has wrapped himself around the brim and cone of a star-spangled black wizard's hat. Lined with polyurethane foam and fabric, the hat has a secret pocket to hide magical toys and fairy dust. Elasticized Velcro tabs adjust the hat to size without the bother of casting spells.




What We Thought


Little kids will probably want to pull the dragon off the hat, and they can! Velcro tabs are all that secure the beast to the hat. This feature makes the hat much more playable. The mottled green plush fabric gives the dragon an authentic look. The hat and dragon seem to be durable; the tiny white triangular teeth and scales are securely sewn to the dragon's mouth and back. The extra-long tail makes the dragon great for swinging around or wearing on the shoulder like a well-trained familiar. The hat can even be used as a domicile cave in which to store the dragon when he needs a nap.



Why They'll Want It


It's a fashion rule: a detachable dragon makes the hat. Kids who are into witches, goblins, dragons and dungeons will want to add this chapeau to their wardrobe. The dragon, of course, will lend the little wizard an air of menace, which could greatly enhance play value.

Elope´s ToyDirectory Listing


-- Alison Marek, 6/15/05




---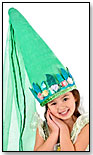 Name: Little Daydreamers Forest Princess Green Hat
Company: ELOPE INC.
Age: 3 and up
Price: $19.99
Category: Pretend Play



What is it?


A cone-shaped princess hat in bright green plush lined with polyurethane foam is encircled by a band of shiny green Mylar-like leaves and multicolored satin flowers. A sheer lime-green scarf cascades from the top, lined in dark green satin. The inside of the hat is capped in the shape of a beanie, so the hat sits securely on little heads. Velcro tabs allow quick and easy size adjustment. The lining opens up at the top so that the cone can be stuffed for support.



What We Thought


This pretty hat can transform a simple nightgown into a princess outfit. Little girls will be drawn to its bright colors and contrasting fabrics. It took two TDmonthly testers to find the secret pocket at the tip of the cone, but they were disappointed when the pocket was open at the bottom and no secret fortune could be found! Because it's a solid, pale color, it might pick up dirt, so Princesses should be warned to stow their special hats carefully.



Why They'll Want It


Princesses are beautiful. Princesses are good. And Princesses need fantasy hats to set them apart from the little people. Especially if they are little people themselves. This lovely hat will make any girl feel majestic and sweet. Since it's adjustable, she'll probably put it on the heads of her dolls and teddy bears, too.

Elope´s ToyDirectory Listing


-- Alison Marek, 6/15/05
---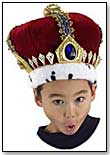 Name: Little Daydreamers Royal King Hat
Company: ELOPE INC.
Age: 3 and up
Price: $19.99
Category: Pretend Play



What is it?


This fully lined crimson velvet plush hat is trimmed with fake ermine and bedecked with plastic jewels and gold filigree. A large plastic sapphire festoons the front. The hat is trimmed with intricate gold and blue ribbon and set with a jeweled golden knob. A secret pocket hidden in the lining holds a fortune for the King to read. Or, it can be used to hide state secrets from unruly contenders. Velcro tabs allow adjustment for almost any head size.



What We Thought


Elaborate, colorful and highly decorated, the crown confers instant royalty on its wearer – kid or adult. It's great for funny photos, birthday parties and – most important – dressing up and pretending to rule the world. Even if a few of the doodads fall off over time, it's well made enough to go through a few lives: dress-up toy & Halloween costume for little kids, then joke prop for the older set.



Why They'll Want It


Why settle for Princess when you can be King? Kids will like its adjustability and the fact that no hard plastic or metal pieces will ever touch their heads. The secret pocket is a big plus and will probably get a lot of use. Kids may fight over who gets to wear the crown, but that'll just make the play more realistic.

Elope´s ToyDirectory Listing


-- Alison Marek, 6/15/05




Learn more about Little Daydreamers Royal King Hat
---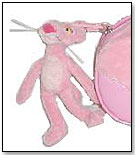 Name: Pink Panther Plush Clip-On Figure
Company: AURORA WORLD INC.
Age: 4 and up
Price: $4.99
Category: Plush



What is it?


A pink cat with attitude, this 5" Pink Panther is soft, pettable and portable. Plastic yellow eyes are lidded with dark pink. His black eyebrows give him an air of insouciance. Four whiskers remind one that this high-tone character is, indeed, feline. A plastic clip secured to his head with a pink cord lets kids or adults attach Mr. P to a purse, belt loop, key ring or even a car visor.



What We Thought


Okay, maybe we're just prejudiced in favor of cool cats who can wear pink without flinching, but this guy is irresistible. TDmonthly staff can't keep their hands off the Pink Panther, no matter what form he manifests. Those with a fetish can easily keep this little panther close at hand with the easy-to-use clip. He looks enough like a cat to please animal lovers, and enough like a person to tickle the fancy of those who prefer their characters in human form.



Why They'll Want It


Pink, soft, funny and cheap make this toy a pretty safe bet for an impulse item. Dangling from the ceilings or perched in baskets on the counter, kids and adults will probably find themselves picking him up. And once he's in their hands, well – they're just a $5 bill away from taking him home. The pink might turn off some boys, but that could change, once they see MGM's new "Pink Panther" movie starring Steve Martin, due out next year. The little clip-on could also be perched next to his big-brother poseables: the 12" version has an MSRP of just $7.99.

Aurora´s ToyDirectory Listing



-- Alison Marek, 6/15/05
---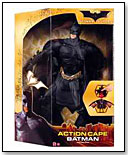 Name: Batman Begins ActionCape Batman
Company: MATTEL INC.
Age: 4 and up
Price: $25.99
Category: Action Figures



What is it?


Batman Begins ActionCape Batman is a 14" highly articulated action figure with an expandable fabric cape. The cape can be contracted to be less conspicuous or – with a touch of a button – expands to give batman a fighting display. The cape can also be tilted up with its supportive armature, to give the appearance of downward flight. Batman comes fully masked, leaving Bruce Wayne in permanent hiding. His head and waist swivel 360 degrees. He has articulated shoulders, upper arms, elbows and wrists, as well as articulated hipbones, upper thighs, knees and ankles. Dressed entirely in black, his waist is accented with a gold-colored utility belt. He comes with a gold-colored Batman boomerang to bring Gotham's nasties to justice.



What We Thought


The figure is impressive looking and extremely poseable. His joints were stiff at first, but a little physical therapy from our testing staff loosened them up. He can balance on his own two feet, even when standing on a fairly slippery surface. The cape mechanism was trickier. The release mechanism sometimes stuck, releasing only half of the cape at a time. His permanent scowl makes him a formidable figure, especially appealing to kids who want a super hero who can scare off all contenders.



Why They'll Want It


The super-articulation of the figure makes it really fun to pose. Kids who are into comics will want this figure not only for play, but also as a model for their own drawings. Batman would probably be best displayed out of the box and next to some books on drawing your own comics, or even a comic or book-making kit. The figure could even be used for stop-action movies, since so many kids have digital movie cameras these days. And of course, anyone who's seen the movie will want the figure just so he or she can relive the best battle scenes and give the villains a good KAPOW!


-- Alison Marek, 6/15/05




Learn more about Batman Begins ActionCape Batman
---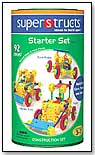 Name: SuperStructs Starter Set
Company: WABA FUN LLC
Age: 3 and up
Price: $29.95
Category: Construction



What is it?


Superstructs is a building set comprising 96 brightly colored plastic rods and multi-perforated connector wheels, foam accent pieces, and the head of an unshaven construction worker. The worker has a choice of two hats to wear, depending on what kind of vehicle the child builds. The starter kit includes materials for building a dune buggy, dragster, monster truck and tractor. The instruction book shows kids how to put together the vehicles using simple step-by-step illustrations and arrows. Reading is not required. Young kids who might not be able to follow the instructions can improvise and create their own vehicles.



What We Thought


Little children might need some adult helping hands when assembling these toys. A 4 year old probably will get frustrated trying to follow the picture instructions – especially when a page turn is required. Our staff tester took 15 to 20 minutes to assemble the monster truck, so even older kids might need a little patience. The finished pieces are pretty irresistible: the bright array of colors catch the eye and the instant mobility conferred by the wheels means that the vehicles can join the child's fleet of trucks or cars or dolls right away.



Why They'll Want It


The vehicles are cool, the colors bright. Foam and smooth plastic materials make the pieces pleasant to handle. Kids will be inspired by the vehicles they're supposed to construct, and will also be intrigued by the possibilities of designing their own cars and trucks. The construction worker personalizes the toy and will add to imaginative play. Once assembled, the vehicles are so bright and pretty that kids might not even want to disassemble them.

Waba Fun´s ToyDirectory Listing


-- Alison Marek, 6/15/05




Learn more about SuperStructs Starter Set
---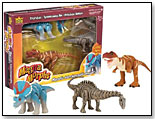 Name: Magna Morphs
Company: WILD REPUBLIC
Age: 3 and up
Price: $13.95
Category: Educational



What is it?


Magna Morphs are wild animal toys inspired by classic building play activity, employing a unique concept that uses animals as building blocks. Magna Morphs come in over 30 different species including alligator, gorilla, lizard, cheetah, toucan, elephant, giraffe and dinosaur. The animal body parts are held together by magnets, making the animal's front legs, back legs, tail and head detachable from its body. With a number of Magna Morphs in hand, the limbs can be interchanged to build one's own ferocious beast.



What We Thought


Magna Morphs are made of plastic with magnets inside. They're strong, durable, lightweight, and fit into a purse or large pocket. All of these qualities make it a great choice for travel. The magnets, however, could be a little stronger, as the Magna Morph will lose its limbs if dropped, but can easily be put back together.



Why They'll Want It


Magna Morphs inspire the imagination. Once a child gets a hold of one, he or she will want more to be able to create the beast of choice. With over one billion different combinations of animals that can be created, the possibilities are practically endless.


--Susan Maddela, 6/1/05


                       



Learn more about Magna Morphs
---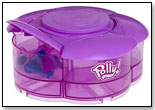 Name: Polly Pocket Adorable Storable, Too!
Company: MATTEL INC.
Age: 4 and up
Price: $6.99
Category: Dolls



What is it?


The Adorable Storable, Too! mini case is stackable, portable and modular, and easily fits larger Adorable Storable case for the ultimate storage solution. "Too!" has three compartments for storing Polly's shoes, dresses, handbags and all things Polly. As a bonus, "Too!" comes with a matching pink hat, purse and pair of shoes for Polly, along with fun little stickers to decorate the container.



What We Thought


The Adorable Storable, Too! is just the right size for a girl with a smaller Polly collection. It's made of durable plastic in a bright pink color that little girls will love. The container is transparent, so its contents are easily seen.



Why They'll Want It


The added bonus of three wardrobe pieces alone will entice Polly Pocket fans. The storage compartments are just the right size for the beginning Polly Pocket collector.



--Susan Maddela, 5/3/05

---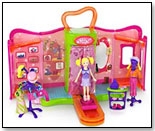 Name: Polly Pocket Quik-Clik Boutique
Company: MATTEL INC.
Age: 4 and up
Price: $13.99
Category: Dolls



What is it?


Polly Pocket is a doll with many fashion possibilities, which can literally change clothes in a snap. The Quik-Clik Boutique includes a magic dressing room feature – just insert the clothes into the dressing room, slide Polly into the dressing room and she spins out dressed in a new outfit. The Quik-Clik Boutique comes with a selection of hip fashions, including skirts, dresses, jackets and shoes for endless fashion combinations. After Polly comes out of the dressing room, choose from a number of hairstyles, such as ponytails or braids, and hair accessories. There is also a cashier area with a tiny register, a clothing rack and a display area. All clothing, accessories and hair attach to Polly by click-on magnets. The Quik-Clik Boutique is also its own carrying case that easily folds together and contains all 26 pieces, so that everything stores inside.



What We Thought


The Quik-Clik Boutique is a fun toy for little girls who like to dress their dolls, which is just about every little girl. The magnets contained inside the clothing and in the doll have a strong grip, which make dressing easy and allows the clothes and accessories to stay on. The small pieces allow for development of fine motor skills and encourage creativity through outfit combinations and color coordination.



Why They'll Want It


Polly Pocket is a toy with a hip, edgy look that will stand out on the shelf. The Polly Pocket line is available in other play sets including the Cool Careers Gift Set and the Relaxin' Resort Rock-n-Roller Coaster Hotel. All of the outfits and sets can be interchanged and are specially fitted for Polly Pocket dolls, and kids will want to collect them all.


--Susan Maddela, 5/3/05
---
Viewing products
841—870
out of
1007
products.
<<Prev
1
2
3
4
5
6
7
8
9
10
11
12
13
14
15
16
17
18
19
20
21
22
23
24
25
26
27
28
29
30
31
32
33
34
Next >>
Search Toy Review:
Toys can be submitted without a fee to be considered for editorial review. However, manufacturers who wish to guarantee that their toys will be evaluated in the Review section should send payment of $150 per toy* along with the toy itself to:

Product Review Dept.
ToyDirectory.com, Inc.
12340 Santa Monica Blvd. Suite 226.
Los Angeles, CA 90025

Many of the toys considered for review are donated to children's services organizations, such as Children's Hospital Los Angeles. Also, to recover the cost of reviewing, starting August/2012 we may occasionally resell products that are sent to us.
* Please make checks payable to ToyDirectory.com, Inc. Payment does not guarantee a positive review. Advertising with ToyDirectory and TDmonthly Magazine does not guarantee a positive review. Quality, play value and educational value are considered when reviewing toys and games.