Products from MUNCHKIN INC.
THIS BANNER IS AN AD:
---


View: By latest product added | By earliest product added



Below are some of the products MUNCHKIN INC. has shared with ToyDirectory and TDmonthly



---
Teething is tough for parents and their babies. So soothe their tender gums with our incredibly cool teether. Place from freezer to gums and in no time babies will be chewing and cooing their way to happiness.
— As of 12/13/2011 this product had 4.2 out of 5 stars from 20 reviews on Amazon.com
ToyDirectory Product ID#: 33357
(added 12/16/2011)
It's a teether and toy in one. Twisty Figure 8 can be twisted and turned while baby's sore gums are soothed by the four different teething surfaces. Featuring an easy—to—grasp shape, this brightly colored teether also can be used as a rattle.
Awards: 2002 Parent's Choice Gold Award
— As of 11/30/2011 this product had 3.7 out of 5 stars from 30 reviews on Amazon.com. Pros: Easy for babies to grasp; easy to clean; lots of texture; can be chilled to ease teething pain; the part baby holds onto doesn't freeze, so their hands don't get too cold. Cons: Not dishwasher safe; too big for smaller babies; a little bulky for younger children.
ToyDirectory Product ID#: 33256
(added 12/1/2011)
These 10 water-squirting sea characters are designed for under-water bubbles and bath games. The squirters come in a clear canister that makes storage easy.
— As of 8.24.10, this product had 4.5 out of 5 stars from 34 reviews on Target.com and was listed in the top 30 best-selling toys and games. PROS: Safe and entertaining. CONS: Some parents complained that the toys collect mold inside.
ToyDirectory Product ID#: 30199
(added 8/24/2010)
This set of 84 foam shapes includes two sets of letters (A-Z) and numbers (0-9) plush 12 sea shapes. The shapes float and stick to the tub wall when wet, and the ventilated, reusable container helps prevent foam from mildewing.
ToyDirectory Product ID#: 13984
(added 7/6/2007)
With adjustable molded handles and a compact design with feet for easy, stand-up storage, this patent-pending potty seat fits most standard toilet seats. The seat cushion is contoured and comfortable and has a built-in deflector shield. Other designs, including Princess, Soccer and Surfer Girl, are available.
ToyDirectory Product ID#: 13983
(added 7/6/2007)
Diaper Change Travel Kit
TDmonthly rating:

(
Read Review
)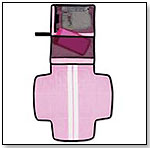 Available in pink, tan and black, this kit includes an expandable mesh pocket that holds up to four large diapers and other essentials, a translucent wipes case and a carry strap that attaches to a stroller. The changing pad features a cushioned pillow and is easily detachable for separate use.
ToyDirectory Product ID#: 13982
(added 7/6/2007)
This set includes a bright fishing pole with a strong magnetic hook that easily catches all three of the included sea squirts. The fishing reel makes a clicking sound, and the squirts float, squirt water and sink when filled with water.
ToyDirectory Product ID#: 13981
(added 7/6/2007)
Ideal for home, daycare or on-the-go trips, the Snack Catcher features a domed lid and soft flaps that prevent spills and allow easy access. It also has a rubberized bottom and special "finger cleaning" bumps. It holds 9 oz. of snacks.
ToyDirectory Product ID#: 13980
(added 7/6/2007)
The Bath Super Scooper allows kids and parents to scoop, drain and store bath toys in seconds. The basket has a large storage capacity and features a hanging bracket that easily attaches to the tub wall with strong adhesive strips (included).
ToyDirectory Product ID#: 13979
(added 7/6/2007)
MSRP: $20.00
SKU or Item #: 7-35282-03101-4
Launch Date: January 2000
With this award-winning product, children can add or subtract instruments with the touch of a button, and lights flash along with the music. With harp, flute, French horn, piano and violin instrument buttons, one orchestra button, and soft, rounded corners, it provides hours of interactive play. The product "gives children the opportunity to learn specific musical sounds of five different orchestral instruments and how they interact together to create a Mozart masterpiece. It inspires creativity by putting the child in the conductor's seat," Doug Gillespie, vice president of marketing at Munchkin told
TDmonthly
. Launch date: 2000.
— As of 8.30.10, this product had 4 out of 5 stars from 38 reviews on Target.com and was listed in the top 30 best-selling toys and games.
PROS:
Safe, durable, interactive and engaging.
— Kai Rady, owner of
Shenanigans Inc
in Charlottesville, Va., told
TDmonthly
in a 2012 survey about infant and toddler products that the Mozart Magic Cube was one of her top sellers.
— "This past December [2012] we sold several Mozart Magic Cubes from Munchkin. Even the price tag in the mid forty dollar range did not stop our customers," Joe Berardoni, owner of
Pun's Toys
in Bryn Mawr, Pa., told
TDmonthly
.
ToyDirectory Product ID#: 10548
(added 12/7/2006)