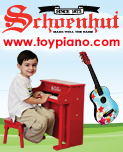 Article Tools:








TDmonthly Announces Winning Retailers of "2012: A Year of Charity" Contest
Lucky retailers will give away 100 toys from Safari LTD®, Hape, Schoenhut, and MagicForest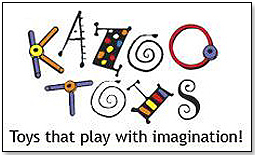 Congratulations to Diana Nelson of Kazoo and Company in Denver, Colorado, Sari Powazek of The Doll House & Toy Store in Scottsdale, Arizona, and Dan and Jill Driver of Jake's Toy Box in Arvada, Colorado. They are the winners of TDmonthly's "2012: A Year of Charity" contest.

Kazoo and Company has been making local kids happy for 31 years. Diana bought the store in 1998 and turned it into a multiple award-winning business. In 2008, she opened a licensing branch called Kazoo Global. She has approximately six events per year in her store, most of which are covered by the local press. Children's charities that she currently works with include the Children's Juvenile Diabetes Foundation and Children's Hospital Cancer Ward.

Diana will now be able to donate 99 toys from Schoenhut Piano Company, Safari Ltd.®, Hape and Magicforest Ltd., plus give one away to a Kazoo customer via raffle or contest.

In business since 1977, the The Doll House & Toy Store states that they are the oldest family-owned miniature and dollhouse store in the nation! Their first store was just 600 square feet but they now have two locations that feature a variety of toys, games and dolls, including a full Lee Middleton nursery. They hold three to four events per year in their store and contribute to a number of local charities, including the shelter "Casas De Coloinas" and the Crisis Center for children.

In April, the month of the giveaway, they are planning a health and safety event, which Sari believes will tie in nicely with the amazing toys they will be donating to charity. Sari is thrilled to be receiving high-quality toys and instruments from Schoenhut Piano Company, Safari Ltd.®, Hape and Magicforest Ltd. "These little ones need a bright light," Sari told TDmonthly. "What better way than through music and play?"

The third winner of TDmonthly's "2012: A Year of Charity" is Jake's Toy Box in Arvada, Colorado. Holly Anver, manager of the toy store, entered for the owners, Dan and Jill Driver. The Drivers bought the store, formerly called Ages and Stages, in 2010, shortly after the death of their son Jake, at age 4. Ages and Stages had been his favorite toy store. When Ages and Stages lost its anchor mall store and then was hit hard by the recession, the previous owners were ready to close the business when the couple decided to save the landmark by leaving their jobs and purchasing the store.

In the year since they opened Jake's Toy Box, the Drivers have donated toys to a number of charities, including Toys for Tots, and the Ralston and Arvada Houses, which assist underprivileged children and their families. Many of their weekly storytimes and other events are covered by their local press and children's media, and they've won several business awards. They'll be giving away 100 high-quality toys from Schoenhut Piano Company, Safari Ltd.®, Hape and Magicforest Ltd.

Like Diana, Sari, and the Drivers the participating manufacturers are no strangers to charity.


In 2011, Safari Ltd.® donated more than $140,000 worth of animal replicas to the Kids Wish Network of Holiday Florida to support its Holiday of Hope Gift Bank program and the new On Tour program. The programs, organized and run exclusively by the Kids Wish Network, reach out to tens of thousands of children at hospitals and shelters across the country. Safari Ltd. plans to give away 50 gift sets of the Safari River Ranch and 50 Wild Safari® Sealife Fipper, Fins sets as part of the "2012: A Year of Charity" program.

Other charities and organizations that Safari Ltd.® supports includes Big Cat Rescue, Fairchild Tropical Botanic Garden, The Human Society of Greater Miami Adopt-a-Pet, New York Cares, The Marine Mammal Center, The Nature Conservancy, National Eagle, and the Sierra Club.

"From the very beginning, the founders' mission was to educate children and adults alike about our fragile ecosystem and its inhabitants," explained CEO Ramona Pariente, who joined the company in 1985 and took over in 2003.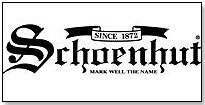 Schoenhut Piano Company also has a long history of major charitable contributions, which they consider an important part of their business philosophy. In addition to giving away 100 My First Piano IIs via TDmonthly's Charitable Kid, Kimberly, in 2009 and contributing to other charities, Schoenhut also sponsors events that feature their instruments. In 2009, they shipped 64 Baby Grand Pianos for a musical event at the Vizcaya Museum in Miami. For TDmonthly's "2012: A Year of Charity," they plan to give away an assortment of pianos and other high-quality musical instruments.

Even their tiniest toy pianos have a quality that is unmatched by the competition. In 2007, Schoenhut participated in TDmonthly's Baby Roundtable review, in which five mothers evaluated My First Piano IIs with their children, aged 1 to 3 years, awarding the instrument 4.5 of 5 stars. They noticed that the piano was sturdier and sounded more authentic than other toy pianos, including one by Melissa & Doug.


Hape's philanthropy reaches worldwide. In this first week of January 2012, they made a donation of toys to disadvantage youngsters in the poorest province of China. At the end of January, Hape attended a celebratory dedication of a kindergarten they have funded. "TDmonthly's 'Year of Charity' Program is a perfect fit for our ideals," said Robin Lehnert, marketing manager for Hape.

Hape's charitable efforts are not limited to education, however. In 2010, they donated $45,000 worth of toys to schools in the Si Chuan region, which had been devastated by an earthquake the year before. Peter and a delegation from the Beilun Government delivered the toys in person to the province, where they were able to witness the challenges the recovering area faces.

MagicForest LTD., exclusive distributor of Moulin Roty, Trudi, TrudiMia Dolls, Sevi, and FireWood Toy Brands in the U.S., will be donating 50 beautiful toys, too.

You can see more detailed descriptions of products from all of these companies below.

Who are the next winners? Check back later today! And watch for our profiles of the winning stores during March on TDmonthly.com!
Detailed replicas of tropical marine life and a realistic coral reef surround this young diver with a wild underwater adventure. Exquisite sculpting and attention to detail make this the ideal gift for any child. The packaging features educational information in 5 languages on the back. All Safari Ltd.® products are phthalate and lead free and safety tested to safeguard children's health. We take pride in the quality, innovation and design that have characterized our products for over 3 generations. Flippers, Fins & Fun Gift Set Includes: Dolphin, Sea Turtle, Queen Triggerfish, Grouper, Coral Reef, and Freddie the Free Diver. Box Size: 11" W x 4.75" H x 4" D (28 x 12 x 10 cm)
.
Join all the fun down on the ranch with our attractive accessories that complement the Safari Ltd.® Farm collection. Complete with fences, hay, entrance gate and a water trough, this set makes a perfect companion with our Down on the Farm Barn & Stable in addition to our Safari Ltd.® Farm animals. Children can let their imagination roam as they simulate life on a ranch. All our products are phthalate-free and thoroughly safety tested to safeguard your child's health. Safari Ltd.® takes pride in providing breathtaking, innovative and value priced replicas for now over three generations.
.
.
This versatile 25-key piano measures 17" x 12" x 12" and is designed to grow with a child. The main unit, decorated with a whimsical animal's head, sits safely and squarely on the floor within easy reach of a toddler's hands. Later on, the sides with the animal's body can be attached, raising the piano to a comfortable height for an older child seated at the bench. The spacing between the keys is the same as that of a full-sized model, teaching proper finger placement and affording an easier transition to a large piano.
.
This Schoenhut 30-inch Acoustic Guitar is a unique introduction to playing for the aspiring young musician. It offers not only great sound and playability, but an affordable price which is attractive to many first-time players seeking a "better-than-average" beginner guitar.
.
.
String-Along Shapes are first toys that encourage coordination, dexterity, imagination, and simple problem solving. This brightly colored set of 30 maple shapes includes two strings that turn blocks into a train, a caterpillar or a tower. The possibilities are endless and so is the fun. Shapes are approximately 1.25' wide each.
.
This sturdy little dump truck belongs at every construction site. The chunky maple design includes a removable load. The truck measures 4.6" x 2.4" x 3.5". Ages 10 months and up.
.
Everything tastes better when you've got the right accessories. These safe and simple toys revolve around food and cooking, to promote realistic role play, and encourage healthy eating. The Apron Set includes an elasticized chef's hat, quilted oven mitt and bright orange-trimmed apron. The mitt and apron fabric is exclusive to Hape.
.
Music is a wonderful opportunity for little ones to expand their sensory and imaginative personality. Music helps them to understand rhythm and harmony, and also to express themselves and their moods. This set of percussion instruments from Sevi is an easy way to get kids started. It comes with 8 pieces, including a tambourine, castanets, a triangle, maracas and a noise maker. Produced by Sevi, Europe's oldest wooden toy company, this product contains parts and components that are recommended for children ages 2 and up.
.
Noah's Ark Balance Game comes with pairs of brightly painted wooden animals and can be played either cooperatively or competitively by the entire family. Kids learn about weight distribution and how the shape of an object affects where it is able to be balanced. Played against an opponent, kids learn to place animals just so their opponent has difficulty finding a spot for their piece. Pieces are the perfect size for ages 3+. Kids can also work together to see how quickly they can stack all the animals on the rocking ark. Sevi is Europe's oldest wooden toy company.
.
Catalog Request Form


Advertisement: