Article Synopsis

Great customer service and a loyal customer base have made Kazoo top 5 three times over.
Following trends is simplified with the use of computers that track sales in each department.
Moving old products off the shelf makes the store feel fresh and exciting.
Kazoo & Company has a right to be proud. The full-service toy store in Denver, Colo., was chosen as one of the Top 5 Specialty Retail Toy Stores in North America by the Toy Industry Association in 2002, 2003 and 2004.
Of course, the company's success hasn't come about by accident. It is a direct result of the efforts of Diana Nelson, president, owner and CEO, who purchased the store in 1998.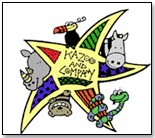 No stranger to business, having worked for Fortune 500 companies, Nelson delved into toys after taking time off to have children. "I gambled everything to buy a toy store," she says.
The gamble paid off, and the store has enjoyed continued success since she took over. She made the natural progression to Web sales in 1999 with kazootoys.com
Nelson feels that the store was chosen number one by TIA because "we've been a proven entity for many years. We have great customer service and a very loyal base. We have great relationships with our vendors and our manufacturers. We try to demo and test a lot of new products for our vendors to help them with their packaging or a new design that they're trying to work on."
When determining what customers want, Nelson says that it involves "just following the trends, and I live and breathe by numbers, so we're totally computerized. We're very sophisticated in that way, and we look at the numbers by department – how's the infant department doing and the toddler department and puzzles and Playmobil and LEGO – everything is driven on numbers."
Beyond numbers, Kazoo & Company's store design has also made it successful. The shop is arranged by department. "When a typical consumer goes into a Toys "R" Us, … it has departments, but it's like a big warehouse," Nelson explains. "Here, it's very small. It's intimate, but it's also departmentalized, so you actually have a Playmobil department, and you have a Thomas the Tank Engine department."
Nelson recognizes that good products make the store. She selects "educational, non-violent, birth to 12 quality products at a good price and a good value" from toy shows she visits across the country. Still, "we all make buying mistakes," she adds. "I also never keep anything on our shelf that's over a year old. So every summer, we have a huge sidewalk sale for four days and clear everything out."
Her advice to others? "Delegate, and surround yourself with really smart, great people." She adds,"It's a very quick-changing industry, like so many other businesses. … If you think about your regular customer, they don't want to see the same stuff on the shelf all the time, so we're always changing our inventory and our mix of what we sell."
For those thinking about becoming a toy store owner, Nelson recommends contacting the Small Business Administration. "They're willing and ready with all the information to help people launch their companies and start businesses, and that's how I was able to purchase Kazoo and move forward with our growth."
Nelson's boys are now 7 and 10 and they love coming to the toy store. "Their friends think – how cool are they that their mom has a toy store and a toy business," she says.

Nelson´s store, Kazoo & Company, can be accessed at www.kazootoys.com.