Mom's Perspective
Why I Can't Say "No" to Novelty
By Kris Decker
July 2003



At last count, my son has amassed 5,628 novelty toys in his room. Ranging in cost from a quarter to $2 each, his collection's cumulative value is roughly equal to one trip to the Bahamas for his dad and I. Any parent can appreciate why I might find it difficult to be enthusiastic about a Bart Simpson Light-Up Yo-Yo when I know it comes at the expense of six days and seven nights lounging in the Caribbean.
In addition to costing me more than I paid for my last car, his numerous trinkets clutter up the house, get lost in the couch cushions, jam the vacuum cleaner, clog the toilet and end up doing the dead man's float on the surface of the dog's water bowl. So why, you may ask, after all this headache and expense do we continue to stock our son's toy chest with these nefarious knickknacks?
First, when purchased singularly, novelty toys are nothing if not reasonably priced. They are low maintenance and often require more imagination to operate than higher-priced toys. Some of my son's favorite and most frequently used toys are those little alien-shaped lumps of plastic he acquired from a gumball machine with the quarter we dredged up from the bottom of my purse.
Luke Skywalker Pez Dispenser
Like any parent, I suffer from the occasional weak moment when my patience wears as thin as a strand of DNA. At times like those, spending 99 cents on a Luke Skywalker Pez Dispenser to quiet a whining, wheedling child in a grocery store checkout line seems like a logical, if not celestially inspired, idea.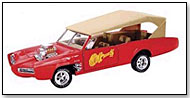 Monkees Mobile
Moreover, what adult doesn't wish they had held onto their own cherished Roy Rogers' lunchbox or Dick Tracy Secret Decoder Pin? Forget nostalgia: these are exactly the kind of "watchamacallits" going for hundreds of dollars in antique stores—and the latest "who-knew?" doodads to sell for millions at a Sotheby's auction. For example, my old Charlie the Tuna wristwatch as well as my Monkees Mobile (both of which gathered mold at the bottom of my toy chest for twelve years until my mother threw them out as junk) today sold on eBay for $95 and $360, respectively. So who am I to say we can't make a little room for my son's Shamrock Head Bobbers, 1" Plastic Super Heroes, Garfield Sunglasses and the Whoopee Cushion?

Whoopee Cushion
But the real reason we keep collecting novelty toys came to me last Christmas. We had given our son some pretty pricey playthings: video games, collector's edition movie sets, and an electronic toy comparable in price to a second mortgage on our home.
"Which was your favorite?" I asked him after all the unwrapping wrapped up. He pointed to the $2 Simpson's Talking Wristwatch I'd picked up at a local fast food restaurant as a stocking stuffer.
"This one!" he said, flashing his one-in-a-million smile.
Writer's Bio: Kris Decker endures eternal Minnesota winters by writing freelance articles, essays and features. Her two kids (a rich source of poignant, humorous, and most happily, free material) are the inspiration for much of her work focusing on the topics of kids, parenting, families, individuality and creativity.

---
---