| | |
| --- | --- |
| | Small Toys Offer Big Sales |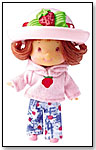 Berry Cute Girl

Even with around-the-clock CNN coverage of disasters and terrorist attacks, toys still offer kids a respite from onrushing adulthood. Virtual pets, hot rods, cool jewelry and fairy tale characters are among the latest small toys to make big waves.

Fun in Tight Spaces

Bandai's Berry Cute Girls (ToyDirectory), 2.5- inch versions of Strawberry Shortcake and her friends ($4.99), engage all the senses with sweet scents, brush-able hair and Berry Fun Fashions. Girls age 4 and up can move their tiny characters into Berry Cute Mini-Lands, Berry Cute Houses and six additional settings in Fall 2003.

Voice-Activated NeoPets
Pixel Pets
More than 47 million registrants, mostly kids ages 4 to 13, log onto child-safe NeoPets.com every day to watch their own idiosyncratic virtual pets going about their day. Thinkway's Voice-Activated NeoPets ($14.99) are hand-sized, interactive incarnations of the Internet buddies that chuckle, shake and show embarrassment like their virtual selves.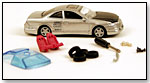 164th Silver Accord Modifiers
Mini Chop-Shop
Street racers with the right tools can use X Concepts' Modifiers ($12.99) to "trick out" such hot rods as a 1/43 scale '99 Honda Civic Si, '99 Mitsubushi Eclipse GSX or '00 Acura Integra GS-R. They come equipped with Nitto NT 555 tires, Neuspeed strut bars, Sparco seats and more.

Memo Minis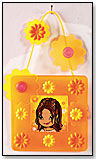 Photo Minis Flower Frames
Hip Fashion Crafts
LEGO and Limited Too have teamed up to offer Tween girls Clikits sets ($3.99), fashion crafts kids put together and wear. A girl can express her own style with Bangle Minis ($3.99) on her wrists, swoon over teen heartthrobs framed by Photo Minis Flower Frames and organize her schedule with Memo Minis—string clips that hold notes more stylishly than adhesives.
Don't Forget the Fellas
LEGO's Star Wars Mini Collector's Sets feature many of the series' popular vehicles, including Anakin's Podracers ($3.99), X-wing and TIE Advanced Fighters ($3.99), and the Republic Gunship ($6.99) in sets ranging from 53 to 102 pieces.

Little Red Riding Hood Water Baby
Dolls Made Mostly of Water—Like Us
About 97 percent of the human body is composed of water. Playmates Toys puts human nature into play with Water Babies ($9.99-$17.99), dolls kids fill with warm water to create the illusion of real body temperature. Disney fans will fall for Bambi's Thumper and Pooh Costumed Water Babies, and moms will warm to Care Bears Water Baby and more than 30 dolls to choose from. The dolls' clothes are made of polyester that's surface washable.


Blue Box's Shoe Fairie
Fashionable Fairies with Sole
Blue Box's Shoe Fairies ($7.99) are winged denizens of the woodlands made for girls ages 5 and up. The Fairies live in small, haute couture-inspired shoes. Each playset/shoe comes decorated with tiny flowers, hanging baskets and charming miniature statues. And moms don't need to know about the hidden drawer at the toe of the shoe where daughters can hide their accessory keepsakes.

Hit Clips Micro Music Systems
Tunes on the Hip
The Tiger Electronics brand of Hasbro continues to keep its Hit Clips Micro Music Systems fresh with an expanded Micro Music Assortment ($4.99) for ages 5 and up. Each clip attaches on the hip and plays 60-second abridged hits from today's most popular artists, including the Goo Goo Dolls, Avril Lavigne and Vanessa Carlton. With cool Mini Jam Electronic Stickers, boys and girls can make personal style statements on books and backpacks as well.
MGA Entertainment MicroBlast Racers
Action without Limits
There's more to MGA Entertainment MicroBlast Racers ($12.99, ages 6 to 14) than meets the pavement, tabletop or carpet. These radio-controlled gravel rousers were given Consumer Reports' highest rating for radio-controlled mini cars in 2003, and Dr. Toy rated them "Best Vacation Toys" this year. Now with boats and submarines, MicroBlast Racers are making wakes.
Livin' Small with the Coolest Girls on Campus
Cloe, Jade, Sasha and Yasmin, those girls with a deep and abiding "passion for fashion," have been transformed into Lil' Bratzpack Backpacks ($6.99) by MGA Entertainment. They're miniaturized but their style is still off the charts with two complete outfits plus accessories in every backpack. And with their low price, they're one clique all girls ages 4 to 12 can join.
Micro Machines
Deja Vroom!
Hasbro has brought Micro Machines ($0.99 single vehicles, $3.99 five-packs) back after a 15-year hiatus. The new generation of kids ages 4 to 14 has its pick of 100 palm-sized vehicles and Stunt, Deluxe and Basic Playsets depicting contemporary action scenes in all sorts of challenging terrains. Build a micro scale world and the Micro Machines will hum!
---
---