Cool Company
Tuning into Imagination and Turning Off the Television
By Letitia A. Monaco
July 2003




Concerns about the time children spend watching TV and playing on the computer have motivated Little Tikes to offer alternatives. "Our whole philosophy is that we create products and toys to stimulate children's creativity and imagination," says Laurie Yingling, manager of marketing communications.

"Parents should monitor the amount of time their kids are engaged in passive play, where they simply watch while a TV program, video or toy entertains them," recommends Dr. Alan Greene, author of the popular book The Parent's Soup A-Z Guide to Your Toddler. "It's important to have balance, so make sure your child has access to toys and activities that will open the door to the land of make believe—toys like an interactive workshop or play kitchen."

Little Tikes designs toys to encourage independent playtime. "We want to be sure to provide the tools parents need to keep a healthy balance in kids' lives, because children are developing habits for a lifetime," says Yingling. "The message we feel is important to put out there is, 'Hey mom and dad, you need to monitor how much time your children spend in what we call 'square-screen time.' Computers are great, and television and movies are something we all enjoy, but a good balance between screen time and stimulating, imaginative play is vital for children."

Little Tikes was established in 1970 in Hudson, Ohio. A merger with Rubbermaid-Newell in the 1980s gave the company new resources to develop toys that help build a child's cognitive skills and confidence to allow for positive experiences later on in school and in interaction with peers.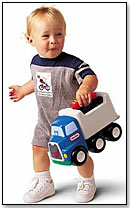 Sonny Semi

New toys include the Handle Haulers trucks, crafted for boys and girls ages 1 to 5. With soft wheels and a no-scuff design, the Haulers are appealing to safety-conscious parents. Babies learning to stand can lean on them to keep steady, and the specialized handle on top of each truck is easy to grip and take along. Personified with their own facial expressions and characters, Annie the Ice Cream Truck, Frankie the Fire Chief, Donnie Dump Truck and Sonny Semi ($9.99) all have six wheels that roll easily when pushed, even over carpet.





Donnie Dump Truck

Among the 18 new trucks the company is rolling out this year are Rugged Rigzz ($9.99- $14.99) and Spark Racerz ($4.99), for preschool ages and up. The Rugged Rigzz are also soft-wheeled and the company claims they are the most true-to-life trucks on the market for role playing. The semi, dump truck, cement mixer, tow truck and fire truck all include pivoting cabs for lifelike steering adventure. Spark Racerz are compact cars aimed at stimulating collectors as well as kids.






4-Way Spray Sprinkler

The new 4-Way Spray Sprinkler gives a group of kids an interactive cooling off activity, allowing them to control the streams of water. Brightly colored and easy to assemble and store, there are no small parts to break or get lost, making it a promising toy for survival beyond the summer.

"In all of our products, we follow our own guidelines for safety and quality that supercede those mandated by the Federal Government," Yingling said. "With our line of outdoor playsets, we wanted to fulfill a hole in the market where heavy duty, durable plastic provides a material that won't splinter or rust, and is low maintenance for parents. Everything is tested in terms of climbing and handling to ensure safety with the weight of children."

A few heavy-duty examples of Little Tikes' commitment to durability include the Playcenter Playground ($688.88), Variety Climber and Swing Extension ($329.97), Imagine Sounds Interactive Playhouse ($199.97), and the Climb and Slide Playhouse ($49.97).

Even though Little Tikes has grown up to be a big manufacturer owned by an even larger company, their concerns still lie with kids. "Everyday, we are working hard to get the message out to the consumer of the importance of imaginative playtime and of how vital it is to keep that balance. And hopefully, that is driving people into the stores."

Writer's Bio: Letitia Adrienne Monaco is a freelance writer and producer based in Jupiter, Florida. Writing for national print and television productions, her repertoire spans a range of subjects, from travel, pets and healthcare to educational programming and children's stories. Her independent series, Travel with Heritage, aired nationally on the History Channel.
---
---

Advertisement: