---
Wal-Mart Enters Holidays With Three-Tiered Toy Strategy
Market Leader Tackles Competition With Top Vendors and Affordable Private Labels
"Wal-Mart has now entered with two totally new and extremely competitive private-label ranges designed to represent the lowest of the three price levels."

November 12 – About a month ago I wrote in this space that Wal-Mart had embarked upon a dual-level product strategy as far as its toy department was concerned — heavily advertised brands from the top manufacturers on one side and Wal-Mart-supported new entrants from second-tier manufacturers on the other. In fact, I was wrong: Wal-Mart has a three-level toy strategy.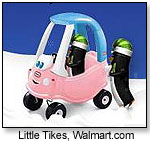 First, some background: Wal-Mart conducted wide-ranging consumer behavior studies last year in order to determine why certain demographics — particularly the young of both sexes and the better-off matrons — would not be caught dead in a Wal-Mart. They found out, many millions of dollars later, that their Supercenter layout had all the attractiveness of a flea market on a bad day and that they had to change the store atmosphere from ground up — layout, color schemes inside and out, product selection, the works.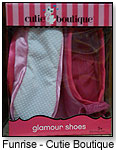 At the same time, management rethought the longer-term potential of the product categories their stores were carrying and decided to divide these into three parts and allocate space accordingly: winners, keepers and losers. Craft products and toys fell into the last category under the assumption that both would stagnate or decline over the next few years as a function of changing consumer demographics and preferences. Video games, consumer electronics and produce were among the winners.

On April 20, 2009, the first Supercenters began to be converted to the new scheme, and the roll-out has been ongoing since.

As a result, the toy space in the converted Supercenters was cut in half. This is how toy space allocation changed over the last 27 months. The toy department of Target is also shown, for comparison's sake: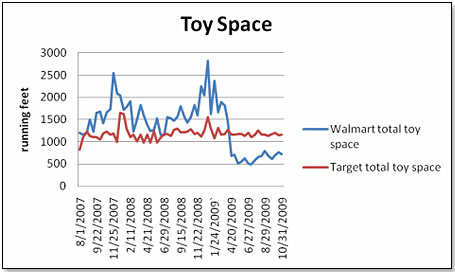 Wal-Mart also embarked upon what I thought was a dual-product, dual-price strategy to make best use of the sharply reduced space available for toys.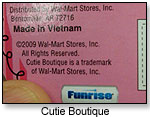 One product/price level would be devoted to heavily advertised and promoted brands provided by the leading companies: Hasbro's Transformers and Monopoly, Spin Master's Bakugan, Mattel's Barbie and Hot Wheels, etc. The other level would be supplied by second-tier vendors who would develop and market brands competitive to the market leaders but considerably lower in price. These would be supported by Wal-Mart in terms of shelf space and location.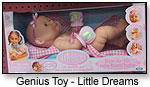 The first two companies selected were Battat, with Baby Genius, and Meccano, with the Erector brand. The first was chosen to offer a highly acceptable but much more economical alternative to Playskool and Fisher-Price, whereas the latter had the same role in the construction aisle against Lego, Trio of Fisher Price, and Mega Brands.

In my article a month ago, I concluded, "It is my understanding that Wal-Mart is talking to other manufacturers to make similar arrangements." Two more companies have since made an appearance.

The first is the Cutie Boutique range of products produced by Funrise and distributed and marketed by Wal-Mart.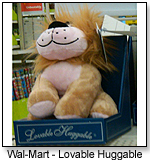 The products are accessories for little girls — headbands, slippers, bows, etc. They have an endcap and a significant presence in-shelf in the toy department. Funrise is a subsidiary of the Hong Kong-based Matrix Holdings, which also owns Shelcore Toys. The group has worldwide sales in the $170 million region.

The second is Little Dreams, a doll range produced by Genius Toy Company, Taiwan [GIGO.com] and marketed and distributed by Wal-Mart.

Here we look at about 48 feet in the front aisle of the toy department, which is quite extraordinary given the fact that it is a new entrant and a pretty much unknown company.

It is my understanding that there will be other participants in this program. I suspect that vehicles and fashion dolls are the next candidates.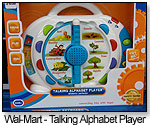 As I said above, I had thought that this dual strategy was the total shape of things. I was wrong. Wal-Mart has now entered with two totally new and extremely competitive private-label ranges designed to represent the lowest of the three price levels — both produced by Wal-Mart in China. One of them is restricted to plush and comes under the Lovable Huggable name. There are about four different SKUs and each is priced retail at $5.00.

The range has about 8 feet in the toy department.

The second range is much more extensive and goes under the name Connecting Kids with Toys. There are 25 SKUs, as follows, and they fill 40 feet:


| | | | | |
| --- | --- | --- | --- | --- |
| Name of SKU | Price $ | | Name of SKU | Price $ |
| Metal Drum Set | 20.00 | | 90 pc Food Set | 10.00 |
| Emergency Rescue Vehicle | 5.00 | | Baby Doll Accessory Set | 10.00 |
| Laptop Junior | 10.00 | | Baby Doll with Carrier | 20.00 |
| Electronic Guitar | 10.00 | | Brush and Play Pony | 5.00 |
| Electronic Keyboard | 10.00 | | Fashion Dolls with Pets | 10.00 |
| Roll Along Giraffe | 6.00 | | Mini Wheels Play Set | 10.00 |
| Power Tool Set | 5.00 | | Prayer Doll | 10.00 |
| Nursery Rhyme Ride-On | 20.00 | | Princess Tea Set | 5.00 |
| TeachNGo Laptop | 20.00 | | Radio Controlled Racer | 10.00 |
| Talking Alphabet Player | 10.00 | | Soft Baby Doll | 5.00 |
| Tool Set | 10.00 | | Truck Carry Case | 20.00 |
| Talking Activity Book | 10.00 | | Vehicle Play Set | 5.00 |
| Dart Blaster | 10.00 | | | |


In summary, Wal-Mart's strategy appears to be focused on providing three distinctly different price and product levels to the consumer:

Level 1 – Market-leader brands that are relatively high priced, strongly promoted and advertised, and preferably backed by movies or licenses. The main beneficiaries of this are the strongest companies: Hasbro, Lego, Mattel and Spin Master.

Level 2 – Second-tier brands by well-managed smaller vendors to Wal-Mart, with products that are promoted and advertised but considerably lower priced than the Level 1 brands and who have long-term shelf space support from Wal-Mart.

Level 3 – Private-label products produced by Wal-Mart at prices that are literally unbeatably low, but no promotion and no advertising, and very utilitarian packaging.

This strategy is designed to minimize the disadvantages inherent in what is clearly a much-reduced toy merchandising space and to use pricing and product segmentation as the main tools to ensure that the increased store traffic benefits the toy department. It will, in my opinion, work very well in a competitive situation vis-à-vis Target and Toys "R" Us. It will also work for the manufacturers that are included, but it will become very difficult for those that do not fit into either of the three levels. These manufacturers are likely to be left behind, either by being dropped altogether or by having sharply reduced shelf space and SKU count.

Writer's Bio:
Lutz Muller is a Swiss who has lived on five continents. In the United States, he was the CEO for four manufacturing companies, including two in the toy industry. Since 2002, he has provided competitive intelligence on the toy and video game market to manufacturers and financial institutions coast-to-coast. He gets his information from his retailer panel, from big-box buyers and his many friends in the industry. If anything happens, he is usually the first to know. Read more on his website at www.klosterstrading.com.
Read more articles by this author
THIS BANNER IS AN AD:
---
---