---
TDmonthly Goes Inside … Can You Imagine
Undulating Dolphins and Pocket Laser Shows Mesmerize the Specialty Market
If you're looking for boys' toys, tween items, novelties and things that are just plain fun and imaginative, you might want to step into the Can You Imagine showroom to check out their latest inventions for the specialty toy and gift market. Can't afford to take a trip to L.A.? Then scroll down to watch TDmonthly Magazine's videos, shot at Can You Imagine's Los Angeles-area showroom!

Videography and editing by Paolo Marino Blanco.



Get the Flash Player to see this video.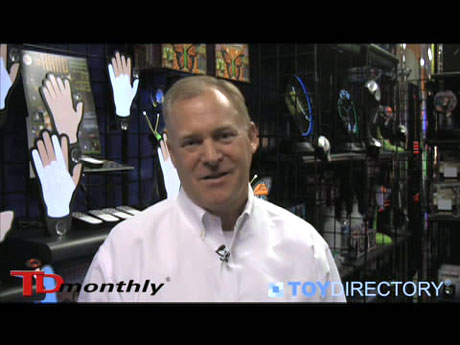 Bob Lundquist, sales manager for the company, gives a rundown of the company's history and mission statement (above).

Following are just a few of the inventive toys and novelties available to the specialty market from Can You Imagine:
Retailers: Did you know you can broadcast TDmonthly Toy Videos from your website? Manufacturers: Find out how a

TDmonthly Video attracts buyers

.







This magical light show can be held in the hand. It includes 36 built-in light show patterns from super bright LEDs. It's so portable kids can take it anywhere: parties, concerts, amusement parks ... anywhere they want to dazzle their friends! Even the batteries are included so they can enjoy their Light Show Stick immediately.

.

AD
---






The Amazing Magnetic FridgiGears Deluxe Light Show Puzzle Gear Edition lets kids make creations light up & glow in the dark. Each gear is a puzzle that a child puts together to create a moving work of art. A rotating magnetic black light is included. The motorized picture frame gear powers all 20 gears with an easy "tap on/tap off" function. Included are over 103 black-light responsive magnetic fridgi puzzle pieces.

.

AD
---






.

AD
---






You have seen it in movies and on TV hundreds of times. Just before the marksman takes the shot, the red laser dot appears on the target. Now kids are able to do the same! Turn on the Laser AirZooka™, place the laser dot on the target and shoot a harmless ball of air. Laugh with amusement as, seemingly from nowhere, you are able to mess up a person's hair, ruffle their shirt, dress or office papers or simply try your luck at indoor target practice from a distance of over 50 feet away!

.

AD
---






With a gentle spin, watch in amazement as the Non-Stop Top™ picks up speed and keeps its balance — defying physics, gravity and logic. Add to this a light show that seems to change with every spin and watch as it fills the room with wonder. It spins on any hard surface and comes with replacement batteries.

.

AD
---






The rules are simple but, unlike regular Tic Tac Toe, you never know who will win until the last chip is played. Each player takes a turn "flicking" his or her chip up the ramp and on to the "Chip Magic" playing area where the chips are held perfectly in place. You can even take over your opponent's square by landing on top of their chip and changing that square to yours. There are even built-in side walls for bank shots. Two different skill levels - Beginner & Professional - means kids and families will never out-grow this game. Even though the playing field is over 2-1/2' long, it all folds up into a handy case for easy portability.

.

AD
---






.

AD
---






.

AD
---






The Amazing String Thing transforms an ordinary piece of string into a magical moving rainbow nearly 3' in the air. Point it up, down, even sideways and watch as the string playfully dances in mid-air. Gently touching the string generates wave patterns and interactive shapes that seem to defy gravity. Kids can operate The Amazing String Thing while inside the custom base (directly on any table top), or they can simply take the lightweight hand-held wand wherever they go and conduct their very own string show. It requires 4 "AA" batteries, not included.

.

AD
---






.

AD
---






.

AD
---
THIS BANNER IS AN AD:
---
---