---
Video Games: Year-End Projections
Title Delays and Weak Sales Rebut Anticipated Growth
"Activision is the only publisher where I do not predict negative sales for the totality of 2009."

February 2009 was the last month in which the video game industry in the United States showed growth. That is why everybody was eagerly anticipating September as the first month in which this negative spell would be broken, given hardware price cuts and releases of great games including Bungie's "Halo 3 ODST," Harmonix Music System's "The Beatles™: Rock Band™," Activision's "Guitar Hero 5" and Activision's "Marvel Ultimate Alliance." Some of the more adventurous souls predicted growth of around 25 percent versus September last year.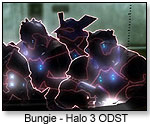 Yes, there was growth — an anemic 6 percent for software alone and a pathetic 0.7 percent for the entire industry. Despite price cuts, the hardware total was down 1.3 percent in units and the only console that showed growth was Sony's PS3. All others between them dropped 14 percent versus September of last year.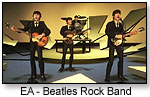 I had earlier predicted that the fourth quarter would show growth again on the basis of more economical hardware prices and a stellar array of new software titles. On the basis of the September result, I must conclude that even massive price cuts will not reverse the negative trend in the console sector. Now about those stellar new titles?

Unfortunately, about half of the very strong titles did not make it on time either in the third quarter or, now, in the fourth quarter, and are pushed into next year. I estimate that the effect of these delays is a 6 percent shortfall in the third quarter and a 10 percent shortfall in the fourth quarter for the software sector.

These are the titles in question: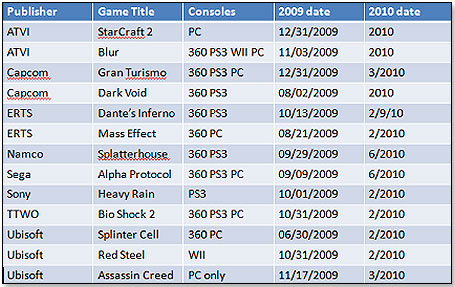 The consumer interest in new video games — judged by blog metrics — is clearly going south, as this graph will demonstrate, probably as a function of the delays mentioned above. In contrast, the used-game segment is holding up very well (more about that further down).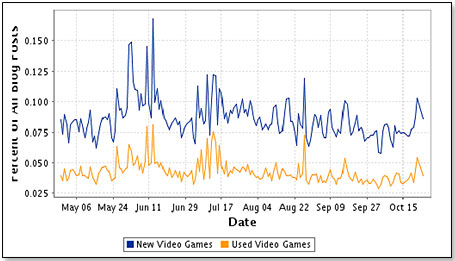 Based on what I hear from national buyers at large video game retailers I would estimate that sales of both consoles and software in the fourth quarter will be significantly below the same period last year: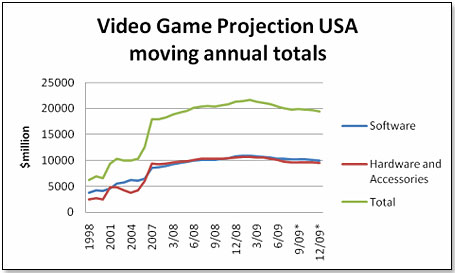 While the overall shape of the video game space is fairly clear, it is interesting to see the effect on the five leading publishers.

1. Activision

Activision is the only publisher where I do not predict negative sales for the totality of 2009. In fact, there is some expectation that "Call of Duty" could be the best-selling title ever. If this materializes and exceeds the predicted 10 million units, I would expect Activision to show significant and real growth in dollar terms for the whole year.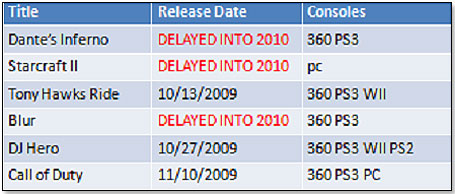 At this point in time, I conservatively forecast that Activision will marginally exceed last year for both the third and the fourth quarter. Also, given that the three delayed three titles are likely to be launched in the first half of next year, I would predict a good to very good start for 2010.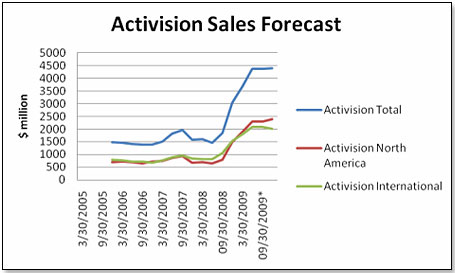 2. Electronic Arts

I cannot be as positive about Electronic Arts, in that their last-quarter offering is anemic. Two out of five strong titles were delayed:




These delays have a very significant effect on Electronic Art's fourth-quarter result and I hence predict a pretty even third quarter and a 10-percent shortfall versus last year in the fourth.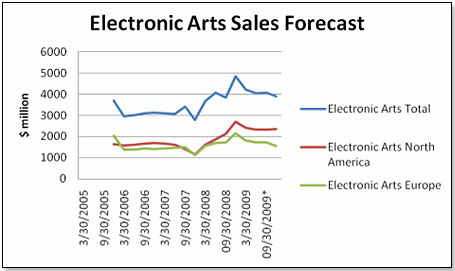 Again, in this instance, I predict a good first half of 2010 assuming that the two games delayed will make it by June next year.

3. THQ

While THQ did not experience any delays in release dates, this really does not matter much since, other than "WWE," they have nothing coming down the pike worth talking about.




And since they did not have anything significant in their portfolio for third quarter, their second half looks pretty grim.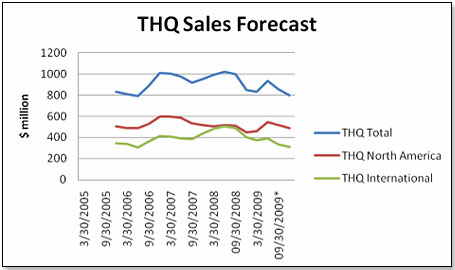 The fate of the WWE franchise continues to be a subject of speculation. The consensus of opinion seems to be that the license, subject to roll-over on 1/1/2010, will not be renewed and that the Jakks Pacific/THQ joint venture will die a natural death. Considering that WWE represented about 20 percent of THQ's sales, this would be a major blow to the company.

4. Take Two

Having done pretty well in the third quarter, Take Two is expected to clock in on par with last year during the fourth quarter. Preorders for the "GTA China Wars" 360 version are running ahead of expectations, and "Borderland" started off very well.



I would hence expect to see an uptick for the second half.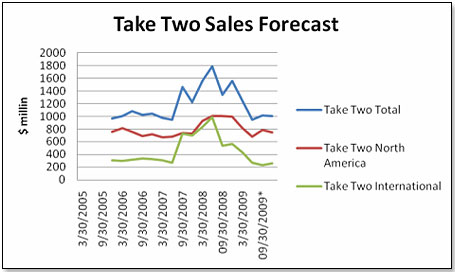 Rumors continue to swirl around this company in the sense that industry watchers increasingly predict a renewed acquisition attempt. Electronic Arts, last year's unsuccessful suitor, is mentioned most often as the likely bidder, but there are other candidates — both Time Warner and Disney among them.

5. Ubisoft

Half of Ubisoft's game potential for the fourth quarter has been pushed into next year: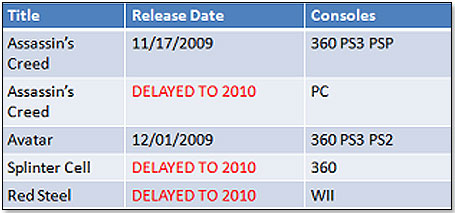 While preorders for the remaining versions of "Assassins' Creed" are running well ahead of expectations, the title will not be able to compensate for the delays shown above and the outlooks for both the third and fourth quarter are quite disappointing: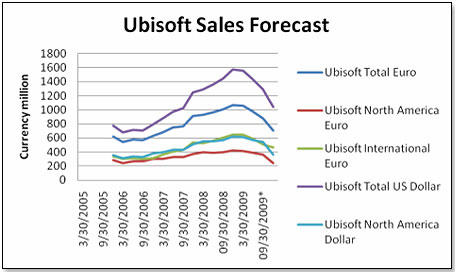 6. Gamestop

Gamestop, the category's largest retailer, continues to defy the negative trend that besets the entire video game space both in the United States and internationally. However, were it not for the acquisition of Micromania in France late last year, and the continued sharp rise in used game sales, the company would, too, show negative numbers in the third and fourth quarter.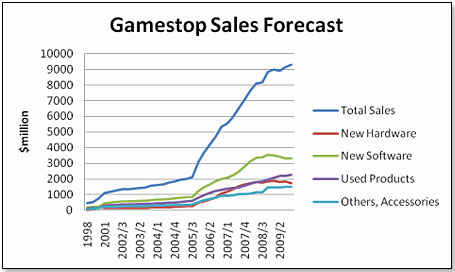 In fact, the only part of GameStop's business that is rising organically, without acquisition increases, is its used-game business. Whether that will continue now remains to be seen. Both Toys "R" Us and Wal-Mart are continuing to roll out their entry into the used-game sector and will undoubtedly gain market share.

Both are heavyweights in the video game space and both know what they are doing. I would hence predict a much more difficult 2010 for GameStop, particularly since I do not see another substantial acquisition on the horizon for them.

*estimate

Writer's Bio:
Lutz Muller is a Swiss who has lived on five continents. In the United States, he was the CEO for four manufacturing companies, including two in the toy industry. Since 2002, he has provided competitive intelligence on the toy and video game market to manufacturers and financial institutions coast-to-coast. He gets his information from his retailer panel, from big-box buyers and his many friends in the industry. If anything happens, he is usually the first to know. Read more on his website at www.klosterstrading.com.
Read more articles by this author
THIS BANNER IS AN AD:
---
---