---
Zhu Zhu, Bakugan and Fashion Dolls Heat Up Holiday Toy Lists
Battle Sets, Fashionistas and Hamsters Scurry to the Cash Wrap
Even if you don't know what a "Dragonoid" is, all you have to know is that kids collect Bakugan, they love dragons, and they love toys that combine into larger toys.

There's no shortage of gloomy economic forecasts, nor is there a shortage of fun, creativity and, yes, affordability coming from today's toymakers.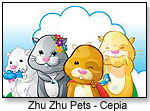 Kids don't read economic reports. They only care about the most stylish dolls, exciting games and coolest action figures. While you can find tons of articles about the current financial situation, there are also more hopeful articles circulating the net: lists of the hot toys for this holiday season.

Drawn from business publications, industry watch sites, and toy stores themselves, below is a summary of which products are likely to be the top toys this holiday season — at least in the mass market.

BUYERS REMAIN PRICE-CONSCIOUS

Parents will always buy for their kids. But it helps if the product is affordable.

Zhu Zhu Pets from Cepia seem to be popping up everywhere, found on the hot holiday lists of Time to Play, Forbes and Toys "R" Us. The simple hamster toy that squeaks and chatters has found its way into the hearts of kids and the hearts of retailers. (See "Hello, Zhu Zhu Pets, Goodbye Webkinz.")

Mattel's Barbie is perennial, of course. And this year, shelves will be stocked with newer fashionistas, too, the quality of which blurs the line between play dolls and collectibles.

LIV dolls from Spin Master, for instance, have a world online. Girls can virtually get involved in the lives of the teenage girls Sophie and her friends. Toys "R" Us, Forbes and Kmart are all expecting big things from the LIV line.

Moxie Girlz from MGA Entertainment is a modified-Bratz doll line for girls who want to do more than dream, and have the courage to follow their dreams. There is a set of four friends and, like LIV, an online world for further supplementary play.

CREATIVITY IS KING

Toys fueled by a child's creativity will captivate them project after project.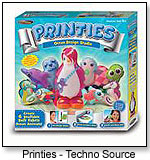 Printies by Techno Source allow kids to create their own toys on a computer and print out the designs on fabric fed into their printer.

Spin Master's Paperoni, focused on by Kmart and Toys "R" Us, lets kids create their own animals and images in an all-in-one kit that includes decorations.

Merging music and art is Crayola Beginnings Washable Color Me a Song. Music plays, mimicking the child's speed as she colors.

Another do-it-yourself toy is ChixOs, a Spin Master toy in which kids create designs and use them to decorate dolls and their pad at the Design-A-Luxury Loft.

STACK 'EM HIGH

LEGO is a solid seller, and so is Star Wars, so inevitably the two combined are a no-brainer sale. Hence, LEGO is expecting strong sales from Darth Vader's TIE Fighter, a revision of a best seller from 10 years ago.

An unusual take on a building toy is Monopoly City from Hasbro. Added to the similar game play of traditional Monopoly is 3-D construction, building a city from the ground up.

Large toys are not usually considered price conscious, but they can be if you get more than one toy in the package.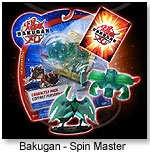 Bakugan from SpinMaster has been blazing a trail since last year, and that trail has led to the 7-in-1 Maxus Dragonoid. Even if you don't know what a "Dragonoid" is, all you have to know is that kids collect Bakugan, they love dragons, and they love toys that combine into larger toys.

While we're on that subject, the summer blockbuster "Transformers 2: Revenge of the Fallen" might be out of theaters, but the largest of the toys featured there is still on several best-seller lists. Devastator by Hasbro is a combination of construction vehicles that each turn into robots.

Battle Strikers from Mega are one such animal. This game has kids battle with spinning tops. Launchers, magnetic controllers, and the strikers themselves are all part of starter and extension packs.

Also in the realm of battling, there's Hasbro's Nerf N-Strike Raider Rapid Fire CS 35 Blaster, the latest in a long line of soft-ammo play guns. The 35 in the name notes how many darts it holds, the highest yet for the brand.

ROLLING ALONG WITH INTERACTION

Want more construction vehicles? OK. Anthropomorphic trucks may seem an unusual theme, but they have strong presence in several best-of holiday lists this year.

Rocky The Robot Truck has sensors to interact with kids and is billed by Matchbox as "the hardest working truck on the block with the most engaging personality."

Chuck My Talking Truck from Tonka's (Playskool) Chuck & Friends line has over 40 phrases and sounds. He may be the only truck that comes when you call him.

With the $80 Laugh & Learn Learning Farm from Fisher-Price, babies can interact with virtually everything, triggering songs, lights and phrases. There are sorting, counting and fine motor skills play for crawling to walking kids.

See these and other hot holiday products below:







This hamster on a mission loves to explore and can scoot along the ground and boogie through its different habitats. The Zhu Zhu Pets Hamster line also includes Chunk, Pipsqueak and Num Num, all of which squeak and chatter when in loving mode. This product was named one of Dr. Toy's 100 Best Children's Products 2009. Launch date: Fall 2009.

.

AD
---






Printies™ Design Studio kits and refill packs are created as affordable at-home activity kits that allow children to take their online design creations offline like never before. Using their home PCs, inkjet printers and special patent-pending Printies™ fabric sheets, children can bring their online designs to life as soft, 3-D, collectible stuffed toys. It's simple: they design online at MyPrinties.com, print on both sides of Printies fabric sheets with any inkjet printer, tear along the perforated shape and pop out the Printies design, stuff it, and put it on display. Launch date: Fall 2009.

.

AD
---






Hairstylist-in-training Sophie is dressed in trendy clothing — a bright plaid skirt, cropped denim jacket, and pink, graphic tee and pink shimmery scarf — and comes with a blue handbag, a brush and a wig with pink highlights. Girls can change her hair and create scenarios as she hangs out with her friends, the other girls in the LIV line: Katie, Alexis and Daniela. She comes with an access code to the LIV World website. Launch date: 2009.

.

AD
---






This deluxe set includes a colorful Paperoni cutter that allows kids to create their own lengths for designs, 600, 0.5" Paperoni pieces, 32, 9.5" Paperoni pieces, one 2-D template, one 3-D template, one 2-D self-adhesive template, one tweezer, eight gems and assorted embellishments.

.

AD
---






.

AD
---






More than just a card or just a toy, the Maxus Dragonoid is a monstrous combination of six Bakugan Traps and a Dragonoid Bakugan. The package also includes a Gate Card and an Ability Card. The year 2009 saw growth in the line with new mechanics and game play modules, as well as a second season of the cartoon show. Launch date: October 2009.

.

AD
---






Girls can relive the magic of the Disney animated feature "The Princess and the Frog." Just as in the story, Tiana wears a beautiful ball gown. When girls bring the frog, Prince Naveen, to Tiana for a kiss, Tiana will turn her head away and say one of the phrases from the movie. The fourth time, Tiana finally agrees and her dress comes alive with firefly lights and magical sounds. Launch date: October 2009.

.

AD
---






"Wii Sports Resort is a new collection of fun sports games anyone can pick up and play," Nintendo proudly proclaims. The sequel to Wii Sports will come bundled with the MotionPlus adapter, which enhances the receptivity of the Wii Remotes. This promises to add great depth and accuracy to movement in games involving sword play, cruising on a water scooter, and throwing a Frisbee-like disk to a dog. Launch date: Spring 2009.

.

AD
---






Girls can decorate their dolls and the loft they live in. They drop colored PixOs onto the toys and spray them, making their styles permanent. The set boasts plenty of variation fueled by a child's creativity. Launch date: Fall 2009.

.

AD
---






This product is designed to teach children about music as well as art. As a child colors, music is played that matches the strokes of the crayon in speed. There's salsa, swing, country or rock tunes, plus toddlers can add layers of trumpet, guitar, piano and drums over the music.

.

AD
---






From the day the baby crawls through the archway to when she's walking up to it, there are plenty of activities. Shapes and objects can be counted, sorted, flipped and spun. Many activities trigger sing-along songs, lights, sounds and phrases. It requires 3 AA batteries and is suitable for ages 6 months and up.

.

AD
---






This gun has the highest dart capacity of any toy Nerf has produced. The drum magazine holds 35 darts and has a clear window so the user knows when it's getting low. Single or multi-shot modes allow variations on how it fires. It also includes an adjustable shoulder stock.

.

AD
---






With a brand motto of "Be True! Be You!" the Moxie Girlz doll line pushes individuality, self-expression and courage to follow dreams. The Jammaz line shows the four key girls expressing themselves through music. There's a website the characters live in that provides more play opportunities. Launch date: Aug. 15, 2009.

.

AD
---






Battle Strikers combines hand skill and strategy to a game of defeating other players' tops. The eight-piece starter pack includes a Turbo Launcher, a magnetic Controller, and a Striker (top). Batteries are included. There are 16 different Strikers in the set. Extension packs with additional pieces are $4.99.

.

AD
---






This talkative dump truck says over 40 phrases and sounds. Sound recognition cues him to roll his tires when he's called, so that he starts moving when children want him. A storybook and batteries are included.

.

AD
---






Rocky, "the hardest working truck on the block with the most engaging personality," not only hauls like a dump truck toy; he also tells jokes and dances. Headlights light up and sensors allow him to interact with kids. Batteries are included.

.

AD
---






Every time a player passes Go, he builds and watches a city come to life. Players choose what to build and compete as they collect rent like traditional Monopoly. It features 80 3-D buildings and includes a game board, six movers, 22 District cards, 25 Chance cards, six Reminder cards, one Rent Dodge card, two dice, one money pack, one trading unit and instructions. It requires 2 AAA batteries (not included) and is for two to six players.

.

AD
---






.

AD
---
THIS BANNER IS AN AD:
---
---