Thanksgiving Weekend Spending Up from Last Year. November 29, 2009 — A report from the National Retail Federation shows that shoppers spent about $41.2 billion over Black Friday weekend, up from an estimated total of $41 billion for the same period in 2008, CNNMoney reported. There were significantly more consumers hitting stores and their computers, for online shopping — an increase to 195 million people from 172 million last year. However, those who did shop spent, on average, about $29 less than they year before. More than 96 million Americans are expected to shop on Cyber Monday, from home or from work, following Black Friday online sales that reached $595 million — an 11 percent climb over 2008.

"New Moon" Rules Thanksgiving Weekend Box Office. November 29, 2009 — Kristen Stewart, Robert Pattinson and Taylor Lautner once again drew hoards of fans to theaters during the second weekend of "The Twilight Saga: New Moon," which brought in $42.5 million over the weekend following Thanksgiving Day. In just 10 days since its debut, the movie's domestic box office sales already exceed $230 million. Also according to the Hollywood Reporter, Disney's much-anticipated "The Princess and the Frog" saw limited release at single theaters in Los Angeles and New York, pulling in $712,000.

Cepia's Zhu Zhu Pets Chatter With Holiday Cheer. November 25, 2009 — Furry little hamsters called Zhu Zhu Pets are running off with shoppers' Christmas cash — easily tagged by TIME and other sources as the hottest toy this holiday season. The faux critters are seeing tremendous markups from their $10-and-under price point at some stores and online due to high demand, but the initial affordability is one factor that has made them especially popular for gift givers in this economy. Toy industry analyst Lutz Muller believes the slowdown of Ganz's Webkinz and other Web-connected toys opened an opportunity for something like Zhu Zhu Pets to come in and take over. See "Hello, Zhu Zhu Pets, Goodbye Webkinz."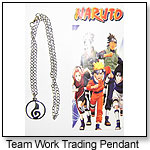 Team Work Trading Recalls Naruto and Bleach Pendants for Lead. November 25, 2009 — The U.S. Consumer Product Safety Commission, in cooperation with Team Work Trading, has announced a voluntary recall of about 1,500 children's metal pendants that contain high levels of lead. The pendants were sold in several designs, featuring animations from Bleach, Naruto, Death Note and One Piece, at Team Work Trading's store in Los Angeles and other retail outlets across the country from November 2008 through March 2009 for $3 to $4.
Reeves International Tapped to Distribute Tolo. November 23, 2009 — Reeves International has been selected as the domestic distributor for Tolo-brand creative and developmental toys designed for babies through preschoolers. Anthony Fleischmann, president of Reeves International, said in a press release that he has "long admired Tolo's dedication to quality and learning as well as their emphasis on rigorous testing and quality control."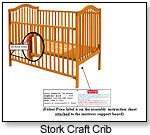 Stork Craft Recalls More Than 2.1 Million Cribs. November 23, 2009 — After reports of four infant deaths, the U.S. Consumer Product Safety Commission, in cooperation with Stork Craft Manufacturing, has announced a voluntary recall of about 1,213,000 drop-side cribs distributed in the United States and 968,000 units distributed in Canada. The drop-side cribs, some bearing the Fisher-Price logo, have faulty hardware and may also be installed upside down, posing risk of entrapment and suffocation. There have been 110 reports of detachment of the drop sides, resulting in four deaths due to suffocation, 15 total entrapments, and 20 falls from cribs that caused injury. The cribs were made in Canada, China and Indonesia, and retailed online and at stores including Kmart, Wal-Mart, USA Baby, B.J.'s Wholesale Club, Sears and others. They were sold from January 1993 through October 2009 for $100 to $400.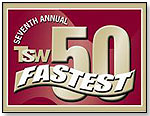 ABC Kids Expo Named Fastest-Growing Trade Show. November 23, 2009 — All Baby & Child's annual ABC Kids Expo took away top honors at Tradeshow Week's Fastest 50 awards event over the weekend, being named the fastest-growing trade show in North America. The juvenile products show has made history, having received the top honor now twice, and appearing on the list of 50 for the fifth time.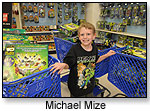 7-Year-Old Wins "Ben 10" Sweepstakes. November 23, 2009 — Seven-year-old Michael Mize of Angier, N.C., was the proud first prize winner of the Ben 10 Alien Creation Sweepstakes, awarded with a $500 shopping spree at Toys "R" Us. A nearby Boys & Girls Club also received a $500 donation of Ben 10 Alien Force toys from Bandai as part of the prize package. The grand prize winner of the contest will get to be a kid reporter at Toy Fair 2010.
"New Moon" Takes 3rd in Best Opening Weekends. November 23, 2009 — "The Twilight Saga: New Moon" pulled in $140.7 million at the domestic box office over the weekend, putting it just behind "The Dark Knight" and "Spider-Man 3" for best film opener ever. The movie took in $72.7 million on Friday alone, marking the best single-day sales, according to the Hollywood Reporter. In foreign markets, "New Moon" proved faithful with a No. 1 ranking, taking in $118.1 million on more than 6,600 screens.
Melissa & Doug Cookies Recalled in Canada. November 20, 2009 — Health Canada announced a recall of more than 26,000 units of the following Melissa & Doug products for containing surface paint with excessive levels of barium: Slice & Bake Cookie Set; Shape Sorting Cube, and Pound a Peg. The toys were sold from November 2008 to November 2009.
TIA Announces Toy of the Year Finalists. November 20, 2009 — The Toy Industry Association announced Friday the finalists for the 2010 TOTY (Toy of the Year) Awards, a program that will mark its 10th year. A winner from each of the 12 categories, along with an overall Toy of the Year, will be named during a ceremony on Feb. 13, leading into the four days of the annual American International Toy Fair. Finalists for Specialty Toy of the Year are Twilight Turtle by Cloud B, HEXBUG by Innovation First, Shopping Cart by Melissa & Doug, Captain Owen's Dolphin Explorer Boat by Sprig Toys, Pentago by Mindtwister USA, The Dangerous Book for Boys - Classic Chemistry by Thames & Kosmos, and the Eco-Aquarium by Wild Creations.
"New Moon" Casts Shadow on "Harry Potter" Midnight Sales Record. November 20, 2009 — Thursday's midnight showing of "The Twilight Saga: New Moon" at theaters around the country beat the record for midnight box-offices sales set by "Harry Potter and the Half-Blood Prince" over the summer. The film brought in $26.27 million, according to an estimate from Summit, the Los Angeles Times reported, while the first Twilight movie, re-released, pulled in $1.3 million.
Singles Find Love Over Board Games. November 20, 2009 — Scrabble and Monopoly make for great family game nights, but what about a shot at love? Single men and women all over the United States are trading in a night at the club for a night out at a PlayDate gathering, where they can meet people over board games in a fun, low-pressure environment. The Telegraph reported that at least 20 cities across the nation are hosting PlayDate events, taking individuals right back to the good ol' days of childhood.
Batman and Curious George on WATCH's "10 Worst Toys" List. November 19, 2009 — World Against Toys Causing Harm has released its list of the 10 worst toys for 2009: Disney-Pixar Wall-E Foam Rocket Launcher from Disney/Hoop Retail Stores, for potential eye injury; Moon Board Pogo Board from Big Time Toys, for potential head and impact injury; Curious Baby Curious George Counting - My First Book of Numbers from Houghton Mifflin Harcourt, for possible choking injury caused by beads that could dislodge; The Dark Knight Batman Figure from Mattel, with pointed, 1" ears that could cause injury if a child fell on them; X-Men Origins Slashin' Action Wolverine from Hasbro, for possible injury from 1.5" claw protrusions; Lots to Love Babies Mini Nursery from JC Toys Group, for potential choking hazard due to small parts; Just Kidz Junior Musical Instruments from Kmart Corporation, for potential choking on the drumstick; CAT Rugged Mini from Toy State International Ltd., for possible puncture wounds if the wheels separate and expose a 3"+ metal spoke; Pucci Pups Maltese from Battat, for possible strangulation from the leash or aspiration hazard from the dog's hair; and Spy Gear Viper-Blaster from Wild Planet, for possible eye injury from the darts.
Princess Tiana Outselling Other Disney Characters. November 18, 2009 — Princess Tiana toys are making a tremendous impression in the market weeks before Disney's first animated film featuring an African-American princess is released. Merchandise supporting "The Princess and the Frog" is far surpassing sales of other Disney Princess items, according to a press release, and more than 45,000 dolls have been sold in under four weeks.
Radio Flyer Product First to Receive TSCP Certification. November 18, 2009 — The Push, Pull and Ride from Radio Flyer is the first children's product to be confirmed compliant with CPSIA regulations through the Toy Safety Certification Program that launched in October. Infant items from Sassy and games from Cadaco were also in the first batch of products to be safety certified through accredited laboratories for the TSCP, according to an announcement issued by the Toy Industry Association.

CEH Test Reports Toy With 22,000 ppm of Lead. November 18, 2009 — California's attorney general is urging several mass retailers to pull children's products from their shelves after testing by the Center for Environmental Health this month found the items to contain levels of lead that exceed the national standard under the CPSIA. The CEH reported that the Disney Fairies Silvermist's Water Lily Necklace found at Walgreens stores has 22,000 parts per million of lead, significantly over the current limit of 300 ppm. A VP at Disney, however, said the product had previously passed tests for compliance, according to the Los Angeles Times. Other products discovered with illegal lead levels, according to the CEH, include the Reversible Croco Belt at Target, Paula Fuschia Open-Toed Shoes at Sears, a Dora the Explorer Tote at TJ Maxx, and a Kids Poncho and MSY Faded Glory Rebecca Shoes at Wal-Mart.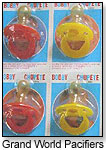 Grand World Recalls Pacifiers for Choking Hazard. November 18, 2009 — The U.S. Consumer Product Safety Commission, in cooperation with importer Grand World Inc., has announced a voluntary recall of about 641,000 "Bobby Chupette" Pacifiers because the mouth guard is too small, failing to meet federal standards, and may pose a choking risk to infants and toddlers. The pacifiers were sold at various stores nationwide from November 2004 through July 2009 for about $1 each.
Judge Denies MGA's Request to Sell Bratz After Holidays. November 17, 2009 — Judge David Carter ruled Monday that, as previously determined in Mattel's court victory over MGA Entertainment with regard to the Bratz doll line, retailers must remove their Bratz inventory come January to make way for Mattel to prepare and launch its own Bratz lineup later in the year. Mattel was awarded $100 million in damages last year after a jury found the designer of the Bratz dolls to have created the line while under Mattel's employ. The Los Angeles Business Journal reported that MGA is awaiting a hearing on its appeal; oral arguments are set for Dec. 9. Read more about the case.
CPSC Briefs Parents on Safety at Town Hall Meeting. November 17, 2009 — Chairman Inez Tenenbaum of the U.S. Consumer Product Safety Commission gave consumers an overview of new safety laws under the CPSIA, including reduced lead and phthalate limits, at a Town Hall Meeting at Times Square's Toys "R" Us on Tuesday. "CPSC has worked hard this year to give parents and grandparents greater confidence that the toys they seek to purchase have enhanced safety protections for children," she said, according to a press release.
Phthalates Make Boys Play More Like Girls. November 16, 2009 — A study out of the University of Rochester School of Medicine has found that prenatal exposure to phthalates may decrease a boy's likelihood to play with traditional boys' toys, such as trucks. Environmental Health News reported that 145 preschool children were observed and evaluated with regard to their mother's phthalate levels during pregnancy. Mothers whose urine levels showed higher levels of phthalates produced sons that did not play with "boy typical" toys as often as the other boys did. Play behavior among girls was consistent. Researchers concluded that the phthalates commonly known as DEHP and DBP may interfere with testosterone, resulting in a brain that is less masculine.
CMOs Place Their Bets on Toys. November 16, 2009 — Toys received the highest vote for the category expected to sell best this holiday season, in a BDO Seidman survey of 100 chief marketing officers at major U.S. retailers. According to a press release, 39 percent of those polled cited toys as the strongest category, ahead of consumer electronics, which is the sector anticipated to receive the most discounts. More than half of the retailers will put significant efforts into email promotions, with more of them offering free shipping this year. Overall, sales during Black Friday and Cyber Monday are projected to increase by 1.8 percent this year.
Tenenbaum to Answer Questions at Town Hall Meeting. November 16, 2009 — U.S. Consumer Product Safety Commission Chair Inez Tenenbaum will discuss toy safety and answer questions from consumers during a Town Hall Meeting at Toys "R" Us Times Square on Tuesday, Nov. 17, at 9:30 a.m. EST. Toys "R" Us CEO Jerry Storch and Alan Korn, executive director and general counsel for Safe Kids USA will also be present, according to a press release.
Jumbo Sees Big Profit in 1Q. November 16, 2009 — Jumbo, a toy retailer with 44 stores in Greece, saw a 12 percent increase in net profit from July through September, benefiting from low prices and a more than 8 percent rise in sales, Reuters reported.
Fat Brain Toys Congratulates Award Winners. November 13, 2009 — Fat Brain Toys recently announced the consumer-selected winners of its annual awards program, highlighting a single winner in each of 29 categories, according to a press release. Award recipients include Cloud B's Twilight Turtle, Bananagrams Game, Pint Size Productions' Food Chain Friends, Hape's My Professional Workshop, and many more.
Mega Brands Profits in Third Quarter. November 13, 2009 — Mega Brands' third-quarter earnings reached $72 million, compared to $122.1 million in losses during the same period last year, Reuters reported. Revenue fell 26.7 percent. Mega Brands recently settled a suit with the Rosen family (see below) regarding a previous acquisition and product recalls.
Hornby Profit Down 50% in First Half. November 13, 2009 — British toy train maker Hornby saw gross profits cut by 50 percent during the first half, through CEO Frank Martin anticipates a better holiday season than last year, with annual revenue growth of 10 percent. Reuters reported that in the six months running through September, Hornby made a gross profit of $1.66 million vs. $2 million during the same period last year.
Calico Critters Play on New Website. November 12, 2009 — International Playthings has relaunched the Calico Critters website with an interactive format where kids encounter five Critter environments within Cloverleaf Corners and can take advantage of recipes, coloring pages and other activities, according to a press release. Kids and parents can also sign up for an online club that offers new toys previews and special offers.
Steiff Settles Sexual Harassment Suit. November 11, 2009 — An attorney for Steiff reported Wednesday that the company has settled an $80 million lawsuit involving allegations of rape and sexual harassment against CEO Martin Frechen, as accused by former marketing executive Jane Collins. Details of the settlement, which was worked out "to the satisfaction [of] all the participants," were not released, according to the Associated Press.
UPDATE regarding the brief below: In an email to TDmonthly on March 16, 2010, a representative of Dein Guter Ruf stated, "The topicality and the correctness of this entry is no longer up to date. ... Please mind that the accusation was taken back and there was no trial." — Steiff Fires Employee Who Accused Toy CEO of Rape. November 10, 2009 — Thirty-two-year-old Jane Collins, a U.S. marketing executive with high-end teddy bear maker Steiff, was fired this fall from the German company after alleging sexual harassment and rape against the manufacturer and Martin Frechen, CEO of the toy unit, in a lawsuit filed in June. The Wall Street Journal reported that Steiff gave Collins two reasons for dismissal: "illegally accessing" a supervisor's email and not attending scheduled counseling sessions with designated paid time off. Her attorney says the email check was routine and the missed appointments were due to scheduling conflict. Evidence under review in the lawsuit includes two diaries kept by Collins as a record of the rape and emails traded between Collins and Frechen.
Babies Pick Up Language Differences in the Womb, Study Shows. November 10, 2009 — Anthropologist Dr. Stephen Juan reported on the Today show in Australia that a recent study of the cries and other sounds from both French and German infants revealed differences in tone; for example, crying tones for French babies went up, while the tones for German babies went down. Babies start to learn at some point during the third trimester, he said, language characteristics and other hints about the environment they'll soon join, and essentially, their cries once they're born are largely a reflection of their mother's voice and language.
November Mega Brands Settles Suit With Rose Art Family. November 9, 2009 — Mega Brands announced Monday settlement of a lawsuit that dates back to 2006, with Mega Brands to receive more than $17 million in cash from Lawrence, Jeffrey and Sidney Rosen, previous owners of Rose Art Industries. After Mega Brands acquired Rose Art in 2005, it was soon faced with fallout from injuries and even the death of a child when magnets dislodged from Magnetix construction toys. Marc Bertrand, president and CEO of Mega Brands, said in a statement, according to the Globe and Mail, "The settlement validates our long-standing view that serious defects in Magnetix were not disclosed to Mega Brands before it acquired Rose Art."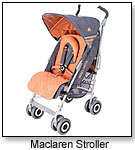 Fingertip Amputations Prompt Recall of 1 Million Maclaren Strollers. November 9, 2009 — The U.S. Consumer Product Safety Commission, in cooperation with Maclaren USA, has announced a voluntary recall of about 1 million Maclaren strollers after the CPSC received 12 reports of children whose fingertips were amputated when they placed a finger in the stoller's hinge mechanism. Single and double umbrella strollers are included in the recall, which covers the following designs: Volo, Triumph, Quest Sport, Quest Mod, Techno XT, TechnoXLR, Twin Triumph, Twin Techno and Easy Traveller. Since 1999, the strollers have been sold at Target, Babies "R" Us and other mass retailers for $100 to $360. Owners should stop using the strollers and contact Maclaren for a free repair kit.
Retailers Settle Lead Toys Lawsuit. November 6, 2009 — Pending court approval, Toys "R" Us, Target and Kmart will collectively pay $454,000 in civil penalties and other fines to settle a November 2007 lawsuit for selling toys containing excessive levels of lead, thereby violating federal safety requirements and California's Proposition 65. The suit was levied against the three mass retailers, as well as Mattel and other toymakers, by the California attorney general's office and the Los Angeles city attorney's office, the Los Angeles Times reported.
Health Games Research Funds $1.85 Million Study on Digital Games and Health. November 6, 2009 — Wii Active could help overweight students shed some pounds, and Dance Dance Revolution may decrease Parkinson's patients chance for falling. These and other games, including those on mobile devices, will be the subjects of a $1.85 million study conducted by nine teams across the country, to discover beneficial relationships between digital gaming and physical, developmental and emotional health. The University of Southern California, Children's Hospital of Philadelphia, Georgetown University and other institutions will be involved in the research, supported by a grant from the Robert Wood Johnson Foundation's Health Games Research program, according to Medical News.
Game Boy, Ball and Big Wheel Roll Into National Toy Hall of Fame. November 5, 2009 — The National Toy Hall of Fame at Strong National Museum of Play has chosen three of 12 finalists to enter its prestigious ranks: the ball, the Big Wheel ride-on toy, and Nintendo's Game Boy. Icon-status, longevity, discovery and innovation are factors evaluated in determining which toys will be added to the now 44-product Toy Hall of Fame, according to a press release.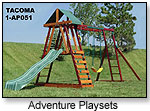 Adventure Playsets Recalls 280,000 Swing Sets for Fall Hazard. November 5, 2009 — The U.S. Consumer Product Safety Commission, in cooperation with distributor Adventure Playsets, has announced a voluntary recall of about 275,000 Adventure Playsets Wooden Play Sets in the United States and 6,800 in Canada because the plastic-coated wood on the monkey bars can weaken from rotting and pose a fall hazard. Adventure Playsets has received 1,400 reports of rotting plus 16 fractures, scrapes and other injuries that required nine individuals to go to the emergency room. The swing sets were sold online and at Toys "R" Us, Wal-Mart and sporting goods stores from January 2004 through December 2007 for $300 to $600. Customers can contact the distributor for a replacement kit. The recall involves Madison, Dakota, Eldorado, Yukon, Sherwood, Bellevue, Tacoma and Durango styles of the playset.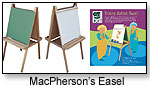 MacPherson's Recalls Kids' Art Easels. November 5, 2009 — The U.S. Consumer Product Safety Commission, in cooperation with MacPherson's, has announced a voluntary recall of about 10,000 Young Artist Easels due to high levels of lead on the chalkboard surface coating. The product retailed online and at art stores across the country from July 2004 through June 2009 for about $75.

North Star Games Gives 2,000 Games to Libraries. November 5, 2009 — To show support for the American Library Association's National Gaming Day Nov. 14, North Star Games has donated 1,000 copies each of its Wits & Wagers and Say Anything games to libraries across the nation. According to a press release, the ALA is anticipating more than 28,000 people to participate in the board games event this year.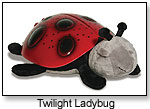 Cloud B Relaunches Sleep Sheep and Twilight Ladybug. November 5, 2009 — Just in time for the holidays, Cloud B's best-selling Sleep Sheep will re-debut with a brighter shade of hooves, adjusted to complement to company's new Sleep Sheep Aroma Pillow, and Twilight Ladybug will flutter onto the scene again with lighter head and body fabric for facial emphasis. The products will be available at retail at the end of this month, according to a press release.
Herobuilders Agrees to Not Remanufacture PEZ Products. November 5, 2009 — PEZ's lawsuit against Herobuilders.com, based on the latter's creation of custom PEZ dispensers using the original PEZ base, has been settled out of court, according to a press release. Herobuilders has agreed that Vicale Corporation, which created and attached the custom head to PEZ bases, will not remanufacturer Custom PEZ dispensers, and instead Herobuilders will launch its own candy dispensers Jan. 31, 2010.
Meijer Slashes Toy Prices Up to 30%. November 4, 2009 — Grand Rapids, Michigan-based retailer Meijer has reduced prices on 400+ toys at its 190 supercenters to offer more affordable shopping for the holiday season. Toys affected by the price cuts include Spin Master's Bakugan, Hasbro's Hot Wheels and Transformers, Mattel's Polly Pocket, Lego and many more, according to a press release.
Mickey Mouse Hits the Makeover Chair. November 4, 2009 — As classic and iconic as he may be, Walt Disney's Mickey Mouse is hitting the studio for a mega-makeover to make him more appealing to today's children and tweens. The New York Times reported that Mickey's redesigned character in the "Epic Mickey" video game, to be released next year, will even have the guts to be cunning and selfish — a move that some recognize as a flashback to the tough, trickster Mickey Mouse that debuted in the 1920s. Reimaging of the brand is one response to Mickey's loss of traction in the domestic market; less than one-fifth of his $5 billion merchandise sales this year will come from the U.S.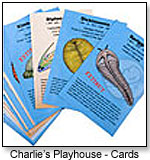 Charlie's Playhouse Asks Kids About Evolution. November 4, 2009 — Charlie's Playhouse, maker of toys and games designed to educate children about evolution, has launched a three-week "Ask the Kids Project" urging parents to ask their kids, "What is evolution?" and submit their written or videotaped responses. The project will accept entries through Nov. 16, in commemoration of the 150th anniversary of the publication of "The Origin of Species" by Charles Darwin. Charlie's Playhouse will release a video compilation of the children's answers on Nov. 24.
China Approves Shanghai Disneyland. November 3, 2009 — Walt Disney CEO Robert Iger announced Tuesday that his corporation has been given the go-ahead by the Chinese government to build an estimated $3.5 billion, 100-acre Disneyland theme park in Shanghai. The New York Times reported that the decision came after 20 years of talks between the two parties. The park and resort are expected to debut in five to six years. Ocean Park theme park, which has been around for 30+ years and has performed very well in Hong Kong even after the addition of a Disneyland there four years ago, is also considering a franchised park in Shanghai, according to the Times.
LEGO Fights for Trademark of Brick Shape. November 3, 2009 — Following a legal battle with Mega Brands last year in which LEGO lost the EU trademark to its 2x4 brick shape, the construction toy maker is in court once again, arguing against a ruling that functional shapes should not have trademark protection. The Press Association reported that LEGO maintains its brick is distinctive because of the size and design of the studs atop each piece.
TIF's Stuff-a-Thon Goes Virtual. November 3, 2009 — The Toy Industry Foundation is raising donations for the My Stuff Bags Foundation, which serves needy children nationwide with duffel bags including blankets, apparel, toys and toiletries, by hosting a Do Good Stuff-a-Thon online through the month of November. The virtual drive allows anyone to visit the donation website and select the items with which they'd like to support the program.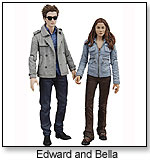 Toys "R" Us Enters the "Twilight" Zone. November 3, 2009 — Not only is Toys "R" Us giving an upscale vibe to its stores with FAO Schwarz boutiques; it's also bringing in special sections of "Twilight Saga" merchandise including t-shirts, posters and some exclusives. On Thursday, Nov. 19, Toys "R" Us in Times Square will show off authentic props from the set of "New Moon" and will give visitors an opportunity to compete in a trivia quiz and take their picture against a backdrop of the film's characters, according to a press release.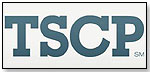 SGS Earns TSCP Accreditation. November 3, 2009 — SGS Consumer Testing Services has become an approved certification body under the Toy Industry Association's Toy Safety Certification Program, meaning that as a third-party testing lab it can certify that toy manufacturers meet existing federal requirements for product safety while helping those companies save money by streamlining tests required. SGS has 22 labs worldwide that have been accredited by the CPSC as third-party CPSIA testing bodies, according to a press release.
Disney Dozen Deals Highlight Gifts for $25 and Under. November 3, 2009 — Disney Consumer Products has issued its "Most Wanted Holiday Toy List" for 2009, featuring 12 items under $25, including Disney Fairies Secret Jewel Box, Minnie Mouse Cupcake Set, Disney Princess Tiana Classic Doll, Disney Pixar's Cars Toons assortment, Disney-Pixar's Toy Story Basic Action Figures, and other character toys and playsets. Some items are exclusive to the Disney store; most are available at retailers around the country, according to a press release. See "Zhu Zhu, Bakugan and Fashion Dolls Heat Up Holiday Toy Lists."
Handmade Toy Alliance Seeks Action on CPSIA. November 2, 2009 — The Handmade Toy Alliance met Friday with two CPSC commissioners and other staff, Sen. Merkley and an aide to Sen. Dodd via video conference, expressing the organization's requests for the CPSC to take action on behalf of small businesses that are now defunct or are threatened of closing due to the CPSIA. An Oct. 25 petition from the HTA to the five CPSC commissioners outlined nine requested action steps: a technical amendment to the CPSIA for purposes of analyzing risk in relation to third-party and lead-testing mandates; a one-year stay of testing and certification requirements, effective Feb. 10, 2010; retesting for every 10,000 units instead of every 15 months; a guarantee from CPSC to not prosecute small businesses for not completing ASTM testing unless item quantity is over 10,000 or unit quantity is over 4,000 per year; no prosecution for failure to safety test custom items; a simplified publication of ASTM, testing and other requirements for children's product makers; appointment of an ombudsperson to work with HTA and communicate with small businesses and the CPSC; simplified pricing quotes from third-party testing companies; and renewed lead poisoning education for consumers.
Wal-Mart Rolls Back Prices on 100 More Toys. November 2, 2009 — Wal-Mart reported Monday that its stores is cutting prices on an additional 100 toys this week, logging extra discounts of 20 to 30 percent off through Christmas, according to a press release. Toys with now reduced price tags include Spin Master's Bakugan Starter Pack, Hasbro's FurReal Friends Lulu My Cuddlin' Kitty, and Jakks Pacific's Sweet Oven Makeover.
Summer Infant Sued for Baby Monitor's Video Broadcast. October 31, 2009 — An Illinois man has filed suit against Summer Infant Inc. and Toys "R" Us after a neighbor informed him he could see the family's baby's room on his own "Summer Day and Night Video" monitor next door, when set to a certain channel. The lawsuit aims to stop Toys "R" Us and the manufacturer from selling the monitors without fair warnings, as they may subject families to "prying eyes and perhaps ill intentions of neighbors and strangers," the Chicago Tribune reported.
New York Game Factory Declares Bankruptcy. October 30, 2009 — New York Game Factory, maker of So Sue Me! and Controversy Games, has filed for Chaper 7 bankruptcy protection, with assets vs. liabilities at $5,000 vs. $229,300. According to an article in Crain's New York Business, although board game sales were up 8 percent in a year-over-year comparison in August, titles with more specialized audiences may not attract repeat play, and therefore fewer sales.
Consumer Spending Sees Biggest Decline in Months. October 30, 2009 — The Commerce Department reported Friday that consumer spending fell half a percent in September, marking the largest decline since December after a promising August, which saw 1.4-percent growth bolstered by the Cash for Clunkers program. The national economy experienced a 3.5 percent growth rate during the third quarter, Reuters reported. While expenditures did not increase last month, savings did, bringing the annual savings rate to 3.3 percent.
UK Toy Group Announces Top 12 Holiday Toys. October 30, 2009 — The UK's Toy Retailers Association announced Wednesday its bets for the best-selling Christmas toys this year. The "Dream Dozen" lineup features the following items: Bakugan Battle Pack by Spin Master, Battle Strikers Starter Set by Mega Brands, Ben 10 Alien Force Kevins DX Action Cruiser by Bandai, Bendaroos Mega Pack by Spin Master, GO GO Pets Hamsters by Character Options, GX Racers Tightrope Terror by Flair, Kidizoom Multimedia Digital Camera by V-Tech, LEGO Games Minotaurus by LEGO, Monopoly City by Hasbro, Princess Peppa's Palace by Character Options, Sylvanian Families Caravan by Flair, and Transformers Movies 2 Voyagers Figures by Hasbro.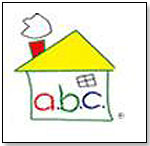 ABC Kids Expo Welcomed More Buyers in '09. October 30, 2009 — All Baby & Child announced today that the ABC Kids Expo, held at the Las Vegas Convention Center in September, saw a 2.2-percent increase in buyer attendance this year, up to 5,984 from 5,855 in 2008. "We are thrilled that there was such a tremendous turnout for the show, especially in light of the economic conditions that affect all of us," Ken Goore, chairman of the ABC Kids Expo, said in a press statement. Overall attendance was down slightly, at 13,593 from 13,721.
Swine Flu Increases Educational Toy Sales in Korea. October 30, 2009 — Educational toys saw sales growth of 49 percent in year-over-year comparisons for Korea's online marketplace Auction, perhaps demonstrating that more families are choosing to homeschool their children instead of subject them to the spread of H1N1 virus at public schools. According to JoongAng Daily, science teaching aids and electronic books experienced even bigger increases, of 159 percent and 200 percent respectively. Home shopping channels on TV are also seeing tremendous growth.