With such gloomy economic forecasts, specialty storeowners must work even harder to differentiate their gift supply from the "hot" mass-market toys this holiday season. Value-conscious consumers want to know that the gifts they buy will be appreciated and played with.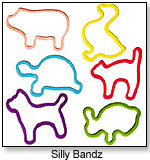 Fortunately, the hallmark of specialty stores is the combination of personalized service and specialized products that allow a parent or grandparent to find the perfect gift for a child. Below are some of the most popular specialty toys of the holiday season, with comparisons to some of this year's hottest mainstream toys. Some of the items can be found on recommended toys lists from the American Specialty Toy Retailing Association and Learning Express, and others have been culled from TDmonthly Magazine's recent interviews with specialty retailers.

From classic to cute to cutting-edge, these toys foster creativity, learning and, most important, play.
Product / Manufacturer / Price
Compare to
Retailers Say
Iwako Erasers*, *** / BC INDUSTRIES / $1.00
"The erasers are so popular that three local schools banned them." — Kate Tanner, Kidstop, Scottsdale, Ariz.
Rubber Band Animals/Shapes / EASTERN ACCENT INT'L, TOYSMITH & SILLY BANDZ / $2.50 (varies)

"We got 270 packages on Thursday and were sold out by Saturday morning." — Katie Rook, Be Beep A Toy Shop, Columbia, S.C.
Felt Fashions Messenger Bag* /CREATIVITY FOR KIDS / $21.99
Techno Source's Printies, as a craft project

"Arts and crafts is probably the best department, thanks to Creativity for Kids." — Betsy Ordemann, The Magic Box, New Orleans
Magna-Tiles* / VALTECH CO. / $49.50
LEGO
"I've never seen anything wrong with Magna-Tiles." — Kate Tanner, Kidstop, Scottsdale, Ariz.
iPlay Build-a-Road / INTERNATIONAL PLAYTHINGS LLC / $29.99
Fisher-Price GeoTrax
"Once they get it open the kids will play for hours." – Holley Anver, Ages & Stages Toy Box, Denver
Grocery Cart / MELISSA & DOUG / $49.99
Little Tikes Shopping Cart; Step2 Little Helper's Grocery Cart
"We have one out in the store and the kids love them." – Peg Scholtes, Capitol Kids, Madison, Wis.
Eco-Trucks / SPRIG TOYS / $14.99
Hot Wheels; Tonka, as play vehicles
"Sprig toys. …I keep ordering every couple of weeks. — Elizabeth Ryan, Tales & Toys, Venice, Calif
Calico Critters / INTERNATIONAL PLAYTHINGS / $22.99
Hasbro's Littlest Pet Shop; Zhu Zhu Pets (as small play creatures)
"It's such a nice alternative for boys and girls to doll figurines since some kids would rather play with animals." — Holley Anver, Ages & Stages Toy Box, Denver
My First RC Dinos / KID GALAXY / $22.99
Zhu Zhu Pets, as motorized creatures; Mattel Xtractaurs, for dino theme
"We sell dozens and dozens of Kid Galaxy's R/Cs." — Joe Berardoni Sr., Pun's Toy Shop, Bryn Mawr, Pa.
Twilight Ladybug* / CLOUD B / $34.00
Playskool Gloworm
"The Twilight Ladybug is fabulous." – Becky Goblish, Picayune Toys, Dunwoody, Ga.
Animal Figurines / SAFARI LTD. / $13.00
"What we noticed is a trend in the last few months [toward] simpler, more realistic animals like kids have been watching on Animal Planet." — Steve Swickard, Estes Ark, Estes Park, Colo.
Bananagrams*,*** / BANANAGRAMS / $14.99
Hasbro's Scrabble and Boggle, for word play
"There's nothing close to it. For a game in its third year, it's amazing." – Sam Pollard, Mud Puddle Toys, Marblehead, Mass.
Recycling Truck / GREEN TOYS INC. / $25.00
Tonka trucks
"Doing extremely well with trucks, particularly the Recycling Truck from Green Toys." — Rick Henry, Stellabella Toys, Cambridge, Mass.
Magformers* / RAINBOW PRODUCTS / $39.99
Mega Brands MagNext, LEGO
Kids and parents eat up demos of Magformers, and "fourth quarter sales quadrupled."
— Kate Tanner, Kidstop, Scottsdale, Ariz.
Calin*** / COROLLE DOLLS / $28.95
Hasbro's Baby Alive, American Girl baby dolls
"Every year we can never keep it in stock." — Diana Nelson, Kazoo & Co., Denver
Sticky Mosaics*** / THE ORB FACTORY / $17.00
Spin Master's ChixOs, as crafts
"They consistently do arts and crafts projects that appeal to girls and boys ages 4-8. The company does a good job of staying fresh." — Mark Rosenblum, Hobbytown, Fairfield, Ct.
Rush Hour*** / THINKFUN / $15.99
"Even though Rush Hour has been out for years you always have a new crop of 8 year olds. — Teri Soelter, Teri's Toy Box, Edmonds, Wash.
Classic Water Garden Starter Kit Eco-Aquarium*** / WILD CREATIONS / $30.00
Zhu Zhu Pets, as low-maintenance pets (though Zhu Zhu Pets aren't living!)
"We order them twice a week and order 18 at a time." — Greg Larson, Larson's Toys and Games, Columbus, Ohio
Jishaku / RSV PRODUCTIONS INC. / $19.95
Chess; checkers
Jishaku is a best seller at 20 copies per month. — Bill Sartain, Tutoring Toy, Salt Lake City, Utah
Automoblox Minis*, **** MANHATTAN TOY / $10.00
Mattel's Hot Wheels, LEGO
"The popularity of Automoblox has made it difficult to keep them in stock." — Diana Nelson, Kazoo & Co., Denver
Ultra Stomp Rocket*** / D & L COMPANY / $15.00
NERF Raider Rapid Fire CS-35 Dart Blaster
"Stomp Rockets are very popular." — Jacque Flagg, Jacque's Inc., Bryan, Texas
Snap Caps / m3 girl designs LLC / $7.99
Techno Source Clickables Charms, for collectible jewelry
Sold 860+ Snap Caps from August through October. — Mary Horne, J. Christopher Toys, Jonesboro, Ark.
Jigsaw Puzzle / MELISSA & DOUG / $9.99
"That would be our best seller." —Clyde & Rose Walton, The Toy Shoppe of London, London, Ontario
Wow Toys Dexter the Digger / RAVENSBURGER / $54.99
Matchbox's Rocky The Robot Truck, Tonka's Chuck My Talking Truck, and Hasbro's Transformers
"It's real durable and just awesome." — Gladys Griffin, Main Street Toy Shop, Columbus, Ga.
Kettrike Happy Plus Surfer / KETTLER INTERNATIONAL INC. / $210.00
VTech Ride and Learn Giraffe Bike
"We sell a lot of the Kettler tricycles." — Amanda Scadina, Cheeky Monkey Toys, Menlo Park, Calif.
Yamslam*** / BLUE ORANGE GAMES
Hasbro's Yahtzee
A best seller as of summer 2009. — John MacDougall, Golden Apple Learning Store, Pleasanton, Calif.