Tools:








Retailer Spotlight: Pufferbellies Toys & Books for Children
Downtown Shop Brings Out the Elves and Keeps Charity Alive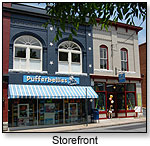 At Pufferbellies Toys & Books for Children in Staunton, Va., Owners Susan Blanton and her daughter Erin are gearing up for the Christmas season by introducing something new: a personal shopper program called "Your Own Elf."

Customers are invited to call for an appointment with one of the store elves, who will then pre-select a group of toys and books that meet the customer's specifications. During the appointment, the customer will have the personal attention of the "elf," who will help them make final purchasing decisions and then gift wrap the selections.

CONSTANT RENOVATION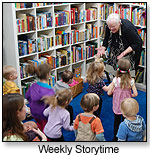 Susan would advise other storeowners to "always be open to trying something new," she told TDmonthly Magazine.

That's one thing she's learned since opening Pufferbellies in July 2006, when downtown Staunton was in the process of being renovated and revived.

"We knew that there was no independent toy store in our town, or, for that matter, in our area, so it seemed that it would be a good business venture," Susan explained. "We were interested in the challenge, and we also love toys and children's books."

Although the duo had a "good and fairly realistic" business plan through lots of research and help through SCORE, they were not prepared for fast growth.

"We had to work hard to keep inventory at the right levels," Susan explained. "And we continue to find out how much we have to learn."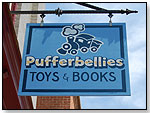 TARGET CAN'T COMPETE

When Target opened in the next town, the women were nervous, but soon realized that the big-box store didn't have much effect on their business.

"We offer a much different shopping experience," Susan told TDmonthly. "We have become friends with many of our customers, and we offer the kind of personal service that a big box can't offer."

At Pufferbellies, a beautiful storefront, classic toys like pick-up sticks, children's books and good customer service blend what was best about the "good old days" with modern conveniences, including online shopping, innovative playthings, and outreach to customers through the use of social media. (See the best-selling toys at Pufferbellies.)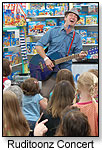 SOCIAL MEDIA NIXES ADS, GIVES TO CHARITY

Social networking has, in fact, replaced much of the store's paid advertising, and what was once spent on traditional print, radio and television ads is now donated to charitable causes.

"We've learned how effective Facebook, Twitter and targeted e-mail marketing are for getting our message to old and new customers," Susan said. "It doesn't take much time at all, but it takes a lot of thought, because misuse (i.e. using them like you would traditional advertising) does not work. No one wants to be spammed on Facebook or Twitter! We are careful with the messages we send."

The ladies' most satisfying success has been the store's Shop Sundays for a Cause charitable giving program, whereby a percentage of Pufferbellies' sales are donated to a local non-profit serving families and children.

"Since we began the program two years ago, our Sunday sales have increased dramatically, and we have contributed almost $8,000 to local non-profits," Susan told TDmonthly. "The program has generated an enormous good will in the community, and we continue to receive television and newspaper publicity."
Catalog Request Form

Writer's Bio:
Brenda Ruggiero is a freelance writer from western Maryland.
Read more articles by this author
THIS BANNER IS AN AD:
---
---