---
TDmonthly's Book Expert
One Educated Bookworm's Opinion
This month, TDmonthly Magazine's Book Expert steps into a pop-up dino land, gives the imagination a whirl, and witnesses two chameleons in a hilarious fight over lunch.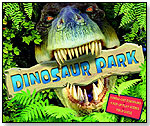 Title: Dinosaur Park
Author/Illustrator: Steve Weston
Publisher: Macmillan
Gender: Boys and Girls
Age: 6 to 10
MSRP: $17.99

TDmonthly rating:




What It Is: It's not just a book! This is a toy suited for imaginative play, a learning experience, and a book all in one. The realistic-looking illustrations offer four elaborate pop-up play scenes, a Dinosaur Park Field Guide with facts on various dinosaurs, and a paper crate (complete with "Warning!! Dinosaurs — Open if You Dare" label) filled with nine cardstock press-out dinosaurs. The field guide allows kids to figure out which dinosaur left the footprints on the pop-up scenes, which depict a valley, forest, volcano and lake.

Why You Should Carry It: This is a terrific offering for dinosaur lovers that will offer hours of playtime as well as interesting information about dinosaurs. Even kids who are already budding dinosaur experts (and who may know the fairly rudimentary information presented in the field guide) will enjoy playing with the cardstock dinosaurs in the pop-up scenes. The easy reading level makes it well suited for students in first through third grade to read independently, while the play pieces lend themselves to either solo or small group interactions.

What Kids Think: Arlo, age 6, thought the book was "cool" and would be fun to take out to play with if he had a friend over. He especially liked the incredibly colorful and realistic-looking illustrations.

---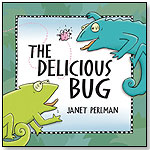 Title: The Delicious Bug
Author/Illustrator: Janet Perlman
Publisher: Kids Can Press
Gender: Boys and Girls
Age: 3 to 7
MSRP: $16.95

TDmonthly rating:




What It Is: Based on "Dinner for Two," an award-winning Canadian animated film by the same artist, this funny story tells the tale of two chameleon friends, Willy and Wally, who catch a fat, delicious bug at exactly the same time with their long tongues! They proceed to fight over the bug, calling each other names like "krinkle tail!" and "skunk cabbage," pulling tails, punching, kicking, and throwing things. Soon, they have destroyed the serenity of the rainforest. Not until two hungry crocodiles almost eat them both for lunch do Willy and Wally learn to cooperate. In the comic ending, the bug escapes and is caught by a frog, who splits his meal with the two chameleons.

Why You Should Carry It: This book is perfect for preschoolers just learning to share; they will identify with Willy and Wally's reluctance to give up their prize. The comic book-like style with sidebar illustrations and colorful cartoon illustrations is especially eye-catching and will tickle the funny bones of kids and parents alike. The rainforest theme will also appeal to parents with environmental interests, since the author/illustrator includes in the action a variety of other creatures that live in this ecosystem.

What Kids Think: A preschool class of 4- and 5-year-olds thought this book was really funny, especially the unique chameleon insults and the comic details, like how the chameleons shake tails instead of hands when they make up. It's an excellent read-aloud for teachers and parents alike.

---

Title: My Think-A-Ma-Jink
Author/Illustrator: Dave Whamond
Publisher: Owlkids
Gender: Boys and Girls
Age: 4 to 8
MSRP: $17.95

TDmonthly rating:




What It Is: This book by Canadian cartoonist Dave Whamond is a charming tribute to the power of imagination. The book starts out, "My name is Jack. I am bored." But not for long, since Jack's uncle sends him a Think-a-ma-Jink for his birthday, which he learns is an imagination machine. Although it looks like junk, Jack soon discovers it allows him to become a mutant monster overpowering the city, to travel to outer space to meet aliens, or to go to Lollipop-palooza, where everything is gooey. Chaos ensues when his sister gets her hands on the device, and it finally breaks into a million pieces. Fortunately, the power of imagination saves the day!

Why You Should Carry It: This is a terrific and fast-paced read-aloud for preschool or early elementary story times. It also has a great message for kids — you don't need more toys when you're bored, just the power of being able to imagine and play! The colorful cartoon-style illustrations, where the kids have huge heads and small bodies, will appeal to the generation of kids who have grown up on Nickelodeon and other contemporary animation.

What Kids Think: This book was ideal for holding the attention of a group of preschoolers. Devin, age 5, commented on the "really funny pictures"; they especially liked when Jack and his sister visited the land of lollipops.

Writer's Bio:
A member of the American Library Association, Margo Tanenbaum was formerly employed by an independent children's bookstore and has published book reviews on Amazon Vine and Goodreads. She is pursuing a master's degree in library science and writes about historical fiction and non-fiction for children and teens on her blog,
The Fourth Musketeer
.
Read more articles by this author
THIS BANNER IS AN AD:
---
---