---
HABA's New Dolls, Games, and Costumes Make Great Gifts
European design and excellent quality make HABA a holiday stand out
The following is a paid advertorial

As the holidays approach, many retailers are on the hunt for high-quality specialty products that will help bring in big sales for the fourth quarter. Luckily, HABA is stepping up to the plate with their new offerings for the 2012 holiday season.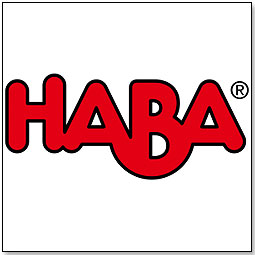 The German-based company HABA USA/HABERMAAS CORP has long been known for its wooden infant and toddler toys, decorated with nontoxic, lead-free paints. Their European designed toys are sturdy and attractive, making them great gift items.

The company is branching out in 2012 with new dolls, games, and costumes that boast the same heirloom-quality as their famous wooden toys.

Dolls for Girls – and Boys, too!

HABA's adorable new dolls feature an international cast of characters that appeal to all children - girls and boys alike.

Yui is a 12" washable doll dressed in a Kimono, belt, and sandals, accessorized with a colorful hair band and fan.

Meanwhile, Graham is the perfect friend for boys who are interested in creative play. He comes dressed in a removable baseball cap, bandana, jeans, suspenders, a belt, shirt, and shoes.

Reviewers Impressed by New Toddler Games

HABA is also introducing My Very First Games - Animal Upon Animal for toddlers two years and up. Kids must stack the chunky wooden game pieces (made in Germany) without knocking them over, and can play cooperatively or competitively.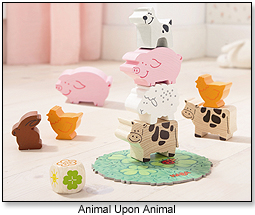 The game has an impressive 4.8 out of 5 star rating on Amazon.com. "I'm a pediatric occupational therapist and absolutely love this game. Anyone can play, it's not too difficult, and it's lovely to look at," said reviewer cybercita. "Yes, it really does belong to my 3.5 year old. And she loves playing it. But I think I love it more! Sometimes, after she's gone to bed, my husband and I play!...Animal Upon Animal offers a rare combination of good, wholesome, silly fun, kinesthetic awareness and sensitivity training," chimed in reviewer R. Grater.

Creative Costumes for Kids

Just in time for Halloween, HABA now offers high quality costumes. The Captain Charlie Costume is comprised of several elements that are sold separately and can be combined together for the full pirate effect, making the set perfect for year-round dress up or trick-or-treating fun. The rich red hue and durable fabric of the costume create a look that any young buccaneer would be proud of.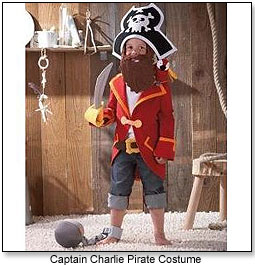 Attention to Detail sets Company Apart

The company's distinctive European flair helps HABA stand out from competitors.

"I think the European style has always provided an attractive alternative to the Asian- and/or American-designed products. We have introduced new, vibrant, bold colors into our wood and fabric assortments, and the primary colors still sell well," Lea Culliton, president of HABA USA, told TDmonthly.

HABA's thoughtfulness extends far beyond the design of their products. Eco-conscious consumers will feel good knowing that the company has gone to great lengths to minimize their environmental impact. At the new Habermaas facility in Germany, "Geo-Thermal energy is built into the building so all of our heating and cooling is done naturally deep underground," said Culliton.

"In addition, all rainwater is collected and filtered and used for the secondary water usage (restrooms, etc)," she continued. "One hundred percent of the scrap wood from the timber made into toys and/or furniture is used to heat our buildings, and the leftovers are then distributed to employees and the community to heat their homes."

Whether it's their flair for design, their wide offering of children's products, or their commitment to sustainability, HABA offers something for everyone. Take a peek at some of their latest high-quality products, below!







The HABA doll family keeps growing and growing. We now have 15 dolls in our family in all sizes for all ages. Uncomparable to anything else on the market these dolls are value priced. Washable dolls with Chenille hair, soft bodies and beautiful fashion accessories. Yui is one of new dolls that is wearing a Japanese Kimono and carrying a fan. Launch date: February 2012.

.

AD
---






.

AD
---






.

AD
---






Our classic "Orchard" for the youngest ones. Can the children harvest the fruit into the basket before the raven reaches the Orchard? Cooperative game.

.

AD
---






.

AD
---






This doll is dressed in soft pink fleece and has a sewn-on bonnet. She can also be made to sit. Approximately 8 in. Features are embroidered so as not to present a choking hazard to youngsters. Also available — "Luis," in blue.

.

AD
---






Rhino Hero is out and about again. The super hero from the animal world fearlessly scales the highest houses looking for burglars and rogues. He is as strong as a lion and as smart as a fox but also as heavy as a rhinoceros. So even the most robust multi-story buildings may start to wobble. Kids must try to help Rhino Hero accomplish his wobbly mission and build a skyscraper as tall and solid as possible. A heroic 3D-stacking game for 2-5 super heroes ages 5-99. Available with English packaging.

.

AD
---






Hours of colorful creative fun with these 32 colored pegs and rings. Stack the rings and pegs to make taller structures! Ideal for free play.

.

AD
---






Captain Charlie sets sails and heads off on his big journey. Equipped with the jacket, belt, hat and beard children quickly transform into brave pirates. An enemy ship ahoy! Captain Charlie whips his sword out and prepares the fetters for his prisoners. Together with his parrot he has many exciting adventures on the high seas.

.

AD
---






Small knights can easily put this armor on thanks to the hook and loop fasteners. The armor comes with an extra chest protector showing a fiery dragon and an adjustable belt. Material: cotton/polyester. Dimensions: for children age 3 to 6.

.

AD
---






This red-roofed barn has dual purposes, as a handy farmhouse setting for adventures and later as a carry-all for stored farm toys. The large playset includes Farmer Tim, a tractor, 8 animals including a cat and dog, straw bales, shrubs and fencing. Launch date: 2012.

.

AD
---






This set comprises of 19 wooden house parts and 1 board. Kids can stack the interchangeable pieces any way they like to create their dream home. Encourages creativity and helps kids develop their fine motor skills. The pegging board and colored stacking pieces are made from solid beech wood.

.

AD
---






The little princess is not sure what to wear today. Who wants to help her choose a dress? Here creative children can let their imagination run wild and can design their own picture book over and over again as the stickers can be peeled off. Includes 6 sheets with stickers.

.

AD
---






Contents: 61 colored domino blocks, 6 pieces of untreated wood, 1 ball, 1 building block clamp, 1 arched clamp with little bell. Endless building fun with abundant options for experimenting. Helps kids learn cause and effect.

.

AD
---
Learn more about HABA USA/HABERMAAS CORP: Classic Company Navigates High-Tech Market
THIS BANNER IS AN AD:
---
---