---
Preschoolers: Clics Build Creativity
Bright Construction Toy Hits the Mark
"The design … is very different from any other building set we had." — Rebecca Heinrich, mother

Clics, a three-dimensional building set from ToyLinks Inc., really "clicked" with some of

TD

monthly Magazine's Preschool/Early School Roundtable participants, while other children experienced some difficulty.



TD

monthly rating: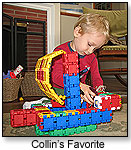 What It Is: Clics are flat building pieces that click together to form three-dimensional, flexible creations. The durable pieces are made of safe polypropylene (plastic) and come in a variety of bright colors. Additional kits (including train, plane and wheels and axles) are available. The company website offers a factory tour, as well as photos of Clics creations, such as a knight dress-up set and an elaborate farm.

What the Parents Thought
"Bright, fun packaging caused my kids to become excited about opening the toy and playing with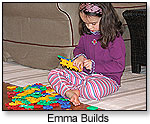 it," said Jones, who also liked the colors, flexibility and mobility of the individual pieces, as well as the ability to build designs of your own choosing.

All roundtable moms liked that the packaging doubled as a storage container. Richardson, who noted that the pieces float in the bathtub, appreciated that the bucket design allows for easy portability. Lilova liked that children can see what's inside the container.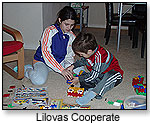 "I was surprised by how sturdy the objects are once they are put together," Heinrich said. "The things we have built have held up to Collin (3) playing with them." The product is "easy to assemble," added Lilova.

Richardson appreciated the easy-to-follow directions, and Kirby agreed: "The design book helped the kids think through the steps to make the house."

What the Kids Thought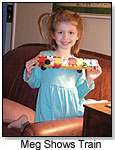 "Mommy, I can't get the pieces together. Can you do it?" Nigel (3) asked his mom, who also found the task difficult. "I am sure it is a set he will grow into," she said. "Right now, he enjoys watching us build things, and then he plays with them."

Cameron (6) quickly went from following the directions to building independently. Sister Meg (4) had some difficulty following the instructions and attaching certain pieces. The Lilova children liked "the way the parts stick together."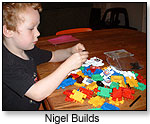 "The bucket design makes it easy for Collin (3) to carry around," Heinrich said. Richardson's children took their Clics everywhere in their house as well as to other houses. They liked the simple instructions and the freedom to build independently.

Since the pirate ship model was built, Collin (3), a pirate fanatic, "hasn't allowed us to disassemble it!" Kirby's children "were immediately attracted to the colors and [the] way the toys connected."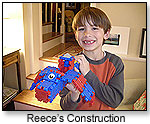 Sara (6), Emma (5) and Alexander (7) called Clics "the best toy yet" they've reviewed. "This was easier for them to work with," Kirby said, comparing Clics to other popular building sets on the market.

What the Kids Learned from This Toy
"The kids were challenged to use their imaginations … and they enjoyed learning how to build with a new toy (after years of Lego)," Jones said. Richardson's children practiced sharing and negotiating skills as they played simultaneously.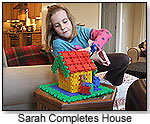 "These kinds of toys help the kids to develop their imagination and stimulate creativity," Lilova summed up.

How to Improve It
"Nigel (3) cannot open (the tub) on his own," reported Chambers. Jones recommended marketing the toy to ages 5 and up, since younger children aren't able to manipulate the pieces on their own, which was also something Chambers encountered with Nigel (3).

Jones also suggested including more pieces so children's creations aren't so limited, and Richardson specifically recommended including wheels with the larger set.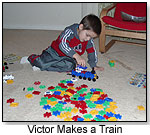 "They really do add to the collection, especially if you're targeting older children who likely have a few building sets already," she added. Heinrich suggested including some figurines in the starter set.

Would You Want Another Toy Like This?
"I would definitely buy more of these sets, and would be sure to purchase what appeared to be the accessories (e.g., the wheels) in order to make it complete," remarked Richardson. "There are many ages that would benefit from the toy," Kirby summed up.

Participants were World Bank policy advisor Gail Richardson with Alexander (7) and Jessica (5); stay-at-home mother Heather Jones with Reece (7), Cameron (6) and Meg (4); sales executive Stephanie Kirby with Sarah (6) and Emma (5); research scientist Kostadinka Lilova with Victor (4) and Radina (11); stay-at-home mother Rebecca Heinrich with Collin (3); and artist Christy Chambers with Nigel (3).

Writer's Bio:
Susan Ledford is the writer, editor and publisher of the "Homeschool Resources Directory for S.C." She has been evaluating toys and games for
TDmonthly
's Roundtable reviews since 2005. She also is a homeschool veteran of seven years.
Read more articles by this author
THIS BANNER IS AN AD:
---
---