---
TDmonthly's Psychologist Mom
She'll Put Your Toys on the Couch
Between shooting off custom rockets and using spelling and vocabulary to score a win,

TD

monthly Magazine's Psychologist Mom rated each of the following products with 1 to 5

TD

stars (for

TD

monthly!); 5 is the top mark.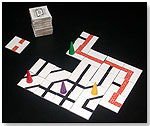 4th Corner by STRATEGIC SPACE INC.
Age: 8 and Up
Gender: Boys and Girls
Category: General Games
MSRP: $14.95



TD

monthly rating:




The Dr.'s Impressions: 4th Corner is a small tile/maze game that can be taken on the go. It includes 80 tiles and eight pawns. With each turn, a player places a tile and moves his or her pawn, trying to get to the exit tile first.

Kids' Perspective: All three kids that played (ages 12, 11 and 9) really enjoyed this game. They figured out the rules and started playing within five minutes. They also figured out that the game was determined by strategy.

Recommendation: We played over and over and each game was more complex. We also took it to a restaurant and played while we waited for our meal. 4th Corner is great for developing logic and strategy and is fun for both adults and children.

---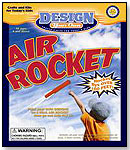 Air Rocket Kit by DESIGN YOUR OWN
Age: 4 and up
Gender: Boys And Girls
Category: Arts & Crafts
MSRP: $14.99



TD

monthly rating:




The Dr.'s Impressions: This kit contains everything you need to make your own personalized air rocket: five foam air rockets, three launch legs, a round launch-leg-assembly connector, an air pad, paint and brushes.

Kids' Perspective: Wow! The kids thought they had died and gone to heaven. They loved designing their air rocket and personalizing it to fit their style. The rockets flew so high that we had to go to a baseball field to shoot them.

Recommendation: This kit rocks. Not only does it allow for creativity, it is also fun to assemble and a blast to shoot the rockets. This would make a great gift or a fun buy for a weekend activity.

---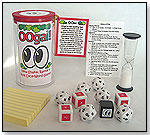 OOgal! by MOUNTAINMEN ENTERPRISES
Age: 6 and Up
Gender: Boys and Girls
Category: General Games
MSRP: $15.00



TD

monthly rating:




The Dr.'s Impressions: Think Yahtzee and Scrabble combined. OOgal! is a word-building game played with dice. Some dice contain all the consonants and other dice all the vowels. The game includes a timer that keeps the game moving fast.

Kids' Perspective: My 9- and 12-year-old boys are hesitant about any game that looks educational. But after they started playing, they really enjoyed Oogal! The rules allow for slang, nicknames, proper names and multiple words — so the options are great and everyone can think of something to put down before the timer runs out.

Recommendation: I enjoyed Oogal!, both with the kids and with my husband. It is clearly designed with children in mind but is also a family game. Spelling and vocabulary skills are cornerstones of the success of this game, and I can see how those skills would be greatly enhanced by regular play.

---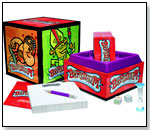 Merriam Webster's Befudiom Word Game by BEFUDIOM
Age: 8 and Up
Gender: Boys and Girls
Category: General Games
MSRP: $24.99



TD

monthly rating:




The Dr.'s Impressions: Befudiom is a team-play game in a box that includes 350 cards featuring 2,100 idioms, a number die, a Befudiom die, a timer, a pad and a pencil. It requires at least four players. The clue-giver presents an idiom by acting, drawing, shouting or spelling clues to get team members to guess the idiom. If they don't guess, the other team has a chance.

Kids' Perspective: My kids, 9 and 12, could not play this game. They did not know any of the idioms, so not only did they have a hard time acting them out, they certainly could not have recognized them.

Recommendation: I think you need to be at least 30-years-old to have been exposed to this collection of idioms. With that said, it is a very fun game for adults; my friends and I had a blast.

---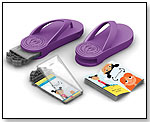 Flip 'n Flops by LYONS TALES
Age: 4 to 8
Gender: Girls
Category: Apparel
MSRP: $29.99



TD

monthly rating:




The Dr.'s Impressions: These cute, pink flip-flops come with little storybooks tucked away in each heel. The stories aim to teach children empathy for other people's perspectives by showing how two girls can look at the same situation in dramatically different ways.

Kids' Perspective: My friend's 6-year-old squealed when she saw the shoes and wore them for the rest of the day. She couldn't get the stories out from their secret compartment in the heel, and I struggled a bit myself. The stories themselves are short and presume that girls who like to read are shy and socially insecure.

Recommendation: The novelty of Flip 'n Flops makes them fun for little girls. Even just on their own, the shoes are fun. The stories are a nice bonus and turn the shoes into a conversation piece for the younger set.

---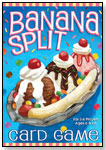 Banana Split Card Game by U.S. GAMES SYSTEMS INC.
Age: 6 and Up
Gender: Boys and Girls
Category: Card Games
MSRP: $15.95



TD

monthly rating:




The Dr.'s Impressions: This card game lets kids take close looks at pictures of something they care about — ice cream and toppings. Playing the game requires no reading ability, although some reading knowledge is helpful when setting it up.

Kids' Perspective: Three kids from ages 4 to 9 played a few games on their own and quickly figured it out. A nice, distinctive feature is the cardboard ice cream stand given to each player, which lets kids keep their cards visible to them, but away from the eyes of other players.

Recommendation: This game is a nice rainy-day diversion and can be a sweet treat for ice-cream-loving kids.

---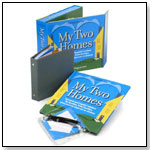 My Two Homes by FAMILYSTORIES
Age: 6 and Up
Gender: Boys and Girls
Category: Books
MSRP: $17.95



TD

monthly rating:




The Dr.'s Impressions: "My Two Homes" is a box-set for families dealing with separation and divorce. It includes a 48-page book, a key chain, a zip pouch and an organizer that includes space for schedules, journaling, phone numbers and photographs.

Kids' Perspective: I went through this with two boys (ages 9 and 11) from a divorced family. They were uncomfortable and did not enjoy any part of the book. However, they very much liked the key chain and organizer.

Recommendation: This book is written primarily for and by adults even though it is written in a style for children. There are examples and ideas for parents to help their children. This is not a children's book — it is a book for adults to help children, but is written at a children's level.

Writer's Bio:
Dr. Tiffany Wright doesn't just look at toys; she analyzes them. In and out of the box, she scrutinizes them for playability, appropriateness and educational value. The latter quality is especially important to this stay-at-home psychologist/mother, who also homeschools her three youngest children. Her daughter attends UCLA. Dr. Wright earned her Ph.D. in personality psychology from University of California, Riverside. She is always on the lookout for toys and games that inspire creativity and impart knowledge while bringing fun and laughter to her home.
Read more articles by this author
THIS BANNER IS AN AD:
---
---