---
Geospace Skyrockets to Success
Company Expands from Stratosphere to Sea
"We tend to be known as a company that has boy products that appeal to kids of all ages, including adults." — Dennis Binkley, Geospace International

After Magnetic Marbles launched into space aboard a U.S. Space Shuttle as part of NASA's 1993 "Toys in Space II" program, the toy received a much-deserved name change: Geospace® Magnetic Marbles... And so did its manufacturer, which became Geospace International. Sales soared into the stratosphere.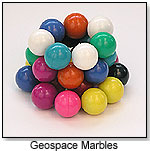 "We decided we'd name our company after a product not just for us mortals on earth, but for the astronauts in space," President Dennis Binkley told

TD

monthly Magazine.

SPINNING EXPANSION

Binkley's philosophy is to build on core products that are unique and proprietary, determine if there's a market, and then expand the product into a category. Rather than just looking for new products, he believes in first brainstorming to extend and develop existing successful lines.

Taking advantage of the low cost of magnets, he produced the handheld WORDSPIN® word game in 1995. According to Binkley, it "took off like a shot," winning 10 awards, and easily lent itself to a product line, spawning READ SPIN, MATH SPIN™ and similar games in regular-, travel- and keychain-sized versions.

KIDS WILL BE KIDS … FOREVER

And what could be more appropriate for a company named Geospace but a line of foam Pump Rockets safe enough to launch both indoors and out?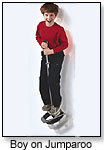 "We tend to be known as a company that has boy products that appeal to kids of all ages, including adults," said Binkley, and these products fit the bill.

Next Geospace added the AIR KICKS® line of anti-gravity boots, AIR KICKS™ and KICKAROOS™ and JUMPAROO™ pogo sticks that used special patented jumping-spring technology.

"The inventor holds the patent, but we branded and distributed the product globally," said Binkley. Later he decided to expand upon similar activities with BOUNCEAROO™ Hopper balls and the unique, ergonomic WALKAROOS™ Stilts.

Geospace International then added more air-powered PUMP ROCKET items, SUPER SONIC sound and light products and remote-control electronic products. All became very successful product categories with muliple items after the successful launch of the original solo product.

Binkley reported that their R/C Robocar™ from last year is an "exceptionally strong product" that lights up and does crazy stunts. He also earlier found a successful niche within the R/C category for: MicroDRIVERZ™ R/C RODZ™, the world's smallest radio-controlled race cars. This line was extended with numerous vehicles, including an R/C RIGZ™ (semi-truck), R/C EASY-COPTER™ and R/C BOATZ™, that actually works great in water.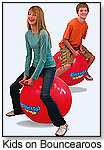 HATCHING NEW IDEAS

Binkley is particularly excited about Geospace's newest product, the Easy Hatch Tropical Fish Hatchery, an aquarium that uses dormant tropical fish eggs that hatch within hours after being immersed in water and then feed on brine shrimp that are also included.

"It's a totally cool product," said Binkley. "We showed it at Toy Fair, and there's nothing else like it!"

With products such as these, Binkley focuses on the specialty toy industry and doesn't sell to mass-market accounts like Walmart.

"We don't want to lose sight of our specialty market because that's our core business and why we're here today," he said.

From the reaches of the stratosphere, to the depths of the sea, Geospace International has always launched an exciting array of toys. Here are a few, from the classic to the new:







Spin…Switch…Spell…and Score. Word Spin is the original award-winning magnetic spin game that combines the best elements of many popular word games and crossword puzzles. It's simple enough for children to play, yet challenging enough for college professors. The travel-sized, one-and-a-half inch diameter of Travel Word Spin makes this version of the game ideal for car trips, airplane or train rides. Keeping all the pieces together won't be a problem since the compact package comes with a specially made travel pouch.

.

AD
---






This miniature, keychain version of Geospace's best-selling, award-winning magnetic spin game has eight magnetic wheels (7/8" diameter) that can be removed from the keychain spindle and played just like the original Word Spin. While standing in line, riding the bus, or waiting for an appointment, players can spin and rearrange the wheels to spell words that score high point values. There are 10+ different games for one, two or more players. Launch date: 1996.

.

AD
---






Eight 2"-diameter magnetic wheels include all letters in the alphabet and a special vowel wheel and a consonant wheel. One, two or more players or teams can choose from 10 different games that help teach language arts skills. A game book and travel pouch are included. Launch date: 1999.

.

AD
---






Eight 2"-diameter magnetic wheels include all numerals, along with special wheels containing the operations symbols and the equation symbols. One, two or more players or teams can choose from 10 different games that help teach mathematics concepts. A game book and travel pouch are included. Launch date: 1999.

.

AD
---






This mature version of AIR KICKS fits adult-sized men that weigh between 99 and 199 lbs. with shoe sizes ranging from four to 13. They have an adjustable split-foot plate to ensure the perfect fit for everyone. Powered by patented Jumping Jax technology, AIR KICKS Anti-Gravity Boots feature heavy-duty, interchangeable T-springs that transform downward energy into a bouncing motion that is gentle on joints, muscles and bones. The boots' high-traction tread is safe to use on any indoor or outdoor surface. AIR KICKS fit over normal running shoes.

.

AD
---






Stilts have been enjoyed by children and adults for centuries. Perhaps it's the instant boost in height. Or the physical challenge of balancing and walking. Or the outrageous fun. Whatever the reason, stilts are a perennial favorite around the world. Now, Geospace has taken the basic stilt design and made it a whole lot better — easier to learn, easier to use, more ergonomically correct and more fun. Launch date: May 15, 2007.

.

AD
---






This backyard favorite measures 32" in diameter and is suitable for both kids and adults. It is made of durable, heavy-gauge vinyl, includes a separate foot pump, and can provide a great workout. Launch date: February 11, 2007.

.

AD
---






.

AD
---






.

AD
---






The World's Smallest Remote Control Racer! Hit the infrared remote control FORWARD switch and watch the R/C RODZ™ car zoom across the floor or even smooth rugs at realistic scale speeds. Turn by pushing the REVERSE switch and then hit FORWARD again and watch it go! Collect all 4 cars and race simultaneously, since each color vehicle has its own infrared channel. Or have a demolition derby competition. The Transmitter is also an ink pen, and includes built-in storage for the racer. Size of "Micro" Racer is just over an inch long! No charging is required! Four extra batteries included.

.

AD
---
THIS BANNER IS AN AD:
---
---