---
Doll Reviewers Applaud Flatsy's Poseability and Style
Schylling's Updated Doll Takes Girls into the Past
"...they would make great stocking stuffers or be the perfect birthday gift." — Mildred Tong, mother

TD

monthly Magazine's Dolls Roundtable participants recently reviewed Schylling's Flatsy, a remake of a 1960s doll. While the girls enjoyed accessorizing the 4.75"-tall doll and styling her hair, Flatsy prompted a trip down memory lane for some of the older reviewers. These bendable, vinyl dolls, available in six styles, have wires inside the limbs for poseability.



TD

monthly rating: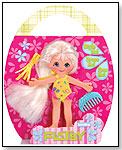 Flatsy Doll by SCHYLLING
Age: 3 and Up
Gender: Girls
MSRP: $5.99

PACKAGING

All the participants were excited when they opened the shipping box and found the cute Flatsy dolls complete with ribbons, hair clips and a special flat comb in a transparent, purse-shaped package. "It is so cute it is almost a shame to open it," Mandt said.

PLAYABILITY

The girls and adults were impressed with the doll's long hair and flexibility, cute clothes and accessories. "My girls liked the shape and feel of the dolls," raved Tong. "They were delighted they could be posed in so many different ways and the hair could be styled in so many sets." Alyssa (9) and Lexi (4) liked Flatsy's one-piece construction.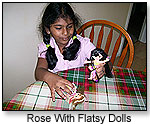 Rose (7) and Liz (12), however, did not like the doll's flat shape. "It looks as if it has been run over with a car or a steam roller," they told their mother. Thomas commented, "If the dolls were wooden, the flat shape would be more understandable." Her girls like to dress their dolls, she added, but the small clothes were difficult for them to work with.

Mandt praised the doll as a travel toy: "The doll can easily fit into a child's purse, book bag or jean pocket to take along to a friend's house or just to play with in a doctor's office or the car." Shockley agreed. "These could amuse little girls for a long time, if they are traveling for a great distance," she said. "I also think the flexibility would help with a small child's motor skills."

"They are just adorable," raved Hobbs. "They remind me so much of paper dolls that we used to play with. You can play with them in such a small place, and I'm sure every little girl would love to have all six."

VALUE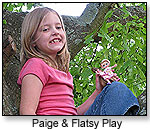 Shockley, Hobbs and Davis all remember how much their children enjoyed playing with these dolls in the late 1960s. "I am always delighted when I find the remakes of my children's dolls to give to my grandchildren, and I can relate stories about their mothers' playing with them," Davis said.

The participants thought the $6.95 retail price was very good. "At this price, the children can have all of them," Tong commented. "I think they would make great stocking stuffers or be the perfect birthday gift."

"They would make a great gift for a younger child," added Thomas, although she didn't foresee buying more for her girls. Mandt concluded, "I would give them to my grandchildren as travel companions."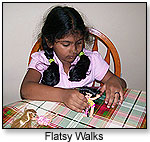 IMPROVEMENTS

Hobbs and Davis would like to see all six dolls in one large gift box for the holidays. Tong and Thomas suggested that extra outfits and hair accessories be made and packaged separately. Mandt, who remembers her daughter having a flat doll that was part of a storybook, suggested the same for Flatsy.

Roundtable participants were: Ruth Mandt with her granddaughter Paige (7); Geena Thomas with Liz (12) and Rose (7); Mildred Tong with Alyssa (9) and Lexi (4); retailer Kim Hobbs from Hobbs House of Dolls; retailer Colette Shockley from The Littlest Princess; and doll collector Virginia Davis.

Writer's Bio:
Virginia Davis is a freelance writer who is considered an expert in the area of dolls and collectibles. She has written hundreds of articles on dolls and toys, as well as other subjects, for numerous publications. She lives in Georgia.
Read more articles by this author
THIS BANNER IS AN AD:
---
---