---
Doll Companies Recreate Old Favorites
Fashion and Baby Dolls Play to Fond Memories
"To find a childhood friend in mint condition, or these reproductions, brings tears to many ladies' eyes." — Retailer Kim Hobbs

Many women have happy childhood memories of playing with dolls and many have passed on their playthings to the next generation. Yet, some of these dolls were "loved to death" and didn't survive to become an heirloom.

The good news? Doll and toy companies continue to recreate dolls from days gone by to satisfy nostalgic customers, manufacturers assured

TD

monthly Magazine.

RELAUNCHES FUEL NOSTALGIA


Charisma has brought back Penny Brite and Kewpie; Schylling has reintroduced Flatsy; Alexander Doll Co. is keeping memories alive with Eloise, Madeline, Strawberry Shortcake and new versions of nostalgic babies, such as Pussy Cat; Tonner Doll has revived Betsy McCall; Ashton-Drake has breathed new life into Patti Playpal and Mrs. Beasley; and Terri Lee and Vogue Doll Co. have brought back favorites from the '50s.

On the more mass-market — yet still collectible — end, Play Along continues to fuel the legend of The Cabbage Patch Kids with new releases each year and Mattel has introduced new renditions of popular Barbie dolls from the 1960s.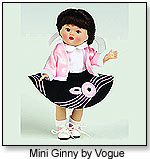 Colette Shockley, owner of Littlest Princess Doll Shoppe in Norcross, Ga., told

TD

monthly the customers buying nostalgic dolls in her store are grandmothers who want their grandchildren to have duplicates of their childhood dolls.

"I got this Ms. Beasley for your mother, when she broke her arm, and it became her constant companion," a grandmother might reminisce to her offspring. Or, "I received this Betsy McCall as a little girl, and cut the paper dolls from the McCall magazines … and gave them to your mother."

Babyland General Hospital is still a favorite holiday destination spot, as mothers take their daughters to adopt original and vinyl Cabbage Patch dolls, just as they did as kids.

"I bought Cabbage Patch dolls for my oldest daughter," said Teresa Simpkins of Lithia Springs, Ga. "Now I am glad they are back for Samantha, [my 2-year-old]."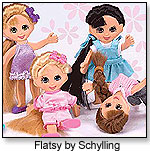 LIKE MOTHER, LIKE DAUGHTER

Eloise and Flatsy were recently reviewed by

TD

monthly's Dolls Roundtable, and the children on the panel utilized the library or Internet to learn more about the dolls.

"I think little girls want to be like their mothers, and enjoy having the dolls their mothers did as children," said Barbara Smith of Acworth, Ga.

Sometimes the dolls spark more interactive play between mother and child.

"I love to play with Eloise, because I have books about her, and I love the Flatsys because my mother played with them as a little girl," 7-year-old Paige McQuirt said. "She will play dolls with me when I play with dolls she had."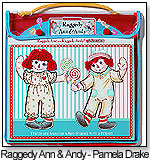 COLLECTIBLE DOLLS KEEP THEIR PLACE

Kim Hobbs, owner of Hobbs House of Dolls in Marietta, Ga., noted the collectibility of enduring characters.

"Collectors buy these dolls because they bring back happy memories, and most collectors start collecting dolls by trying to replace their childhood dolls. My best seller is Raggedy Ann, because almost every little girl had one," she told

TD

monthly. "To find a childhood friend in mint condition, or these reproductions, brings tears to many ladies' eyes."

See examples of some of these dolls below:





MSRP: $49.95

SKU or Item #: L9600Launch Date: January 2008





From the Gold Label collection, this vintage reproduction of a 1965 Barbie doll is outfitted in a satin gown with pink netting and opera-length gloves. She comes with a rose bouquet and a silver-colored trophy. Launch date: 2008.
— When asked about best-selling dolls in summer 2008, 2 of 62 specialty retailers mentioned that they carry Barbie dolls by Mattel.
— "Our biggest seller is the nostalgic Barbie dolls," Dave Brisbois, owner of The Toy Dept. in Pasadena, Calif., told TDmonthly.
— "It seems to me that people are producing more vintage-style dolls ... which is great for me," he added.

ToyDirectory Product ID#: 19062

(added 5/29/2008)

.

AD
---
Flatsy Doll
by
SCHYLLING
Other products from SCHYLLING
TDmonthly rating: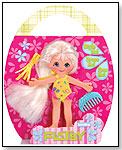 A remake of the original 60's doll, Flatsy is flat, yet bendable and poseable. The Flatsy collection includes six 4-3/4" dolls, each equipped with their own assortment of hair accessories. The trendy doll fits perfectly in pockets.

ToyDirectory Product ID#: 16903

(added 1/3/2008)

.

AD
---







A character from the television show "Family Affair," this 20" vinyl doll speaks 11 phrases voiced by actress Cheryl Ladd, an ambassador for Childhelp USA. A portion of profits from the sale of this doll benefit the Childhelp charity.

ToyDirectory Product ID#: 19064

(added 5/29/2008)

.

AD
---





SKU or Item #: T7-BCBD-04Launch Date: January 2007Gender: Boys And Girls





This 8" doll is part of the 2007/2008 fall/holiday collection. It comes with a bodysuit, socks and shoes. Launch date: 2007.

ToyDirectory Product ID#: 19065

(added 5/29/2008)

.

AD
---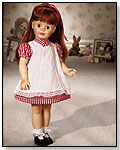 MSRP: $89.99

SKU or Item #: 323817001Gender: Girls





This quality vinyl reproduction of the beloved 1960s doll is 18" tall and fully jointed, with hand-painted features, sleep eyes and long auburn hair. The child-safe doll wears a gingham dress and pinafore.

ToyDirectory Product ID#: 15089

(added 9/7/2007)

.

AD
---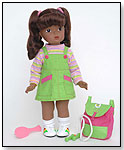 Wholesale Price: (Log in to view)





Bonnie Lou wears her favorite jumper in lime green. She's meeting all her friends at the playground for a game of jump rope. Her accessories include her pink backpack, her favorite rope and pink hair scrunches, along with her very own hairbrush. Bonnie Lou has long beautiful hair for hours of styling fun. "Terri Lee is recognized by grandmothers who remember her and loved by moms who find her wholesomeness appealing," Gretchen McGinnis of Terri Lee Associates told TDmonthly. THIS PRODUCT IS SOLD OUT (11.09). Launch date: August 2007.

ToyDirectory Product ID#: 13249

(added 6/5/2007)

.

AD
---




MSRP: $29.99

Age Range: 3 and upLaunch Date: September 2008Gender: Boys And Girls





The Anniversary Cabbage Patch Kids™ bring back the magic of the original 1983 Kids by replicating their vintage fashions, hairstyles and facial expressions. In beautiful keepsake packaging, each of the new Kids has a special "25th anniversary" Xavier Roberts signature and comes with a silver anniversary baby spoon, a commemorative silver-stamped 25th anniversary birth certificate and adoption papers. Launch date: September 2008.

ToyDirectory Product ID#: 18613

(added 4/28/2008)

.

AD
---

Writer's Bio:
Virginia Davis is a freelance writer who is considered an expert in the area of dolls and collectibles. She has written hundreds of articles on dolls and toys, as well as other subjects, for numerous publications. She lives in Georgia.
Read more articles by this author
THIS BANNER IS AN AD:
---
---