---
TDmonthly's Book Expert
One Educated Bookworm's Opinion
If you want to know which books to sell in your toy store, find out what the kids have to say. Each month, children's book author Amy Downing reads new titles to children, gives her educated opinion on positioning and sales to

TD

monthly Magazine readers, and rates them with 1 to 5

TD

s (for

TD

monthly!), with "5" as the highest rating.

With the lineup below, she hung out with Scaredy Squirrel at the "beach," dealt with ghostly artists, and actually considered having another baby.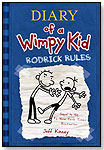 Title: Diary of a Wimpy Kid: Rodrick Rules
Author/Illustrator: Jeff Kenney
Publisher: Abrams Books
Gender: Boys and Girls
Age: 8 to 13
MSRP: $12.95



TD

monthly rating:




What It Is: In this hilarious sequel to "Diary of a Wimpy Kid," Gregory's diary shows the reader what it is like to have an older teenage brother who is a complete loser. Gregory's older brother is named Rodrick, and he is everything a brother should NOT be.

Why You Should Carry It: The first title, "Diary of a Wimpy Kid," received fantastic reviews from "Publishers Weekly," "Kirkus Reviews," "School Library Journal" and others. The author delivers his second Gregory title with equal humor and fun. Kids — boys, especially — love it. The illustrations go hand in hand with the text, complementing each other perfectly.

What Kids Think: When second- through fourth-graders see this diary, they run to pick it up. Most have read the first book, so it's natural that they bolt to read its sequel.

---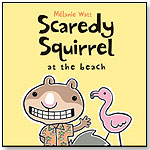 Title: Scaredy Squirrel at the Beach
Author/Illustrator: Melanie Watt
Publisher: Kids Can Press
Gender: Boys and Girls
Age: 4 to 8
MSRP: $15.95



TD

monthlyrating:




What It Is: This is the third book in the "Scaredy Squirrel" series. Here, Scaredy Squirrel explains why he can't go to the beach. Of the many aspects of the beach he is afraid of, here are a few: tribes of jellyfish, packs of pirates and flocks of seagulls (this one I can attest to — they're frightening!).

Why You Should Carry It: Scaredy Squirrel is a hilarious character who will appeal to little ones as well as their parents. Any child with fears can't help but giggle at Scaredy Squirrel and his adventures. While he may not overcome his fear consciously, he certainly discovers that the beach is a very fun place to be.

What Kids Think: The kids thought this book was hilarious. Some of the jokes may go over the heads of younger children, but they still enjoy the art and Scaredy's silly personality.

---

Title: Making Me: The Pregnancy Activity Book for My Big Brother or Sister
Author: Julie B. Carr
Illustrator: Josh Cohen
Publisher: Motherly Way Enterprises Inc.
Gender: Boys and Girls
Age: 5 to 10
MSRP: $24.95



TD

monthly rating:




What It Is: "Making Me" is a day-by-day interactive activity book for the child whose family is expecting a baby. The book literally counts down from day of conception (day 280) to day of birth (day 0). There are several extra pages included for those "lucky" mothers whose babies are late. Each day includes a brief explanation of how the baby is growing and what it is doing, followed by an activity for the child to do. Some days are as simple as coloring an object, while others are more involved, such as measuring parts of the body. The book comes with four colored pencils and a measuring tape.

Why You Should Carry It: Get this book in the marketplace! I've never seen a book of this detail and fun for kids who are getting a new sibling. It will help children feel more involved in the whole process, as well as help them adapt to the idea of the family getting bigger. "Making Me" looks like so much fun, I'd almost get pregnant again.

What Kids Think: Kids were very eager to do all the activities in the book. The most difficult part of this for children is the concept of doing only one activity per day.

---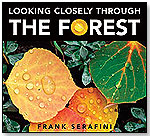 Title: Looking Closely Through the Forest
Author/Photographer: Frank Serafini
Publisher: Kids Can Press
Gender: Boys and Girls
Age: 4 to 7
MSRP: $15.95



TD

monthly rating:




What It Is: This photographic picture book has children traipsing through a forest, first looking at treasures up close, then discovering what that treasure is when the whole picture is exposed. It's also filled with scientific information about the featured object.

Why You Should Carry It: "Looking Closely Through the Forest" is an un-sciencey science book. In other words, children who may have no interest in the natural world from a scientific standpoint may thoroughly enjoy this book. The photos are clear and colorful, and range from frost on a leaf to a spotted toadstool to a yellow-spotted millipede (which actually only has 62 feet.)

What Kids Think: Kids loved this book! They looked at it again and again. And the readers in the group enjoyed all the interesting facts they learned.

---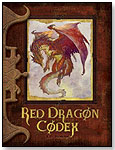 Title: The Red Dragon Codex
Author/Illustrator: R.D. Henham
Publisher: MIRRORSTONE
Gender: Boys and Girls
Age: 8 to 12
MSRP: $9.95



TD

monthly rating:




What It Is: "The Red Dragon Codex" is the first book in a new series based on the best-selling book, "A Practical Guide to Dragons." It begins with an evil red dragon taking away the main character's foster mother. The protaganist, Mudd, sets out to rescue his mother and becomes entangled with the red dragon. He and his friends must discover the truth and find a way to defeat the red dragon and save the seer before the dragon destroys them all.

Why You Should Carry It: "The Red Dragon Codex" makes a smart addition to any fantasy display. Kids who enjoy stories of evil versus good will love reading all about the world of dragons, where some are bad and some work with men for justice. As a kid I loved "The Hobbit," and as a grown-up, I even trudged through "The Lord of the Rings" trilogy. However, I have to admit I had a hard time following which character was which and what was going on.

What Kids Think: This book was not reviewed by a kid, though with a sequel already in the works, chances are young fantasy readers are finding it readable.

---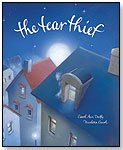 Title: The Tear Thief
Author: Carol Ann Duffy
Illustrator: Nicoletta Ceccoli
Publisher: Barefoot Books
Gender: Boys and Girls
Age: 6 to 10
MSRP: $16.99



TD

monthly rating:




What It Is: In this modern fairy tale, a transparent elf child visits homes between supper and bedtime to take the tears shed from children, whether they're angry, sleepy or sad. When one of the children accidentally catches a glimpse of the little thief in a puddle, the tear fairy is forced to explain why she chooses to steal tears.

Why You Should Carry It: "The Tear Thief" makes an entertaining read-aloud with its sweet story and beautiful illustrations. Youngsters will certainly look over their shoulders when they cry their own tears, hoping to find the thief herself.

What Kids Think: The little ones I read this to were mesmerized by the enchanting pictures, particularly those including the tear thief. The older kids fidgeted a bit, though they were equally as eager to find out how the collected tears were used. (And yes, you'll have to read the book to find out.)

Writer's Bio:
Amy Downing has been in children's book publishing for more than 15 years. As the editorial director of a small juvenile publishing house in Los Angeles, she has developed hundreds of titles for trade, mass market, book clubs and fairs. She is also the author of more than 20 books for children, ranging from picture books to nonfiction titles for the library market.
Read more articles by this author
THIS BANNER IS AN AD:
---
---