---
Manners Game Teaches Social Graces, Panel Says
Etiquette Questions Train Kids Through Blunders
"It's fun and the questions are good." — Ben (6)

TDmonthly Magazine's Homeschool Roundtable participants reviewed their own manners as they played Blunders, a board game designed to make learning etiquette and social skills fun. Did the reviewers find Blunders socially acceptable, or was it full of "blunders"? We cordially invite you to read on.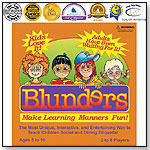 Blunders™ - Make Learning Manners Fun by SUCCESSFUL KIDS INC.
Age: 5 to 10
Gender: Boys and Girls
Category: Educational
MSRP: $24.95

TDmonthly rating:




What It Is: This board game features the Blunder children (Becky, Bobby, Brenda and Billy) who, although well-meaning, need help fine tuning their social and dining etiquette. It includes a booklet introducing the characters and 300 cards covering table and dining manners, telephone manners, guest and host manners, and more in a variety of formats: multiple choice, scenario, true/false and charades.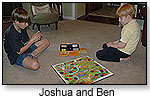 What the Moms Thought: "Teaching manners is challenging, and I'm always game (no pun intended) to try a new and possibly entertaining approach," Christensen commented. Zuidema said, "The game helped to convey that our expectations of Alyssa (8) are also the expectations of a polite society." Wilson appreciated the suggestion of teams since this allows "multiple players or allow[s] a younger player to pair with an older player or stronger reader."

Dawson liked that the board could be utilized for other games: "We played a game with math flashcards and a few questions about items on the board," she said. Wilson appreciated the boxes that store the cards.

Although initially "skeptical" of the place-setting cards, Wilson saw that Steven (8) was able to correctly set a table. "The different types of questions make the game more interactive, and therefore more fun," said Ledford, who appreciated the additional resources on the Blunders website. She did, however, call some of the etiquette covered "passé."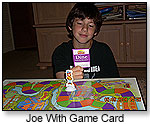 What the Kids Thought: "It's fun and the questions are good," Ben (6) said. His brother Joshua (10) liked the colorful game board. Both boys' favorite cards were the charade cards, Christensen noted. Dawson said of Ethan (9) and Sara (7), "Hands down, they most liked the obviously wrong answers on the multiple choice cards." Joe (8) enjoyed the character information given for each Blunder.

"Elise (9) and Steven (8) enjoyed playing," Wilson remarked. "Alyssa (8) enjoyed pointing out one faux pas after another" and "her parents' mistakes," Zuidema reported.

What the Kids Learned from this Toy: In addition to reviewing manners already learned, Christensen noted topics yet to be covered at her house. Dawson's children "learned some dinner table and phone etiquette." In addition to etiquette, Wilson specified that her children learned social skills and domestic arts.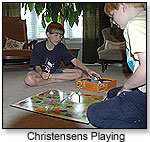 How to Improve It: Christensen's boys became bored with the true/false cards since they "are almost always false, and almost always really obvious." Zuidema suggested that the multiple choice cards have less obvious answers. Dawson would prefer more open-ended questions that could serve as discussion starters. Wilson suggested renaming the charades cards "Role Play Cards," since some only require a spoken answer.

Christensen noted that game set-up instructions were not included; only after playing for a while did she notice the cards should have been shuffled. Wilson questioned the age range: "My children felt the reading would hinder most 5-year-olds from enjoying it, unless paired with an older player."

Ethan (9), Sara (7), Elise (9) and Steven (8) found the reward tokens to be of little use. Joe would like to see two new Blunders characters: the parents, "since adults can make 'blunders' too." Christensen called the poems introducing the characters "really, really bad."

Several participants noted the same true/false card in which the question and answer did not go together. Several also listed specific cards they felt did not reflect "universal values and North American etiquette." One topic involved phone etiquette and whether children should introduce themselves to an unknown caller. Dawson and Ledford cited safety as the main reason a child should not introduce himself/herself.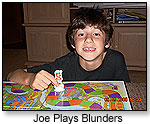 Ledford called a boy's holding a door open for a woman (and not a man) "gender-bias." She believes it's more polite to hold the door open for "the next person entering, if someone is near the door." Ledford suggested covering these areas: cell phone use, computer use, and e-mail/Internet postings.

Would You Want Another Toy Like This? "I'm looking forward to having them play this game more than they're looking forward to playing again," Christensen commented. Dawson noted that although her children find the game enjoyable, "[a] moderate percentage of the cards state answers that don't fit within or fully express our concept of polite behavior."

Roundtable participants are Sue Christensen with Mac (14), Kent (13), Joshua (10) and Ben (6); former corporate accountant Robbin Dawson with Ethan (9) and Sara (7); Susan Ledford, editor of the "Homeschool Resources Directory for SC," with Victoria (13), Joe (8) and Griffin (2); Teresa Wilson, editor of "HOMES Newsletter," with Timothy (15), Andrew (12), Elise (9) and Steven (7); and Jill Zuidema, former retail manager, with Alyssa (8).

Writer's Bio:
Susan Ledford is the writer, editor and publisher of the "Homeschool Resources Directory for S.C." She has been evaluating toys and games for
TDmonthly
's Roundtable reviews since 2005. She also is a homeschool veteran of seven years.
Read more articles by this author
THIS BANNER IS AN AD:
---
---