---
TDmonthly's Psychologist Mom
She'll Put Your Toys on the Couch
In her latest round of reviews, TDmonthly Magazine's Psychologist Mom applauds lessons on virtue in classic tales, gives a kid a "boost" with a well-designed product for toddlers, and gets sporty with some hip-hop and indoor bocce. Here's what she had to say:



Adventures from the Book of Virtues by PORCHLIGHT HOME ENTERTAINMENT
Age: 4 to 11
Gender: Boys and Girls
Category: Videos & DVDs
MSRP: $29.98 (boxed set); $12.98 (individual DVD)

TDmonthly rating:




The Dr.'s Impressions: This is the DVD release of episodes of a series that originally ran on PBS Kids. Based on "The Book of Virtues" by William J. Bennett, former U.S. Secretary of Education, it uses talking cartoon animals and children to teach lessons in the common virtues. Each disk illustrates the value of different virtues by presenting an original story involving children making good or bad choices. A wise buffalo then tells classic tales, including "Daedalus & Icarus" and "Robin Hood," that illustrate the virtue in question.

Kids' Perspective: I didn't say anything, but I put this DVD on in a roomful of children. A 4-year-old soon came over and talked about how much he liked the animals. He stayed for the entire story. A 6- and 12-year-old also came over to make sure they could see the cartoon.

Recommendation: The series is very well done, with high-quality animation. It also does the near-impossible and makes learning about virtue appealing through the strength of the storytelling. It's a bit preachy but generally encourages virtuous and ethical behavior through compellingly told classic stories.

---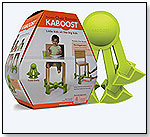 Kaboost Portable Chair Booster by KABOOST CORP.
Gender: Boys and Girls
Category: Infant & Toddler
MSRP: $37.95

TDmonthly rating:




The Dr.'s Impressions: Instead of boosting children by putting a small chair on top of an adult-sized chair, this booster does the raising from below. The adjustable spring system attaches to the chair legs and raises children that way.

Kids' Perspective: The 4-year-old who tried this was absolutely delighted. He felt like a big kid getting to sit on the adult chair, and could reach the table well.

Recommendation: This system works great and doesn't require assembly. I was worried that it wouldn't feel stable and might not work on many chairs. I was pleasantly surprised that it worked on every chair I tried and the child felt balanced and secure. It stayed in place even when I moved it. It's very easy to set up and could travel with children because it is compact.

---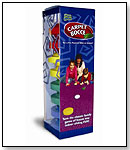 Carpet Bocce by SIMTEC CO.
Age: 6 and Up
Gender: Boys and Girls
Category: General Games
MSRP: $16.99

TDmonthly rating:




The Dr.'s Impressions: This game moves the traditional lawn sport indoors. With a specially designed puck, Carpet Bocce uses the same rules as regular bocce and is for two to four players.

Kids' Perspective: A group of four children, ages 12, 9, 6 and 4, were immediately drawn to the colorful pucks. They had never played regular bocce, but they caught on to the game quickly and played for about an hour.

Recommendation: This is a great game that's perfect for a rainy day. It has the advantage of being a more physically active game, which is great for when the kids are stuck in the house and bouncing off the walls. The pucks work great on carpet or on bare floors.

---

Hip Hop for Kids: School House Hop by JUMPING FISH PRODUCTIONS
Age: 5 to 14
Gender: Boys and Girls
Category: Videos & DVDs
MSRP: $19.50

TDmonthly rating:




The Dr.'s Impressions: This series features hip-hop performer "Roger G." and a group of children and teens who dance with him. Roger G. and the kids break down different dance moves and present hip hop dance as a form of exercise. The DVD teaches different dance moves, including "Chicken Noodle Soup," "The Snap" and "The Walk-it-out."

Kids' Perspective: Younger kids liked this DVD better than older kids did. The 4-year-old I showed it to had a lot more fun with it than the 12-year-old. All the children who saw it enjoyed watching the portion of the DVD that featured the children's own dance moves. The instructional part moved pretty slowly.

Recommendation: This DVD is fun and wholesome, and has good remedial instruction. Kids don't seem as though they'd be getting a lot of exercise from following along with the DVD, but it certainly offers great examples of fun ways to move.

Writer's Bio:
Dr. Tiffany Wright doesn't just look at toys; she analyzes them. In and out of the box, she scrutinizes them for playability, appropriateness and educational value. The latter quality is especially important to this stay-at-home psychologist/mother, who also homeschools her three youngest children. Her daughter attends UCLA. Dr. Wright earned her Ph.D. in personality psychology from University of California, Riverside. She is always on the lookout for toys and games that inspire creativity and impart knowledge while bringing fun and laughter to her home.
Read more articles by this author
THIS BANNER IS AN AD:
---
---