Tools:








Zoobie Pets Invade 1,100 Stores in Under 2 Years
Brothers' Vision Becomes Hit 3-in-1 Plush Toy
"We're trying to establish ourselves as a brand name and be a long-term company — not just a trend." — JC Smoot
Two years ago, at the age of 23, JC Smoot developed a stuffed animal that could serve as a pillow and blanket when the occasion called for it. He teamed up with his older brother Reid, developed a line of zoo and safari plush animals, and started a company. Zoobie Pets have stampeded the market. JC, CEO, recently spoke to
TD
monthly Magazine about what he and Reid, President, did to make Zoobie Pets a success.
ROADTRIPS SPARK IDEA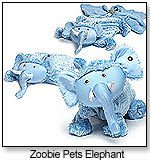 We come from a big family of eight brothers and sisters, and I have three younger sisters. I got the idea for Zoobies because whenever we went on car trips, my sisters would grab a pillow, a blanket and a stuffed animal, and they would always pick up a stuffed animal on the vacation.

The normal stuffed animal is bought and the kid gets attached to it, and then it goes on the bed or dresser and never gets played with again. Zoobies are the first plush animal kids can use. A Zoobie Pet has a purpose — it becomes a favorite blankie, a character.

SETTING UP SHOP ABROAD

My brother Reid has a degree in international business and taught at a Chinese university. It was his familiarity with the country and his contacts that enabled us to find manufacturers. We found a really good factory and sent samples back and forth.

We self-funded the company, and once we had traction from the first two trade shows, were able to get a loan. Even now, the money we generate we put back into the company.

The difference between our original idea for the Zoobie and how far they've come is pretty shocking. My brother is detail oriented, and having him living in Shanghai and doing quality control for Zoobies is a big strength of our company.

FIGHTS SIGNAL GOOD PRODUCT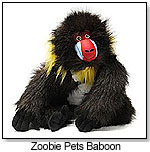 I left the initial prototypes at a day care owned by my uncle and went back a couple of days later to find that the kids had been fighting over the few I had left.

We didn't know a whole lot about marketing, so I approached someone we knew with experience. He had his kids playing with the Zoobies and eventually came on as VP of sales.

Now, parents write in on our website to thank us, saying, "We bought this and this and this, but all the kid cares about is the Zoobie Pet, because we can put it in the car and the kid plays with it."

NO ADVERTISING NEEDED

We attend Toy Fair, ABC, ASTRA, JPMA and smaller fairs, and have sales reps throughout the country. Marketing is primarily word of mouth because every show we go to produces an "Ah" factor.

We were on "The Today Show" recently. Natalie Morales has a Zoobie pet. So does Meredith Viera, and she wrote in her blog about how she takes Mashaka, the monkey, in her car going to work and back home every day. These kinds of things have helped Zoobie pets take off.

We've been mentioned in "Parenting" and "Parents" magazines, so we haven't paid for any [traditional] advertising, and we've won more than eight awards.

GENERATING GROWTH AND NEW IDEAS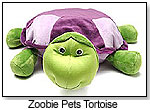 Zoobies are now distributed in 30 countries. We started out at Toy Fair 2007 with zero stores, and at last count it was 1,100 to 1,200 stores — boutique and mid-size chains like Learning Express, not big-box stores. We're trying to establish ourselves as a brand name and be a long-term company — not just a trend.

Reid and two part-time employees work in Shanghai, and eight people work in the U.S. office with me. Without Reid living in China, I don't think we could have established ourselves as a company as quickly as we did. With everything there's a learning curve, and we had to learn a whole industry, but I don't think we had it too bad.

We have funky and cool ideas for the future, and soon, we're coming out with an environmentally friendly line. You sell toys to people, and you make toys for kids. We wanted to have fun doing it.

See Zoobie Pets below, and read their TDmonthly review.







Zoobies are three-in-one plush/pillow/blankets that come in a variety of animals. Now Baby can have her own Zoobie sized just for her with Baby Zoobies. Baby Zoobies have a detachable blanket that measures just 23" x 29.5". They fit nicely in diaper bags. They also feature a furry "comfort corner" to please Baby's love of textures. Diaper bag not included. Launch date: September 1, 2008.

.

AD
---






.

AD
---






.

AD
---






.

AD
---






.

AD
---






.

AD
---






The plush panda transforms into a pillow when the Velcro enclosure is pulled apart. The pillow then transforms into a blanket when unzipped. The plush is a toy, blanket and pillow in one. The Zoobies Zoo Collection is a 2008 Babies and Mom's Radio "Squeel of Approval" Award winner.

.

AD
---
Catalog Request Form
THIS BANNER IS AN AD:
---
---