---
PakNaks Offer Personality That Sticks
Colorful Accessories Decorate Backpacks and More
"We're trying to be really intentional and thoughtful about what's great for kids." — Anne Mersereau, PakNak LLC
No manufacturer paid to be included in this article. The company and products were chosen by editorial staff without regard to the company's relationship with ToyDirectory.com/TDmonthly Magazine.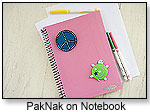 When stay-at-home moms Anne Mersereau and Marissa Crouch decided to start a business, they turned to their children, and PakNaks interchangeable stickers with personality were born.

When they first sat down to brainstorm in late 2006/early 2007, Anne's then 10-year-old daughter said they should invent something to decorate backpacks. "She pointed out that I never took the time to sew or iron on all the little things she wanted on her backpack," Anne told TDmonthly Magazine.

The pair incorporated PakNaks LLC in March 2007 in Portland, Ore.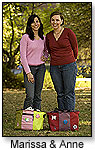 IF I WERE A PAKNAK …

People wonder, "'What are they? Is it a sticker?'" Anne explained. "We were attracted to ToyDirectory because they did a video. … We're hoping that people kind of understand that [PakNaks] are two pieces and they change out and that they're lots of fun. A lot of kids just like pulling them on and off."

PakNaks are soft, rubber-like plastic pieces with a Velcro backing that makes them interchangeable. One day a child's backpack can be decorated with flowers and the next day can sport basketballs before a game.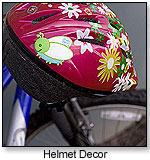 PakNaks can be displayed on anything from bulletin boards to bedposts to headbands. There currently are more than 42 designs, for both boys and girls. The latest are made from recycled plastic, a material option the partners hope to continue to use. But materials selection isn't the only conscientious choice Marissa and Anne have made.

"When we first started and wanted to get a bunch of inventory made up, we took thousands of pieces over to Eastco [Diversified Services Inc.]," Anne told TDmonthly. The nonprofit offers employment to adults with developmental disabilities.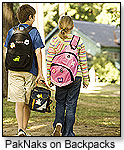 PakNaks are molded in China, and the pieces are shipped to Portland for assembly. Anne and Marissa assemble smaller runs, giving rejects to local educational charities.

STICKING WITH PERSONALITY AND CHARM

Each PakNak comes with a card that tells its name and personality — "what their favorite food is, who their best friend is and where they live. And then that corresponds with the game on the website," Anne explained.

The partners considered designs such as lipstick and a cell phone, but ultimately decided that was not the image they wanted their product to project.

"We didn't want something that was trashy. … We're trying to be really intentional and thoughtful about what's great for kids, and age appropriate and fun," she said.

MISTAKES IN THE FAST LANE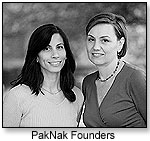 Once Anne and Marissa had their idea, a $50 trip to the craft store provided materials to develop a sample. Their first "real" prototype cost less than $1,000, and the partners pooled their savings to finance the venture.

"Initially, our designs were too large … and we probably gave away too much control," Anne said of the company's mistakes.

Things moved so quickly that she and Marissa began farming out work, from web design to product design. They were also advised to include a game on their website, which was the right idea, but at the wrong time, Anne admitted. It was too expensive and could have waited "because it doesn't sell PakNaks."

The partners have since regained control of their product and aren't letting anyone talk them into anything that doesn't result in a sale.

ESTABLISHING A SALES BASE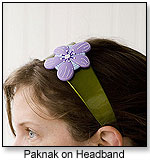 Getting the word out has been another challenge.

"There's a retailer here in Portland — I go over to her store every other week and load her up with [PakNaks]," Anne told TDmonthly. "We found somebody that kind of pushed [the PakNaks] a little bit in the beginning, so she got her customers to buy them, and now people come back and love them."

They also give away product to "mommy blogs and things like that to try and get them in the hands of kids," and are experimenting at a toy store with a PakNak/headband combination that started out as a display.

The company is still trying to establish itself, but Anne said that once customers buy the product — whether it's through PakNak's website or a brick-and-mortar retailer — they tend to come back for more.

See the PakNaks below:





MSRP: $3.99

Age Range: 3 and upLaunch Date: January 2007Gender: Boys And Girls





PakNaks are decorative accessories that transform plain backpacks, bags and other stuff into personalized, ever-changing, colorful works of art. With more than 40 designs that are interchangeable, weather resistant and quickly and easily adhere (no ironing, sewing or pinning!), PakNak makes changing style easy, especially since they stick on with super-strong, custom, self-adhesive Velcro. PakNaks make terrific birthday party giveaways, tooth fairy leave-behinds, incentives, gifts, luggage identifiers and more. The newest designs are made from recycled plastic and are phthalate free. Launch date: January 8, 2007.

ToyDirectory Product ID#: 21718

(added 12/12/2008)

.

AD
---






PakNaks are soft, rubbery 3-D decorations designed for kids (and adults!) to use to personalize backpacks, lunch bags, headbands, computer bags, household items and more. There are more than 40 available designs. Customized Velcro makes them interchangeable and weather resistant, and they quickly and easily adhere to surfaces. Robert measures 2.5" x 2.5".
— "PakNaks are from a new little small company, and we've been selling them like hotcakes since Easter," said Michelle Smith, owner of Piccolo Mondo Toys in Portland, Ore., in December 2008. "We were the first ones to launch them."

ToyDirectory Product ID#: 20554

(added 9/19/2008)

.

AD
---

Writer's Bio:
Sheri Jobe has been a journalist for more than 15 years. As a freelancer, she splits her time mostly between the Midwest and New England. She has been published in business journals and regional newspapers. She also writes fiction.
Read more articles by this author
THIS BANNER IS AN AD:
---
---