---
Toys in the News: 3-30-09
Click Here for Current News

Toys "R" Us Settles Vacation Pay With Massachusetts Employees. March 30, 2009 — Former Massachusetts employees of Toys "R" Us and Babies "R" Us will receive their overdue pay for earned vacation time in a $100,000+ settlement resulting from a self-audit that covered more than 800 previous employees who left the company from October 2006 to December 2008, the Associated Press reported.

Florida Man Shot for Pointing Toy Gun. March 27, 2009 — A 56-year-old man is in critical condition after being shot by a deputy police officer who mistook the AirSoft BB gun he was carrying, and which he pointed at the deputy when asked to lower it, for an assault rifle. The incident happened near a Florida elementary school, the Associated Press reported.

Handmade Toy Alliance Readies for D.C. Rally. March 26, 2009 — Various members of the Handmade Toy Alliance will descend on Washington, D.C., April 1 for an "Amend the CPSIA" rally and meetings with Congressmen about the "unintended consequences" of new regulations under the Consumer Product Safety Improvement Act, a press release announced. The Alliance, which includes 326 manufacturers and retailers of toys and other children's products that are seeking to save handmade goods, will be represented by Rob Wilson of Challenge & Fun, Cecilia Leibovitz of Craftsbury Kids, Jill Chuckas of Crafty Baby.

"Toy Story" Wii Game to Feature 3D Effects. March 25, 2009 — Disney-Pixar's "Toy Story" will appear in a new Nintendo Wii videogame that comes complete with 3D glasses for impressive visual effects, ARS Technica reported. Developed based on "Toy Story" rides at Disneyland parks, "Toy Story Mania!" will accommodate up to four players.

Kids' Fishing Poles Recalled for Lead Paint. March 25, 2009 — The U.S. Consumer Product Safety Commission, in cooperation with W.C Bradley/Zebco Holdings Inc., has announced a voluntary recall of about 2,700 Children's Fishing Poles because the paint on the reels contains excessive levels of lead. The poles were sold at sporting goods and discount department stores from August 2007 through December 2008.

Disobedient Toddlers are Simply Storing Info for Later. March 24, 2009 — A new study out of the University of Colorado at Boulder suggests that young children don't always act on the commands their parents give because they rely on information recall as necessary, instead of anticipating the future or even living fully in the present, Live Science reported. Scientists studied the pupil diameter changes of 3- to 8-year-olds as they followed simple instructions for a computer game, and found that the preschoolers' mental effort, determined by the pupil size, was delayed in comparison to the older kids' responses. In an example offered by psychology professor Yuko Manukata, this could explain why a toddler fails to put on his coat before going out into cold weather, even after a parent has told him repeatedly to do so.

ISO Releases Standards Update. March 24, 2009 — The International Organization for Standardization has published an updated version of safety standard ISO 8124, which deals with both physical and mechanical properties of toys, the Toy Industry Association announced Tuesday. ISO 8124-1:2009 covers new regulations for toy scooters as well as two amendments that were made to the standard at an earlier date. While China and Australia adhere to ISO 8124, compliance is not required by U.S. federal or state governments, nor is the standard mentioned in the Consumer Product Safety Improvement Act of 2008.

Fisher-Price Recalls 24,000 High Chairs Following Skull Fracture. March 24, 2009 — The U.S. Consumer Product Safety Commission, in cooperation with Fisher-Price, has announced a voluntary recall of about 24,000 3-in-1 High Chairs because the seat can fall back from the frame if the booster release is not latched while the child is seated, and the seat back can come off if not snapped all the way into position. The CPSC received one report of a child suffering a skull fracture after falling when a seat back detached. The high chairs were sold at Target stores from December 2008 through March 2009.

OKK Trading Recalls Pacifiers. March 24, 2009 — The U.S. Consumer Product Safety Commission, in cooperation with OKK Trading, has announced a voluntary recall of about 2,900 Baby Necessities Pacifiers because the nipples can come off the base and pose a choking hazard. The product was sold at discount and dollar stores from August 2007 through January 2009.

ToyQuest Offering "Best Summer Job" to Kids. March 23, 2009 — ToyQuest is on the search for an energetic boy or girl who's at least 9 years old to test Banzai water toys this summer for $100 an hour and creatively share impressions of the toys with the product development team. The winning applicant will also receive round-trip airfare from his or her home, as well as hotel accommodations while in Los Angeles, the Los Angeles Times reported. The company is accepting applications until May 1.

Johnny's Toys Cuts Toy Space for Edutainment Conversion. March 23, 2009 — Seventy-year-old Johnny's Toys of Covington, Ky., is reducing its 35,000-square-foot toy space by 80 percent to make room for additions to its Totter's Otterville educational entertainment center for kids, the Enquirer reported. While visits to Otterville have grown 20 percent over the past two years, toy sales have fallen roughly 15 percent at the store, which plans to retain its train and hobby focus as well as sales of specialty games, puzzles and puppets. Renovations will begin next month on Totter's Otterville, which currently includes 27 play spaces and will be welcoming areas dedicated to performing arts, nature and sports.

Toysmith Takes Over Lolipop Kids. March 20, 2009 — Beginning April 3, Toysmith will begin shipping customizable hair brushes, wall letters and room signs under the Lolipop Kids brand it recently acquired, according to a press release. Lolipop Kids has been in the industry for more than 10 years.

Kazoo Toys Featured on Yahoo! Small Business. March 20, 2009 — Owner Diana Nelson of franchise Kazoo & Co. in Denver explains the history and vision of her educational toy stores in a video under Yahoo!'s "Real Entrepreneurs, Real Inspiration." "One of the secrets behind having a successful small business, I believe, is surrounding yourself with people smarter than yourself," she says. Read more about the store and see its best-selling toys.

Wal-Mart Names JAKKS Pacific Vendor of the Year. March 20, 2009 — Wal-Mart has awarded toymaker JAKKS Pacific the "Vendor of the Year" title for the second time, according to Business Wire. The company's Play Along and Creative Designs International divisions were also recognized for the award, which depends largely on product quality, excellent service and timely shipping, according to President Stephen Berman of JAKKS.

New Season of Bakugan Airs in April. March 20, 2009 — New episodes of "Bakugan" will begin airing on Cartoon Network next month for the 26-show series "Bakugan: New Vestroia." According to a YouTube post, Dan, Marucho and Drago team up with the Bakugan Resistance and will battle the evil Vestal, free the captive Bakugan, and bring peace back to Planet Vestroia. See Bakugan Battle Brawlers toys.

Monopoly Earns Toy of the Year in Australia. March 20, 2009 — Monopoly City by Hasbro, a new version of the classic game that adds skyscrapers to the mix of houses and hotels, was awarded Toy of the Year at the Australian Toy, Hobby and Nursery Fair in Melbourne on Friday, AAP reported. Various eco-friendly items and Uncle Milton's Star Wars Force Trainer also received a lot of attention at the show.

Planet Toys Bankrupt After Lawsuit. March 19, 2009 — Following a lawsuit suit filed by the Abestos Disease Awareness Organization in 2008 alleging that Planet Toys' CSI fingerprint kits contained abestos, Planet Toys has filed for Chapter 7 bankruptcy, reporting assets of $1 to $10 million up against liabilities of $10 to $50 million, Reuters reported. Planet Toys took the CSI kits off the market and said its tests did not show evidence of asbestos.

China Aims for Restored Trade Relations With India. March 19, 2009 — China has resolved to work out a trade agreement with India after presenting the problem to the World Trade Organization on Wednesday. Reuters reported that Vice Minister of Commerce Zhong Shan of China met with Indian Trade Secretary G.K. Pillai in New Delhi about current hindrances to trade between the nations, including new restrictions on toy imports from China following an original six-month ban announced by the Indian government in February. Pillai voiced the importance of increased trading between the countries at a time of global economic crisis.

Slow Toy Sales Lower Earnings Forecast for Mattel. March 19, 2009 — Analyst Sean McGowan of Needham & Co. has adjusted his forecast for Mattel's 2009 outlook, trimming the stock price target by $1 and lowering fiscal earnings from $1.05 to 85 cents per share, the Associated Press reported. The adjustments are due in part to weaker than anticipated retail sales of toys during the first quarter and carryover of excess inventory from the end of 2008.

PBS KIDS GO! Launches In-Video Gaming. March 18, 2009 — Supported by a promotional campaign led by Blue Plate Media Services of Summit, N.J., pbskidsgo.org now offers in-video games that permit children to interact with their favorite PBS KIDS GO! programs and characters from any location. Series on PBS KIDS GO! include WordGirl, The Electric Company, Cyberchase and others, according to a press release.

FloraCraft Recalls Educational Kits. March 18, 2009 — The U.S. Consumer Product Safety Commission, in cooperation with FloraCraft Corp., has announced a voluntary recall of about 930,000 Solar System Kits and DNA Kits because surface coating on the wires may contain excessive levels of lead. The kits retailed at Wal-mart and hobby and craft stores from January 2003 through February 2009.

2007 Set Birth Record for U.S. March 18, 2009 — More than 4.3 million babies were born in the United States in 2007, exceeding the number of births during any other year in the country's history. Births to unmarried women also hit a high, reaching 40 percent, with more than 75 percent of the mothers age 20 or older, the Associated Press reported. The year 2007 was characterized by a fairly good economy plus birth-supporting cultural trends, experts say, but it's likely birth rates are already falling due to the current recession.

Arkansas Rep Pushes Ban on Toy Guns That Look Real. March 18, 2009 — Representative Fred Allen of Little Rock is encouraging passage of the Deaunta Farrow Act, which would ban the sale of toy guns that are indistinguishable from the real thing, KATV reported. The bill is named after a 12-year-old Memphis boy who was killed by policeman in 2007 because he had a toy gun they mistook for a real firearm.

TIA Appoints Former Cadaco Exec to TSCP. March 18, 2009 — The Toy Industry Association has named Michael T. Perkins, former VP of operations at Cadaco with nearly three decades of experience in the toy industry, to the post of Technical Outreach Director for the Toy Safety Certification Program launching this year. According to a press release, Perkins stepped into his new role on Feb. 26 and will continue to focus on outreach and training initiatives to help testing labs, retailers and other industry professionals understand how to TSCP can aid them toward compliance with new safety regulations.

Erdos Replaces Schmults as FAO Schwarz CEO. March 18, 2009 — Following the resignation of Edward Schmults, CEO of toy retailer FAO Schwarz since September 2005, the company has announced the appointment of Barry Erdos to take his place. Erdos was previously employed as president and COO of Bluefly online retailer, and has also worked for Build-A-Bear Workshop and Ann Taylor Stores Corp., Reuters reported.

4Kids Stock Plunges 30%. March 18, 2009 — 4Kids Entertainment's dismal fourth-quarter earnings report on Monday sent the company's shares into a nearly 30-percent decline, ICV2.com reported. The company sold only $.5 million worth of Chaotic trading cards in the fourth quarter of '08, versus $7.3 million in sales in Q3, perhaps due to inventory reduction within the industry. Additionally, the company's losses for Q4 were more than $19 million, surpassing the same-period losses in 2007 by $3 million. CEO Alfred Kahn pointed out that 4Kids plans to cut operating expenses by $25 million this year.

Chinese Authorities Aim to Confiscate Toy Money. March 18, 2009 — The National Anti-Pornography and Anti-Illegal Publications Office of China is putting the brakes on sales of toy money bearing cartoon images of such characters as Winnie the Pooh to children. The fake money is about the same size of the country's real money, with a similar design, and under law, use of the Renminbi patterns requires approval from the People's Bank of China. Individuals suspected of breaking the law in the making and selling of the toy money will be turned over to police, China View reported.

Obama Spider-Man Comic Tops Sales Charts in Early '09. March 17, 2009 — Marvel's "Amazing Spider-Man #583," made especially popular by a cover highlighting President Barack Obama, topped sales of periodical comic books in both January and February, logging totals of 352,983 comics and 148,805 comics, respectively. Despite the hype of the "Watchmen" movie release, graphic novel sales slipped 9 percent in February, as compared to the same month last year, ICV2.com reported.

Traffic Lower, But Quality, at Toy Fair 2009. March 17, 2009 — The American International Toy Fair saw about a 23-percent decline in overall buyer attendance this year, welcoming 10,000+ retail buyers from 85 countries, as compared to the more than 13,000 that hit the show in 2008. "Even though attendance was somewhat lower than previous years, order-writing was brisk and many exhibitors commented on the exceptional quality of buyers at this year's show," TIA President Carter Keithley said in a press release. There were more than 1,100 exhibitors, down from the previous year's 1,200+, showing some 100,000 toys and children's products over the four days of the show. See also "Toy Fair 2009 Overcomes Doom and Gloom."

State Farm Bears Not Insured for Safety. March 17, 2009 — The U.S. Consumer Product Safety Commission, in cooperation with State Farm, has announced a voluntary recall of about 800,000 11" and 18" State Farm Good Neigh Bears in the United States and 27,000 in Canada because the eyes can come off and present a choking hazard. No injuries have been reported, though a child did place one of the detached eyes in her mouth. The Neigh Bears were given away by State Farm agents and at company-sponsored events from September 2005 through March 2007.

Toys "R" Us Sacrifices Toys.com Google Rank With Domain Forwarding. March 16, 2009 — Following the $5.1 purchase of Toys.com by Toys "R" Us, Toys.com has been forwarded, instead of transferred, to ToysRUs.com, thereby losing security of the first, second and fourth spots of the google search for "toys." Domain Name Wire reported that although type-in traffic may be helpful to the domain, the mistake gives Amazon.com and other competitors a chance to gain ground.

Mattel and Nickelodeon Respond to Outrage Over Tween Dora. March 16, 2009 — Mommy blogs and news lines flared up earlier this month when Mattel announced the fall launch of a new tween version of Nickelodeon's preschool Dora the Explorer, along with a silhouette of the character with long hair, a shapely figure and what appeared to be a skimpy skirt. The full-color image now available shows that Dora is actually wearing a tunic over leggings, and Gina Sirard, VP of marketing at Mattel, assured that the grown-up Dora will still be "sweet, wholesome [and] adventurous," the Associated Press reported. When released this fall, the tweenage Dora (about 10 years old) will be accompanied by a USB port that links girls to an online world and allows them to solve mysteries, earn currency, and talk to the characters that are a part of Dora's Explorer Girls.

MGA Creditor May Threaten Rights to Bratz, Mattel Fears. March 16, 2009 — Despite Mattel's victory in gaining the rights to MGA Entertainment's Bratz dolls last fall, Mattel is worried a new player on the scene could keep MGA CEO Isaac Larian in control of the Bratz and essentially erase Mattel's court winnings. According to the Los Angeles Business Journal, a new creditor for MGA, Omni 808 Investors LLC, has a connection to Larian's brother-in-law and has purchased a loan guaranteed by MGA assets — including the rights to Bratz. Omni could potentially lay claim to the collateral on the defaulted loan through foreclosure. Neil Kadisha, head of Omni 808, said Mattel's claims have "false and misleading representations."

KB Toys Founder's Toy Collection For Sale. March 16, 2009 — Seventy-eight-year-old Donald Kaufman, founder of KB Toys, has decided to put the hundreds of items in his extensive antique toy collection up for auction. According to the Associated Press, three trucks were required to transfer the toys, including cast-iron cars and motorcycles that have been collected over the past 60 years, from Kaufman's Richmond, Va., residence to Bertoia Auctions in Vineland, N.J.

Panini Acquires Donruss Playoff Trading Card Business. March 16, 2009 — Italy-headquartered Panini Group has purchased Donruss Playoff, producer of the Bleach trading card game as well as Celebrity Cuts and Americana, and will take over the company's operations in Arlington, Texas, as Panini America Inc., according to ICV2.com. Panini is known to have sold 1.25 billion Harry Potter trading cards and stickers.

Toys "R" Us Japan Projects $7.2M Profit in '09. March 13, 2009 — Toys "R" Us Japan announced Thursday an anticipated recovery from its net loss of 2.9 billion yen in 2008, saying the company plans to pull in a parent-only net profit of 700 million yen ($7.2 million) for 2009. According to Asia in Focus, the retailer will cut back on items related to gaming and focus more on baby products. Sales for the year are expected to drop 2 percent.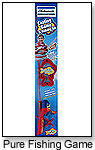 Kids' Fishing Game Recalled for Lead. March 12, 2009 — The U.S. Consumer Product Safety Commission, in cooperation with Pure Fishing Inc., has announced a voluntary recall fo about 2,600 Shakespeare Casting Game and Fishing Kits because the surface coating of the label on the fishing rod contains high levels of lead. The product retailed specialty fishing stores from November 2008 through January 2009.

Family Time Hobbies Buys Hobby Lobby International. March 12, 2009 — Forty-three-year-old Hobby Lobby International has been acquired by Family Time Hobbies LLC under Mark A Cleveland. Hobby Lobby has designed a number of hobbyist-grade aircraft and also distributes other items including race cars, motor boats and various miniature scale models via its catalog, website and retail store located in Tennessee, according to a press release.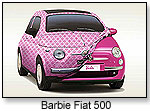 Barbie Hits the Road in Pink Fiat 500. March 12, 2009 — Italy's Fiat 500 has been selected as the official anniversary car for Barbie's 50th, according to a Mattel press release, and after already having made stops in Milan and Paris, will deliver Barbie to additional celebrations around the world this year. The two specially designed Barbie show cars feature a dazzling pink exterior and stylings that include crystal embellishments on the hubcaps. A toy version for Barbie dolls will be available in October.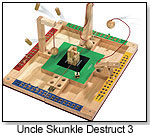 Uncle Skunkle Reports 300% Sales Growth in '08. March 12, 2009 — Uncle Skunkle Toys, maker of Destruct 3 and Rapid 4 games, saw a 300-percent increase in sales in 2008, according to a press release. Given that more families are staying home and playing games for entertainment during the recession, the company anticipates further growth in sales this year.

CPSIA Costs Toy Industry $2 Billion. March 11, 2009 — According to a survey of approximately 400 manufacturers and importers and 220 retailers conducted by the Toy Industry Association, requirements under the Consumer Product Safety Improvement Act have cost the toy industry more than $1 billion in inventory already returned to manufacturers plus another $800 million of product at risk of being returned by retail stores — contributing to about a 10-percent loss of the industry's retail value. The TIA's Toy News Tuesday further reported that some 1,200 jobs are at stake, based on the more than 40 percent of respondents that said they would be cutting jobs because of the new law.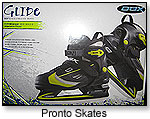 Boys' Ice Skates Recalled for Lead Paint. March 11, 2009 — The U.S. Consumer Product Safety Commission, in cooperation with Pronto Sports Inc., has announced a voluntary recall of about 600 pairs of DBX Glide Boys' Ice Skates due to surface paint that contains excessive levels of lead. The skates were sold at Dick's Sporting Goods stores from September through December 2008.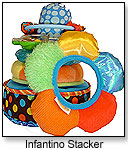 Infantino Recalls 184,000 Toys for Choking Hazard. March 11, 2009 — The U.S. Consumer Product Safety Commission, in cooperation with Infantino LLC, has announced a voluntary recall of about 172,000 infant toys in the United States and 12,000 in Canada due to blue metallic fabric that can come off and present a choking hazard. The recall affects the Infantino Lil' Chef Set, Activity Stacker and Tag Along Chime Trio, which were sold at mass-market and specialty stores nationwide from June 2007 through February 2009.

TIA to Put Forth Lead-Testing Guidelines. March 10, 2009 — In preparation for Feb. 10, 2010, when the temporarily stayed requirements for testing and certification under the CPSIA go into effect, the Toy Industry Association plans to present a proposal for lead-testing protocol to the Consumer Product Safety Commission later this month. The collection of guidelines, developed with the input of laboratory experts, is designed to help manufacturers and importers accurately test their products and verify compliance with the CPSIA, according to a press release.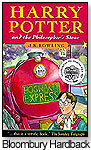 Harry Potter Book Auctioned for $19,000. March 10, 2009 — One of only 200 copies of the softcover first edition "Harry Potter and the Philosopher's Stone," published in 1997 by Bloomsbury in London, sold for $19,120 at a Dallas auction house. The bid came from a comic book collector from Dubai whose wife loves the Harry Potter series, the Associated Press reported.

LeapFrog Nixes Exec Bonuses. March 9, 2009 — Following a loss of sales in excess of $68 million and cuts of more than 130 employees in 2008, LeapFrog will not be issuing bonuses to executives for 2008. CEO Jeffrey Katz received a $600,000 bonus last February for achievements in 2007, the San Francisco Business Times reported.

Businesses "Sustain" One Another in Harsh Economy. March 9, 2009 — Fair Indigo, a fair trade clothing retailer that began in 2006, has formed a mutually beneficial mentorship program with start-up Sustain, a retailer of goods created for sustainable living. The partnership offers Fair Indigo revenue through office and warehouse leasing, while Sustain is able to learn from the business plan and approach of an established business without the financial burden of beginning from scratch, according to a press release.

Western States Show to Relocate to Long Beach. March 9, 2009 — The annual Western States Toy & Hobby Show, on its third of four days at the Fairplex in Pomona, Calif., today, is moving next year to the Convention Center in Long Beach, Calif., March 27-30, for its 49th show. "The association and the membership feel that we need a change of venue," Betsy Harvey, principal of Sugar B Sales and president of the Western Toy and Hobby Representatives Association, told TDmonthly, referencing the availability of multiple restaurants and four or five different hotels nearby in Long Beach, as opposed to the single Sheraton next to the Fairplex in Pomona. Totsy Beck, who co-owns The Toy Store in Quincy, Calif., and has been attending the show for years, didn't express the same excitement over the decision, telling TDmonthly she prefers the convenience of Pomona for proximity to the Ontario airport, an easy drive and close-by accommodations. Such a move may give the show the boost it needs, however, given that exhibitorship is down 50 to 60 booths this year, according to Harvey, prompting the use of 10' x 10' as opposed to 8' x 10' booth lots to fill the hall. Registration prices at the new venue "will be close" to what they are now, Harvey said.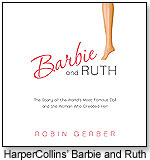 "Barbie and Ruth" Book Released in Time for Doll's 50th Birthday. March 9, 2009 — The now iconic Barbie doll from Mattel developed a tremendous presence in the toy market just months after her March, 9, 1959, debut at Toy Fair in New York City. The story of Barbie, now 50, along with her creator, Ruth Handler, is explored in "Barbie and Ruth," a book by Robin Gerber that was released last month. According to VOANews, the story follows Handler's discovery of a German doll for men, which, along with her own daughter's love for paper dolls, inspired the creation of Barbie, Handler's 1945 founding of Mattel with her husband, Elliot, her bout with breast cancer and dismissal from Mattel for corporate fraud, and Barbie's multi-decade rise to fame.

"Watchmen" Opens Strong, But Falls Short of Expectations. March 8, 2009 — The R-rated "Watchmen" movie pulled in $55.7 million at the box office over the weekend, but given a sales decline from Friday to Saturday showings, less-than-stellar reviews and a "B" grade from its core audience — older males — on CinemaScore, may have trouble attracting audiences in the coming weeks. Though strong, its opening numbers did not touch the $70.9 million brought in back in 2007 for the opening of "300," also directed by Zack Snyder, according to ICV2.com.

New VR Helmets to Address All Five Senses. March 6, 2009 — Will individuals one day be able to smell, taste and even touch different worlds through an enhanced virtual reality system? That's the plan for the Virtual Cocoon, a project overseen by researchers at five universities in Great Britain, Fox News reported. A hefty helmet would provide not only sight and sound, but also smell "recipes" and textures that could simulate taste. A pair of gloves would also contribute to the touch experience. The Engineering and Physical Sciences Research Council of Britain showed a prototype of the helmet at showcase Pioneers 09 on Wednesday.

British Boy Fetches $11,500 for McDonald's Collection. March 6, 2009 — Eleven-year-old Luke Underwood of Great Britain pulled in $11,500 at an auction Wednesday for his collection of 5,000 memorabilia items from McDonald's — Happy Meal toys and boxes, posters and displays. Buyers from the United States, Australia and Germany purchased pieces of the collection, including a "101 Dalmatians" toy for $420, the Associated Press reported.

NSF Launches Toy Testing Program. March 5, 2009 — Non-profit product certification and standards organization NSF International of Ann Arbor, Mich., has announced the creation of a toy testing and certification division in response to increased demand for toy testing under the CPSIA. The Ann Arbor Business Review reported that NSF is dedicating 20 employees to the new sector and is likely to add five to 10 more by the end of the year.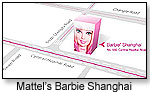 Mattel Launches Barbie Store in Shanghai. March 5, 2009 — Barbie may be turning 50, but she's not slowing down. Mattel has announced a six-story Barbie concept store opening Friday in Shanghai, complete with an escalator shrouded in neon pink, a restaurant led by celebrity chef David Laris from Australia, a late-night bar open until 2 a.m., Barbie dolls from the last five decades, and opportunities to design dolls and enjoy mother-daughter facials or manicures. The store is one step toward expanding Barbie as a complete lifestyle brand, according to the AFP. Although China currently accounts for only 2.5 percent of worldwide sales of Barbie, Mattel's Richard Dickson, head of the Barbie brand, predicts the country will become the primary market for Barbie within a decade.

Toys "R" Us Buys Toys.com for $5.1 Million. March 4, 2009 — In an auction held last Friday, Toys "R" Us bought the Toys.com domain name for the amount of $5.1 million, Domain Name Wire reported. The purchase was approved by Judge Brendan Shannon of the U.S. Bankruptcy Court District of Delaware. Faculty Lounge Partners had purchased the domain for $1.25 million in an auction that took place at the beginning of February, at which time Toys "R" Us wouldn't beat the bid.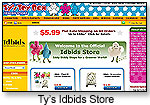 Idbids Partner With Ty's Toy Box for Online Sales. March 4, 2009 — Idbids characters Scout, Waverly and Lola, and their corresponding eco-friendly educational merchandise, are now available in the official Idbids store online, as part of Ty's Toy Box. According to a press release, Ty's is the premier online retailer for licensed character lines.

Lawmaker Wants Barbie to Retire at 50. March 3, 2009 — Democratic lawmaker Jeff Eldridge of West Virginia has proposed a ban on Mattel's Barbie and similar dolls, arguing that such toys encourage girls to put too much emphasis on physical appearance, to the detriment of their emotional and intellectual growth, the Associated Press reported. Barbie will celebrate her 50th birthday on March 9.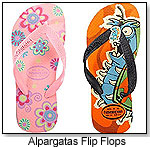 Kids' Flip Flops Recalled for Lead. March 3, 2009 — The U.S. Consumer Product Safety Commission, in cooperation with Alpargatas USA Inc., has announced a voluntary recall of about 210,000 Children's Flip Flops because paint on the sole of the shoes may contain excess amounts of lead. The flip flops were made in Brazil and retailed at department and specialty stores from November 2006 through February 2009.

Amarillo Toy Store Closes After 17 Years. March 2, 2009 — The Great American Toy Co. of Amarillo, Texas, is shutting its doors at the end of March based on personal reasons and a changing industry. The store has been in operation since 1992, and Owner Mike Nowak said the choice to close was made about two years ago, KVII reported.

Toy Manufacturers Bring Old Toys to Life Again. March 2, 2009 — Cost-cutting initiatives and falling sales are prompting many toymakers to revive retired toy brands instead of launching all-new concepts, the Wall Street Journal reported. Zizzle, for example, is reintroducing Mattel's P.J. Sparkles doll from nearly two decades ago. Companies are also capitalizing on toy anniversaries like never before — Hasbro's Transformers are a quarter of a century old, Mattel's Barbie and Little People are both celebrating 50th anniversaries, and Viacom's Sponge Bob Square Pants is turning 10. For more on the popularity of classic toys in hard economic times, see "Recession Gives Way to Retro Resurgence."

India Lets Up on Ban of Chinese Toys. March 2, 2009 — India is scaling back its ban on toys imported from China, now saying the country will accept toys that have international quality assurance certificates. The original six-month ban was imposed Jan. 23, and China warned that such a decision could hurt trade between the countries, Bloomberg reported.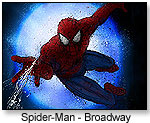 Spider-Man Webs Way to Broadway. February 27, 2009 — Marvel's beloved superhero Spider-Man will soon have a new stage on which to strut his stuff. "Spider-Man, Turn Off the Dark" will debut at NYC's Hilton Theatre Feb. 18, 2010, under director Julie Taymor and featuring a musical score from Bono and The Edge of U2. Casting has not yet been announced, the Associated Press reported.

Cary, N.C., Loses Two Toy Stores. February 27, 2009 — Two independently owned toy stores in Cary, N.C., are closing their doors — AbraKIDabra this weekend and The Toy Chest of Preston Corners around the end of March. The recession has made it too difficult to keep up a brick-and-mortar location, Owner Sharon Heath of The Toy Chest told the News & Observer. Both toy stores will continue their businesses online.
THIS BANNER IS AN AD:
---
---