---
The Toy Market Stages a Turnaround
Heightened Sales and Steady Toy Space Bode Well for Remaining Quarters
"March 1 saw the first positive sell-through numbers in my retailer panel since August."

March 18, 2009 — As a rule, the first quarter represents about 15 percent of the year in terms of U.S. toy sales. The first two months of 2009 were, to say the least, very challenging. However, there are straws in the wind that the industry may have bottomed out.

Firstly, sell-through numbers from my retailer panel, which includes a Target, a Toys "R" Us, a Wal-Mart, a CVS, an Albertsons and five specialty stores, suggest that toy sales overall, in dollar terms between January 1 and March 15, are something like 7 percent below the same period last year.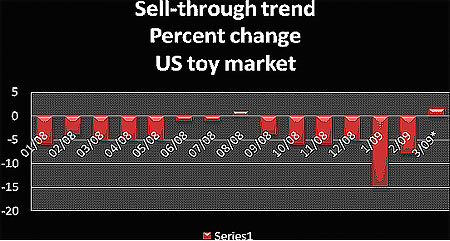 *up to March 15, 2009

However, the good news is that March 1 saw the first positive sell-through numbers in my retailer panel since August.

I also talked to buyers at the three mega retailers, Target, Wal-Mart and Toys "R" Us. Their reaction was that, indeed, they had seen an upturn in sales numbers — not a big upturn but an upturn nevertheless.

INVENTORY AND ALLOCATION LOOK UP

The other positive sign that things are getting better is the fact that clearances have returned to customary levels. At the beginning of the year, up to 21 percent of toy space was devoted to clearances. This is now down to a much more normal 4 percent.

Another plus sign is that inventory levels, considered high at the end of December, have, according to the buyers I spoke with, pretty much come down. This basically means that the PO generation, pretty much at a standstill during January and February, should now resume, albeit on a very cautious basis.

Toy space allocation also tells a positive story. Unlike the fourth quarter, in which toys are inordinately important to attract consumers to stores and hence to other, more profitable product categories, no such incentive exists during the first quarter, during which time space is allocated strictly on what management perceives as having the best short-term profit potential.

Interestingly, Wal-Mart and Target have not reduced their toy space in the first quarter, in comparison to the same period in 2008, even though one would expect them to do so, given dismal toy sales during the first two months. The graph below tells the story: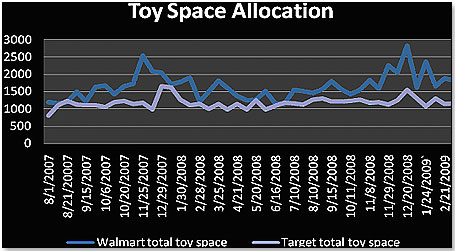 The graph showing endcap and aisle cap allocations presents a similar picture:



Note that aisle caps carry four times the weight of an endcap.

I also noticed that private label is getting a larger share of the toy space in Wal-Mart, Target and Toys "R" Us than it did a year ago.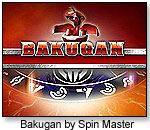 These positive trends do not apply across the board, though. I see a continuation of the pattern established last year when the very strong brands and the very cheap products did best. Everybody in the middle took a beating. We will hence see Lego, Star Wars, Bakugan by Spin Master and Hasbro's Littlest Pet Shop doing well. But we will also see the relatively expensive, but not strongly supported, brands doing badly — Learning Curve, Mattel's Hot Wheels, LeapFrog, etc.

Even the vendors whose products are beginning to do well are not out of the woods yet. The buyers went on to a virtual PO freeze during January and most of February. I would expect this to affect first-quarter shipments but correct itself further out.

VENDORS "SAFE" OR UNDER SCRUTINY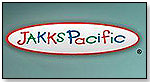 I am also told the PO generation is favoring vendors who are considered safe by the buyers. "Safe" in this context means vendors who are likely to be around come fourth quarter and who will not leave the buyers with empty shelves at Christmastime. This clearly benefits the four toy giants —Mattel, Hasbro, Jakks Pacific and Lego — who continue to get the prime space in stores and are considered very strong financially.

As for others, some buyers go to the extreme of measuring the space a given vendor has with any large retailer they consider vulnerable, e.g. Kmart. If this vendor is estimated to have more than 5 percent of its business with any such retailer, the Wal-Mart or Target buyer will put this company on a watch list, which means that no PO generation takes place without very specific scrutiny by the divisional. This, of course, also applies to vendors who are suspected to be financially vulnerable … and there is any number of these around.

Writer's Bio:
Lutz Muller is a Swiss who has lived on five continents. In the United States, he was the CEO for four manufacturing companies, including two in the toy industry. Since 2002, he has provided competitive intelligence on the toy and video game market to manufacturers and financial institutions coast-to-coast. He gets his information from his retailer panel, from big-box buyers and his many friends in the industry. If anything happens, he is usually the first to know. Read more on his website at www.klosterstrading.com.
Read more articles by this author
THIS BANNER IS AN AD:
---
---