---
TDmonthly's Music Expert
She'll Tell You Which Albums Hit the Right Notes
In the latest batch of CDs, TDmonthly Magazine's Music Expert delved into a mix of creative orchestration topped off with humor, an album designed to foster environmental awareness among children, and a book and CD combo featuring stories from another era.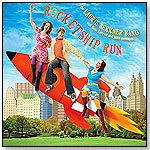 Rocketship Run by TWO TOMATOES RECORDS
Age: 0 to 6
Gender: Boys and Girls
MSRP: $15.00

TDmonthly rating:




My Impressions: One thing is sure: You definitely get your money's worth with this album. There are a whopping 24 songs on this CD, which comes with one of the nicest CD covers out there. The cover itself includes the lyrics for all the tunes, with illustrations in full color, and a treasure hunt for kids on each page. My favorite song was "Mr. Bassman." It has some fun upright bass and piano solos.

Kid's Perspective: My 2-year-old daughter enjoyed this CD, and I'm sure many other kids will, too! The first thing she said when I turned it on was "I want to sing," and immediately tried to sing along, even though she didn't know the words yet. The next thing she noticed was the bright colored CD jacket. "I want to see it!" she said.

My Recommendation: I enjoyed listening to this album and think most people will easily connect with the tunes presented. The music is well played and the orchestration is creative. Each song is an original, and I think most grade-school-age kids will enjoy the humor and messages presented by these accomplished artists. Overall, I'm impressed with the Laurie Berkner Band and recommend checking out their website for a list of concert dates.

---

Ask the Planet: The Missoula Coyote Choir & Friends by THE BIOMIMICRY INSTITUTE
Gender: Boys and Girls
MSRP: $14.98

TDmonthly rating:




My Impressions: This CD is a work of art — extremely well thought-out and put together. It was produced by a non-profit organization called the Biomimicry Institute, whose goal is to further the cause of learning from nature. They partnered with Amy Martin, who was the mastermind behind the lyrics and music, and also sang some rockin' lead vocals. I am impressed by the coordinated effort that was put into making this CD, and the work on the part of the kids in the Coyote Choir. The musical style was standard old-school rock and roll, but I thought the jungle animal sounds in "School of the Wild" were really cool.

Kid's Perspective: I could tell that my 2-year-old daughter immediately wanted to sing along with this CD, and I think hearing the other kids on the recording was inspiring to her. There's something about how kids connect with other voices that are close to their timbre and range that is really special. Her favorite song was track 2, "I Want To Be Like a Tree."

My Recommendation: It should be noted that this CD is designed to be educational in nature, but can be used in formal or informal educational settings. The curriculum that goes with each song is available online. I do want to warn teachers, parents or mentors who are considering this album that it carries a specific message that can be controversial. The ninth song, "The Great TV Rebellion," speaks of "the evil oppressor known as the TV," and the album purports the theory of evolution.

---

Jim Copp, Will You Tell Me a Story? Three Uncommonly Clever Tales by HOUGHTON MIFFLIN HARCOURT
Age: 6 to 9
Gender: Boys and Girls
MSRP: $17.95

TDmonthly rating:




My Impressions: This CD comes with a beautifully illustrated book so that kids can follow the story and look at the pictures while listening. The stories in this compilation are the original Jim Copp recordings, complete with music and sound effects from 1958 that have been transferred onto CD. I love the vintage feel of the stories themselves.

Kid's Perspective: An 8-year-old girl who listened to the CD thought the content of the story a bit crazy. Her parents, while applauding the fact that the music matched the rhyme well — an appealing factor for young children — thought the words themselves were somewhat "cheesy" and not appropriate for children.

My Recommendation: While the lyrics may not be appealing to everyone, the stories are both cute and clever, and have the ability to teach today's kids lessons about what it would have been like as a kid going to school 50 or more years ago. There is mention of a phonograph, for instance, and carrying one's slate to school.

Writer's Bio:
Anna Bendorf received her Bachelor of Music in Piano Performance in 2004 from the University of Oregon, where she gained extensive experience as an accompanist and solo performer. While studying music, she won several piano competitions and sang in the University audition choir and the Symphony Chorus. She has been teaching piano for the past 14 years, and she and her husband, Adam, run Alberti Publishing, a music publishing company. They co-authored a book for piano teachers called "The Right Notes" (November 2008). Adam and Anna have two daughters.
Read more articles by this author
THIS BANNER IS AN AD:
---
---