---
Hasbro Bares Its Teeth; Will Mattel Bite Back?
Leading Toy Companies Compete for Tweens, Games and Virtual Dominance
Recent numbers demonstrate that Hasbro has once again narrowed the gap between itself and the No. 1 toy company in the world, Mattel.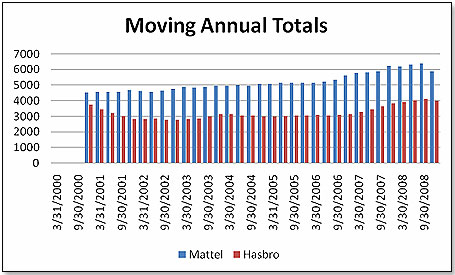 Hasbro's ascent toward the No. 1 position began in earnest in 2007 after the company had acquired the Marvel license a year earlier. This acquisition propelled Hasbro solidly into market leader position in the action figure field.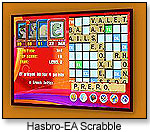 The company's largest business is in Games and Puzzles. It moved to underpin this category by acquiring Cranium and Trivial Pursuit last year, and further strengthened this franchise by expanding popular games into the video game space in collaboration with Electronic Arts under the banner of Family Game Night — Scrabble, Monopoly, Trivial Pursuit and others. However, this category — for years a virtual "monopoly" of Hasbro's — may be on the verge of vulnerability [see below].

Hasbro has been making great strides in the one category in which Mattel is still paramount: Girls' Toys, as epitomized by Barbie. No, Hasbro did not do the predictable thing and launch another fashion doll; they did something more clever. They focused on areas in the girl toy universe not already overrun with competing products. Thus, they did not compete with Mattel head-on, but rather obliquely by draining away dollars and minutes that otherwise would have been spent with dolls. The Littlest Petshop is an excellent example of this strategy. My Little Pony is another. Again here, Hasbro has moved to further strengthen its business by acquiring the Strawberry Shortcake franchise, effective Jan. 1 of this year.

Another category where Hasbro has effectively mounted a challenge directed at Mattel is Preschool. They benefited greatly from Fisher-Price's recalls in 2007 and, while this competitor has mounted a very impressive and rapid comeback, have not surrendered all the gains made while this competitor was vulnerable. The acquisition of CareBears is likely to greatly strengthen Hasbro's stake in the category.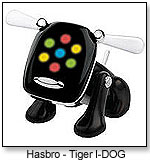 Finally, Tweens — the mixed bag. This Hasbro category is composed of Nerf and Tiger. The former is doing very well and the latter is a disappointment. Tiger was bought 11 years ago on the recommendation of a bright spark at Hasbro who recognized that the Electronic Toy segment was bound to grow from its then 3-percent market share. He was right — electronic toys now constitute nearly a quarter of the toy marketplace. While Hasbro's instincts were right, however, its execution was mediocre and Tiger never lived up to its potential.

The company has now decided to liquidate Tiger and to transfer Nerf to Boys. However, industry insiders think the other shoe is about to drop. There is, in their opinion, no way that Hasbro will yield the electronic 25 percent of the toy market to Mattel who, with its 2006 acquisition of Radica, is beginning to dominate this field. Rather, they expect some very fundamental initiative from the side of Hasbro sometime in the near future, designed to correct this competitive weakness.

Hasbro has also quietly begun to challenge Mattel in the international arena. At this point, both have about half of their business outside the United States, whereas the overall toy market there accounts for something like two-thirds of the total. Hasbro has begun to make the necessary investments, notably in the BRIC countries [Brazil, Russia, India, China] to correct this imbalance.

In addition, Hasbro is clearly out-thinking and out-maneuvering Mattel on the Web, as evidenced by their respective Web traffic, as shown in the metric below. Incidentally, the spike in Mattel's traffic in September 2007 was a function of the company's recalls. It is not only the quantity of the Web traffic where Hasbro excels — it is also the quality, as demonstrated by the page views: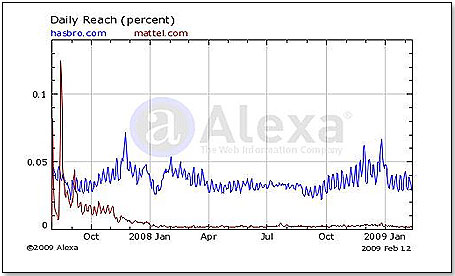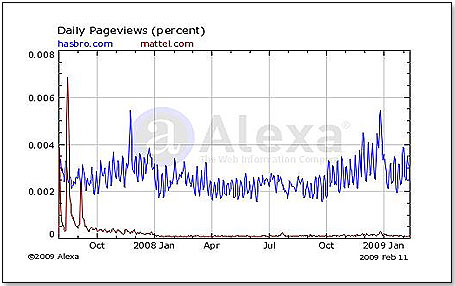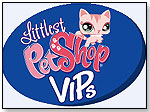 Hasbro has also begun to confront Mattel on virtual playgrounds. The Littlest Petshop VIP site has had 15 million visitors since its launch last year. This still falls short of Mattel's BarbieGirls playground, which by the middle of last year had 13 million subscribers worldwide and is thought to have upped this number to nearly 20 million as of January. However, Hasbro is now taking its concept a step further in a new playground called Littlest Petshop Online Experience, which will be co-hosted by Electronic Arts and include a whole bunch of EA's games developed in conjunction with Hasbro.

Finally, I looked at what the two companies are doing in the three key toy retailers: Wal-Mart, Toys "R" Us and Target. The graph below shows their presence in terms of endcaps and aisle caps in the stores over the past (nearly) two years: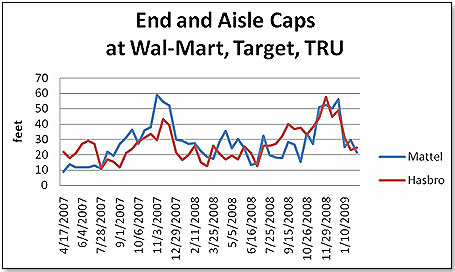 The extent to which the buyers at the three key retailers allocate endcaps and aisle caps is a reflection of how they rate a manufacturer's potential. In spite of the fact that Hasbro has only about two-thirds Mattel's sales volume, the buyers seem to consider the two at par in terms of sales outlook.

All this portends a continued increase in Hasbro's market share at the expense of Mattel.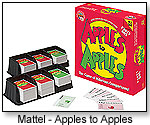 However, Mattel has begun to react and appears poised to attack Hasbro's most lucrative business segment — Games and Puzzles. Mattel has just acquired Sekkoia SAS, the owners of the Blokus game, formerly distributed by Educational Insights. Blokus is the third-best-selling toy [and the top board game] on Amazon.com and is doing very well at Toys "R" Us. Mattel has also acquired Whac-a-Mole, a game previously sold by Hasbro that again is doing well on Amazon.com. Combining these two properties with the assets Mattel already has — Scene It, Apples to Apples, American Girl Card Time, etc. — and you have the beginnings of a real challenge to Hasbro.

Also, Mattel is quietly beefing up its Action Figure program. It is the licensee of the He-Man character and will undoubtedly benefit from the release of the movie this summer — a movie that is being rated very highly by the buyers. Mattel also acquired the WWE license for 2010 and beyond, and this, again, should not be taken lightly by Hasbro

In summary, while Hasbro seems to have the momentum right now, Mattel still has very sharp teeth and has proven that it can bite when sufficiently provoked.

Writer's Bio:
Lutz Muller is a Swiss who has lived on five continents. In the United States, he was the CEO for four manufacturing companies, including two in the toy industry. Since 2002, he has provided competitive intelligence on the toy and video game market to manufacturers and financial institutions coast-to-coast. He gets his information from his retailer panel, from big-box buyers and his many friends in the industry. If anything happens, he is usually the first to know. Read more on his website at www.klosterstrading.com.
Read more articles by this author
THIS BANNER IS AN AD:
---
---